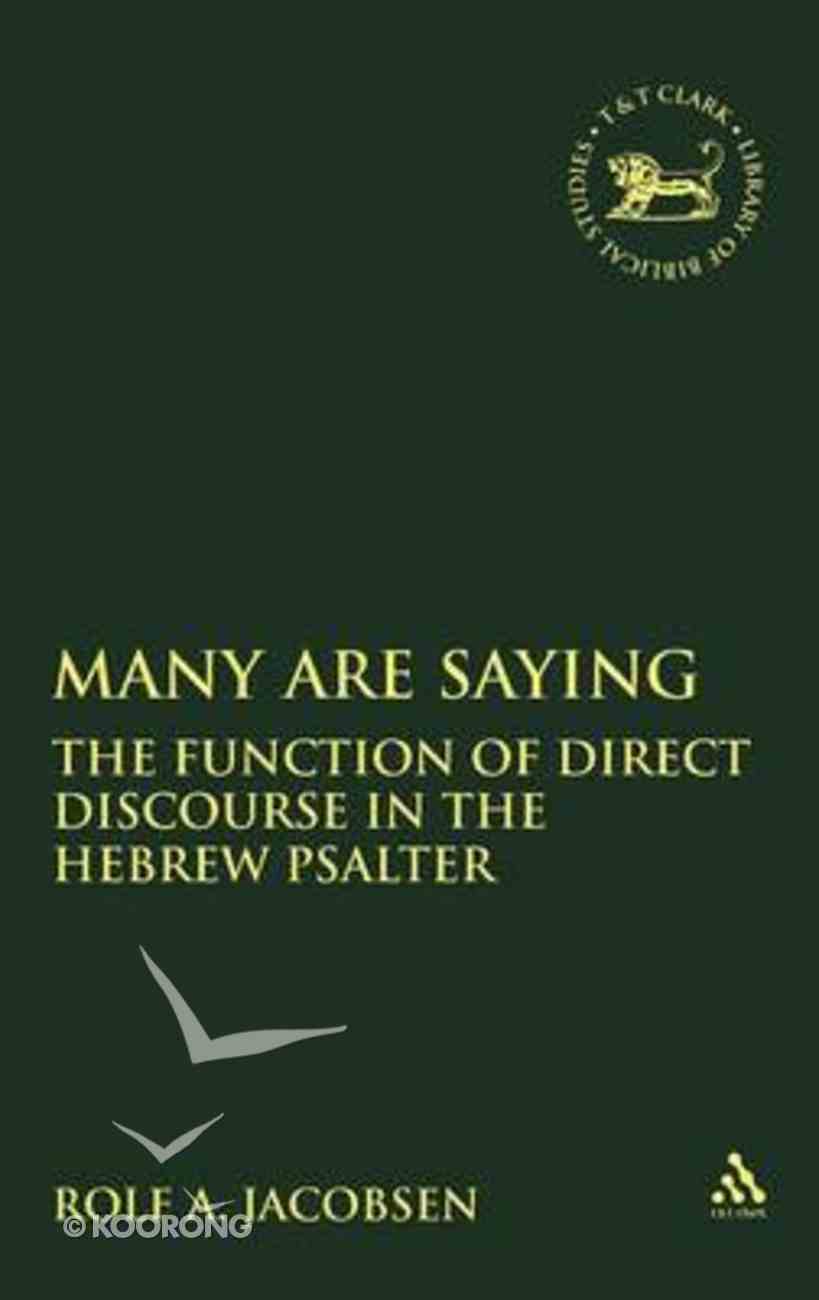 Many Are Saying (Journal For The Study Of The Old Testament Supplement Series)
In recent years, Old Testament scholars have come to see that the aesthetic and rhetorical richness of Hebrew poetry goes far beyond simple synonymous, antithetic, and synthetic parallelism. One aspect that has yet to receive sustained treatment is the poetic...
Special Order
Payment is by credit card only. Orders for this item cannot be cancelled or returned.
---
Free Shipping
for orders over $99.
In recent years, Old Testament scholars have come to see that the aesthetic and rhetorical richness of Hebrew poetry goes far beyond simple synonymous, antithetic, and synthetic parallelism. One aspect that has yet to receive sustained treatment is the poetic device known as direct discourse or quotation - the direct citation of a person's speech. Rolf A. Jacobson seeks to remedy this oversight, offering a sustained investigation into the function of direct discourse in the Hebrew Psalter. This leads to a greater understanding both of direct discourse and also of those psalms in which this poetic device occurs.
-Publisher

In recent years, Old Testament scholars have come to see that the aesthetic and rhetorical richness of Hebrew poetry goes far beyond simple synonymous, antithetic, and synthetic parallelism. One aspect that has yet to receive sustained treatment is the poetic device known as direct discourse or quotation-the direct citation of a person's speech. Rolf A. Jacobson remedies this lack and makes a significant contribution to Old Testament studies by offering a sustained investigation into the function of direct discourse in the Hebrew Psalter. This leads to a greater understanding both of direct discourse and also of those psalms in which this poetic device occurs.

-Publisher
Rolf A. Jacobson (Ph.D., Princeton Theological Seminary) is Associate Professor of Old Testament at Luther Seminary, St. Paul, Minnesota. . He has authored numerous books and Bible studies and is a contributing writer to The Lutheran Handbook (2005); The Lutheran Handbook II (2007), and most recently Sounding in the Theology of Psalms: Perspectives and Methods in Contemporary Scholarship
Bestsellers in Biblical Studies