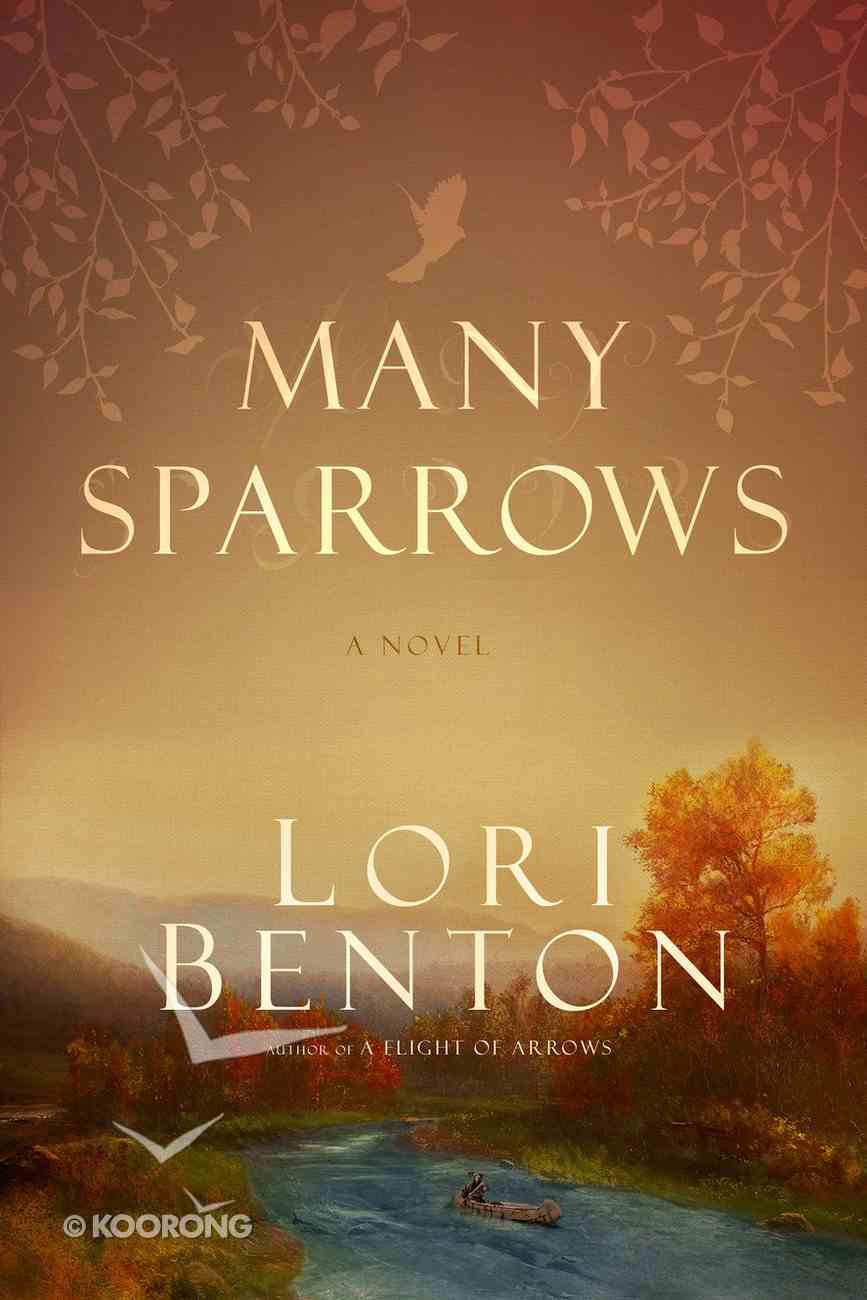 :Many Sparrows When settler Clare Inglesby is widowed on a mountain crossing and her young son, Jacob, captured by Shawnees, she'll do everything in her power to get him back, including cross the Ohio River and march straight into the...
---
Expected to ship tomorrow from Australia.
---
Free Shipping
for orders over $99.
:Many Sparrows
When settler Clare Inglesby is widowed on a mountain crossing and her young son, Jacob, captured by Shawnees, she'll do everything in her power to get him back, including cross the Ohio River and march straight into the presence of her enemies deep in Indian country. Frontiersman and adopted Shawnee, Jeremiah Ring, promises to guide Clare through the wilderness and help her recover Jacob.
Once they reach the Shawnees and discover Jeremiah's own Shawnee sister, Rain Crow, has taken
custody of Jacob--renaming him Many Sparrows--keeping his promise becomes far more complicated, the consequences more wrenching, than Jeremiah could have foreseen.
-Publisher
PRODUCT DETAIL
Catalogue Code 

477845

Product Code 

9781601429940

ISBN 

1601429940

EAN 

9781601429940

Pages 

400

Department General Books
Category Fiction
Sub-Category Romance
Publisher Waterbrook Press
Publication Date 

Aug 2017

Sales Rank 

27982

Dimensions 

210 x 139 x 27

mm

Weight 

0.344

kg
Lori Benton spent her late teens and early twenties pursuing a career as a wildlife artist, attending the Maryland College of Art & Design before she began painting professionally. When not writing or researching, Lori can be found exploring the mountains of southern Oregon with her husband, Brian. Burning Sky is her first novel.
:1
May 1, 1774
Ohio River near Yellow Creek
Jeremiah Ring had witnessed death as often as the next man on the Allegheny frontier, but in all his thirty years he had encounteredno deaths more dismaying than those confronting him now.
The dead had been laid on the wet spring earth near Joshua Baker's tavern and trading post, made as decent as such desecrated bodies could be. Now the living moved among them as men whose joints had aged a scoreof years, tongues held captive by grief and outrage. Jeremiah's friend, the Mingo, Logan, wept in silence beside the body of a young woman, his sister Koonay.
Jeremiah felt his gorge rise as it had at first sight of Koonay. Someone had draped a blanket over her after cutting her down from the tree in which her body was found hanging, but they'd all seen what was done toher. Koonay had been heavy with her second child, but not even the unborn had escaped this slaughter. No one had yet found her firstborn, a daughter, two years old, though they knew she'd been with her mother in one of the canoes that crossed the Ohio Riverto Baker's post, a thing done in friendship many times before.
It wasn't only Koonay whom Logan grieved. Jeremiah choked back his own sorrow, watching the man absorb the slaughter of nearly all the blood kin he'd had in this world—his older brother, his mother, his nephew, hissister, her unborn child. The few warriors who'd accompanied them, slain along with his kin, had been Logan's friends.
For the first time since he'd met the man, Jeremiah felt chary of approaching Logan, stony-faced even as he wept for his dead. Logan's warriors backed away, leaving them alone.
"Cresap." Logan didn't look at Jeremiah as he spat the name in a strangled voice. "He has done this."
Jeremiah felt his gut twist. Michael Cresap, trader and land hunter, had made it plain he meant to slaughter any Indians unlucky enough to cross his path. This was due in large part to rumors being spread by MajorJohn Connolly, commander at Fort Pitt, who'd gone so far as to assert the Ohio Indians—Shawnees and Mingos—were on the verge of striking the frontier settlements in open war. Cresap had decided to strike first. But had the man grown so hard, so heartless, tohave done this?
Whoever was to blame, the senseless killings were bound to escalate an already tenuous situation on the Ohio. Until now, Mingos like Logan, along with many Shawnee chiefs including their principle chief, Cornstalk,had counseled against open warfare with the whites invading their hunting grounds south of the river. These whites weren't traders, who'd come among them for years, beginning with the French. Nor were they missionaries, who'd settled among the Delawares andnow had whole villages of Christian converts. These men came to blaze the trees and cut them down, to put up cabins and corn, kill the game and fill the land with cattle and hogs; an endless stream of settlers spilling down the Ohio like floodwaters.
Fiery young warriors, seeing their hunting grounds taken, couldn't always be controlled by elders who urged peace. Even the Shawnee war chief, Puckeshinwah, who'd spent the past months in talks with the Indian agentsat Fort Pitt, was ready to raise the war club in the face of Virginia Governor Dunmore's inability to stem the tide of illegal settlement down the Ohio.
Three days ago, Jeremiah had left the frustrated Puckeshinwah and his Shawnee delegation in Pittsburgh and descended the Ohio with Koonay's husband, the white trader John Gibson, hoping to discover whether the alarmingrumors being spread about Indian attacks had basis in fact. Assured by a band of Shawnees met on the river that their warriors hadn't been out killing whites, Gibson felt sure the rumors were false. Major Connolly was attempting to excite alarm, likely to furthersome land-grabbing scheme of Governor Dunmore's to snatch up the Ohio territory before Pennsylvania could claim it. Gibson had traded canoes for packhorses and continued overland toward the Shawnee towns on the Scioto River to do his trading.
Less sanguine about the rumors, Jeremiah had turned his canoe for Yellow Creek. Surely Logan's warriors weren't raiding across the river—he was known widely as a friend to the white man—but perhaps he'd know if otherswere.
Logan had been away at a hunting camp when Jeremiah arrived, but what caused a true disquiet was learning Logan's family had crossed to Baker's post, lured by the invitation of some white men promising whiskey. Distantshots had echoed across the river almost before the news was shared. Jeremiah had gone over by canoe with the warriors sent to investigate, only to be repelled by more gunfire. Runners had been sent to Logan's hunting camp to bring him in. That morning they'dfinally made it ashore, to find the dead lying scalped and mutilated, the killers long fled.
Jeremiah sought for words to fill a mouth gone dusty. He wanted to comfort Logan, caution him not to rush to blame, say something to turn aside what could easily follow this atrocity—a full-scale border war. To mindrose memory of Koonay's lifeless face, beaten almost beyond recognition, and he thought it would take a rare man, faced with such violation, to turn aside from vengeance.
"Maybe it was Cresap. Maybe not. Surely the Indian agents at Pittsburgh will…"
Jeremiah fell silent when Logan's gaze lifted, knowing nothing he could say would matter. What he'd seen this day would haunt Jeremiah for his next thirty years, should he live so long. So would what he read in thetormented eyes turned on him now. Where once had leapt the flame of friendship for Jeremiah's race, there blazed a hatred mere words could never douse.
Alarm crawled over Jeremiah's scalp. Not for himself. In Logan's eyes he was no longer a white man. His alarm was for every settler fool enough to linger west of the mountains after today.
Logan seemed to read his thoughts. Lifting his shoulders until he stood lance-straight, fingers curving round the tomahawk thrust through his sash, the Mingo bound Jeremiah with that burning gaze.
"For every life here taken from me," he said though lips set tight with rage, "by my hand ten whites will die. Ten. In your hearing this day I vow it. Go and tell what has beendone here if you will. Speak for these ones who have no more voice. But do not promise peace. Not from Logan."

2
May 6, 1774
Virginia Colony, western frontier
Clare Margaret Inglesby, twenty-six years of age and eight months with child, wondered how she'd come to this: trapped in a joltingwagon advancing into perilous wilderness.
She clenched her teeth to prevent them rattling out of her head and to hold back the flood of grievance amassing on her tongue. Though in danger of losing hairpins, cap, and sundry other trappings to the buckingof their conveyance, that was nothing to the sense of impending disaster that had dogged her every mile they'd traveled from the place they'd last called home, the Augusta County farm belonging to Clare's uncle, Alphus Litchfield.
In seven years of marriage, the Inglesbys had never owned a home of their own, despite all Philip's promises.
And likely never shall, she thought, as the forest west of Redstone Fort enclosed them in its dark embrace for a second day of misery. The men of Redstone had warned Philipthe track they followed was unsuitable for a wagon's passage, suggesting they go by canoe instead.
Philip had dismissed their advice. He was in a hurry to reach Wheeling Settlement and hadn't the patience to wait for a canoe to be built. James Harrod and his settlers, whom Philip meant to join up with, were saidto be in Wheeling, but only for a short time before they departed downriver. If they could reach Wheeling quickly, Philip had maintained, they were bound to catch Harrod's party.
Always certain he could find a way or make one was Philip, no matter the inevitable disappointment that followed.
Inevitable. Precisely when had she transformed into a woman of such dark presentiment? Had this nagging expectation of doom been her companion before she became Philip'swife?
Perhaps she'd made passing acquaintance with it then, even as she and Philip ignored her father's cautioning and wed under the cloud of devastation that had settled over Philip and his mother with the self-perpetrateddeath of his father and the ruination of their fortunes.
Certainly she'd done so five years later when, reduced to tenancy after repeated failures to regain said fortune, she and Philip had cast themselves upon the mercy of Clare's uncle and left Richmond, with its cobbledstreets, bustling shops, and established society—and painful memories—to move onto Alphus Litchfield's vacant farm in the Shenandoah Valley.
There'd been no place else to go, for Philip had flatly refused to seek the aid of her parents yet again.
"Only for a while," he'd assured her. "Until we get our feet under us." A year. Maybe two.
Clare, who'd taken to farming with a liking that surprised no one more than herself, began to hope they'd found their place at last, however modest. Perhaps one day Uncle Alphus, who operated a gristmill in nearbyStaunton, might be induced to sell the land to them.
Six months later the name Harrod fell from Philip's lips. Hot on its heels came Kentucky.
She'd opposed his intention of uprooting them again and making for the Ohio frontier, where land was fast being surveyed and claimed despite King George's Proclamation meant to halt settlement at the crest of theAllegheny Mountains.
"The wording of the Proclamation isn't clear on that point," Philip had argued. "There are grants to be made to veterans of the French War, land that must be found west of the mountains." The Proclamation Line couldnever have been intended as a permanent demarcation, Philip had reasoned. "It's only a matter of time before the Ohio country is officially open to settlement. We must be among the first!"
Clare had shuddered in the face of his enthusiasm. Who could say what fate awaited them across the mountains, or who might be nearby to aid them when that fate—bedecked in war paint—chose to descend upon them, hatchetsraised? Though her own troubles had risen large in recent years, she was aware enough of the wider world to know the land for which they made wasn't truly unclaimed.
Had it ever ended well when the worlds of red and white men collided?
Such collision had occurred just miles from Uncle Alphus's farm. Years ago, raiding Indians had stolen a young pregnant bride right out of her cabin while her husband was away. The husband had abandoned his farmand gone tearing off into the wilderness after his wife. Neither ever returned. Clare couldn't recall their name: Bud, perhaps? Or was it Bloom? Regardless, the story haunted her.
Now here she was pushing deep into territory where such unspeakable things still happened.
"Why not stay on Uncle Alphus's farm?" she'd pleaded. "He requires someone to work it, and he's welcomed us here as long as needs be."
"No, Clare." As always, Philip's eyes had looked beyond what rested safe in his hand to something more he wished to grasp. "I cannot abide it, farming another man's land."
"Is it the lack of ownership or the farming itself to which you object?" she'd asked, having her suspicions. "If the latter, how will it be better where land must first be cleared?"
"Better in every way!" Philip had countered, sidestepping her primary question. "The land east of the mountains is overworked. But the west—the west is untouched. Virgin soil.The yield there will be bountiful beyond anything we've seen. More yield for less toil. Think of it, Clare."
She thought of the hardships of wilderness travel. She thought of hacking out a forest of massive trees to lay bare a patch of that virgin soil. Of raising a cabin with a hatchet and their hands. Of bearing her childin a wilderness.
It was all she could do not to weep. "Why not wait, at least until after the baby is born?"
"If we wait, the best land will be claimed. You've heard how many settlers are passing through Pittsburgh and Redstone, all with the same aim in mind as have we—"
"As have you." Philip never seemed to grasp that distinction. "And what about Indians?"
He had waved away that most abiding of her terrors as if it were a gnat. "It's been peaceful for months. Likely there's so many of us coming downriver now they've thought better of provoking us. They'll give way.Move west. They always have. It's inevitable."
Inevitable.
Rehearsing that conversation and others like it for the hundredth time, still trying to find the thing she might have said—might still say—to divert this disastrous course her husband had set, Clare scanned the trailahead. It leveled into a wider, straight stretch with no trees or rocks to maneuver the cumbersome wagon around. She swiveled to peer deeper into the canvas-covered bed where their son, Jacob, rode cushioned in a nest of cornmeal sacks, tucked between the fewcherished furnishings they'd had room to bring along.