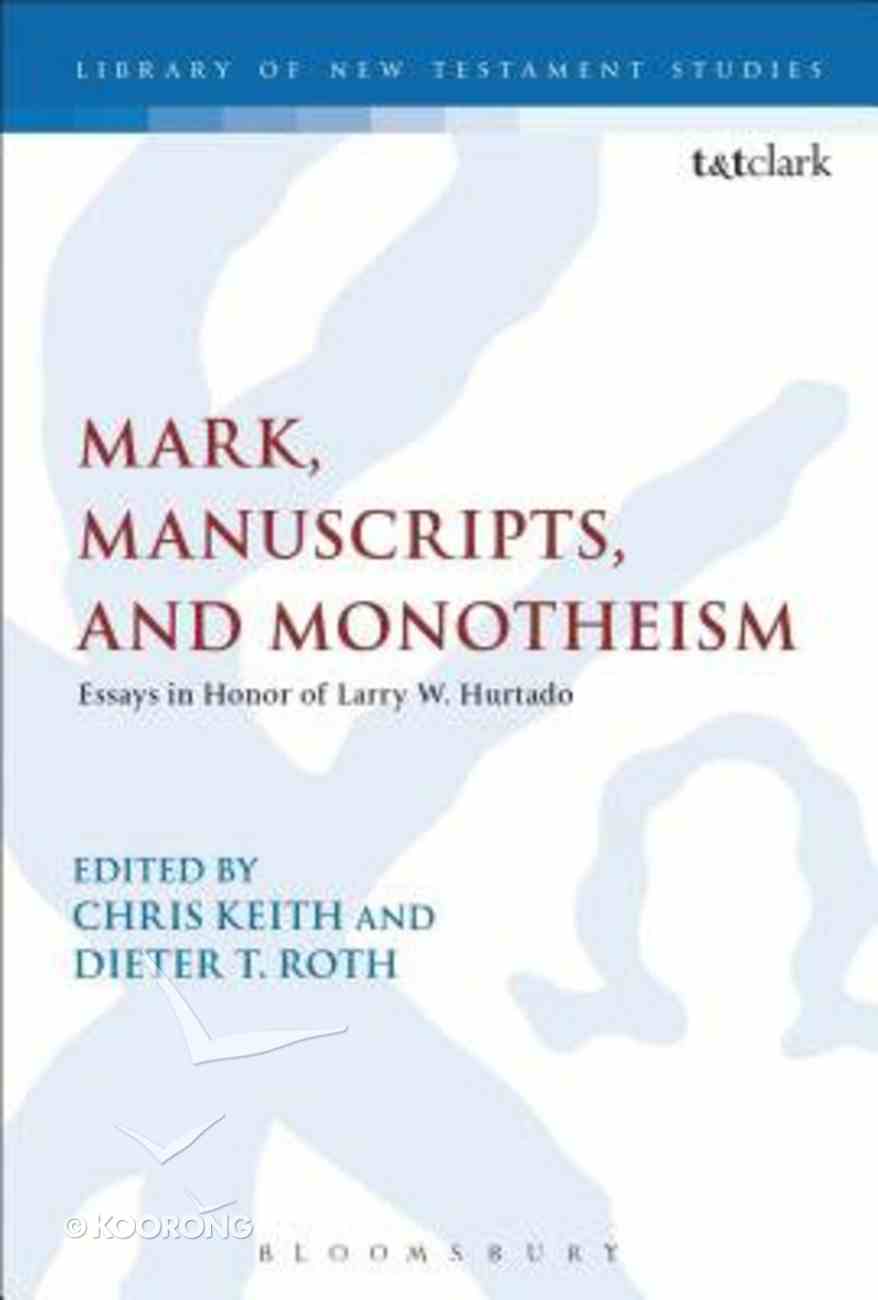 Mark, Manuscripts, and Monotheism: Essays in Honor of Larry W. Hurtado (#528 in Library Of New Testament Studies Series)
:Mark, Manuscripts, and Monotheism is organized into three parts: Mark's Gospel, Manuscripts and Textual Criticism, and Monotheism and Early Jesus-Devotion. With contributors hailing from several different countries, and including both senior and junior scholars, this volume contains essays penned in...
Out of Stock
Available to Order
---
Expected to ship in 7 to 8 weeks from Australia.
---
Free Shipping
for orders over $99.
:Mark, Manuscripts, and Monotheism is organized into three parts: Mark's Gospel, Manuscripts and Textual Criticism, and Monotheism and Early Jesus-Devotion. With contributors hailing from several different countries, and including both senior and junior scholars, this volume contains essays penned in honor of Larry W. Hurtado by engaging and focusing upon these three major emphases in his scholarship. The result is not only a fitting tribute to one of the most influential New Testament scholars of present times, but also a welcome survey of current scholarship.
-Publisher
Chris Keith (PhD, University of Edinburgh) is professor of New Testament and early Christianity and director of the Centre for the Social-Scientific Study of the Bible at St. Mary's University College, Twickenham. He was a 2010 recipient of the John Templeton Award for Theological Promise for his book "The Pericope Adulterae, the Gospel of John, and the Literacy of Jesus "and was named a 2012 Society of Biblical Literature Regional Scholar. A
:table Of Contentsintroductioncontributorspart One: Mark's Gospelchapter One: "is It As Bad As All That?": The Misconception Of Mark As A Gospel Film Noir<i>holly J. Carey, Point University, Usa</i>chapter Two: Early Christian Book Culture And The Emergence Of The First Written Gospel<i>chris Keith, St Mary's University, Uk</i>chapter Three: Jesus As God's Chief Agent In Mark's Christology<i>paul Owen, Montreat College, Usa</i>part Two: Manuscripts And Textual Criticismchapter Four: Mark, Manuscripts, And Paragraphs: Sense-unit Divisions In Mark 14-16<i>sean A. Adams, University Of Edinburgh, Uk</i>chapter Five: From "text-critical Methodology" To "manuscripts As Artefacts": A Tribute To Larry W. Hurtado<i>thomas J. Kraus, Independent Scholar</i>chapter Six: Origen's List Of New Testament Books In Hom. Jos. 7.1: A Fresh Look<i>michael J. Kruger, Reformed Theological Seminary, Usa</i>chapter Seven: &#xee;45 As Early Christian Artifact: Considering Staurogram And Punctuation In The Manuscript<i>dieter T. Roth, Johannes Gutenberg-universit&#xe4;t Mainz, Germany</i>chapter Eight: &#xee;45 And Codex W In Mark Revisited<i>tommy Wasserman, &#xd6;rebro School Of Theology, Sweden</i>part Three: Monotheism And Early Jesus-devotionchapter Nine: Who, What, And Why?: The Worship Of The Firstborn In Hebrews 1:6<i>david M. Allen, The Queen's Foundation For Ecumenical Theological Education, Uk</i>chapter Ten: Devotion To Jesus Christ In Earliest Christianity-an Appraisal And Discussion Of The Work Of Larry Hurtado<i>richard J. Bauckham, University Of St Andrews, Uk And University Of Cambridge, Uk</i>chapter Eleven: Hebrews And Wisdom<i>mary Ann Beavis, University Of Saskatchewan, Canada</i>chapter Twelve, Christology, Martyrdom, And Vindication In The Gospel Of Mark And The Apocalypse: Two New Testament Views<i>paul Middleton, University Of Chester, Uk</i>bibliography
Bestsellers in Biblical Studies