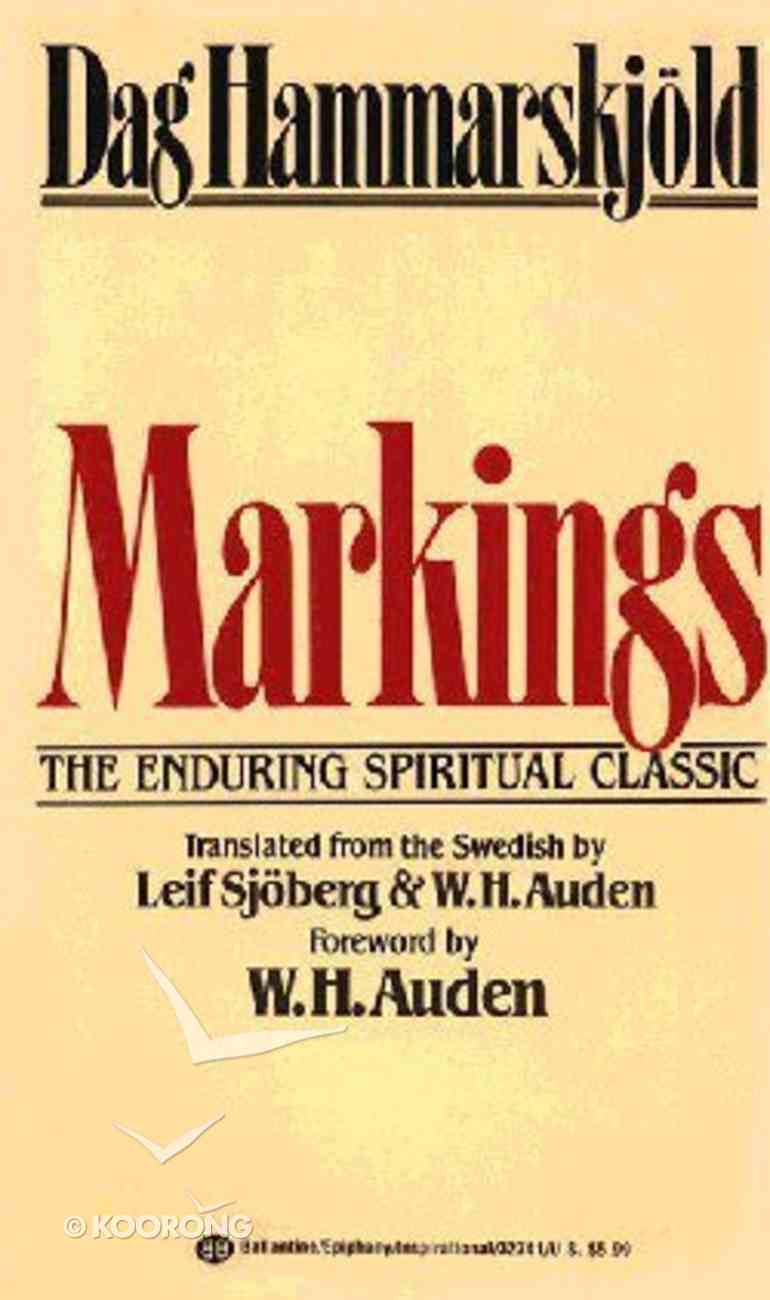 MARKINGS Only the hand that erases can write the true thing MEISTER ECKHART 1925-1930 Thus is was I am being driven forward Into an unknown land. The pass grows steeper, The air colder and sharper. A wind from my unknown...
Unavailable. Out of Print. Only available while stock lasts.
Out of Print
---
Free Shipping
for orders over $99.
MARKINGS Only the hand that erases can write the true thing MEISTER ECKHART 1925-1930 Thus is was I am being driven forward Into an unknown land. The pass grows steeper, The air colder and sharper. A wind from my unknown goal Stirs the strings Of expectation. Still the question: Shall I ever get there? There where life resounds, A clear pure note In the silence. Smiling, sincere, incorruptible-- His body disciplined and limber. A man who had become what he could, And was what he was-- Ready at any moment to gather everything Into one simple sacrifice. Tomorrow we shall meet, Death and I-- And he shall thrust his sword Into one who is wide awake. But in the meantime how grievous the memory Of hours frittered away. Beauty: a note that set the heartstrings quivering as it flew by; the shimmer of the blood beneath a skin translucent in the sunlight. Beauty: the wind which refreshed the traveler, not the stifling heat in dark adits where beggars grubbed for gold. Never look down to test the ground before taking your next step: only he who keeps his eye fixed on the far horizon will find his right road. Life yields only to the conqueror. Never accept what can be gained by giving in. You will be living off stolen goods, and your muscles will atrophy. Never measure the height of a mountain, until you have reached the top. Then you will see how low it was. "Better than other people." Sometimes he says: "That, at least, you are." But more often: "Why should you be? Either you are what you can be, or you are not--like other people." What you have to attempt--to be yourself. What you have to pray for--to become a mirror in which, according to the degree of purity of heart you have attained, the greatness of life will be reflected. Every deed and every relationship is surrounded by an atmosphere of silence. Friendship needs no words--it is solitude delivered from the anguish of loneliness. If your goal is not determined by your most secret pathos, even victory will only make you painfully aware of your own weakness. Life only demands from you the strength you possess. Only one feat is possible--not to have run away. To be sure, you have to fence with an unbuttoned foil: but, in the loneliness of yesterday, did you not toy with the idea of poisoning the tip? We carry our nemesis within us: yesterday's self-admiration is the legitimate father of today's feeling of guilt. He bore failure without self-pity, and success without self-admiration. Provided he knew he had paid his utter-most farthing, what did it matter to him how others judged the result. A Pharisee? Lord, thou knowest he has never been righteous in his own eyes. 1941-1942 The middle years He stood erect--as a peg top does so long as the whip keeps lashing it. He was modest--thanks to a robust conviction of his own superiority. He was unambitious--all he wanted was a life free from cares, and he took more pleasure in the failures of others than in his own successes. He saved his life by never risking it--and complained that he was misunderstood. "The Army of Misfortune." Why should we always think of this as meaning "The Others"? Your cravings as a human animal do not become a prayer just because it is God whom you ask to attend to them. Isn't the void which surrounds you when the noise ceases your just reward for a day devoted to preventing others fr
-Publisher
A book of meditations. A revealing spiritual self-portrait by one of the great peacmakers of our times.
Maturity: Among other things, the unclouded happiness of the child at play who takes it for granted that he is at one with his playmates.
Never, "for the sake of peace and quiet," deny your own experience or convictions.
The only kind of dignity which is genuine is that which is not diminished by the indifference of others.
Pray that your loneliness may spur you into finding something to live for, great enough to die for.
Never measure the height of a mountain until you have reached the top. Then you will see how low it was.
-Publisher
PRODUCT DETAIL
Catalogue Code 

136060

Product Code 

0345327411

EAN 

9780345327413

Pages 

224

Department Academic
Category Classic
Sub-Category General
Publisher Ballantine Books
Publication Date 

Apr 1985

Dimensions 

175 x 105 x 14

mm

Weight 

0.112

kg
Dag Hammarskjold was born in Jonkoping, Sweden, in 1905, and died near Ndola, Northern Rhodesia, on September 18, 1961, in an air crash while flying there to negotiate a cease-fire between United Nations and Katanga forces.The son of the Swedish prime minister during World War I, Hammarskjold studied law and economics at the universities of Uppsala and Stockholm. He quickly gained prominence in his own country as secretary and then chairman of the board of governors of the Bank of Sweden; he was undersecretary of the Swedish department of finance from 1936 to 1945. In 1946 he entered the forei