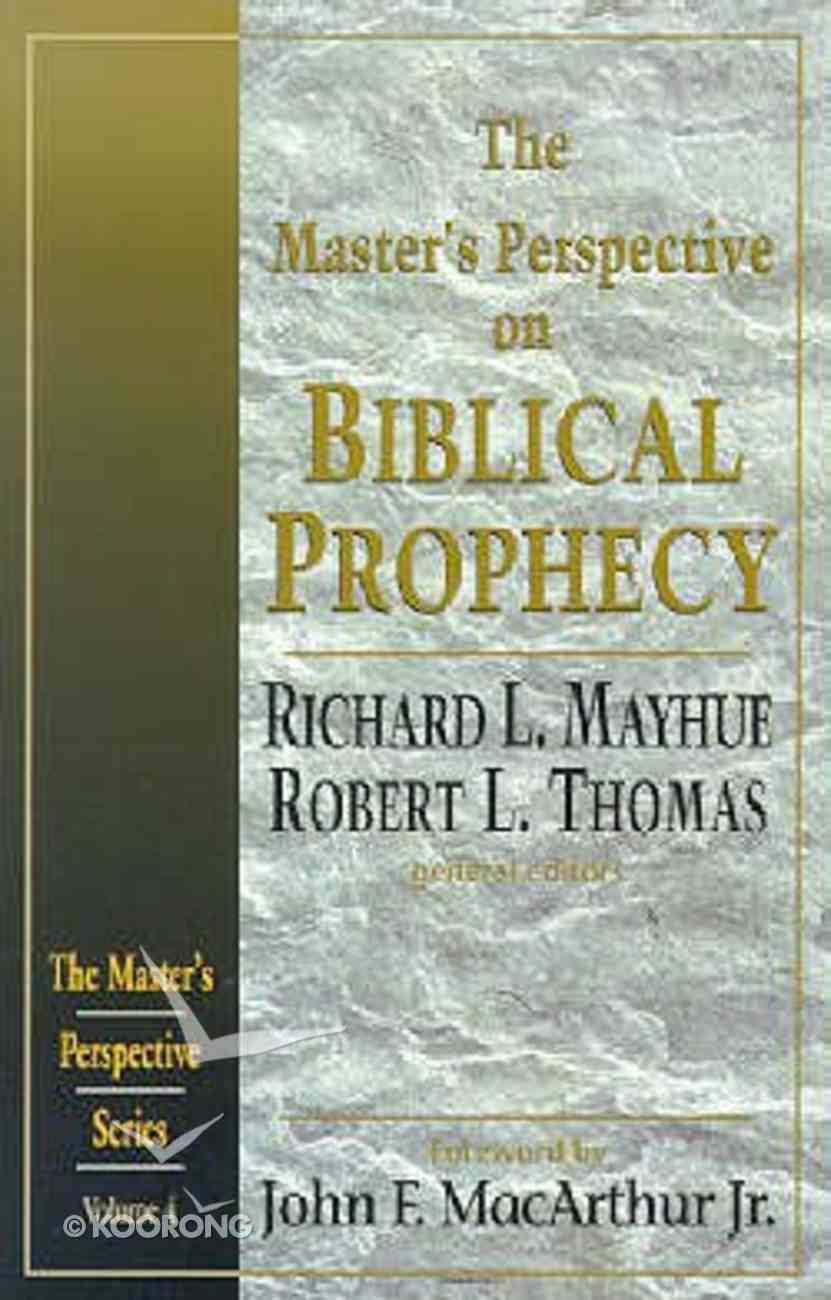 Master's Perspective #04: Biblical Prophecy
---
Free Shipping
for orders over $99.
11 Chapters
-Publisher
(Foreword by John F. MacArthur Jr.)A series designed for pastors and Bible students features the writings of notable Bible scholars and teachers on topical issues. Chapters in this series previously appeared in The Master's Seminary Journal.
-Publisher
Christ's return will fulfill the believer's expectation of being conformed to His likeness, a future reality that helps transform the present life of the Christian. Learning what the Bible teaches about the future matures us in Christ, keeping our focus on that great day when we will be caught up to meet Him in the clouds. The contributions to this work examine critical themes associated with the end times and Christ's return. Chapters by notable scholars such as Stephen J. Nichols, Kenneth L. Barker, Larry D. Pettegrew, and Robert L. Thomas include: "The Mission of Israel and of the Messiah in the Plan of God" "Literary Genre and the Hermeneutics of the Apocalypse" "The Kingdoms of Christ in the Apocalypse" "Premillennialism in the Book of Daniel" "Dispensationalists and Spirit Baptism"
-Publisher
Dr. Richard Mayhue(Th.D., Grace Theological Seminary) is Senior Vice President and Dean of The Master's Seminary, Sun Valley, California, where has also teaches theology and pastoral ministry. In more than twenty-five years of ministry Dr. Mayhue has served as a pastor, trained pastors, and written, edited or contibuted to more than fifteen books.
Robert L. Thomas (Ph.D., Dallas Theological Seminary) is professor of New Testament at The Master's Seminary. He is the author or coauthor of numerous books and other works, including the commentaries on 1 and 2 Thessalonians in the Holt series.