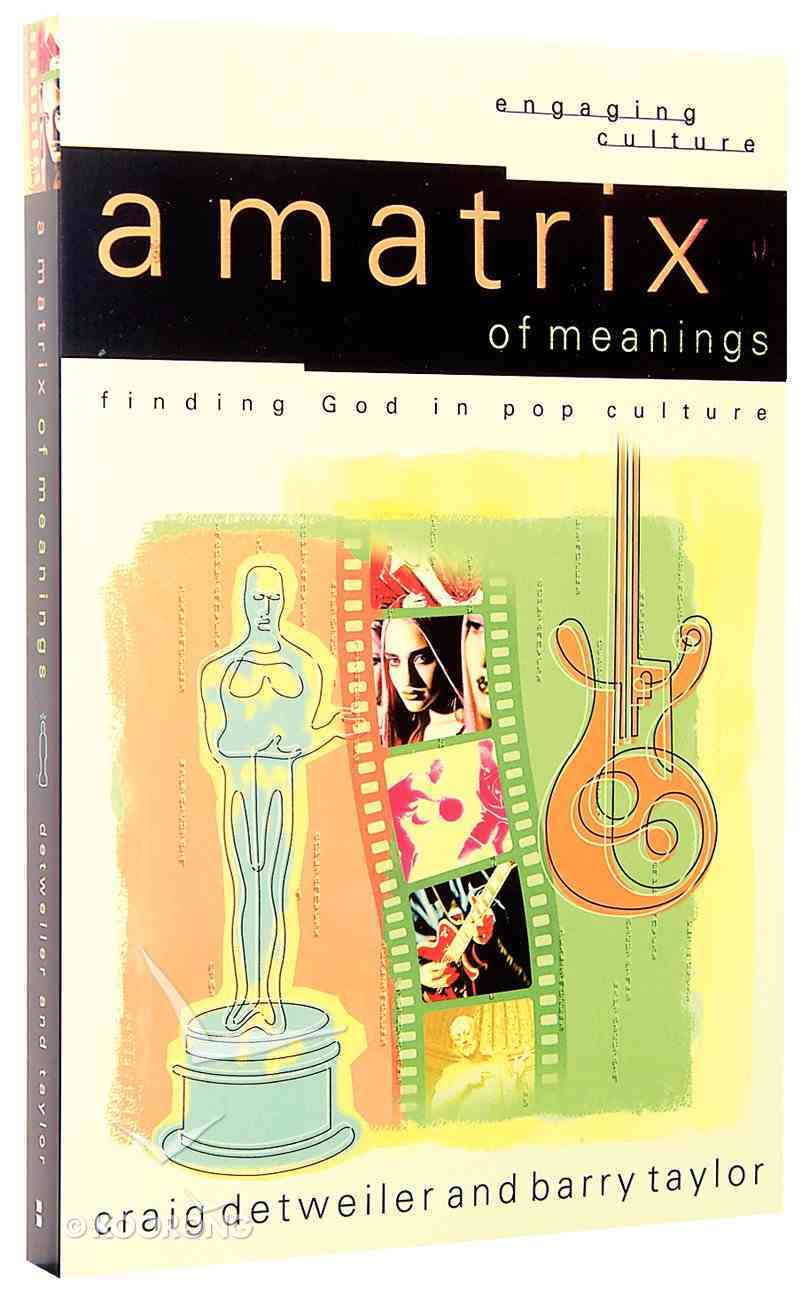 Matrix of Meanings, A: Finding God in Pop Culture (Engaging Culture Series)
Ross and Rachel had a baby, Britney and Justin broke up, and Time magazine asked if Bono could save the world. From the glittering tinsel of Hollywood to the advertising slogan you can't get out of your head, we are...
Available
0 Available. Expected to ship in 2 weeks from Australia.
---
Expected to ship in 2 weeks from Australia.
---
Free Shipping
for orders over $99.
Ross and Rachel had a baby, Britney and Justin broke up, and Time magazine asked if Bono could save the world. From the glittering tinsel of Hollywood to the advertising slogan you can't get out of your head, we are surrounded by popular culture. In A Matrix of Meanings Craig Detweiler and Barry Taylor analyze aspects of popular culture and ask, What are they doing? What do they represent? and What do they say about the world in which we live? Rather than deciding whether Bono deserves our admiration, the authors examine the phenomenon of celebrity idolization. Instead of deciding whether Nike's "Just do it" campaign is morally questionable, they ask what its success reflects about our society. A Matrix of Meanings is a hip, entertaining guide to the maze of popular culture. Plentiful photos, artwork, and humorous sidebars make for delightful reading. Readers who distrust popular culture as well as those who love it will find useful insight into developing a Christian worldview in a s
-Publisher
Two Hollywood insiders offer this hip entertaining guide through the maze of popular culture. Photos, artwork, and humorous sidebars are included. National advertising and print and broadcast media campaigns.
-Publisher
"Most of us look to pop culture to comment on how bad it is and how countercultural we need to be. A Matrix of Meanings takes us a few levels deeper to find a surprising and provocative search for spiritual meaning in places we would never expect. This book helps us get connected."--Robert Webber, Myers Professor of Ministry, Northern Seminary"Popular culture has become the environment in which we live, move, and have our being. The authors of this analysis and evaluation have the advantage of being professional practitioners--one in music, one in filmmaking--as well as acute observers of popular culture. One does not have to agree with all their judgments or responses to commend this book as the most insightful and stimulating recent Christian study of the subject."--Robert Banks, director and dean, Macquarie Christian Studies Institute, Sydney, Australia"At first glance, a book claiming that 'God shines through even the most debased pop cultural products' might be dismissed as misguided, irreverent, or even sacrilegious. Yet if we are willing to take seriously the authors' call to 'look closer,' we might actually find that they are right--that the rise of pop culture may well be one of 'the most profound, provocative, exciting expressions of legitimate spiritual yearning in at least one hundred years.' So while not losing sight of Paul's injunction to concentrate on what is pure, noble, and right, let us follow Detweiler and Taylor's lead and 'join the theologizing already occurring within popular culture.' In so doing, we just might be drawn deeper into the mystery of the God we proclaim and perhaps even discover an unanticipated connection to the postmodern generation God is calling us to serve."--Stanley J. Grenz, author of A Primer on Postmodernism"Moaning about the evils of pop culture is a favorite pastime among American Christians, both liberal (who usually prefer high culture) and conservative (who prefer subculture). Their kind of moaning might raise amens and money from older and younger fogeys, but it generally turns Christians into crotchety grumps. If you want a strong antidote to religious grousing about pop culture, read A Matrix of Meanings. Taylor and Detweiler cast a deeper look at pop culture and see plenty of divine fingerprints. Their kind of writing will turn Christians into engaged agents of the gospel."--Brian McLaren, pastor (crcc.org), author, and fellow in emergent (emergentvillage.com)"This exciting book is long overdue. Christians live in the same everyday world as everyone else but struggle to relate their faith to it, while the theological experts who are supposed to help them generally dismiss popular culture as unworthy of serious reflection. Detweiler and Taylor have put everyone in their debt by not only affirming the intrinsic importance of pop culture but also reflecting theologically on it. This is one of very few books to treat popular culture and theology with equal seriousness, and its breadth of coverage means it is probably destined to become the definitive work in its field. In fact, for those Christians who are less informed than they would like to be, this would make an excellent crash course in pop culture, combined with an insightful theological analysis of it all. Detweiler and Taylor know how to challenge without being destructive and cynical. This is practical theology at its very best."--John Drane, author of The McDonaldization of the Church"An invaluable guidebook for navigating pop culture. Read this book and you too can keep the promise of Psalm 101:3: 'I will set no worthless thing before my eyes.'"--Steve Tompkins, producer, The Simpsons, The PJs, and The Bernie Mac Show
-Publisher
Barry Taylor (PhD, Fuller Seminary) is artist in residence for the Brehm Center and an adjunct professor at Fuller Seminary, where he teaches a series of spiritually innovative classes on music, film, and contemporary theology. In addition, he is an associate rector at All Saints Episcopal Church in Beverly Hills. He has co-authored two books, A Matrix of Meanings: Finding God in Popular Culture with Craig Detweiler and A Heretic's Guide to Eternity.
Craig Detweiler is Associate Professor of Communication at Pepperdine University. He is the editor of "Halos and Avatars: Playing Video Games with God"; the author of "Into the Dark: Seeing the Sacred in the Top Films of the 21st Century"; and coauthor (with Barry Taylor) of "A Matrix of Meanings: Finding God in Pop Culture".
Bestsellers in Christian Living