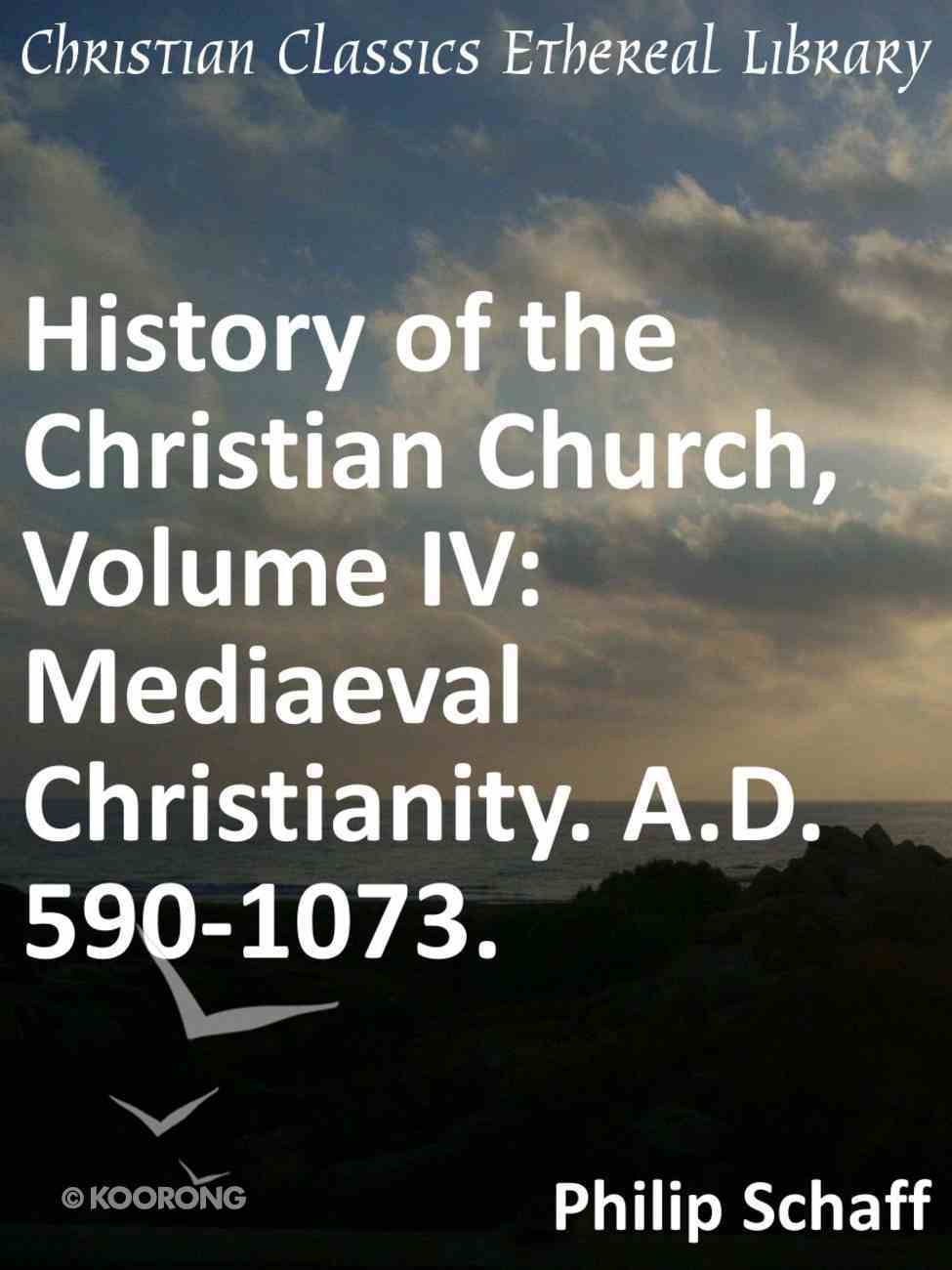 Mediaeval Christianity. A.D. 590-1073. (#04 in History Of The Christian Church Series)
Philip Schaff's History of the Christian Church excels at providing an impressive and instructive historical treatment of the Christian church. This eight volume work begins with the early Church and ends at 1605 with the Swiss Reformation. Schaff's treatment is...
Instant download
---
Expected to ship tomorrow from Australia.
---
Read using our free app on your tablet or mobile!
---
Free Shipping
for orders over $99.
Philip Schaff's History of the Christian Church excels at providing an impressive and instructive historical treatment of the Christian church. This eight volume work begins with the early Church and ends at 1605 with the Swiss Reformation. Schaff's treatment is comprehensive and in depth, discussing all the major (and minor!) figures, time periods, and movements of the Church. He includes many footnotes, maps, and charts; he even provides copies of original texts in his treatment. One feature of the History of the Christian Church that readers immediately notice is just how beautifully written it is--especially in comparison to other texts of a similar nature. Although at points the scholarship is slightly outdated, overall History of the Christian Church is great for historical referencing. Whether for serious scholarship, sermon preparation, daily devotions, or simply edifying reading, History of the Christian Church comes highly recommended. -Tim Perrine, CCEL Staff Writer
Philip Schaff's History of the Christian Church excels at providing an impressive and instructive historical treatment of the Christian church. This eight volume work begins with the early Church and ends at 1605 with the Swiss Reformation. Schaff's treatment is comprehensive and in depth, discussing all the major (and minor!) figures, time periods, and movements of the Church. He includes many footnotes, maps, and charts; he even provides copies of original texts in his treatment. One feature of the History of the Christian Church that readers immediately notice is just how beautifully written it is--especially in comparison to other texts of a similar nature. Although at points the scholarship is slightly outdated, overall History of the Christian Church is great for historical referencing. Whether for serious scholarship, sermon preparation, daily devotions, or simply edifying reading, History of the Christian Church comes highly recommended. -Tim Perrine, CCEL Staff Writer
-Publisher
Authors: John Williamson Nevin (1803-1886), and Philip Schaff (1819-1893) were professors at Mercersburg Seminary of the German Reformed Church, Nevin being among the leading American Protestant theologians of his day and Schaff quickly rising to become the nineteenth century's premier church historian. Daniel Gans (1822-1903) was a pupil of theirs and later German Reformed minister and writer. Editor: William B. Evans is the Younts Professor of Bible and Religion at Erskine College in South Carolina. The author of Imputation and Impartation: Union with Christ in American Reformed Theology (Pa