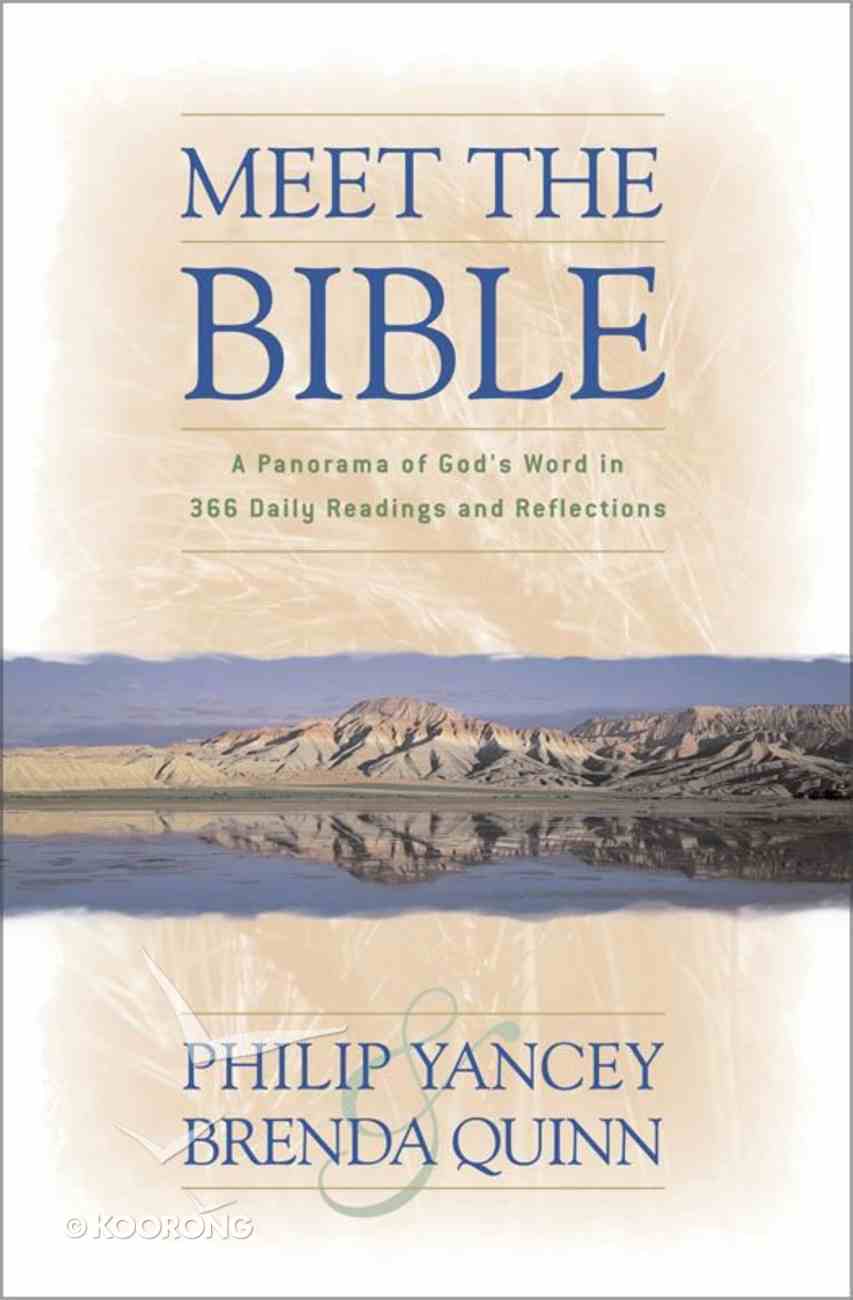 This is a daily, one-year devotional tool containing Bible readings which highlight the major teachings, characters, and events of Scripture for the new Bible reader.
Instant download
---
Expected to ship within 9 hours from Australia.
---
Read using our free app on your tablet or mobile!
---
Free Shipping
for orders over $99.
This is a daily, one-year devotional tool containing Bible readings which highlight the major teachings, characters, and events of Scripture for the new Bible reader.
The story of the Bible starts with the simple statement, "In the beginning, God created ..." From that first sentence of Genesis, the story of salvation unfolds in strange and wonderful mingling of the commonplace and the miraculous, the human and the transcendent. But if you were born after the baby boom, chances are the Bible seems more like an item of passing interest than a book of depth and meaning for the twenty-first century. If you're not familiar with the Bible, it can be difficult to put into perspective the puzzle of kings and prophets, giants and seven-headed dragons, shepherd boys and itinerant preachers, Old Testament law and New Testament grace. Meet the Bible introduces you to the full, epic sweep of the Bible -- the characters, the places, the times, the stories, and the meanings of this Book of books -- and shows you that even the most obscure passage can hold relevance for your life once you understand what to look for. Award-winning writer Philip Yancey and author Brenda Quinn are your guides on this one-year reading tour of the Bible. Each day's reading includes Scripture, contemporary commentary, and questions for contemplation -- all designed to offer insight into how the passage fits into the overall story of the Bible, and how it can speak to your life today. Meet the Bible takes you through the twists and turns of the Bible's many narratives, the high points and the low points, the good characters and the bad, as well as the eternal thoughts and descriptions of God and his Son, Jesus Christ. Here are stories to remember, images of real people and circumstances closer to your own life than you've ever imagined. By the time you've finished the year's worth of reading, you'll have gained a panoramic view of the whole Bible and a firm understanding of its ideas and teachings. If you've never read the Bible, or hardly know the Bible, or would just like to read the Bible in a fresh new way, Meet the Bible offers an inspiring mix of timeless wisdom and contemporary insight that will cause faith to ignite within you. Direct excerpts from Scripture give readers a panoramic tour of the Bible's key passages, personalities, events, and ideas as the Old Testament sweeps into the New Testament. Culturally relevant commentary from Quinn and Yancey sheds light on each day's passage, examining the twists and turns of the Bible's many narratives, the high points and the low points, the good characters and the bad, as well as the eternal thoughts and descriptions of God and his Son. Reflections every five days provide life application for the week's Scripture readings.
-Publisher
PRODUCT DETAIL
Catalogue Code 

346042

Product Code 

9780310873174

ISBN 

0310873177

EAN 

9780310873174

Department General Books
Category Devotions
Sub-Category General
Publisher Zondervan
Publication Date 

May 2010

Sales Rank 

52054

Size 

1.79 MB (EPUB)
Growing up in a strict, fundamentalist church in the southern USA, a young Philip Yancey tended to view God as 'a scowling Supercop, searching for anyone who might be having a good time in order to squash them.' Yancey jokes today about being 'in recovery' from a toxic church. 'Of course, there were good qualities too. If a neighbour's house burned down, the congregation would rally around and show charity if, that is, the house belonged to a white person. I grew up confused by the contradictions. We heard about love and grace, but I didn't experience much. And we were taught that God answers prayers, miraculously, but my father died of polio just after my first birthday, despite many prayers for his healing.'

For Yancey, reading offered a window to a different world. So, he devoured books that opened his mind, challenged his upbringing, and went against what he had been taught. A sense of betrayal engulfed him. 'I felt I had been lied to. For instance, what I learned from a book like To Kill a Mockingbird or Black Like Me contradicted the racism I encountered in church. I went through a period of reacting against everything I was taught and even discarding my faith. I began my journey back mainly by encountering a world very different than I had been taught, an expansive world of beauty and goodness. Along the way I realized that God had been misrepresented to me. Cautiously, warily, I returned, circling around the faith to see if it might be true.'

Ever since Yancey has explored the most basic questions and deepest mysteries of the Christian faith, taking millions of readers with him. Early on he crafted best-selling books such as Disappointment with God and Where is God When it Hurts? while also editing The Student Bible. He co-authored three books with the renowned surgeon Dr. Paul Brand. 'No one has influenced me more' he says. 'We had quite a trade: I gave words to his faith, and in the process he gave faith to my words.' More recently, he has felt the freedom to explore central issues of the Christian faith, penning award-winning titles such as The Jesus I Never Knew, What's So Amazing About Grace? and Prayer: Does It Make Any Difference? His books have garnered 13 Gold Medallion Awards from Christian publishers and booksellers. He currently has more than 15 million books in print, published in 35 languages worldwide.

Yancey worked as a journalist in Chicago for some twenty years, editing the youth magazine Campus Life while also writing for a wide variety of magazines including Reader's Digest, Saturday Evening Post, National Wildlife, and Christianity Today. In the process he interviewed diverse people enriched by their personal faith, such as President Jimmy Carter, Habitat for Humanity founder Millard Fuller, and Dame Cicely Saunders, founder of the modern hospice movement. In 1992 he and his wife Janet, a social worker and hospice chaplain, moved to the foothills of Colorado. His writing took a more personal, introspective turn even as his activities turned outward. 'Writing is such an introspective act that I found myself looking for ways to connect with the planet bodily. My interests include skiing, climbing mountains, mountain-biking, golf, international travel, jogging, nature, theology (in small doses), politics, literature, and classical music.'

'I write books for myself,' he says. 'I'm a pilgrim, recovering from a bad church upbringing, searching for a faith that makes its followers larger and not smaller. I feel overwhelming gratitude that I can make a living writing about the questions that most interest me. My books are a process of exploration and investigation of things I wonder about and worry about.' Yancey writes with an eye for detail, irony, and honest skepticism.

So, just how does a man who's been through all Yancey has, draw close to the God he once feared? He spends about an hour each morning reading spiritually nourishing books, meditating, and praying. This morning time, he says, helps him 'align' himself with God for the day. 'I tend to go back to the Bible as a model, because I don't know a more honest book,' Yancey explains. 'I can't think of any argument against God that isn't already included in the Bible. To those who struggle with my books, I reply, 'Then maybe you shouldn't be reading them. Yet some people do need the kinds of books I write. They've been burned by the church or they're upset about certain aspects of Christianity. I understand that feeling of disappointment, even betrayal. I feel called to speak to those living in the borderlands of faith.' He lives with his wife in Colorado.
Brenda Quinn, former staff editor for Serendipity House and editorial coordinator for MOPS International, Inc., is cowriter of study guides for both 'The Jesus I Never Knew' and 'What's So Amazing About Grace?' She coauthored the devotional 'Meet the Bible' with Philip Yancey. Brenda lives with her husband and son in Colorado.