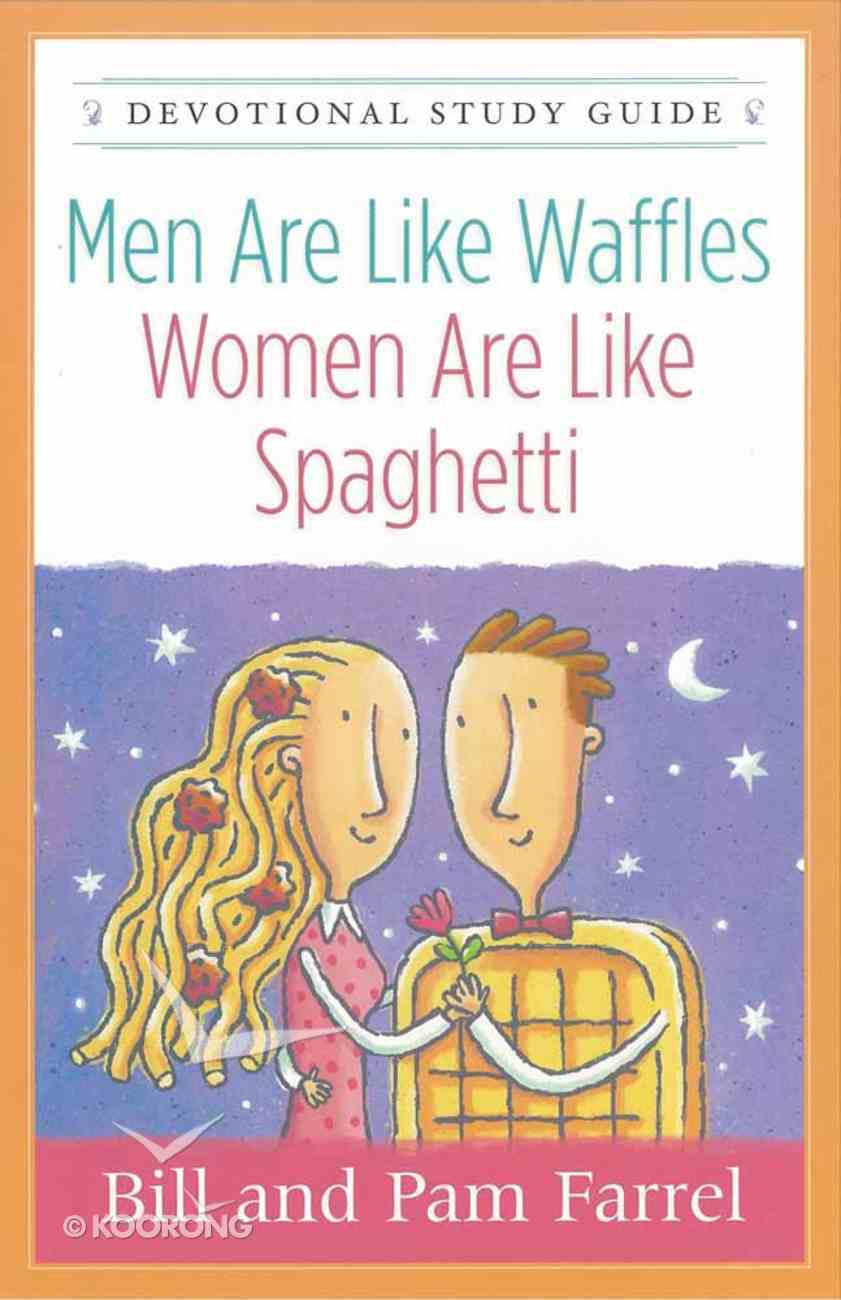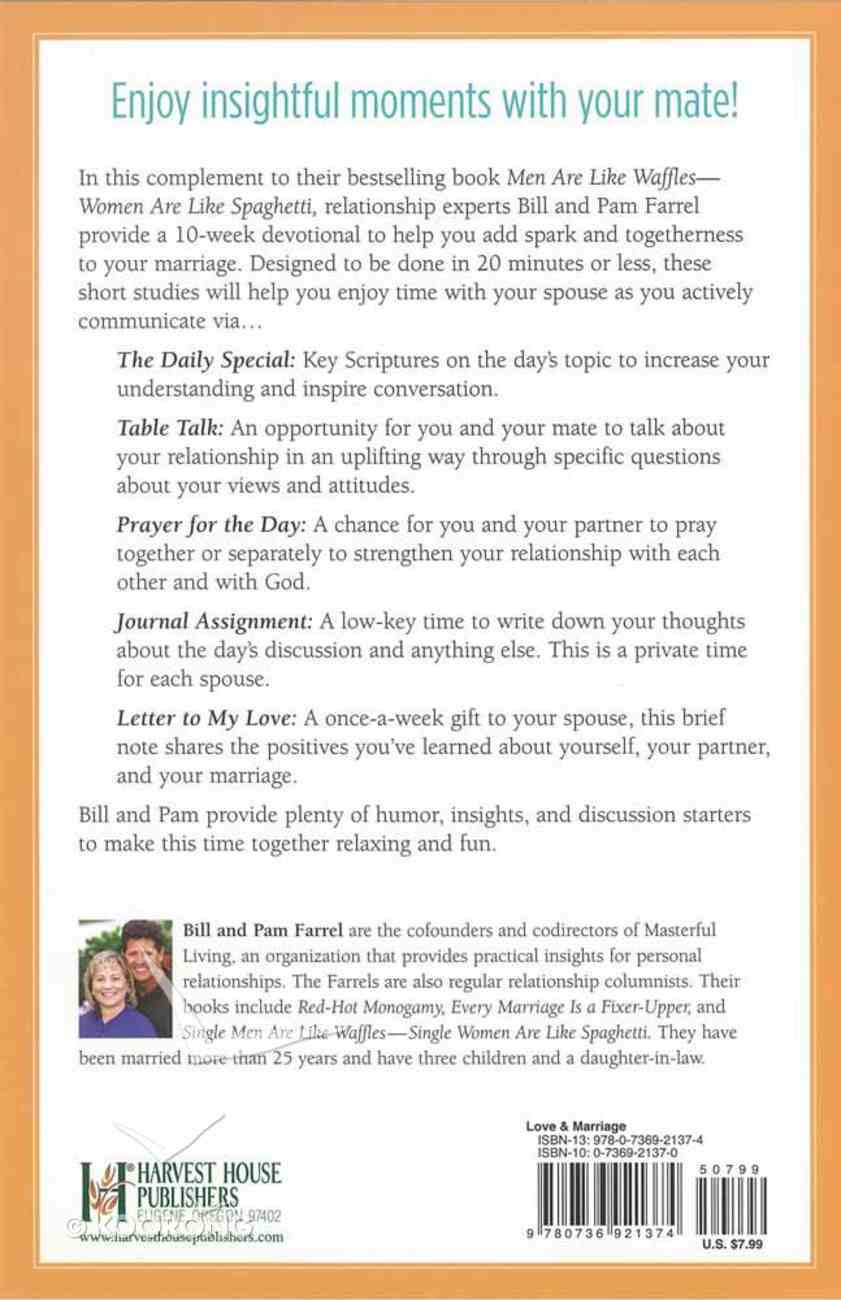 Men Are Like Waffles, Women Are Like Spaghetti (Study Guide)
This easy-to-use study guide based on Bill and Pam Farrel's bestselling book "Men Are like Waffles--Women Are like Spaghetti" will take readers to a new level in their appreciation of the differences and special delights of their mates. Designed to...
Out of Stock
Available to Order
---
Expected to ship in 5 to 6 weeks from Australia.
---
Free Shipping
for orders over $99.
This easy-to-use study guide based on Bill and Pam Farrel's bestselling book "Men Are like Waffles--Women Are like Spaghetti" will take readers to a new level in their appreciation of the differences and special delights of their mates. Designed to address the important issues of a happy marriage, this guide will make planning time with each other fun and exciting help couples coordinate parenting so kids get the best of Mom and Dad bring out the best each spouse has to give in sex, romance, and communication ^Ideal for individual or group study, small group leaders will find this guide a useful tool for leading couples in biblically based discussions, and couples who choose to go through it together will find the "Men Are Like Waffles--Women Are Like Spaghetti Study Guide "perfect for a create-your-own marriage retreat.
-Publisher
This easya'toa - use study guide based on Bill and Pam Farrela'sbestselling book Men Are like Wafflesa - Women Are like Spaghetti will takereaders to a new level in their appreciation of the differences and specialdelights of their mates. Designed to address the important issues of a happy marriage, this guide will make planning time with each other fun and exciting help couples coordinate parenting so kids get the best of Mom and Dad bring out the best each spouse has to give in sex, romance, and communication Ideal for individual or group study, small group leaderswill find this guide a useful tool for leading couples in biblically baseddiscussions, and couples who choose to go through it together will find the MenAre Like Wafflesa - Women Are Like Spaghetti Study Guide perfect for acreatea - youra - own marriage retreat.
-Publisher
Bill Farrel is Pastor to Small Groups at Shadow Mountain ComBill Farrel is Pastor to Small Groups at Shadow Mountain Community Church. Bill is co-director (with his wife and anothemunity Church. Bill is co-director (with his wife and another IVP author, Pam) of Masterful Living, a relationships minir IVP author, Pam) of Masterful Living, a relationships ministry. Bill is the co-author ofDevotions for Men on the Go! (stry. Bill is the co-author ofDevotions for Men on the Go! (with Steve Arterburn) and Men are Like Waffles, Women Are Liwith Steve Arterburn) and Men are Like Waffles, Women Are LiC
Pam Farrel, a speaker and author, is co-founder with her husPam Farrel, a speaker and author, is co-founder with her husband Bill of Masterful Living, an organization that helps coband Bill of Masterful Living, an organization that helps couples build successful relationships. Together Pam and Bill uples build successful relationships. Together Pam and Bill authored the bestselling book Men are Like Waffles, Women arauthored the bestselling book Men are Like Waffles, Women are Like Spaghetti (Harvest House). Pam is also the author ofWe Like Spaghetti (Harvest House). Pam is also the author ofWC
Bestsellers in Relationships