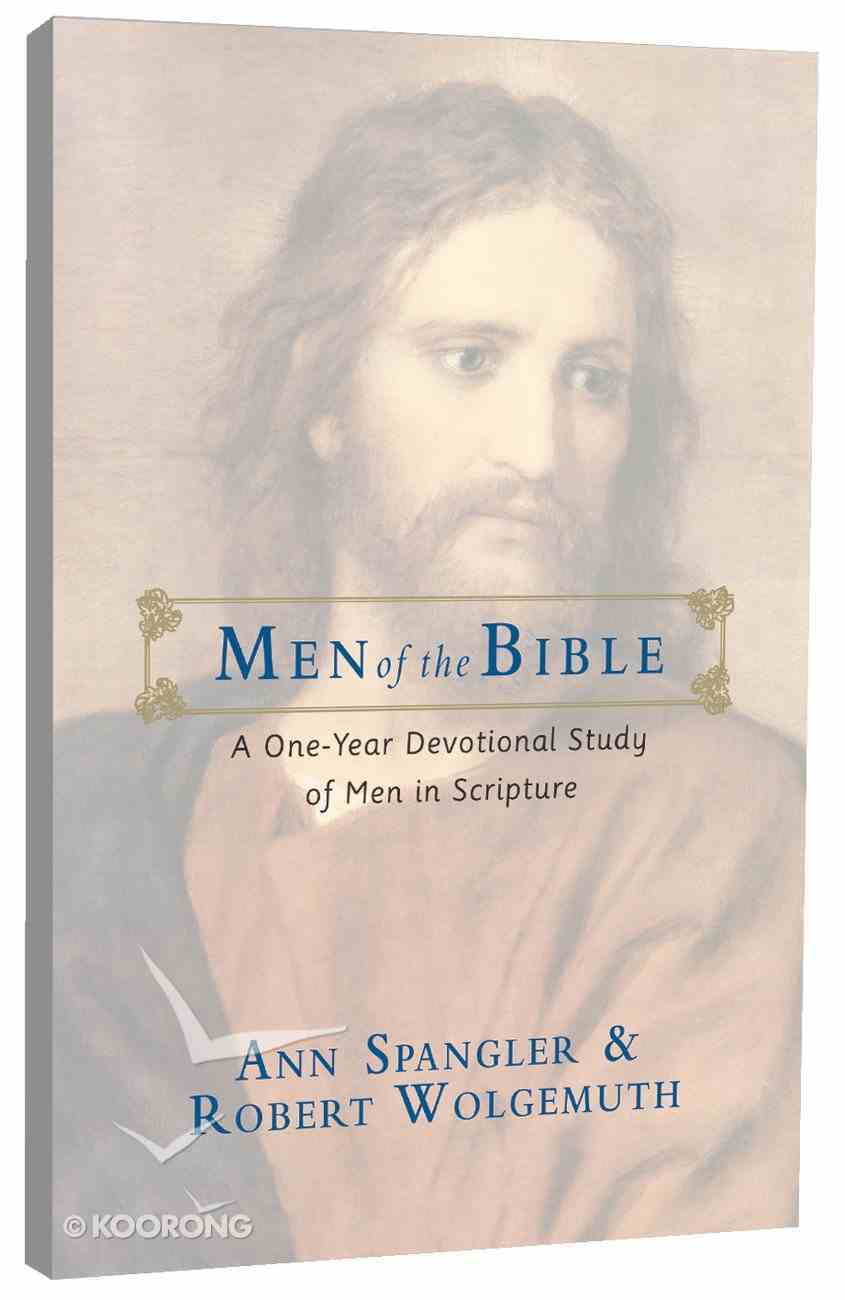 Men of the Bible offers both men and women a fresh way to read and understand the Bible---through the eyes and hearts of the men whose stories unfold in its pages. This unique book takes a close-up look at fifty-two...
---
Expected to ship tomorrow from Australia.
---
Free Shipping
for orders over $99.
Men of the Bible offers both men and women a fresh way to read and understand the Bible---through the eyes and hearts of the men whose stories unfold in its pages. This unique book takes a close-up look at fifty-two men in Scripture---complex flesh-and-blood characters whose strengths and weaknesses will seem strangely similar to your own. Heroes and villains, sinners and prophets, commoners and kings ... their dramatic life stories provide you with a fresh perspective on the unfolding story of redemption. Though our culture differs vastly from theirs, the fundamental issues we face in relation to God and the world remain the same. We still reach for great dreams and selfish ambitions. We wrestle with fear and indecision, struggle with sexual temptation, and experience the ache of loneliness and the devastation of betrayal. And, like many of these men, we long to walk more closely with the God who calls us into an intimate relationship with himself and who enables us to fulfill his purpose for our lives. Men of the Bible offers men and women today a unique devotional experience that combines five elements. Each week becomes a personal retreat focused on the life of a particular man: Monday: His Story---a narrative retelling of the biblical story Tuesday: A Look at the Man---focusing on the heart of the man and how his story connects with your own life Wednesday: His Legacy in Scripture---a Bible study on principles revealed through the life of the man Thursday: His Legacy of Promise---Bible promises that apply to his life and yours Friday: His Legacy of Prayer---praying in light of his story Designed for personal prayer and study or for use in small groups, Men of the Bible will help you make Bible reading a daily habit. Whether you dip into portions or read every page, this book will help you grow in character, wisdom, and obedience as a person after God's own heart.
-Publisher
PRODUCT DETAIL
Catalogue Code 

302140

Product Code 

9780310328896

ISBN 

0310328896

EAN 

9780310328896

Pages 

448

Department General Books
Category Devotions
Sub-Category Men's Devotions
Publisher Zondervan
Publication Date 

Mar 2010

Sales Rank 

19614

Dimensions 

215 x 139 x 31

mm

Weight 

0.408

kg
Ann Spangler is the author of many bestselling books, including Praying the Names of God, Praying the Names of Jesus, and Women of the Bible (with Jean Syswerda). An award-winning author, Ann's books appeal to a broad spectrum of readers interested in honestly exploring the connection between spiritual experience and everyday life. She and her two daughters live in Grand Rapids, Michigan.
Wolgemuth is a popular lay Bible teacher, speaker, and best-selling author. His seventeen books include Men of the Bible, The Most Important Year in a Man's Life and The Most Important Place on Earth which he has taught to Sunday school classes for over 30 years.- Publisher.
Adam . . .15
Cain And Abel . . .24
Noah . . . .32
Abraham .40
Isaac . . . .47
Esau . . . .55
Jacob . . . .63
Joseph . . .71
Judah . . . .79
Moses . . .87
Aaron . . .97
Joshua . .105
Achan . .113
Gideon . .122
Samson . .130
Boaz . . .137
Samuel . .145
Saul . . . .153
David . .160
Jonathan .168
Mephibosheth . . .177
Nathan . .185
Absalom .195
Solomon .205
Elijah . . .214
Elisha . .221
Naaman .228
Hezekiah 235
Josiah . . .244
Ezra . . .251
Nehemiah 259
Job . . . .268
Isaiah . . .276
Jeremiah .284
Daniel . .294
Hosea . . .302
Jonah . . .310
Joseph . .318
John The Baptist .325
Jesus . . .333
Matthew .340
James And John . .348
Mark . . .357
Peter . . .366
Luke . . .375
The Man By The Pool . . .383
Lazarus .390
Prodigal Son And Elder Brother . .400
Judas . . .409
Pontius Pilate . . .416
Stephen .425
Paul . . . .434
ADAM His Name Means 'Of the Ground' His Work: Until his sin, Adam was naked and was the happy caretaker of the Garden of Eden. After succumbing to temptation, he tailored his own clothes and became a farmer. His Character: The first man, Adam, was initially God's perfect human creation. Adam was in harmony with nature and with his wife, who was formed from one of his ribs. His Sorrow: More tragic than any story in the Bible, Adam disobeyed God, was expelled from the Garden of Eden, and spent the rest of his life in hard labor. His Triumph: Adam was the firstborn of all creation. Key Scriptures: Genesis 2--3 Monday HIS STORY ' What's that sound?' The tension in Eve's voice reflected the new feelings in Adam's gut. His mind and heart swirled with sickening sen-sations, ones he wished he had never experienced, born of deepest guilt and the terror of truth. Until this moment, his life had been filled with remarkable delight. It all began when Adam took his first breath. The span of time between morning consciousness and gathering enough energy to open one's eyes usually takes just a few moments. But for Adam, the prewaking experience of semiconsciousness must have taken some time. This was unlike anything that had ever happened before---or has happened since: a full-grown man literally sucking in his first gulp of air. As he lay somewhere between sleep and full consciousness, Adam's first thoughts must have been, Who am I? What are those sounds? Where am I? What is this? Brushing the sleep from his eyes, accepting life, Adam slowly sat up. He looked down at his own legs and arms and saw smooth skin and firm, strong muscles. He lifted his hands to his face, bending and stretching his fingers, studying the sinews. He drew his hands closer and touched his face, feeling the contours of his eyes and cheekbones, then briefly to his hair, thick and long. Adam slowly stood to his feet. He tightened the muscles of his legs and stretched his new arms skyward. He drew in a deep breath of fresh, cool air that would rival a pristine, deep forest breath. And it was only then that Adam saw something of the breathtaking beauty that surrounded him. The foliage was lush, the flowers a panoply of color. The fully orchestrated sounds of songbirds and animals filled his head with sheer ecstasy. I am alive. He took another deep breath. Life is good. Adam began to walk. Slowly at first, then a jog, finally a dead run. Like a child turned loose, the man finally pulled up and spun around, his arms spread wide. He sang and shouted sounds from his own mouth, something he had never heard before. And if the sounds and the beauty and the wind tousling his hair were not enough to flood his senses, Adam felt an indescribable Presence. Yes, there were lots of living things around him, but this was different--- an inexpressible Someone. All about him. Over there . . . over there . . . and over there. Whoever it was, Adam inherently knew that he was not the only one in the garden. Yet he was not afraid; instead, he was comforted by the Presence. Adam stopped in a small meadow, the soft grass cushioning his feet. The glowing yellow sun in the sky warmed his shoulders. He looked at the trees surrounding him and felt a vague emptiness in the pit of his stomach. And then, for the first time, Adam heard a voice, a sound different from the sound of any of the other living things around him. He heard words---a language that took shape and became immediate knowledge in his mind. The voice was quiet and authoritative, and he recognized it as belonging to the Presence. 'You are free to eat from any tree in the garden,' the voice said, 'but you must not eat from the tree of the knowledge of good and evil, for when you eat of it you will surely die.' Adam nodded his willing compliance. He had noted again the tree to his left and decided he was more than willing to obey. With all of this, he thought, looking all about, why would I miss the fruit of that tree? It's an easy promise. Walking to a small bush covered with red fruit, Adam pulled a berry from a reluctant stem and tentatively bit into it. Juice covered his tongue and ran down his throat, tickling his mouth with a delightful sweet-tart sensation. Eagerly, he gathered others and shoved them into his mouth. Then from the woods and skies, animals and birds approached him. As though mysteriously commanded to organize, these living things passed by, and group by group, Adam called out their names. And once they were named, they scattered again. If ever a man experienced satisfaction by his surroundings, it was Adam. There was the invisible Presence, the creatures, the vegetation, and the fruit. But they weren't enough. Deep in his soul, Adam longed for something---or someone---else by his side. 'It is not good for you to be alone,' the voice spoke again. 'I will make a helper suitable for you.' Adam sat down. The words warmed him. He knew that the Presence understood his longing. First a drowsiness, then a complete fatigue overwhelmed Adam. He laid his head on the soft grass and closed his eyes. In what seemed like a moment, he slowly opened his eyes, snatching consciousness from the mist of sleep. As his eyes took focus, he saw a form lying on the ground next to him. His heart raced at the beauty of the creature, like him in some ways, different in delightful other ways. Rising to his feet, Adam took the hand of the woman, helping her to stand. Their eyes met. They smiled and gently extended their arms toward each other until they embraced. Feeling the warmth of her body against his own, Adam nestled his face on the woman's neck. And her presence filled the hollowness in his heart. A perfect companion.