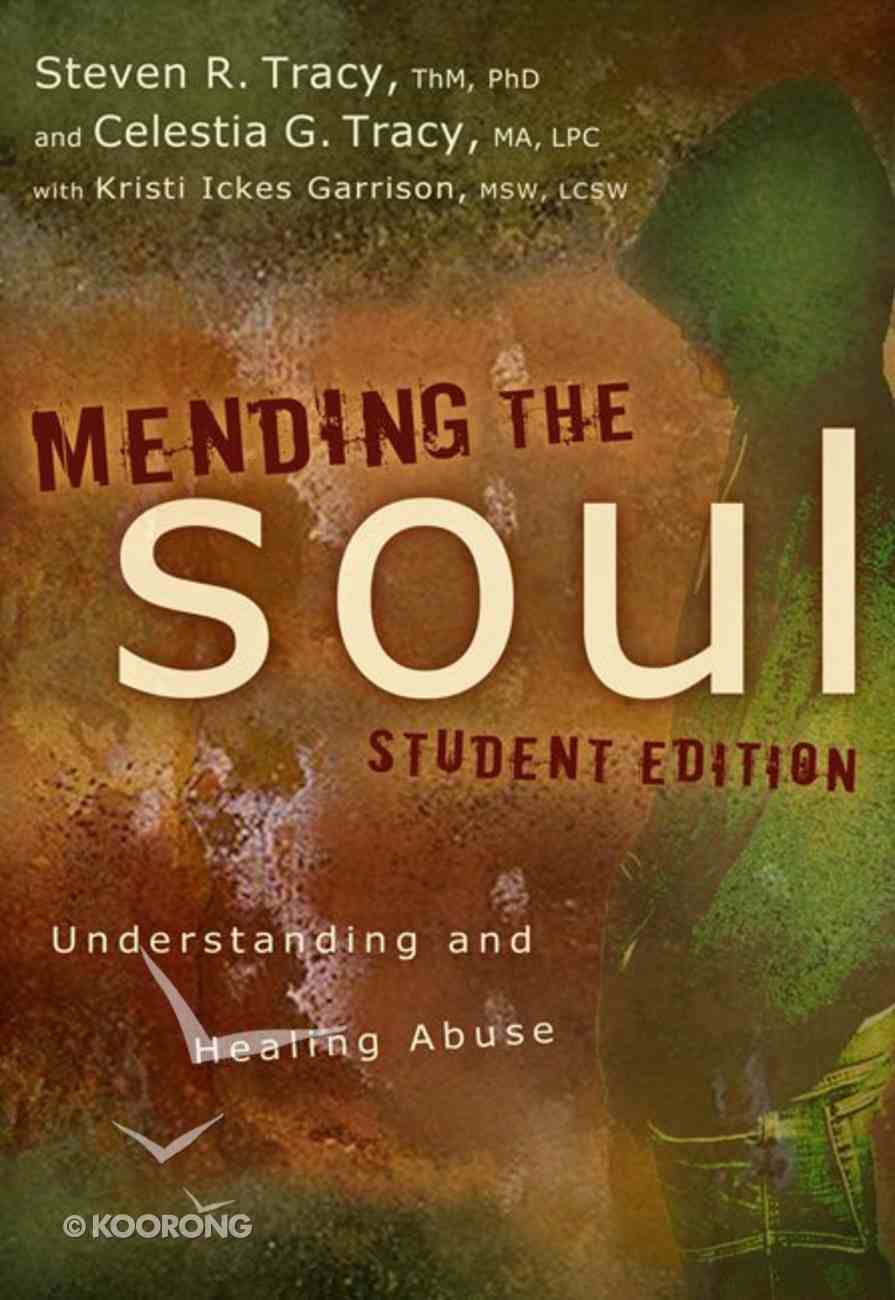 Mending the Soul - Student Edition
For teenagers who have experienced any kind of abuse or abandonment, it can often feel like hope is lost and they're doomed to stay stuck in unhealthy habits and patterns. This teenage edition of Mending the Soul was written to...
Out of Stock
Available to Order
---
Expected to ship in 5 to 6 weeks from Australia.
---
Free Shipping
for orders over $99.
For teenagers who have experienced any kind of abuse or abandonment, it can often feel like hope is lost and they're doomed to stay stuck in unhealthy habits and patterns. This teenage edition of Mending the Soul was written to show teens that by following a path of restoration and allowing God's grace to touch their heart's deepest wounds, they will find hope and healing as they work through their pain. It will help them navigate the emotional trauma of abuse and abandonment, as well as recognize signs of unhealthy families and dating relationships. Armed with a better understanding of their past and how the effects of abuse can lead to risky behaviors, shame, trauma and isolation---teens will be encouraged to face their brokenness, to heal and forgive and to look toward their hope-filled future. A practical resource for teens, Mending the Soul, Student Edition also offers insight into the struggles parents and ministry leaders face when working with teenage victims of abuse.
-Publisher
Steven R. Tracy, Ph.D., is vice president of academic affairs and associate professor of theology and ethics at Phoenix Seminary in Scottsdale, Arizona. He specializes in biblical ethics, abuse and sexuality. He and his wife are the founders of Door of Hope, a non-profit ministry that provides training, curriculam, and education for abuse healing ministry. The author of various articles on abuse and sexuality, he has fifteen years of pastoral and counseling experience and has just completed Mending the Soul, and he is preparing a book on Marriage.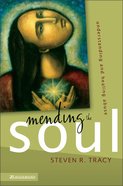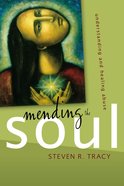 Table Of Contents:
This Book Will Have Three Sections---understanding My Past, Admitting My Present, And Looking To My Future. The Specific Chapter Break Down Is As Follows:
Section 1: Understanding My Past (four Chapters)
Students And Adults Who Have Grown Up With Abusive And Unhealthy Families Are Not Able To Articulate That The People Who They Love Have Acted Abusively And Sinfully Toward Them. Before A Person Can Heal From Their Past Pain They Must Have An Understanding Of What Was Right And Wrong And Stop Minimizing Their Experiences. They Must Name It For What It Is -- Abuse.
Chapter One: Understanding The Pain Of Abuse
This Chapter Teaches That Everyone Experiences Pain In Their Lives -- Either Through Abuse Or Abandonment. Each Type Of Abuse Has A Broad Spectrum Of How It Is Experienced So Explanations, Statistics, Examples, And Student Writings Illustrate Physical, Sexual, Emotional, Verbal, And Spiritual Abuse.
Chapter Two: Understanding The Pain Of Abandonment
This Chapter Explains That Abandonment, While More Difficult To See, Is Just As Damaging As Abuse. Just As There Are Five Categories Of Abuse, The Same Five Categories Make Up The Forms Of Abandonment. Even Though The Effects Of Abuse And Abandonment Are Painful And Overwhelming, We Can Find Hope Because God Redeemed Christ's Horrific Experience Abuse On The Cross. God Wants To Do The Same Miracle In Our Lives And Use Our Pain For His Glory.
Chapter Three: Understanding Unhealthy Families
This Chapter Discusses The Dynamics Of Unhealthy Families And Abusers, Which Are Contrasted With Examples Of Healthy Families. Since Unhealthy Families Can Look Good On The Outside And Abusers Often Look Like Regular People, The End Of The Chapter Focuses On The Four Common Characteristics Of Abusers -- Blaming, Tricking, Judging, And Intimidating Others.
Chapter Four: Understanding Unhealthy Dating
This Chapter Teaches Students That When They Grow Up In Unhealthy And Abusive Families They Are Very Likely To Experience Abuse In Dating Relationships As Well. Unhealthy And Healthy Relationships Are Contrasted Using Examples From Teens. A Section On Healthy Sexuality References Secular Research That Indicates The Importance Of Delaying Sexual Activity Until Marriage.
Section 2: Admitting My Present (four Chapters)
The Effects Of Abuse Are Complex And Many Times Counter-intuitive; Therefore, Students Often Look At Their Feelings And Behaviors And Inaccurately Conclude That Something Is Wrong With Them. In This Section, Complex Psychological Factors Are Discussed In A Very Simple Way Allowing Students To Understand How Their Past Pain Is Affecting Them.
Chapter Five: The Effects Of Abuse = Risky Behaviors
The Most Common Concern From Adults Regarding Adolescence Is Risky Behaviors. Abuse Creates Unmet Needs, And For Those Students, High Risk Behavior (drugs, Alcohol, Sex, Gangs, Violence) Can Superficially Meet Those Needs. Students Are Encouraged To Deal With The Pain Under Their Behaviors And Reach Out To Others To Get Their Needs Met In The Ways That God Designed.
Chapter Six: The Effects Of Abuse = Shame
This Chapter Explains The Difference Between The Feelings Of Guilt And Shame. Students Begin To Assess The Things In Their Life That They Have Done Wrong, Which Cause Legitimate God-given Guilt, And The Things That Have Been Done Wrong To Them, Which Causes Unhealthy Toxic Shame. The Link Between Abuse And Toxic Shame Is Given Along With Steps And Activities That Will Help Students Begin Healing Toxic Shame.
Chapter Seven: The Effects Of Abuse = Trauma
This Chapter Summarizes The Brain's And Body's Natural Reactions To Trauma (hyper-arousal, Intrusion, And Numbing) And How Extreme Stress And Abuse Can Cause A Person To Get Stuck In This Reactionary Mode. Trauma Causes Students To Feel Powerless, A Common Underlying Contributor To Suicide, Which Is Also Addressed In This Chapter.
Chapter Eight: The Effects Of Abuse = Isolation
This Chapter Discusses How Abuse Causes Many Students To Isolate Themselves From Their Relationships With Family, Friends, Dating Partners, And God. On The Other Hand, Abused Students Can Sometimes Trust Too Quickly, Which Leads To More Hurt. Students Are Taught That God Created Them For Relationships, And That Only In The Context Of Relationships Can True Healing Occur.
Section 3: Looking To My Future (four Chapters)
Healing From Abuse Is A Long, Difficult Process. Students Are Encouraged To Identify Safe Adults, Tell Their Stories, And Continue Taking Steps Toward Healing. If These Coping Skills Can Be Learned As Teens Then Many Of The Long-term Effects Of Abuse Seen In Adulthood Can Be Avoided.
Chapter Nine: Facing The Brokenness
This Chapter Explains 'why' Students Should Face The Pain From The Past. It Often Seems Easier To Avoid Feeling And Expressing Pain; However, This Chapter Outlines The Benefits Of Doing Such Hard Work And Allows Students To Break Through The Temptation To Live In Denial That They Are 'ok'.
Chapter Ten: A Healing Model
This Chapter Utilizes The Same Healing Model Found In The Adult Mending The Soul Book. Students Are Given A Six-step Healing Process And Activities They Can Complete On Their Own, With A Counselor Or Youth Leader, Or In A Small Group That Allows Them To Begin To Re-connect In A Healthy Way To Themselves, Others, And God.
Chapter Eleven: Forgiveness
This Chapter Explains That Forgiveness Is A Biblical Concept That Is Often Misused By Well-meaning People. Students Are Taught What Forgiveness Is And Is Not From A Biblical Perspective. They Learn How To, At The Appropriate Time, Forgive Themselves, Others, And God.
Chapter Twelve: Where Do I Go From Here?
This Chapter Focuses On The Importance That Students Get Out Of Abusive And Unsafe Environments. Students Are Given National Hotline Numbers So They Can Get Additional Help And Information, And They Are Walked Through The Process Of Finding A Counselor To Help Them. The Book Ends With A Final Story Of Hope That Healing Is Possible And Well Worth The Pain And The Work.