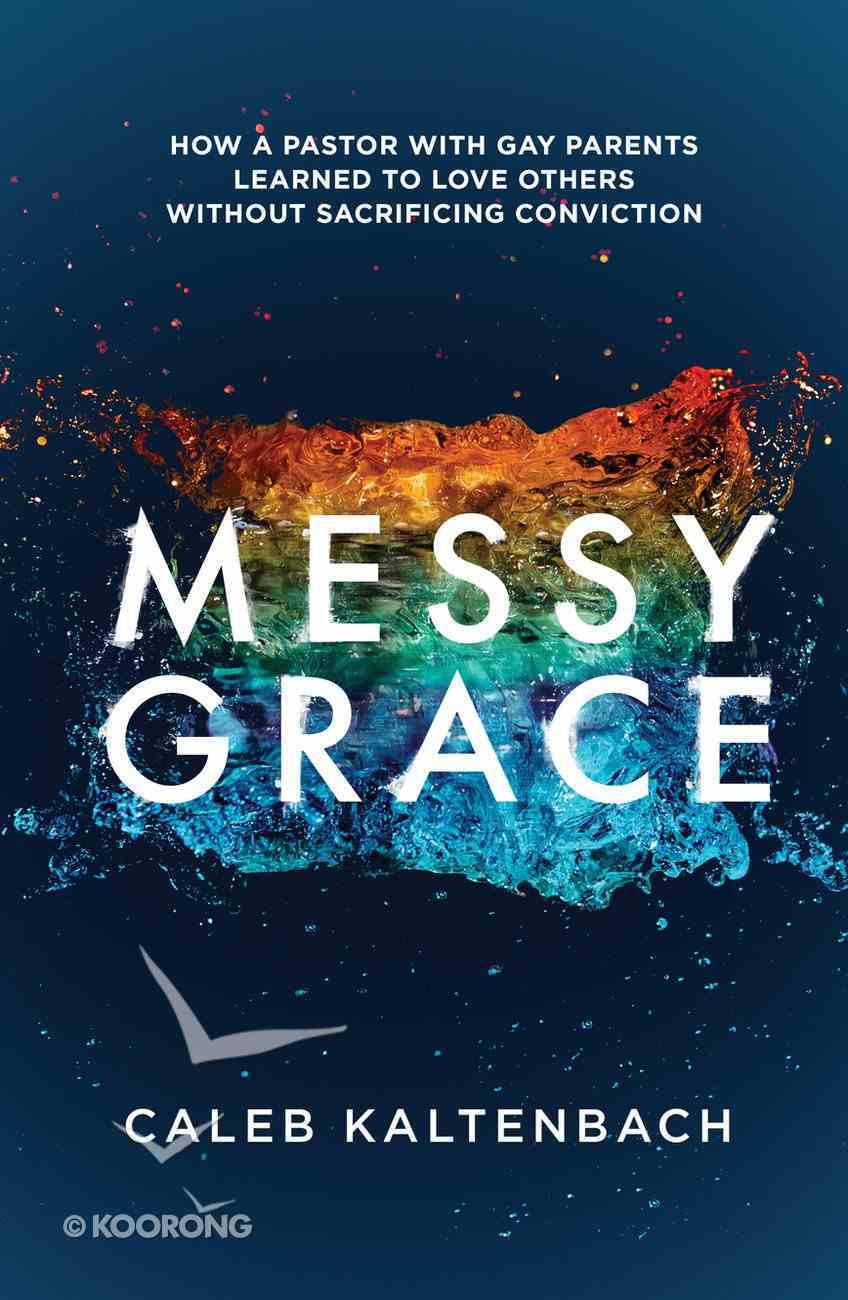 Messy Grace: How a Pastor With Gay Parents Learned to Love Others Without Sacrificing Conviction
A pastor with an unforgettable inside story shows evangelicals how to nurture healthy, respectful, and biblically informed relationships with people in the LGBT community. When Caleb Kaltenbach was a toddler, his parents divorced and independently pursued homosexual lifestyles. As...
---
Expected to ship within 14 hours from Australia.
---
Free Shipping
for orders over $99.
A pastor with an unforgettable inside story shows evangelicals how to nurture healthy, respectful, and biblically informed relationships with people in the LGBT community.

When Caleb Kaltenbach was a toddler, his parents divorced and independently pursued homosexual lifestyles. As a result, Caleb was lovingly raised in the LGBT community, attending lesbian parties with his mother and her partner, marching in gay parades...and experiencing hatred and bitterness by Christians. To his enduring surprise, Caleb became a Christian and a pastor as a young adult.

Messy Grace invites readers into what may be the most urgent and difficult conversation evangelicals face today: "How can we relate to the gays, lesbians, and transgendered among us in a way that honors differences and demonstrates Christ's love while adhering to what we believe Scripture requires?" Through revealing personal story, biblical teaching, and practical solutions, Caleb's non-judgmental voice and life-tested counsel will appeal to a broad psychographic of evangelicals who understand that despite the good intentions of most on this issue, some Christians have done great harm and we desperately need constructive answers.
"A pastor with an unforgettable inside story shows evangelicals how to nurture healthy, respectful, and biblically informed relationships with people in the LGBT community"--
-Publisher
PRODUCT DETAIL
Catalogue Code 

429243

Product Code 

9781601427366

ISBN 

1601427360

EAN 

9781601427366

Pages 

224

Department General Books
Category Christian Living
Sub-Category General
Publisher Waterbrook Press
Publication Date 

Oct 2015

Sales Rank 

12110

Dimensions 

205 x 132 x 14

mm

Weight 

0.181

kg
CALEB KALTENBACH is lead pastor at Discovery Church, Simi Valley, CA. He also served on staff at Shepherd of the Hills Church, Porter Ranch, CA. Caleb brings genuine compassion and a compelling personal story to a divisive conversation. He speaks widely on faith, reconciliation, and sexual diversity to people on all sides of the LGBT issue. Caleb attended Talbot School of Theology
(Biola University) and is currently finishing his DMin at Dallas Theological Seminary. He and his wife, Amy, have two young children.

:Foreword

I first met Caleb in college. He was a freshman, and I was a junior. He came with very little knowledge of the Bible (he was a new Christian), but he possessed a huge love for God and people. I saw Caleb as someone eager to learn about God and to make a difference in the world.
One day we were both sitting outside a professor's office, waiting to talk to him about a class. I asked Caleb how he came to Bible college, and sat in disbelief as he told me about himself. I had never heard a story like that before.
After graduation, Caleb and I were on staff together at a church in Los Angeles. There we started an alternative worship service for young adults. During that time, I watched Caleb deepen his love for God and people. Because of his childhood experiences, he was able to relate with those who disdained Christians. He understood what it was like to be angry at God for the way believers treated others. God certainly used Caleb's experiences to touch the hearts of many people. Now, after knowing him for twenty years, I'm still blown away by how God continues to write this story.
Throughout the years I've encouraged Caleb to share his story with as many people as he can. Many of us have told him again and again to write it down. Today, I'm proud that you are holding it in your hands. Such messy grace takes great courage to share.
Some authors have inspirational stories to tell, while others have insightful points to make. What makes Caleb's writing so powerful is that God has given him both. You'll read about a boy who was raised in the LGBT community, who later followed Jesus. You'll read about how some Christians hated people he loved, and how his coming to faith wrecked his own relationships. You'll read about how Christians can hold true to what God says about sexuality while being gracious and loving.
If you think this story is just about a kid from the LGBT community, then you've missed the bigger point. It's about how we love people who are different from us. It's about how any story can be redeemed by God. It's about the messiness of grace and truth.
When you read this book, you may not agree with everything Caleb says, but you'll see his heart for people on both sides of the issue. I've been personally impacted by what God has done through Caleb and his family. I know you will be too.

- Kyle Idleman, author of Not a Fan and teaching pastor at Southeast Christian Church, Louisville, Kentucky

A Collision of Communities

For a couple of minutes after I pulled into the church parking lot, I continued to sit in my Ford Escape, my hands gripping the steering wheel as if I were still driving. I hadn't turned the car off yet. Maybe I could back up and attend church down the road. I mean, did I really have to preach a sermon today?

I closed my eyes and tried to imagine I was somewhere else, maybe the beach or Disneyland. I wished it were some other time than now. But wishing did no good. I was actually here, in the parking lot of the church in Dallas that I was pastor of at the time. This was the Sunday morning in September 2012 I had been dreading forweeks.

After a while, I turned off the ignition, but I stayed seated in the car. People were pulling into the parking lot around me and heading into the building. Everyone in the church was expecting me to come in and deliver a sermon. What they didn't know was that I was feeling nervous about preaching this day. Really nervous. Generally, I'm very comfortable with preaching, but I was having an anxiety attack about this particular message.

Most Sundays, after the sermon, I was bound to hear comments "That was a good one, Pastor," or "You sure let 'em have it," or "I never thought of those passages in that light." Today, none of those comments would mean anything. Regardless of what I said this morning, someone was bound to get hurt.

I got out of the car, grabbed my bag, and hurried toward the church.
After entering the building through the front doors, I had to slow down because I was greeted by a group of church members in the lobby. I put on my church face and shook hands, hugged people, and told them what a great day it was going to be. I laughed at jokes and reminisced about when the Cowboys were a good team.

As soon as I could politely break away from the crowd, I jogged down the hallway toward my office door. I unlocked it, turned on the light, and collapsed in a chair. A small part of the morning was past me, but the worst was still to come.
Immediately, thoughts began swirling in my head: How did I get into this? How can I be sure God led me to this day? What kind of a moron would plan a Sunday like this?

Oh yeah, me.

Every August I plan the sermon calendar for the following twelve months. During the most recent planning period, I knew that a presidential election was coming up in November. So I thought that for the fall it would be a good idea to do a sermon series dealing with some political issues from a biblical standpoint. We called the series For or Against. The idea was to communicate to the congregation that our church should be known for what we are for, not what we're against.

When autumn rolled around, many people loved the series, but there were also critics. The funniest criticism I got was from a woman who complained about the series poster. One side of the poster had a red background with a thumbs-up image on it, and the other side had a blue background with a thumbs-down. Her complaint was that because we had a thumbs-down on the blue side, we were taking a stand against the Democrats. I assured her that I and the guys who designed the poster had no political bashing in mind. She grudgingly accepted my assurance - I think.

Today's sermon, however, would bring a whole new set of critics to the table. The title of this day's sermon was For or Against Different Lifestyles.

I was preaching about homosexuality.

Yeah, let me say it one more time: that was my idea. Back in August, it had seemed perfect.
Today I wanted to go back and punch Caleb-from-a-month-ago and yell "What in the world were you thinking?!" because he was forcing me to preach on a subject that was not only difficult in general but also hard for me on a personal level.

As I sat in my office, I could hear the worship music start in the auditorium. I waited through the first two songs. They seemed to be going by too quickly. Was the worship pastor intentionally speeding up the songs? At the beginning of the third song, I got up from the chair, grabbed a water bottle and my Bible, and headed toward the door.

Backstage, I put on my mic and stood there, trying to return the smiles of those around me, until I heard the last song.

It was time.

I felt my heart pounding, my stomach jumping, and sweat forming. So I closed my eyes and prayed:
Lord, you're the one who called me into ministry and to this place. You're the one who allowed me to have the experiences I did. You've been forming me and shaping me, and now I am so nervous to proclaim what I know I need to. Give me the confidence and power to do what I must.

Why was I so nervous? Partly because some of the church members might object to what I was about to say. Partly because church elders tend to get nervous when sermons are too controversial. Partly because it was an election year and almost every sermon could be criticized for being too political. But even more than any of that, I was nervous because my parents were in the congregation on this day.
And both of my parents are gay.

The Invitation

Later in the book, I will tell you the outcome of the sermon I preached to my parents and all the others in attendance at church that Sunday in 2012. But to put it in perspective, I first need to tell you about some of the formative events I experienced over the many years leading up to one of the most nerve-racking sermons of my life. In this book I'm going to tell you my story of having a mom who was a lesbian and a dad who was gay, of growing up in the LGBT community with my mom and her partner, and of finding Christ and eventually becoming a pastor. I'm also going to describe the path I took in coming to grips with what the Bible says about homosexuality, and figuring out how to love and honor my parents in light of that teaching.

I'd like to say at the outset that I don't claim to be a great biblical scholar or brilliant theologian.
I don't think my opinions are always right and everyone else's are wrong. I'm not writing this book to tell you what to think, but rather I hope that this book will spur you on to think more deeply on this issue for yourself, using the Bible as your chief guide. I'm sharing my experience as an insider to both the LGBT community and the Christian community, as well as giving you the insights I've gained.

Even though my personal story will make up a big part of this book, it really isn't about me at all. It is about you. I wrote this book for anyone who wants to know how to relate with grace and truth toward members of the LGBT community.
I'll give you a hint of what I said in my sermon that Sunday in September a few years ago: being unloving to gay people in your life is a sin. Also, it's a crying shame because it puts a barrier between people and the gospel. It's the opposite of being Christlike.....
Bestsellers in Christian Living