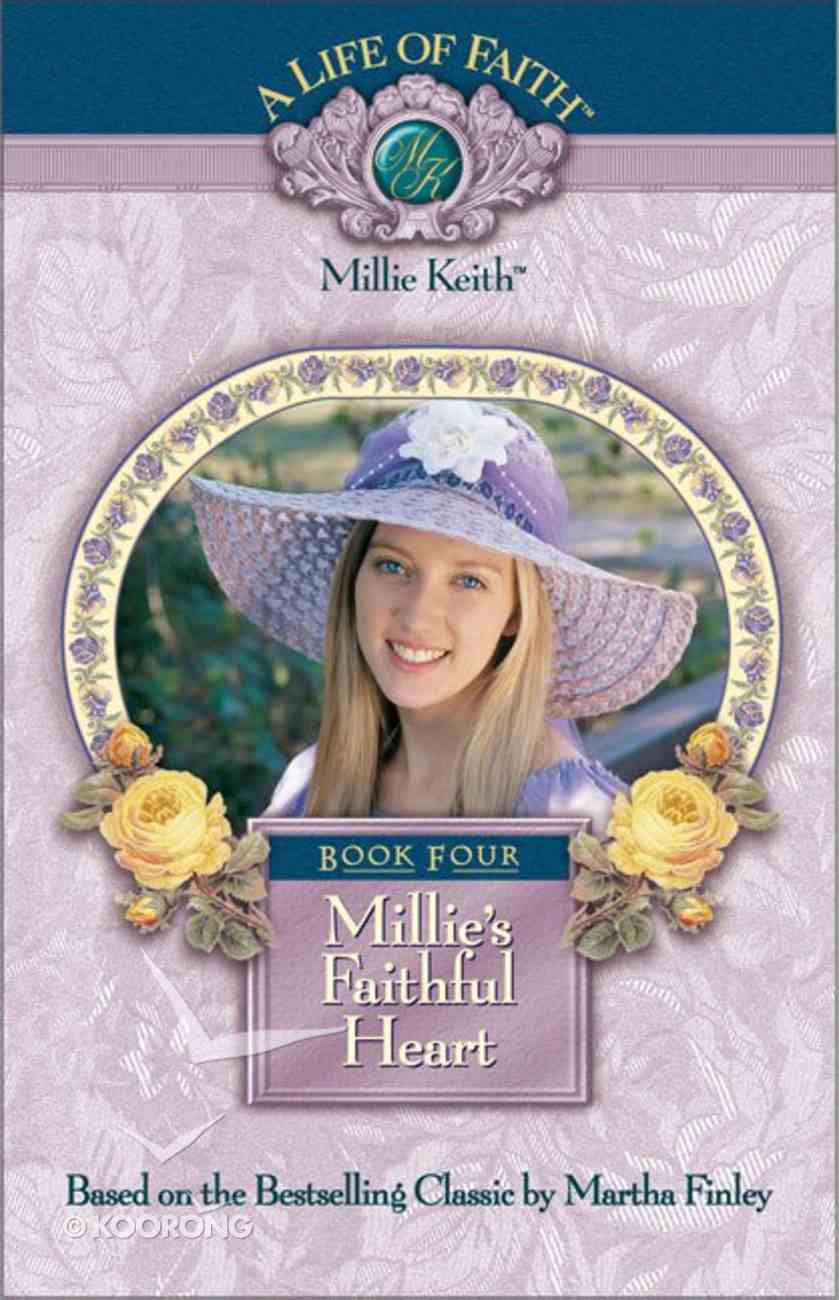 Millie's Faithful Heart (#04 in Life Of Faith: Millie Keith Series)
Millie opened her diary. Yes, here it is, she said. Jesus, please hold my heart in Your hand. Don't let me give it or any piece of it away. I want YOU to give it away in your time, to...
---
Free Shipping
for orders over $99.
Millie opened her diary. Yes, here it is, she said. Jesus, please hold my heart in Your hand. Don't let me give it or any piece of it away. I want YOU to give it away in your time, to the right person. Please hold it tight, lock it up, and keep the key. October 8, 1836. Millie sighed. I will be sixteen in a week. Sixteen is too young for romance, isn't it? Millie quickly snapped her diary shut. Lord, I gave you my heart. Don't let me take it back and give it to another!In 1837, when Millie Keith's parents sent her south to spend the winter with rich relatives, they gave her three pieces of advice: honor your parents, honor God in all you do, and give your heart to Jesus. Millie thought those things would be easy, but alone at Roselands Plantation she finds her convictions tested in ways she could not have imagined. Will the high society lifestyle of the Dinsmore family change Millie?
-Publisher
Updated from the 19th century sequel to the Elsie Dinsmore books, readers meet another girl of strong faith--Millie Keith. Living with her large family in the rough and undeveloped American Plains, this energetic, head-strong girl has much to learn about living a life of faith.
-Publisher
Martha Finley (1828 - 1909) was a remarkable woman whose quiet Christian life has influenced many. A teacher by profession, her writing career began with Sunday school stories for children. In 1868, her novel Elsie Dinsmore was published and became the publisher's best-selling book that year, spawning a series that sold millions of copies at home and abroad. The Millie books were a follow-up to that series.- Publisher.
A Sneak and a Thief I'm a slave owner! Millie Keith realized with horror. I have just bought a child by promising to play the piano! Now what do I do, Lord? Was it just a month ago that Millie was standing in front of her Bible study group in Pleasant Plains, Indiana, teaching that slavery was wrong? Coming to Roselands, her Uncle Dinsmore's plantation, had seemed like an excellent way to learn the truth about the South, about slavery. I want to go home, Lord. So what if Dr. Chetwood recommended a milder climate for my lungs? He has been wrong before. This is a horrible place. No. Aunt Isabel is a horrible person. She knew the way I felt about slavery, and she used it against me quite cleverly. If I agree to play piano at Aunt Isabel's parties, then little Laylie will belong to me. If I don't buy the child, the young girl will be sent back to Meadshead to work endless hours in the fields. Her aunt's perfume hung in the hallway where she had been standing only moments before, thick as cobwebs on the damp air. Has Aunt Isabel been reading my diary? How else could she have known my thoughts about slavery? About Cousin Horace's slave? 'Here you are!' Millie jumped at the sound of Louise's voice. 'Come to the nursery and tell us a story,' the young girl demanded. 'Jonati and Miss Worth and Father are trying to get a peppermint stick out of Enna's nose, and Mother said you would tell us one.' 'A peppermint stick? How . . . ? Never mind. I can't come right now; there is something I must do.' Millie started toward her room, but Louise caught her hand. 'You have to. Mother said she has a headache. She said you would tell us a story. Mother said!' Is this part of the bargain? Do I have to do everything Aunt Isabel orders? Millie's head was still spinning as she allowed Louise to lead her down the carpeted hall. Long before they reached the nursery, she could hear Enna's shrieks coming from Miss Worth's apartments, where Jonati had apparently carried the child. Once Millie was safely in the nursery and the door was shut, Louise went to stand beside her sister Lora. The two girls wore matching ribbons and bows. Even the pouts on their lips matched, and said very plainly that they were not happy about being left alone. Walter, who was only four, looked worried as Millie picked him up and turned to Adelaide, the oldest, who had her arms crossed and was glaring at her brother Arthur. Arthur was very busy looking innocent, which meant he was guilty of something. In the short time that Millie had been at Roselands, she had learned that Arthur only possessed two looks: one sly, which meant he was planning something, and one innocent, which meant he had just committed a crime. 'How did baby Enna get a peppermint stick?' Millie asked. 'We don't know,' Adelaide said, still glaring. 'But Arthur was in the corner with her.' 'I didn't tell her to put it up her nose!' snarled Arthur. 'But you didn't stop her either,' said Adelaide, her frown growing darker. 'She puts everything up her nose!' Arthur said. 'You know she does. Why does everyone think I am the guilty one? I'm not the only one around here who gets into trouble, you know.' 'That's enough of that, I think,' Millie said. 'At least if you want to hear a story.' 'I don't want a story,' Arthur said defiantly. 'I want a book.' Millie looked at him in surprise. She had never seen Arthur with a book in his hand. 'I want Robin Hood,' he demanded. 'Do you have a copy in the nursery?' Millie asked, forcing herself to be pleasant. 'No,' Arthur said. 'It's in father's library. We'll go with you to get it.' 'All right,' Millie agreed. 'One chapter of Robin Hood. And then I have things I must do.' Enna's screams had quieted, and Millie assumed the peppermint stick had successfully been removed. She wished that Miss Worth or Jonati would appear and take the children in hand, but the door to Miss Worth's apartment remained closed, with only sniffles and sobs seeping through. Millie sighed in resignation and led the children down the hall. Uncle Horace's library was his refuge. He had given Millie free reign of the room and permission to borrow any book, but the Persian rug on the library floor was strange territory to the Dinsmore children. Their father called them into his inner sanctum only if they were in need of discipline or reproof, and even at that, not nearly as often as he might. The smaller children stayed outside the door peeking in, but Adelaide and Arthur boldly followed Millie inside. 'It's a green book,' Arthur said, 'with a picture on the cover.' The description was not a great deal of help, as there were hundreds of volumes in the room. Uncle Horace had his books arranged by subject, and Millie searched the legends shelf, but to no avail. 'Are you sure your father has a copy of Robin Hood?' Millie asked. 'Someone has probably taken it,' Arthur said, giving Adelaide a sly look. 'We have a thief in the house.' 'It wasn't me,' Adelaide said. 'They whip thieves,' Arthur said gaily. 'Let's read this one instead,' said Millie, picking up a book of fairy tales by the Brothers Grimm. She had no desire to discuss anyone being whipped---after seeing Luke's back. For the crime of being a few minutes late to the fields to work, Laylie's brother had been lashed to a post and beaten until his back was nothing but raw wounds and ribbons of flesh. Millie, carrying the book, led the troop back to the nursery. She settled them on the plush carpet and began the story of Cinderella. The invitation to the prince's ball had just arrived when Jonati appeared with a puffy-eyed Enna. The baby insisted on sitting on Millie's lap for the rest of the story. Her nose was running, and Jonati kept interrupting to wipe it. When the prince and princess were wed at last, Millie gave the baby back to Jonati and excused herself to return to her room.
Bestsellers in Confident Readers (Age 8-12)