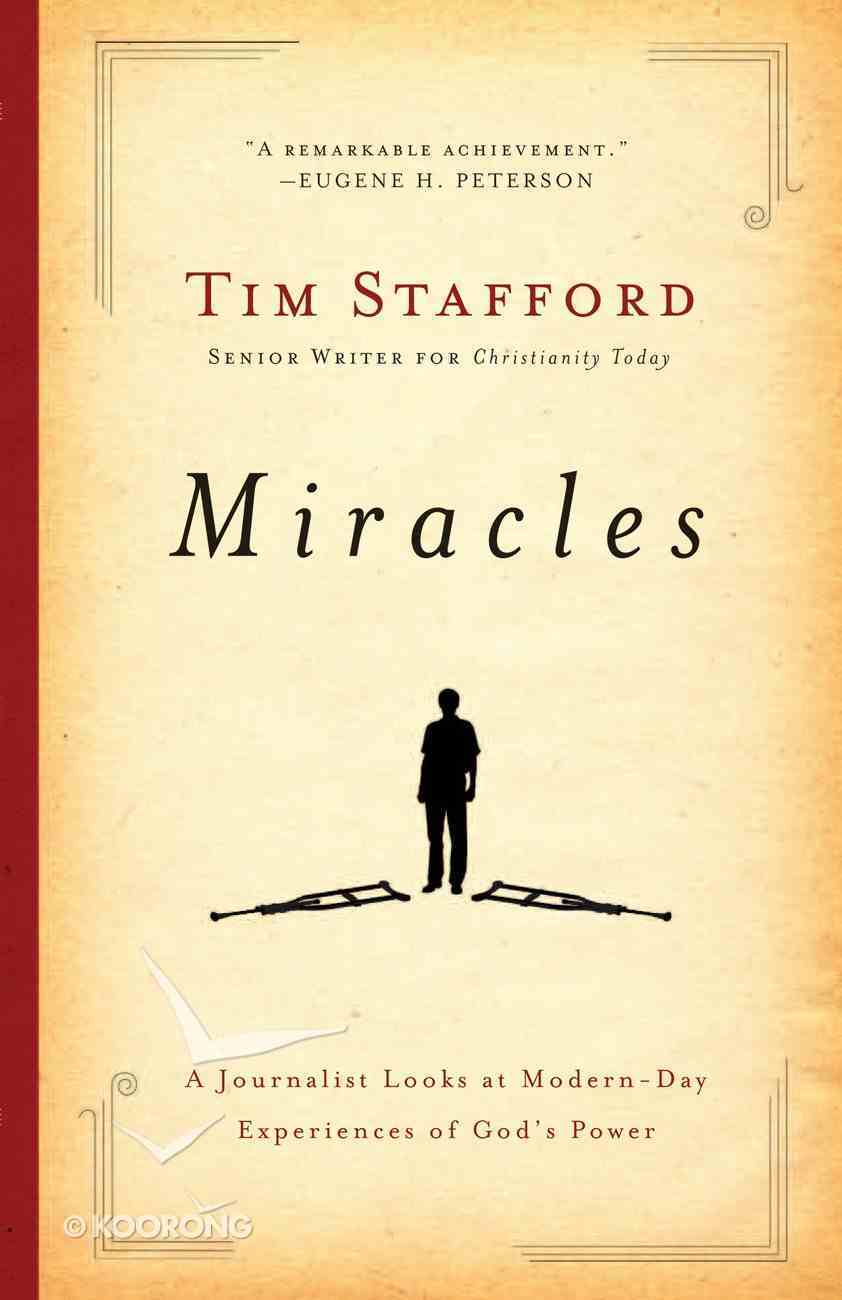 You Believe God Can Still Do Miracles, But How Do You Know Which Stories Are True? A blind man suddenly sees. A lame man gets up and walks. A little boy is raised from the dead. You believe the...
Instant download
---
Read using our free app on your tablet or mobile!
---
Free Shipping
for orders over $99.
You Believe God Can Still Do Miracles, But How Do You Know Which Stories Are True?

A blind man suddenly sees. A lame man gets up and walks. A little boy is raised from the dead. You believe the biblical accounts that these miracles happened, but do you believe eye-witness reports that miracles still happen today? Between shady faith-healers, weeping madonnas, and gimmicks like holy land water, it's difficult--even foolish--to believe every miracle account we hear. So how do we discount the fakes without missing out on the real miracles in the process?

Award-winning journalist Tim Stafford shares captivating stories of modern-day miracles, wrestling over what is credible and what isn't. But more than that, he offers wisdom and insight to help you figure out the role miracles should play in your faith. Should you expect miracles? Ignore them? Pray for them? How active is God in the world today? And could he be more active in your own life?

Learn how to explore these questions with wisdom and honesty, growing your faith and hope along the way.

"Tim Stafford puts the right person at the center of miracle stories: not the charismatic leader through whom miracles come, nor the person who is healed, but God himself. This book will help you see genuine miracles as part of God's way of telling his own story, and will teach you to listen for what God is saying through them."--David Neff, Editor in Chief, Christianity Today

"Veteran journalist reports on the world of miracles with neither skepticism nor naiveté but with clarity and reverent honesty. A remarkable achievement."--Eugene H. Peterson, Professor Emeritus of Spiritual Theology, Regent College, Vancouver, B.C.

"Do you want to believe in miracles but have been put off either by Christians who insist that every problem should be solved by a miracle, or by the skepticism of God's miraculous intervention in human experience? Then this is your book! As a journalist, Stafford squarely faces and differentiates between actual occurrences of miracles and disappointing non-occurrences; as a Christian, he makes a conscious effort to be faithful to God's revelation in Scripture. The result is a book that will instruct you on how to think biblically about issues relating to miracles. The summary statements in the last two chapters alone are worth the price of the book."--Ajith Fernando, Teaching Director, Youth for Christ, Sri Lanka

"Tim Stafford dives headfirst into this investigation of those special events we call miracles--signs and wonders that demonstrate God's supernatural power. Probing, clarifying, and speaking to skeptics and believers alike, Stafford is thoroughly convincing as he digs deep to comment on biblical and contemporary examples."--Lucy Shaw, author, Breath for the Bones, What the Light Was Like

"Tim has taken one of the most important and fascinating topics in the world and written about it with honesty, faith, and grace. His look at miracles through history and across cultures is full of wisdom and longing. This book--if not actually miraculous itself--is at least providential."--John Ortberg, senior pastor of Menlo Park Presbyterian Church and author of Who Is This Man?

"When I started reading this fine book, I was what Tim Stafford labels a "Semi-Believing Doubter" on the subject of present-day miracles. I no longer wear that label. Miracles is a gripping--and convincing--account of how God continues to astonish us with signs of a power that will someday come into its fullness!"--Richard J. Mouw, PhD, President and Professor of Christian Philosophy, Fuller Theological Seminary
-Publisher
Tim Stafford is a senior writer for Christianity Today. He is the author of many books, including Knowing the Face of God, Never Mind The Joneses, Personal God: Can you really know the God who made the universe, Surprised By Jesus, and the co-editor (with Philip Yancey) of The Student Bible.
Bestsellers in Spirit-filled Living