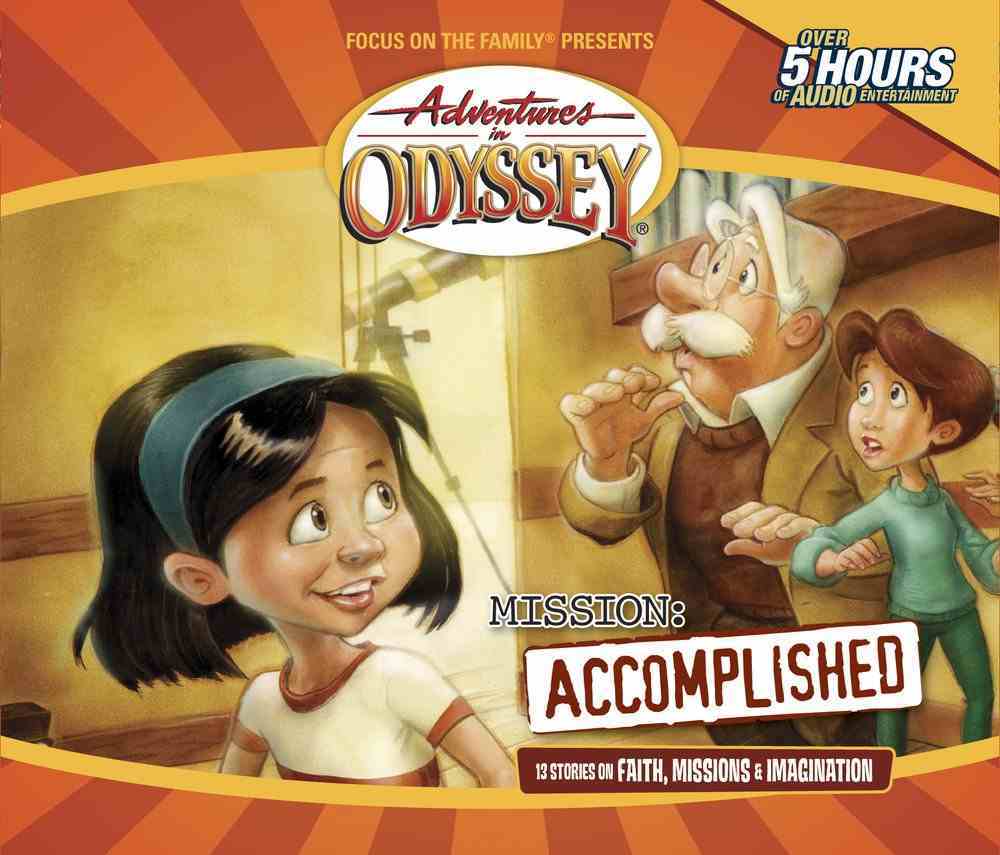 Mission Accomplished (#06 in Adventures In Odyssey Gold Audio Series)
Mysterious Missions - of Biblical Proportions! Everybody in Odyssey is on some kind of mission. Jimmy signs up to help missionaries and ends up in the jungles of Central America! Robyn has to find the Treasure of LeMonde. . .before...
---
Expected to ship within 10 hours from Australia.
---
Free Shipping
for orders over $99.
Mysterious Missions - of Biblical Proportions! Everybody in Odyssey is on some kind of mission. Jimmy signs up to help missionaries and ends up in the jungles of Central America! Robyn has to find the Treasure of LeMonde. . .before it's too late. And Whit, Connie and the whole gang learn that forgiveness and faith go a long way! Bonus Material: * Creating the sounds for "Elijah" * The production of "A Mission for Jimmy" * The Voices of host Chris Anthony, featuring studio bloopers * Behind-the-scenes color booklet * Plus! The very first Focus dramas "Spare Tire" and "House Guest" on MP3 (contains the first appearances of Chuck Bolte and Hal Smith) Episodes: The Price of Freedom - Patriotism, God's control Good Business - Being conscientious Heatwave - Using your imagination properly But, You Promised - Consequences of lying A Prisoner for Christ - Forgiveness Elijah Part 1 - The power of faith Elijah Part 2 That's Not Fair - True meaning of fairness A Mission for Jimmy - Supporting missionaries The Ill-Gotten Deed - Sibling rivalry Rescue from Manatugo Point - Relying on God in difficult times Operation: Digout - Witnessing for God The Treasure of LeMonde - Consequences of greed
-Publisher
These digitally remastered collections-available for the first time on CD-include bonus tracks, fun facts, and behind-the-scenes details A fun-filled, full-color insert includes the following: original notes of the writers, never-before-heard stories from the recording studio, and a coupon for other Adventures in Odyssey products. This album's episodes will take you from the discovery of a hidden treasure chest to a hair-raising voyage in the Imagination Station.^Volume 6 contains the following episodes (and themes): The Ill-Gotten Deed (sibling rivalry) The Treasure of Le Monde (consequences of greed) The Price of Freedom (history: the Vietnam war) That's Not Fair (true meaning of fairness) Good Business (being conscientious) An Encounter with Mrs. Hooper (reconciliation) A Prisoner for Christ (forgiveness, the book of Philemon) A Mission for Jimmy (importance of missions) Rescue from Manatugo Point (relying on God in difficult times) Operation: DIGOUT (witnessing) Elijah 1 & 2 (th
-Publisher
4 CDs
-Publisher
MARSHAL YOUNGER is producer for the Focus on the Family radio drama