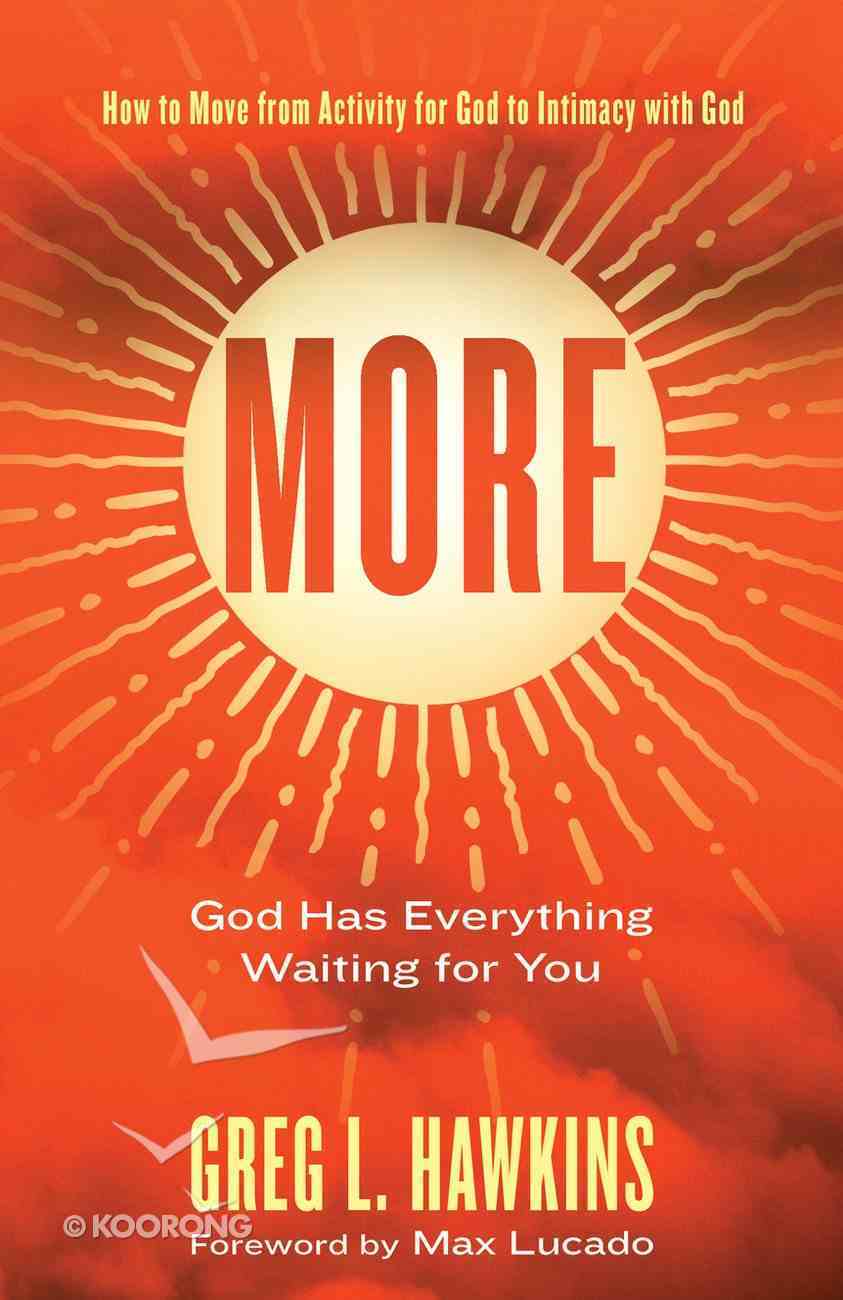 :"Isn't there more to life than this?" In More, author Greg Hawkins answers this commonly heard question with a resounding "Yes!" and offers a clear vision and strategy for a life of intimacy with God and others. The Bible...
---
Free Shipping
for orders over $99.
:"Isn't there more to life than this?" In More, author Greg Hawkins answers this commonly heard question with a resounding "Yes!" and offers a clear vision and strategy for a life of intimacy with God and others.

The Bible teaches that "the good life" is one lived in close relationship with God and those around us. Tragically, most of us settle for far less--unaware of what is possible or how to change. With a blend of statistics, stories, Bible teaching, and biography, More presents a clear path to the way life is supposed to be.
-Publisher
Max Lucado loves words - written, spoken - it does not matter. He loves to craft sentences that are memorable, inspiring and hopefully life-changing. In almost 25 years of writing, more than 65 million books filled with his words have been sold.

Max is the only author to have won three Christian Book of the Year awards - in 1999 for Just Like Jesus, in 1997 for In the Grip of Grace, and in 1995 for When God Whispers Your Name. In 2005, Reader's Digest magazine dubbed him 'America's Best Preacher' and in 2004, Christianity Today magazine called him 'America's Pastor.' The product line for 3:16 - The Numbers of Hope sold more than four million units worldwide, including one million units of the book of the same title (released in September 2007), making it the fastest selling Lucado product in his career.

His works have appeared on every major national bestseller list including Publishers Weekly, USA Today, The New York Times, Evangelical Christian Publishers Association, and Christian Booksellers Association. He has been featured in countless media outlets and national broadcasts.

Max's writings have been published in a wide array of formats including adult books, gift books, children's titles, Bibles, commentaries, calendars and devotionals. He is also the author/creator of Max Lucado's Hermie & Friends brand family, one of the most popular animated DVD series in the marketplace, with more than 5 million units sold to date. His words have also inspired a branded line of greeting cards and gift books for Hallmark/Dayspring that has sold more than 15 million copies since its 2001 debut.

Max Lucado is a Minister of Preaching at Oak Hills Church in San Antonio, where he has served since 1988. He has been married to Denalyn Preston Lucado since 1981, and they have three grown daughters - Jenna, Andrea and Sarafdand one son-in-law, Brett.

Birth Place: San Angelo, Texas
Graduate: Andrews High School, Andrews, Texas
Advanced Degrees:
BA Mass Communications, Abilene Christian University, Abilene, Texas
MA: Biblical and Related Studies, Abilene Christian University, Abilene, Texas
Positions Held:
Associate Minister, Central Church of Christ, Miami, Florida
Church Planning Missionary, Rio de Janeiro, Brazil
Currently serving as a Preaching Minister, Oak Hills Church, San Antonio, Texas

Teaching Ministry of Max Lucado
In 1991, Max Lucado was presented the idea of developing a radio broadcast that focused solely on Jesus Christ. As a result, the vision for UpWords Ministries was born. Since that time, 'UpWords, with Max Lucado' has changed from a 15 minute, daily feature to an inspirational one minute message. Today, UpWords is heard in over fourteen hundred radio markets around the world.

Along with the inspirational radio program, UpWords provides a comprehensive library of full-length CDs as well as many downloadable audio files of Max's weekly sermons delivered to his home church in San Antonio, Texas.

UpWords exists for the sole purpose of encouraging others to take one step closer to Jesus Christ. The staff of UpWords is prayerfully dedicated to this purpose and is constantly humbled to see God's hand at work.
- maxlucado.com
:You know, it wasn't supposed to be this way."

It should have been a happy moment, and in many ways it was, until the truth set in. My fiancée, Lynn, and I were meeting with our pastor and friend Jim. We were with him for premarital counseling before our upcoming wedding and had talked about what marriage meant and what our expectations were for the mar­riage. Eventually the conversation turned to the ceremony itself.

We were going to be married in a charming 120-year-old Meth­odist church near my wife's hometown in the far west suburbs of Chicago. Jim would be sharing the responsibility of the service with the pastor of that church. As part of the discussion about the cere­mony, Jim asked Lynn whom she had chosen to walk her down the aisle. Normally that's a fairly straightforward question, but Lynn's father had passed away nine years earlier when she was twenty. Lynn, without hesitation, calmly said, "No one."

"Certainly you have an uncle or family friend or a friend of yours who could walk you down the aisle?" he asked.

"No," she answered resolutely. "I'm going to walk by myself."

Jim tried one more time to talk her out of it, but she was ada­mant. "No, I'm going to go alone."

I'll never forget what happened next. Jim leaned forward, looked her square in the eye, and with a voice full of compassion said, "You know, it wasn't supposed to be this way."

In the silence that followed we all recognized the truth that was in the room, and we all started crying. Tears came down our faces, and we wept silently because what he said was so incredibly true. The three of us just sat in silence, letting the gravity of the statement sink in.

It really wasn't supposed to be this way. When she was a little girl she imagined this special day when she would walk down the aisle with her father proudly at her side. He was supposed to be there for the most important day of her life. It wasn't supposed to be this way.

Two months later when she turned the corner in the back of the church and started walking down the aisle looking stunningly beau­tiful, it became very clear to me, and to everyone else, that she was not walking alone—that her father in some way was very much with her. Her decision to walk by herself honored him so powerfully be­cause his absence made us all aware of his presence. She had reserved that spot once and forever just for her father. No other man would ever take that place, ever. That day she paid tribute to all that her father had done for her, all the words of love, blessing, and belief he had conveyed to her in twenty short years. It was a beautiful thing yet painful at the same time.

It wasn't supposed to be this way.

That phrase hit me hard that day and has stayed with me for over twenty years. Its truth has extended beyond our marriage cere­mony and caused me to reflect on how life itself was supposed to be. When I reflect on my own life—working at a marriage, having three children, doing my best to raise them right, getting up every day, going to work, working hard, being exhausted at some point every week, buying cars and homes, repairing roofs, paying bills, facing any number of struggles—I ask, is this how life was supposed to be?

Deep down in the private corners of our souls, we all ask that question, don't we? And if we're honest, most of us at one time or another feel that no, it wasn't supposed to be this way. Something is just a little, or a lot, off. Why are the relationships with the people I love the most so difficult? Why am I working harder and longer hours today than I did twenty years ago? Why do I struggle finan­cially? Why didn't I get the promotion instead of the person with a whole lot less experience in the next office? Why did I get cancer, while others who seemingly neglect their bodies are cancer free? It seems that despite trying to do all the right things, life isn't turning out the way I thought it would.

Then I look at the world around us. The world in which our children will grow up. Conflicts and war, epidemics, terrorist at­tacks, collapsing economies, a giant gap between those who have and those who do not. It doesn't feel like God is winning at all. Is this really how it was supposed to be? I don't know about you, but too often I find myself thinking things will never get better in the world, which gives me an excuse to focus only on my own needs. Sure, I want a better life for everyone, but I can barely provide enough well-being for my own life, let alone do anything for the rest of the world.

Surely this is not the way it's supposed to be, right?

As a pastor, that question haunts me even more when it comes to matters of faith—for myself and for my congregation. When I look at all we do in the church—produce worship services, teach classes to the young and old, connect people in small groups, pray with those in need, organize serving experiences—I constantly wonder to myself, Is this the way church is supposed to be?

Think about your own experience. You go to church most Sun­days (well, at least once a month). You pray. You read your Bible now and then. Maybe you're in a small group or even lead one. You vol­unteer to work with the children's ministry. Maybe you have gone on a mission trip to Guatemala. And all these things are good. Really good.

We do all these good things because we believe they will make us better people, give us better lives, bring us closer to God, and maybe even help others. And in many ways, they do. But if you are being honest with yourself, deep down, you want to believe there is more. You reflect on your relationship with God and wonder, Is this how a relationship with God is supposed to feel? And truthfully, you have gone beyond wondering if there is more to actually wanting more. And not just a little more. You want everything that Jesus promised when He said, "I have come that they may have life, and have it to the full" (John 10:10).

So you do all you know to do. You participate in even more ac­tivities at church or maybe look for a new church altogether. You find yourself spending more time in prayer and reading your Bible. And that seems to help, for a while. But then at some point, despite all that you are doing, you reach a plateau well short of your heart's de­sire. And you wonder all over again if this is all there is.

And then eventually, something awful happens. Little by little you start believing that more is not possible, and this is exactly how it was supposed to be. You convince yourself that good enough is, well, good enough. You remember that Jesus said, "In this world you will have trouble" (John 16:33) and resign yourself to the belief that the "full life" Jesus spoke about is not possible, nor intended, here on earth.

My sense is that some people get to this place in life and then, figuratively speaking, just hold their breath, hoping they have enough air to get to the very end. Hoping they can ignore their suspicion that there is more to life than what they are experiencing. They settle for the way things are, while they wait for their last real breath and as­cension to heaven.

That's okay. I want to go to heaven too, but I'm not satisfied that earthly life for a Christian is just a long wait for heaven. I want more, and I want it now. And I think you do too.

I'm writing this book because I believe with all my being that each of us can experience the more that God has for us right here, right now. I don't have a magic formula or a set of ten easy steps that will improve your life. You've likely tried those and found them as hollow as I have. But in God's perfect timing and sovereignty, my own search for "more" coincided with some astonishing discoveries that came when a small team and I asked the Willow Creek Com­munity Church congregation—and then over a thousand other congregations—to tell us the truth about their spiritual lives. It was not exactly the truth we were looking for, and it wasn't always easy to hear, but it created a profound shift in my thinking and has redi­rected the entire course of my life. I know more is possible right now, and on the following pages I will share with you what God has re­vealed to me through research, the Scriptures, and the stories of my friends about how a life of more actually works. Do I have it all fig­ured out? No—and there is a real chance I have it all wrong. But I don't want to live any other way, and I suspect you don't either.

Despite the absence of Lynn's father at our wedding, it was a beautiful ceremony. She turned what could have been a reminder of his absence into a tribute to the special place he occupies in her life. It wasn't easy for her, and she would be the first to say she would have rather not walked alone down the aisle. But she made do. We all do. We've learned that when things don't work out the way we hoped, we make the best of it, and usually that's a good thing. Except where God is concerned. He did not invite us into a relationship so that we could just make do but so that we could experience more.

It took me a long time to learn that.

Reflect

You let the world, which doesn't know the first thing about living, tell you how to live. (Ephesians 2:2, msg)

On a scale of 1 (very unsatisfied) to 10 (very satisfied), how satisfied are you with your life right now? Does it feel like you are living a full life or just a busy one?
Bestsellers in Christian Living