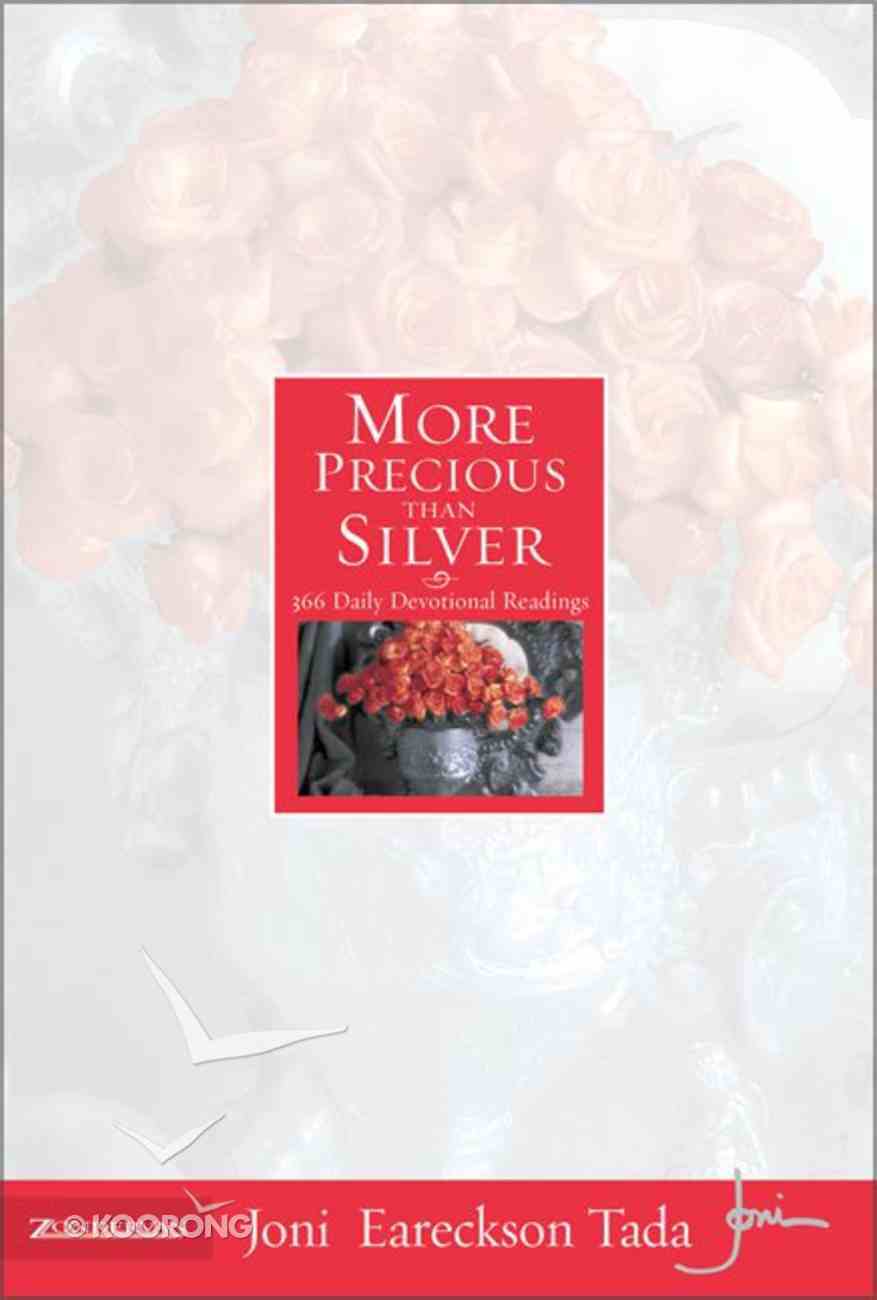 More Precious Than Silver
In the tradition of DIAMONDS IN THE DUST, this collection of 366 daily devotions is written by a woman who has experienced firsthand God's faithfulness in the midst of difficulties. These fresh meditations read like silver - cool and fast,...
---
Free Shipping
for orders over $99.
In the tradition of DIAMONDS IN THE DUST, this collection of 366 daily devotions is written by a woman who has experienced firsthand God's faithfulness in the midst of difficulties. These fresh meditations read like silver - cool and fast, pure and deep. From Zonderva
This is a beautifully presented 366-day devotional in the style and content of Joni's best-selling book of devotions, Diamonds in the Dust. Includes photos and illustrations by Joni.
-Publisher
Most people prefer things golden, says Joni Eareckson Tada. But purity and silver go together best when it comes to describing God's Word. Psalm 12:6 says, "The words of the Lord are flawless, like silver refined in a furnace . . . purified seven times." And this refined silver of God's Word has the ability, when applied by faith, to cleanse the reader of his or her sin. In God's eyes, the real treasure lies not in the golden glitter of outward appearance, but in a heart that's been purified through constant contact with the silver of his Word. In the tradition of Joni's best-selling devotional, Diamonds in the Dust, comes More Precious than Silver. Written by a woman who has known firsthand God's faithfulness in the midst of difficulties, these freshly minted meditations read like silver: cool and fast, pure and deep. Allow them to touch and transform your soul, revealing the richness and purity of God's ways in everyday events. "Have fun wearing a new piece of silver each day," says Joni. "And remember, when you come in touch with silver, refined and pure, your heart can't help but be changed." Featuring Joni's own beautiful line drawings, More Precious than Silver will open your eyes to a wider, fuller vista of the Christian life.
-Publisher
"More Precious Than Silver" continues in the tradition of "Diamonds in the Dust", Joni Eareckson Tada's bestselling book with 150,000 copies in print. Today she has new wisdom to share--insights gained through added years of living each day in God's Word. Illustrations.
-Publisher
Joni Eareckson Tada has known the grace of God for 30 years after being paralysed from the neck down in a diving accident. Joni is president of JAF Ministries, an organization that accelerates Christian ministry among people with disabilities. She is also host of 'Joni and Friends', a daily radio program in the USA operating out of the International Disability Centre and a sought after conference speaker.


She is the author of more than 30 books, including the bestsellers Diamonds in the Dust, Heaven, and More Precious Than Silver.


In 2003 she was given the Gold Medallion Award for her book When God Weeps and in 2004 for co-authoring Hymns for a Kid's Heart, Volume 1. Her award winning and best-selling autobiography, Joni, was adapted as a full-length feature film. Tada also serves in an advisory capacity to many Institutes concerned with disability, writing and evangelism worldwide. She has been given many awards and holds several honourary doctorates. Joni and her husband, Ken, live in Southern California.


January 1 The Lord Out Ahead By day the Lord went ahead of them. --- Exodus 13:21 I like the idea of a new year. It's a turning point where you say good-bye to the past and get charged up about the future. True, I could be weighed down thinking of last year's trip-ups, those embarrassing things that still nag. I had a bad disagreement with Ken a couple of months ago; I disappointed a dear friend earlier in the summer; I spoke at an event back east and my message fell flat. No prayer behind it, no real preparation, I realized later. And there was that tough business decision that caused a lot of tension between Ken, me, and a family in our church. If I had to do it all over again, I'd change a lot. You probably have your own list of things you wish you could change. If we thought about it long enough, we could become so heavyhearted that we wouldn't want to face the future. But thankfully, God is the God of all those past months. He was as much in control then as he is now. What a relief! Because you'd better believe that the coming months will have the same sort of blunders, mistakes, and embarrassing faux pas. But wait . . . God has gone before you! He's already there, up front, out ahead. And he will guard you with his grace and help you learn from past mistakes. For certain this year I'll be more careful in my relationship with my husband. I'll give business decisions more thought. And needless to say, I'm fully committed to being prepared and prayed up for every speaking engagement. Before this year gets going, reflect upon last year. Page through your calendar and pray over those places, people, and decisions from which you can learn. Take inventory, then roll up your sleeves and get started. Hurray, the Lord has gone before you! What comfort, Lord, to know that as I turn the corner into this new year, you have gone before me. You have carved out a path for me and covered it in your protection. January 2 Repentance and the Rose Bowl Save me from bloodguilt, O God, the God who saves me, and my tongue will sing of your righteousness. --- Psalm 51:14 One New Year's Day while Ken and I and a friend of ours were watching a football game on television, we heard a horrible crash outside, followed by the sound of a car zooming away. As we rushed out the door, we found part of our lawn torn up by tire tracks, our mailbox smashed, and our friend's Mustang mangled. A few minutes later we heard a gentle rap on our front door. Two boys about twelve years old were standing there. Red-faced and quivering, they were too frightened to speak. I asked, 'Did one of you drive the vehicle that crashed into my friend's car?' 'Yes, ma'am,' the slightly taller boy answered. As the boys told us their story, I was grateful for guilt, that heavy weight on our consciences when we've done something wrong. The more we respond to guilt, the more sensitive we become to wrongdoing. For the two boys, confessing was important in keeping their consciences sensitive. A clear conscience, according to Bill Gothard, 'is that inner freedom of spirit and assurance from knowing that you have a transparency toward everyone; and that no one is able to accuse you of wrongs that you have never made 'right.' ' Turns out that while the 'driver's' parents were attending a game at the Rose Bowl --- the game we were watching on TV --- the boy invited his friend for a joyride in his dad's Mercedes. Ultimately the insurance company paid for repairs, the boys were grounded, and we had a chance to witness to a neighbor. Best of all, the consciences of those two boys had become softened. That's how that story ended. If guilt is crushing your conscience, how will your story end? Will you speed away? Or will you go back to confess to God? Acts 24:16 describes the Christian: 'I strive always to keep my conscience clear before God and man.' Thank you, Father, that you have equipped us with a warning device in our hearts that alerts us when we need to confess a deed or word. January 3 God's Autobiography In the beginning was the Word, and the Word was with God, and the Word was God. --- John 1:1 Novelist Robertson Davies once wrote, 'To ask an author . . . if his work is autobiographical is like asking a spider where he buys his thread.' No author ever weaves words from someone else's being. They are always his words, reflecting his soul. The Bible reveals God's soul to us in a way that no other book is able to do. It is history, wisdom, and poetry. It is unparalleled as a compendium of theology, philosophy, and ethics. It is a gospel tract, distilling the essence of our relationship to the Lord, but it is also an epic, introducing us to the immensity of an eternal God. Though the Bible contains all these things, it is at its heart an autobiography. The Bible is all about God. Through even the most twisted and unlikely narratives, some even tawdry, we see God's soul reflected to us. God is revealed as Jacob wrestles with him. God is showcased through the complaint of Job, the anguish of Jeremiah, and the courage of Hannah. God is the voice behind the people's shouting and singing over the new temple of Solomon; he is the echo behind the weeping over the rebuilt temple of Ezra. God is the silence of the four centuries before Christ, and the exultant glory in the night sky of Bethlehem. Every word speaks something to us of his soul. It is not just from the prophets' mouths that we hear his lament over Israel. We hear it in the very telling of the captivity itself. It is not just from John's apocalyptic pen that we learn of God's coming judgment. We can see God's wrath reflected in the agony of his Son on the cross. It is not just from Jesus' mouth that we learn of God's love. We know from Jesus' daily walk with sinners like you and me. Treasure God's Word today. In everything you read, you will come to know the soul of God, he who is the lover of your soul. Father, write your words on my heart today, that I might be your story written to a lost and dying world.