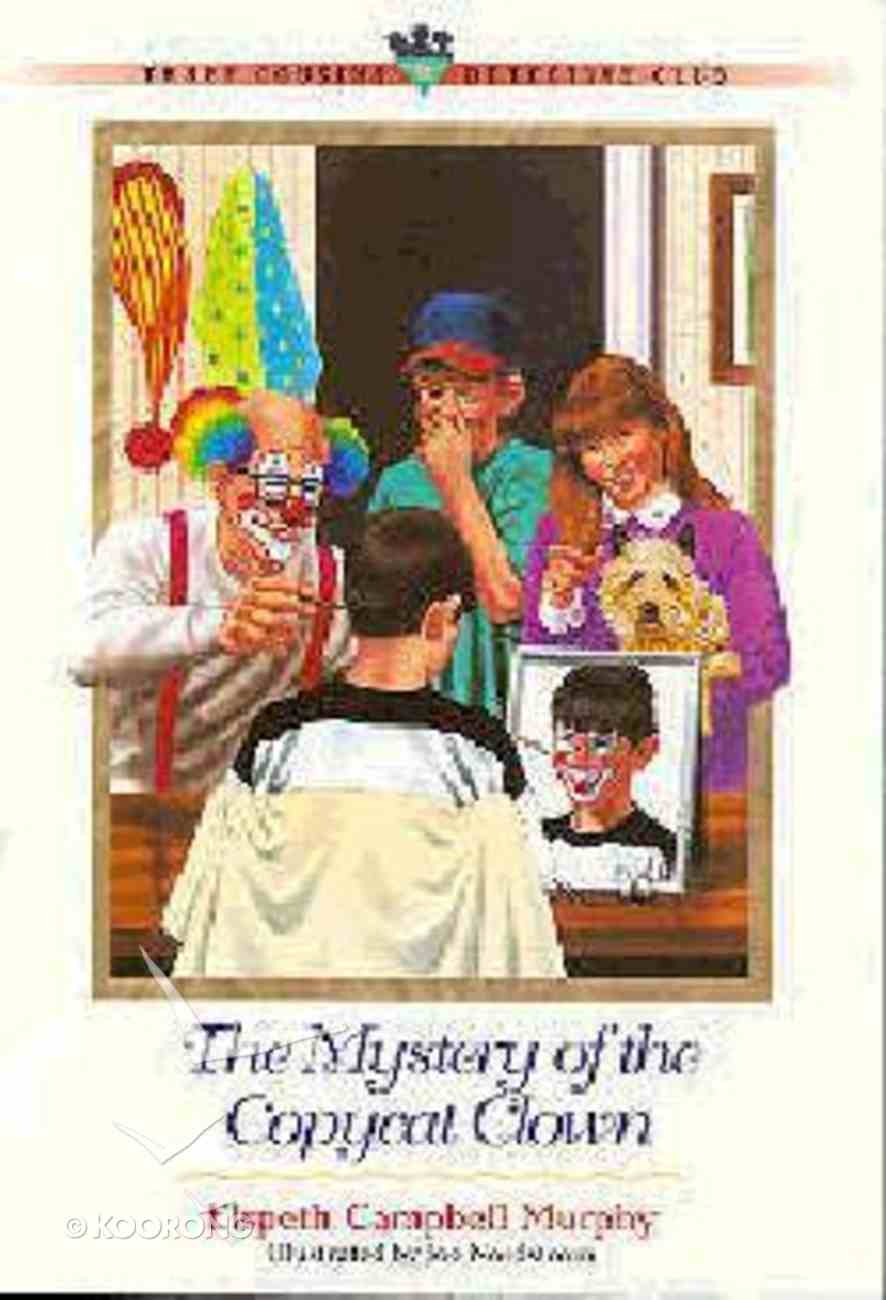 Mystery of the Copycat Clown (#11 in Three Cousins Dc Series)
1. The Clown Next Door2. Picture Of A Clown3. Missing4. A Puzzle5. A Clown Named Phil6. Stooges7. Clown Cousins8. The T.C.D.C9. Sammy W10. Sammy's Clown11. Big Footprints12. The Other Clown13. Questions14. Answers15. Good Medicine55 Pages
---
Free Shipping
for orders over $99.
1. The Clown Next Door2. Picture Of A Clown3. Missing4. A Puzzle5. A Clown Named Phil6. Stooges7. Clown Cousins8. The T.C.D.C9. Sammy W10. Sammy's Clown11. Big Footprints12. The Other Clown13. Questions14. Answers15. Good Medicine55 Pages
-Publisher
Titus, Timothy, and Sarah-Jane help to solve the related mysteries surrounding a missing photograph and the appearance of a copycat clown at a hospital fundraiser.
-Publisher
It's Titus, Timothy, and Sarah-lane from the Three Cousins Detective Club! The three ten-year-olds are ready to learn about favorite proverbs from the Bible while solving more exciting adventure-filled mysteries! In The Mystery of the Copycat Clown, Titus McKay's neighbor Phil is a clown-a real clown who wears a red nose and big, floppy shoes! Phil asks Titus and the TCDC to help out during his show for the Children's Hospital picnic. But the cousins soon learn there is another clown at the picnic-one who looks just like Phil! Why would someone walk around pretending to be Phil? It's up to the cousins to find out! Proverbs 17:22 Theme: True Happiness
-Publisher
An exciting series of chapter books for readers ages 7-10 featuring the escapades of the famous detective-cousins Timothy, Titus, and Sarah-Jane. Illustrated.
-Publisher
Elspeth Campbell Murphy was born in Hamilton, Scotland. She received a B.A. in English from Trinity College and an M.A.T. in elementary education from Oakland University. Before becoming a full-time author, she worked as an elementary school teacher and wrote and edited curriculum. She is the author of more than 100 books including Chalkdust: Prayers of Encouragement for Teachers, David and I Talk to God, and the Three Cousins Detective Club series. She won the Gold Medallion for Do You See Me, God?
Bestsellers in Confident Readers (Age 8-12)