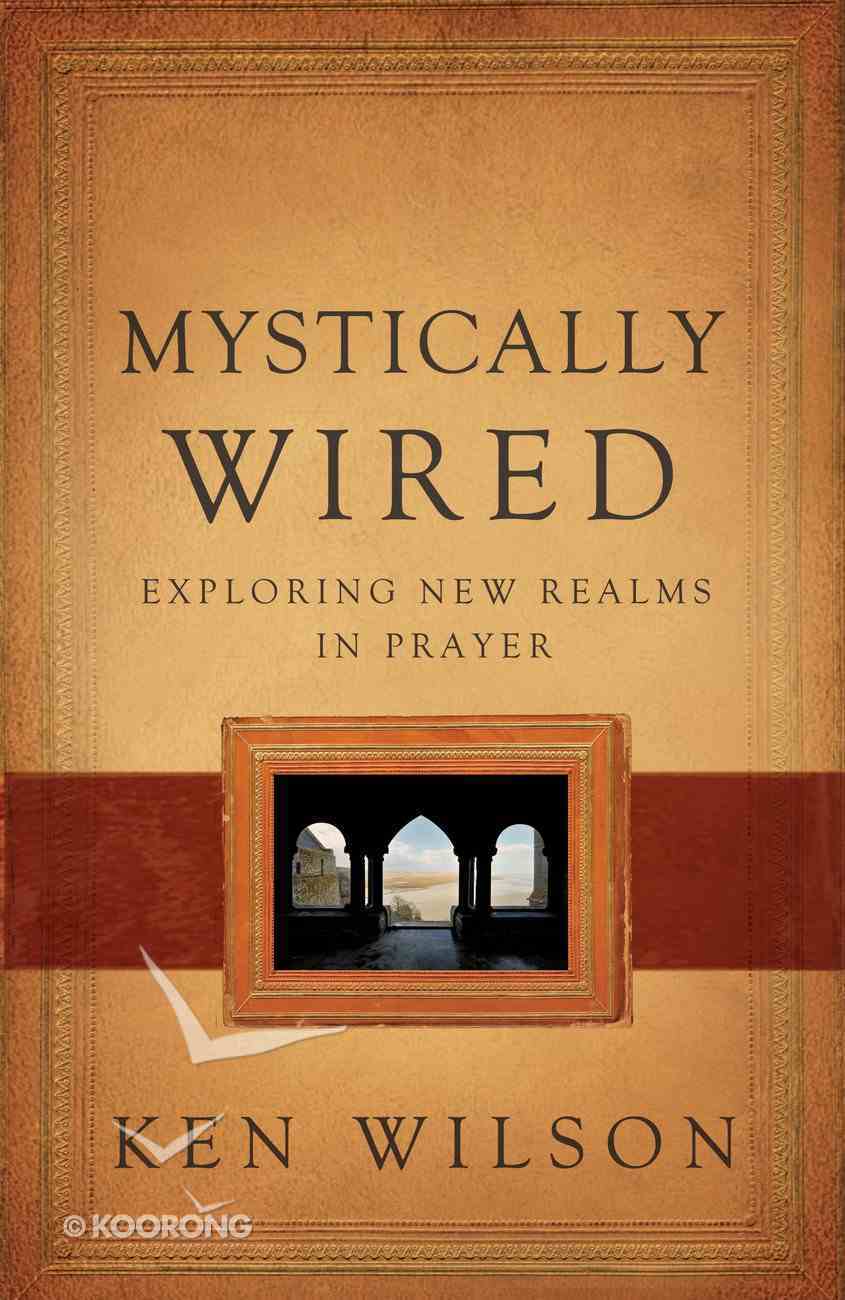 We are designed to make connections to God through prayer in more ways than we can imagine. Prayer can be so much more than a simple conversation. It can be a wordless connection with God, a step beyond...
Available for immediate download.
---
Read using our free app on your tablet or mobile!
---
Free Shipping
for orders over $99.

We are designed to make connections to God through prayer in more ways than we can imagine.


Prayer can be so much more than a simple conversation. It can be a wordless connection with God, a step beyond the boundary of the separated self. It can be a way to listen to the silence. And it can be learned. We can learn how to pray in ways we never thought possible. It doesn't take more effort; it takes more understanding.


Wilson's book shows how the brain is designed by God:

To calm itself To relax into love To become increasingly aware of how connected everything is in God To experience a deeper intimacy with our Creator
Prayer is something that our brains want to do with a little help. Ken Wilson tells us how.


Praise for Mystically Wired:


'Smart, savvy, candid, credible, unafraid, self-effacing, and shot through with passionate love of Jesus ... yes, hands down, this is the best book on prayer that I have ever read.


' Phyllis Tickle, Compiler, The Words of Jesus: A Gospel of the Sayings of Our Lord


'I confess, I don't normally like books on prayer, but Mystically Wired is a big exception. While this book is incredibly practical, I was routinely blown away by the intuitive genius of Ken's view and application of prayer. Page after page, thinking I knew what was next, I was surprised with fresh insight and unique perspectives on connecting with God. Being an evangelist, I was excited to realize I could also send this to spiritual friends who don't follow Jesus as a way to introduce him.'


' R. York Moore, National Evangelist InterVarsity Christian Fellowship USA


'It began the day Jesus' disciples came to him and asked, 'Lord, teach us to pray.' Ever since, Christ-followers have been wanting to learn the ways of prayer. Ken Wilson's Mystically Wired is an extraordinary contribution to that learning tradition. It's a wonderful read that leaves you feeling, 'Yes, this is for me. Yes, I can do this. Yes, it's within reach.''


' Brian McLaren, Author/Speaker/Activist


'I wandered away from religion because religion thought it had all the answers. Pastor Ken Wilson, though, understands that life and faith are really about having the right questions. If you want to pray for favors, put this book down now. If you want the answers, the help here is only partial. But if you're looking for a wide-ranging inquiry, and a path that can bring you closer to the mystery'without the mumbo-jumbo'delve within.'


' Carl Safina, Author, Song for the Blue Ocean and The View From Lazy Point


'Mystically Wired was a breath of fresh apologetic air for me. I pray and I experience God, and I find fixed hour prayer deeply meaningful, but this book shows that God made us to do such things and our brain is wired to communicate with God.'


' Scot McKnight, Karl A. Olsson Professor in Religious Studies, North Park University


'In my library there are scores of books on prayer'by legends and modern guides as well. It is not easy to make a genuine contribution to this body of literature. But Ken Wilson has done so. Mystically Wired manages to bring together the best of the sciences and philosophies of mind, brain, and consciousness with deep spirituality and candid personal reflection. While it will happily fit my on my shelf, it fits best in a heart yearning to pray.'


? Todd Hunter, Anglican Bishop

^
Prayer can be so much more than a simple conversation. It can be a wordless connection with God, a step beyond the boundary of the separated self. It can be a way to listen to the silence. And it can be learned. We can learn how to pray in ways we never thought possible. It doesn't take more effort; it takes more understanding.

^
Wilson's book shows how the brain is designed by God

^ ^ To calm itself ^ To relax into love ^ To become increasingly aware of how connected everything is in God ^ To experience a deeper intimacy with our creator ^
Prayer is something that our brains want to do with a little help. Ken Wilson tells us how.




Praise^for Mystically Wired

^^
"Smart,^savvy, candid, credible, unafraid, self-effacing, and shot??through^with passionate love of Jesus . . . yes, hands down, this is??the^best book on prayer that I have ever read.

^^
-^Phyllis Tickle

^^
Compiler, The Words

^^
of Jesus: A Gospel of the

^^
Sayings of Our Lord

^^
??

^^
"I^confess, I don't normally like books on prayer, but Mystically??Wired^is a big exception. While this book is incredibly^practical,??I was^routinely blown away by the intuitive genius of Ken's view??and^application of prayer. Page after page, thinking I knew what??was^next, I was surprised with fresh insight and unique perspectives??on^connecting with God. Being an evangelist, I was excited??to^realize I could also send this to spiritual friends who don't follow??Jesus^as a way to introduce him."??

^^
-^R. York Moore

^^
National Evangelist

^^
InterVarsity Christian

^^
Fellowship USA

^^
??

^^
"It^began the day Jesus' disciples came to him and asked, 'Lord,??teach^us to pray.' Ever since, Christ-followers have been wanting??to^learn the ways of prayer. Ken Wilson's Mystically Wired is^an??extraordinary^contribution to that learning tradition. It's a wonderful??read^that leaves you feeling, 'Yes, this is for me. Yes, I can??do^this. Yes, it's within reach.'"

^^
-^Brian McLaren

^^
Author/Speaker/Activist

^^
??

^^
"I^wandered away from religion because religion thought it had??all^the answers. Pastor Ken Wilson, though, understands that??life^and faith are really about having the right questions. If you??want^to pray for favors, put this book down now. If you want the??answers,^the help here is only partial. But if you're looking for a??wide-ranging^inquiry, and a path that can bring you closer to the??mystery-without^the mumbo-jumbo-delve within."??

^^
-^Carl Safina

^^
Author, Song for the Blue??Ocean and The View From??Lazy Point??

^^
"Mystically^Wired was a breath of fresh apologetic air^for me. I??pray^and I experience God, and I find fixed hour prayer deeply??meaningful,^but this book shows that God made us to do such

^^
things^and our brain is wired to communicate with God."

^^
-^Scot McKnight

^^
Karl A. Olsson Professor in

^^
Religious Studies

^^
North Park University

^^
??

^^
"In^my library there are scores of books on prayer-by legends??and^modern guides as well. It is not easy to make a genuine contribution??to^this body of literature. But Ken Wilson has done so.??Mystically^Wired manages to bring together the best^of the sciences??and^philosophies of mind, brain, and consciousness with deep??spirituality^and candid personal reflection. While it will happily??fit^my on my shelf, it fits best in a heart yearning to pray."

^^
-^Todd Hunter

^^
Anglican Bishop

^^
??

^^
"Ken^Wilson's new book is fascinating intellectually and engaging??spiritually.^Its theme is a great discussion starter with Christians??and^non-Christians alike!"

^^
-^Dr. Joel C. Hunter

^^
Senior Pastor

^^
Northland, A Church


Distributed





We are designed to make connections to God through prayer in more ways than we can imagine.

^
Prayer can be so much more than a simple conversation. It can be a wordless connection with God, a step beyond the boundary of the separated self. It can be a way to listen to the silence. And it can be learned. We can learn how to pray in ways we never thought possible. It doesn't take more effort; it takes more understanding.

^
Wilson's book shows how the brain is designed by God

^ ^ To calm itself ^ To relax into love ^ To become increasingly aware of how connected everything is in God ^ To experience a deeper intimacy with our creator ^
Prayer is something that our brains want to do with a little help. Ken Wilson tells us how.




Praise^for Mystically Wired

^^
"Smart,^savvy, candid, credible, unafraid, self-effacing, and shot??through^with passionate love of Jesus . . . yes, hands down, this is??the^best book on prayer that I have ever read.

^^
-^Phyllis Tickle

^^
Compiler, The Words

^^
of Jesus: A Gospel of the

^^
Sayings of Our Lord

^^
??

^^
"I^confess, I don't normally like books on prayer, but Mystically??Wired^is a big exception. While this book is incredibly^practical,??I was^routinely blown away by the intuitive genius of Ken's view??and^application of prayer. Page after page, thinking I knew what??was^next, I was surprised with fresh insight and unique perspectives??on^connecting with God. Being an evangelist, I was excited??to^realize I could also send this to spiritual friends who don't follow??Jesus^as a way to introduce him."??

^^
-^R. York Moore

^^
National Evangelist

^^
InterVarsity Christian

^^
Fellowship USA

^^
??

^^
"It^began the day Jesus' disciples came to him and asked, 'Lord,??teach^us to pray.' Ever since, Christ-followers have been wanting??to^learn the ways of prayer. Ken Wilson's Mystically Wired is^an??extraordinary^contribution to that learning tradition. It's a wonderful??read^that leaves you feeling, 'Yes, this is for me. Yes, I can??do^this. Yes, it's within reach.'"

^^
-^Brian McLaren

^^
Author/Speaker/Activist

^^
??

^^
"I^wandered away from religion because religion thought it had??all^the answers. Pastor Ken Wilson, though, understands that??life^and faith are really about having the right questions. If you??want^to pray for favors, put this book down now. If you want the??answers,^the help here is only partial. But if you're looking for a??wide-ranging^inquiry, and a path that can bring you closer to the??mystery-without^the mumbo-jumbo-delve within."??

^^
-^Carl Safina

^^
Author, Song for the Blue??Ocean and The View From??Lazy Point??

^^
"Mystically^Wired was a breath of fresh apologetic air^for me. I??pray^and I experience God, and I find fixed hour prayer deeply??meaningful,^but this book shows that God made us to do such

^^
things^and our brain is wired to communicate with God."

^^
-^Scot McKnight

^^
Karl A. Olsson Professor in

^^
Religious Studies

^^
North Park University

^^
??

^^
"In^my library there are scores of books on prayer-by legends??and^modern guides as well. It is not easy to make a genuine contribution??to^this body of literature. But Ken Wilson has done so.??Mystically^Wired manages to bring together the best^of the sciences??and^philosophies of mind, brain, and consciousness with deep??spirituality^and candid personal reflection. While it will happily??fit^my on my shelf, it fits best in a heart yearning to pray."

^^
-^Todd Hunter

^^
Anglican Bishop

^^
??

^^
"Ken^Wilson's new book is fascinating intellectually and engaging??spiritually.^Its theme is a great discussion starter with Christians??and^non-Christians alike!"

^^
-^Dr. Joel C. Hunter

^^
Senior Pastor

^^
Northland, A Church


Distributed




-Publisher
KEN WILSON is a graduate of Gordon-Conwell Theological Seminary and a recipient of the Denman Evangelism Award. His ministry experience includes parachurch organizations such as The Navigators, Youth for Christ and Young Life, as well as local church leadership in evangelism, small groups and missions. He works as a bridge engineer and project manager with Michael Baker Corporation, and he graduated from Cornell University and the University of Illinois with degrees in engineering. One of his favorite roles is leading small groups for seekers both in his neighborhood and his workplace. Ken liv