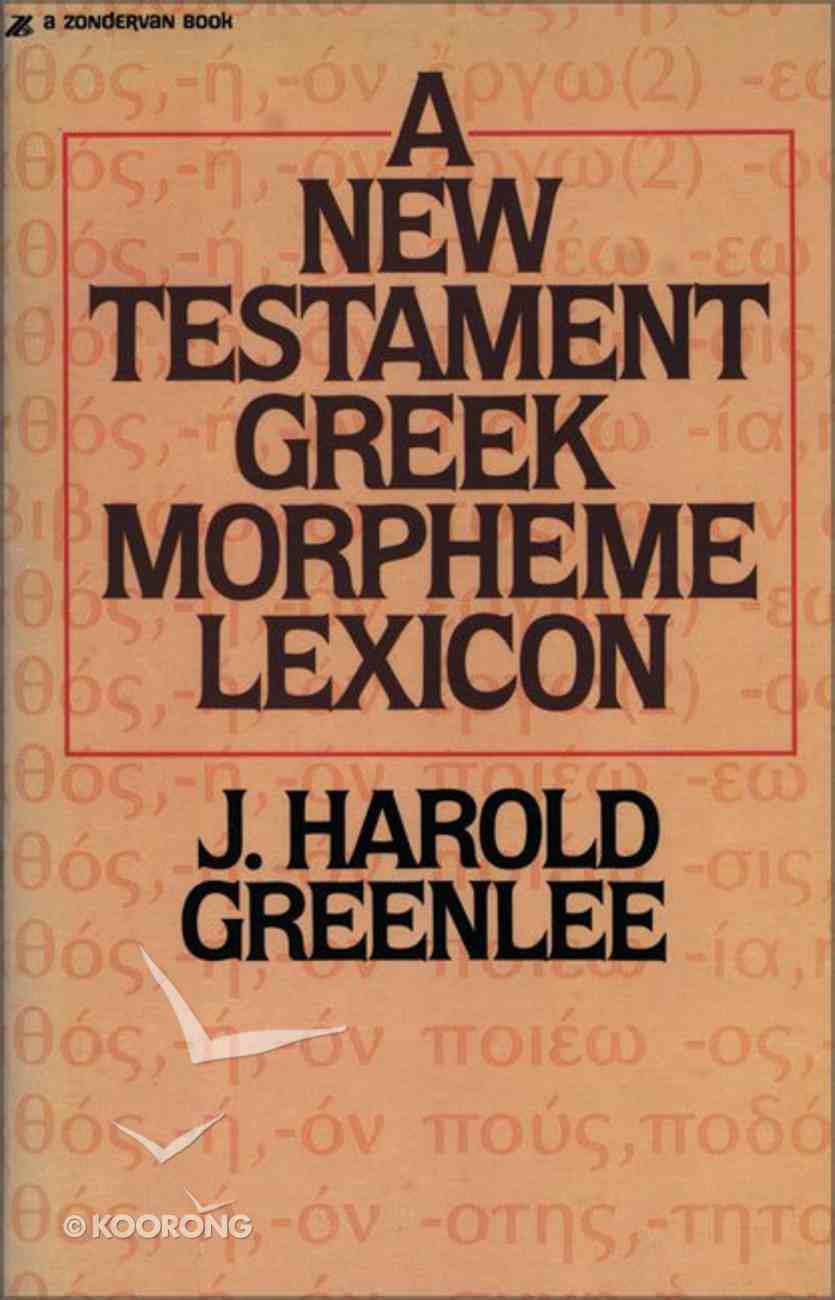 New Testament Greek Morpheme Lexicon
Out of Stock
Available to Order
---
Expected to ship in 4 to 5 weeks from Australia.
---
Free Shipping
for orders over $99.
352 Pages
-Publisher
This New Testament Greek Morpheme Lexicon is a unique and valuable addition to the many reference tools now available to those who study and translate God's Word. In this Lexicon words are analyzed so that students, professors, and translators can see at a glance all the morphemes and components (prefixes, root words, suffixes, and terminations) of all the Greek words used in the New Testament and other Christian literature. It is a systematic and complete presentation of the morphemes of all the words found in the second edition of the classic standard lexicon by Bauer-Arndy-Gingrich-Danker, A Greek-English Lexicon of the New Testament and Other Early Christian Literature. It is recommended because of the following special features and uses: - Part 1 gives prefixes, root words, suffixes, and terminations for every word in BAGD. - Part 2 lists every word that contains each of the morphemes identified in part 1, so that a morpheme can be observed in all the words that use it at a single glance. - English glosses are given as brief, tentative keys to meaning. - Creative research is made possible through these easy-to-use analyses. - Linguists and translators can trace the meanings and relationships of words in various combinations. - Students have a new help for learning and studying the language of the New Testament.
-Publisher
Prior to his retirement, J. Harold Greenlee (Ph.D., (Biblical and Patristic Greek), Harvard Univ. Senior Fulbright Fellow, Oxford Univ) was professor of New Testament Greek at Asbury Theological Seminary, a missionary with OMS International, and an International Translation Consultant with Wycliffe Bible Translators. He is also the author of Introduction to New Testament Textual Criticism,A New Testament Greek Morpheme Lexicon and A Concise Exegetical Grammar of New Testament Greek.
Koorong -Editorial Review.