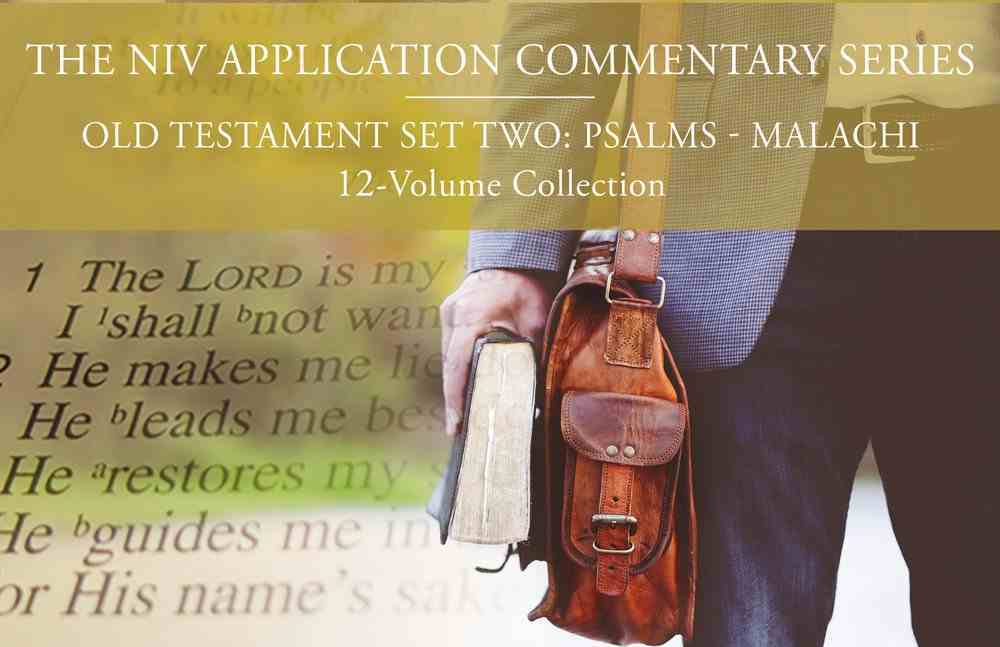 NIV Application Commentary, Old Testament Set Two: Psalms-Malachi (12 Vols)
: The NIV Application Commentary helps you communicate and apply biblical text effectively in today's context. To bring the ancient messages of the Bible into today's world, each passage is treated in three sections: Original Meaning ....
Special Order
Payment is by credit card only. Orders for this item cannot be cancelled or returned.
---
Free Shipping
for orders over $99.
:
The NIV Application Commentary helps you communicate and apply biblical text effectively in today's context.


To bring the ancient messages of the Bible into today's world, each passage is treated in three sections:

Original Meaning. Concise exegesis to help readers understand the original meaning of the biblical text in its historical, literary, and cultural context. Bridging Contexts. A bridge between the world of the Bible and the world of today, built by discerning what is timeless in the timely pages of the Bible. Contemporary Significance. This section identifies comparable situations to those faced in the Bible and explores relevant application of the biblical messages. The author alerts the readers of problems they may encounter when seeking to apply the passage and helps them think through the issues involved.
This unique, award-winning commentary is the ideal resource for today's preachers, teachers, and serious students of the Bible, giving them the tools, ideas, and insights they need to communicate God's Word with the same powerful impact it had when it was first written.


Volumes and authors in The NIV Application Commentary, Old Testament Set Two: Psalms-Malachi, 12-Volume Collection include: (add bullet points & italicize titles)

Psalms Volume 1 by Gerald H. Wilson Psalms, Volume 2 by W. Dennis Tucker Jr. and Jamie A. Grant Ecclesiastes, Song of Songs by Iain Provan Proverbs by Paul E. Koptak Isaiah by John N. Oswalt Jeremiah, Lamentations by J. Andrew Dearman Ezekiel by Iain M. Duguid Daniel by Tremper Longman III Hosea, Amos, Micah by Gary V. Smith Joel, Obadiah, Malachi by David W. Baker Jonah, Nahum, Habakkuk, Zephaniah by James Bruckner Haggai, Zechariah by Mark J. Boda
-Publisher
Bestsellers in Academic Sets