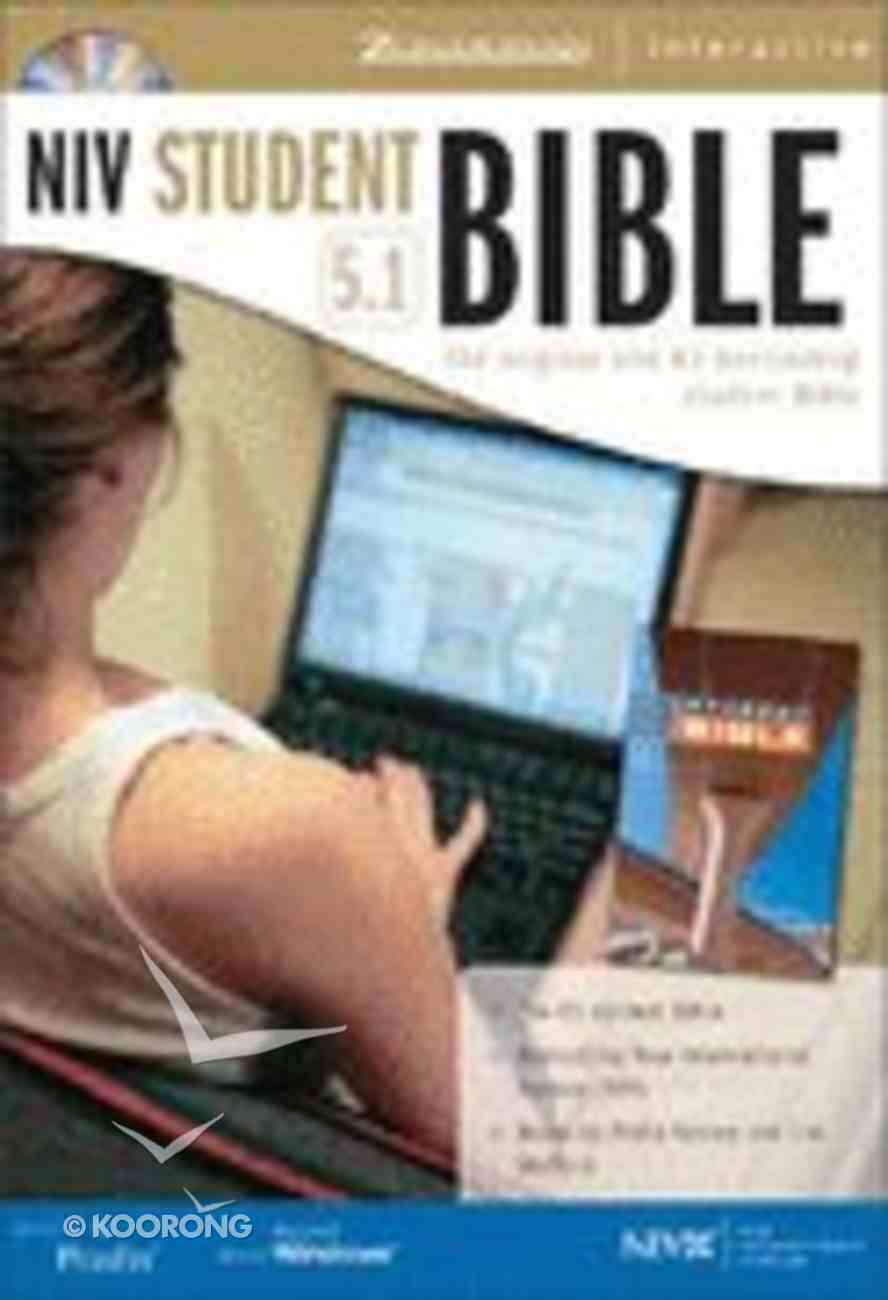 NIV Student Bible 5.1 For Windows CDROM
The best-selling NIV Student Bible on CD-ROM . . . Now Powered by Pradis Take a guided tour of the whole Bible on your PC. This proven, commonsense approach to studying the Scriptures appeals to high school and college readers...
---
Free Shipping
for orders over $99.
The best-selling NIV Student Bible on CD-ROM . . . Now Powered by Pradis Take a guided tour of the whole Bible on your PC. This proven, commonsense approach to studying the Scriptures appeals to high school and college readers as well as adults of every age. It enables you to understand what you read, find the topics you're looking for, and make real progress in your studies. Award-winning authors Philip Yancey and Tim Stafford are your guides on a six-month tour through the entire Bible-its characters, places, times, stories, and meaning. And that's just one of the study options available to you in the NIV Student Bible. The NIV Student Bible features: - Guided Tour of the Bible takes you on a 180-day journey featuring daily points of interest - 3-Track Reading Plan lets you read at your own pace - Highlights and Insights explain difficult verses, point out important facts and encourage reflection - Book Introductions and Overviews summarize the content and point out important themes and characters for each book of the Bible - Updated Subject Guide points to the Bible's message on topics of interest - 100 People You Should Know gives insight into the lives and faith of important Biblical people - Updated Glossary of Non-Biblical People and Places Easy-to-use Pradis interface is: - Transparent-Footnotes automatically display with the appropriate commentary text. - Powerful-Search for any topic or word and get lightning-fast results. - User-Driven-Organize your resources to fit your personal study requirements. - Intuitive-Never lose a window. Tabbed and tiled panes keep all your resources in plain view for instant access. - Flexible-Many features are designed like programs you already use. For instance, navigate using a context tree or "go to" dialog box. Minimal learning curve; major ease of use! More new features include: - Search assistant - Note-taking and bookmarking anywhere you want - Customization options for text, such as background, font, and point size Expand the scope and speed of your Bible studies even more! The NIV Student Bible 5.0 for Windows is powered by Pradis, the most powerful software available for Bible study. It's fully compatible with any edition of Zondervan's Bible Study Library as well as the New International Dictionary of New Testament Theology, the New International Dictionary of Old Testament Theology and Exegesis, and the Expositor's Bible Commentary. Choose the edition that's right for you. Visit www.zondervan.com/BibleStudyLibrary for more information. System Requirements Pentium 166 MHz or higher processor Windows 98, 2000, ME, XP or Windows NT 4.0 (Service Pack 6) 64 MB RAM 22 MB hard disk space minimum CD-ROM drive
-Publisher
The best-selling NIV Student Bible on CD-ROM ... Now Powered by PradisTake a guided tour of the whole Bible on your PC.This proven, commonsense approach to studying the Scriptures appeals to high school and college readers as well as adults of every age. It enables you to understand what you read, find the topics you're looking for, and make real progress in your studies.Award-winning authors Philip Yancey and Tim Stafford are your guides on a six-month tour through the entire Bible---its characters, places, times, stories, and meaning. And that's just one of the study options available to you in the NIV Student Bible.The NIV Student Bible features:* Guided Tour of the Bible takes you on a 180-day journey featuring daily points of interest* 3-Track Reading Plan lets you read at your own pace* Highlights and Insights explain difficult verses, point out important facts and encourage reflection* Book Introductions and Overviews summarize the content and point out important themes and characters for each book of the Bible* Updated Subject Guide points to the Bible's message on topics of interest* 100 People You Should Know gives insight into the lives and faith of important Biblical people* Updated Glossary of Non-Biblical People and PlacesEasy-to-use Pradis interface is:* Transparent---Footnotes automatically display with the appropriate commentary text.* Powerful---Search for any topic or word and get lightning-fast results. * User-Driven---Organize your resources to fit your personal study requirements. * Intuitive---Never lose a window. Tabbed and tiled panes keep all your resources in plain view for instant access.* Flexible---Many features are designed like programs you already use. For instance, navigate using a context tree or 'go to' dialog box. Minimal learning curve; major ease of use!More new features include: * Search assistant* Note-taking and bookmarking anywhere you want* Customization options for text, such as background, font, and point sizeExpand the scope and speed of your Bible studies even more!The NIV Student Bible 5.0 for Windows is powered by Pradis, the most powerful software available for Bible study. It's fully compatible with any edition of Zondervan's Bible Study Library as well as the New International Dictionary of New Testament Theology, the New International Dictionary of Old Testament Theology and Exegesis, and the Expositor's Bible Commentary. Choose the edition that's right for you. Visit www.zondervan.com/BibleStudyLibrary for more information.System RequirementsPentium 166 MHz or higher processorWindows 98, 2000, ME, XP or Windows NT 4.0 (Service Pack 6)64 MB RAM22 MB hard disk space minimumCD-ROM drive
-Publisher