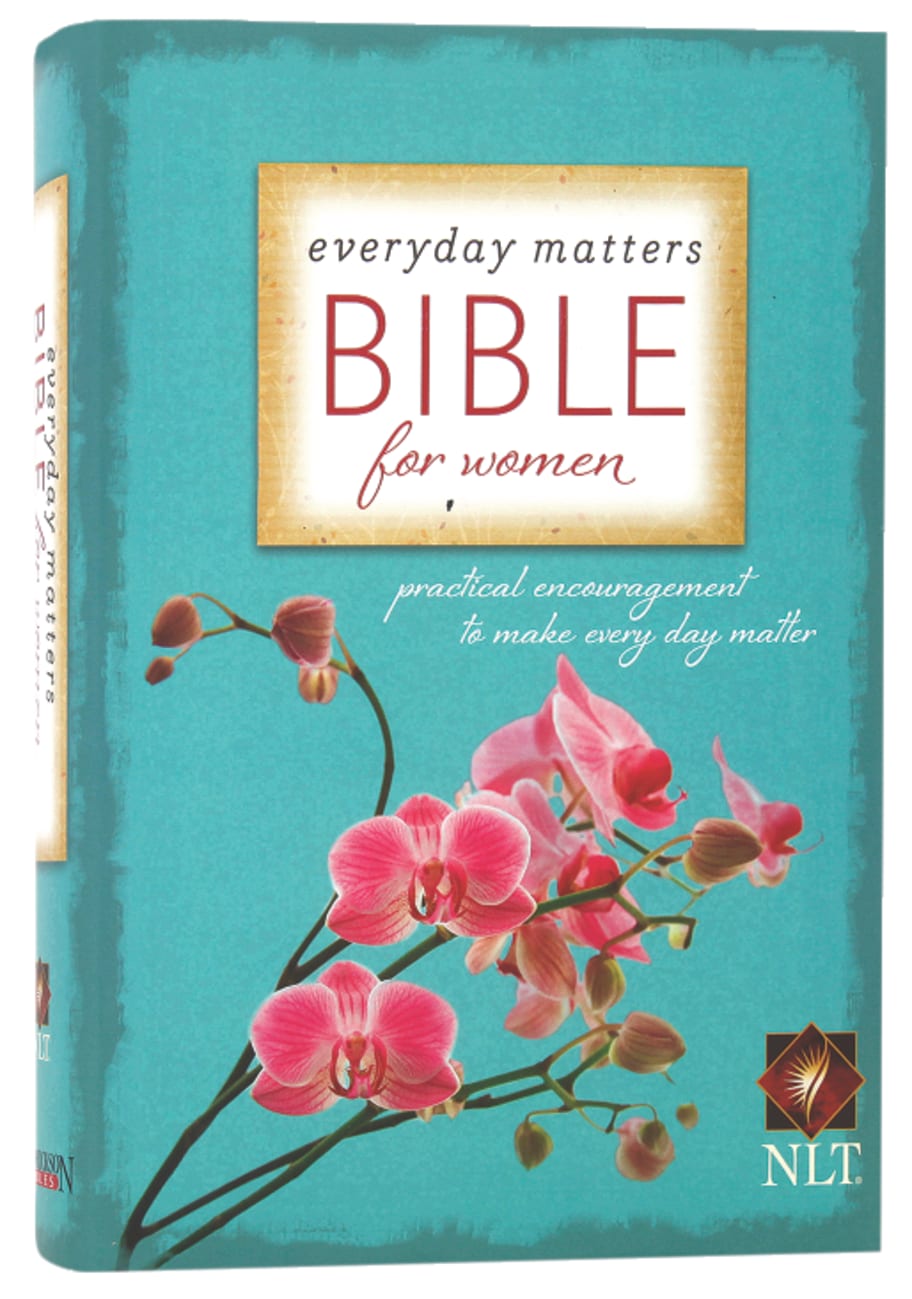 NLT Everyday Matters Bible For Women
A new Bible for busy women transforms daily life into a life that matters every day. Today's Christian woman is so busy handling the challenges of day-to-day life that spending time in the Word can easily become yet another 'should'...
---
Expected to ship within 4 hours from Australia.
---
Free Shipping
for orders over $99.
A new Bible for busy women transforms daily life into a life that matters every day.

Today's Christian woman is so busy handling the challenges of day-to-day life that spending time in the Word can easily become yet another 'should' buried in that growing list of daily 'musts.' Created in partnership with Kyria.com, Christianity Today's women's magazine, the Everyday Matters Bible for Women is designed to help women develop spiritual practices that will make their lives richer, not harder. It offers practical encouragement and tools to renew, reinvigorate and restore meaning to everyday life.

This Bible features twenty-four disciplines-or practices-that position us to receive power and strength to do those things that we cannot possibly do on our own and make everyday life fuller and deeper. Each discipline is represented by a colorful icon whose illustration is a reminder of its meaning.

The contemporary language of the New Living Translation combines with content from today's foremost Christian leaders to help readers understand and apply spiritual discipline.

Every discipline is explored in four ways
- Everyday Matters. Two-page articles introduce major themes and focus on an essential part of understanding and practicing a discipline.
- Everyday Profiles. Profiles of twenty-five Biblical women highlight a particular discipline.
- Everyday Q & A's. Short articles delve into a difficult aspect of the spiritual practice and offer practical help on incorporating the discipline into your daily life.
- Everyday Reflections. Selections illustrate ways to personalize and apply God's Word to your own situation.

More than 300 articles and features by more than 140 of today's most well-known Christian leaders and writers, including: Kay Warren, Priscilla Shirer, Elisa Morgan, Nancy & John Ortberg, Richard Foster, Liz Curtis Higgs, and Lauren Winner.

Special Features include:
- 4-color throughout
- Color-coded icons identify each Spiritual Discipline addressed in contributors' material
- How to Use This Bible in a Small Group Study
- Index of Spiritual Practices
- Resources for further reading.

Publisher Description

A new Bible for busy women transforms daily life into a life that matters every day

Today's Christian woman is so busy handling the challenges of day-to-day life that spending time in the Word can easily become yet another 'should' buried in that growing list of daily 'musts.' Created in partnership with Kyria.com, Christianity Today's women's magazine, the Everyday Matters Bible for Women is designed to help women develop spiritual practices that will make their lives richer, not harder. It offers practical encouragement and tools to renew, reinvigorate and restore meaning to everyday life.

This Bible features twenty-four disciplines—or practices—that position us to receive power and strength to do those things that we cannot possibly do on our own and make everyday life fuller and deeper. Each discipline is represented by a colorful icon whose illustration is a reminder of its meaning.

The contemporary language of the New Living Translation combines with content from today's foremost Christian leaders to help readers understand and apply spiritual discipline.

Every discipline is explored in four ways
• Everyday Matters. Two-page articles introduce major themes and focus on an essential part of understanding and practicing a discipline.
• Everyday Profiles. Profiles of twenty-five Biblical women highlight a particular discipline.
• Everyday Q & A's. Short articles delve into a difficult aspect of the spiritual practice and offer practical help on incorporating the discipline into your daily life.
• Everyday Reflections. Selections illustrate ways to personalize and apply God's Word to your own situation.

More than 300 articles and features by more than 140 of today's most well-known Christian leaders and writers, including: Kay Warren, Priscilla Shirer, Elisa Morgan, Nancy & John Ortberg, Richard Foster, Liz Curtis Higgs, and Lauren Winner.

Special Features include . . .
• 4-color throughout
• Color-coded icons identify each Spiritual Discipline addressed in contributors' material
• How to Use This Bible in a Small Group Study
• Index of Spiritual Practices
• Resources for further reading
PRODUCT DETAIL
Features In Catalogues
Bestsellers in New Living Translation