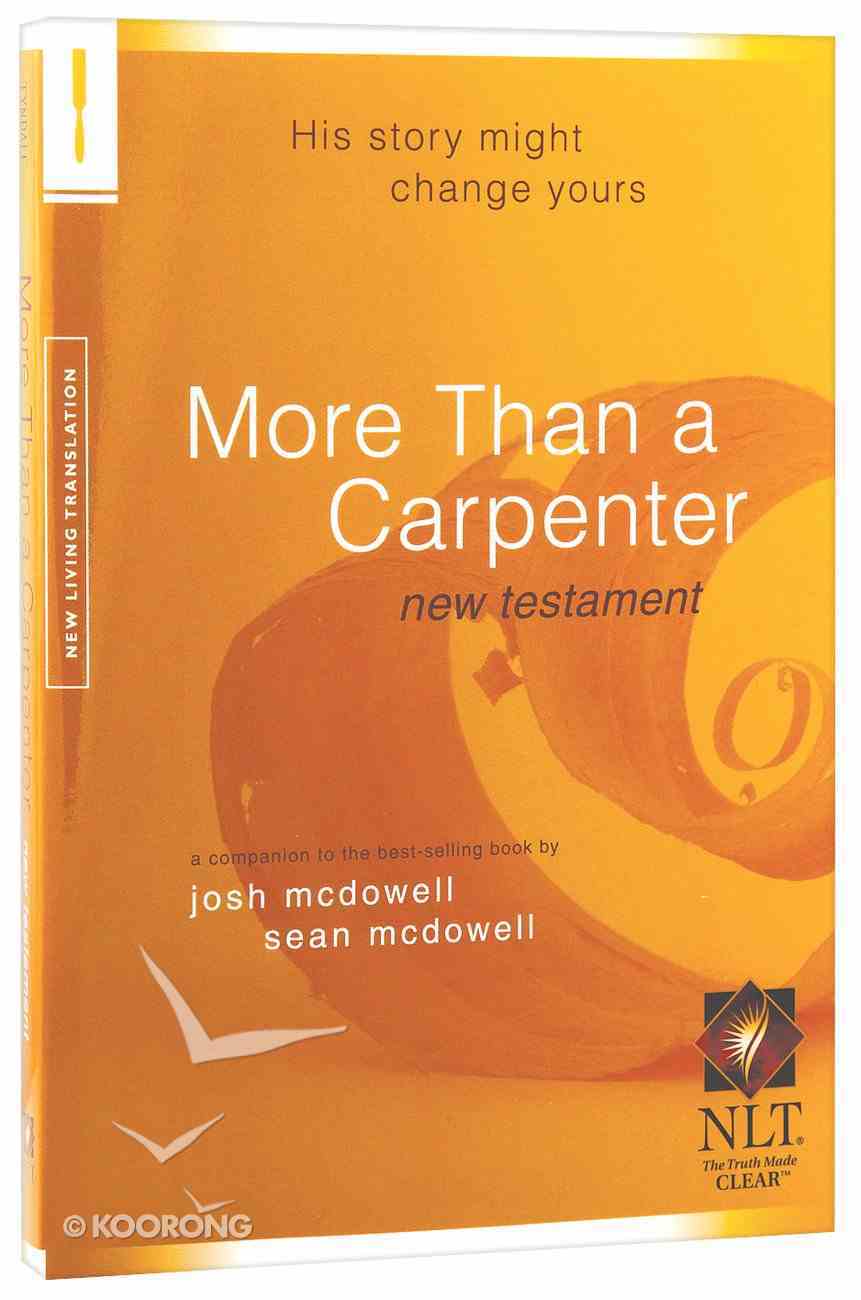 NLT More Than a Carpenter New Testament
A perfect New Testament companion for Josh McDowell's best-selling book More Than a Carpenter , this Bible gives you what you need to explore the truth about Jesus, once a carpenter in the town of Nazareth, but so much more....
In Stock (3 left)
Out of Print. Limited Availability
---
Expected to ship within 9 hours from Australia.
---
Free Shipping
for orders over $99.
A perfect New Testament companion for Josh McDowell's best-selling book More Than a Carpenter, this Bible gives you what you need to explore the truth about Jesus, once a carpenter in the town of Nazareth, but so much more. The More Than a Carpenter Scripture Index references back to Josh McDowell's best-selling book, asking important questions for anyone wrestling with the question, Who is Jesus? Then the index points to the text of the New Testament for answers about his true identity as the Messiah and Son of God. The New Testament text is from the New Living Translation, making it easy to read through the gospel narratives of Jesus' life and the letters written by those who knew him best. Additional indexes point the reader to the most important of Jesus' miracles and messages, making it easy to dig deeper.


-Publisher
What makes Jesus different? The name Jesus bothers people. It embarrasses them, makes them angry, or makes them want to change the subject. No other religious figure stirs such controversy. The More Than a Carpenter New Testament gives you what you need to explore the truth about Jesus-once a carpenter in the town of Nazareth, but so much more. The More Than a Carpenter Scripture Index points you to important texts in the New Testament, the original source for everything we know about Jesus. It also refers you to Josh McDowell's best-selling book More Than a Carpenter, an excellent guide to essential questions related to his identity. The More Than a Carpenter New Testament is a perfect companion for More Than a Carpenter, the book that has changed countless lives,with over 15 million copies in print. Features: More Than a CarpenterScripture Index The Miracles of Jesus Index The Messages of Jesus Index How to Know Jesus Personally You're holding the Holy Bible, New Living Translation. An authoritative Bible translation, rendered faithfully into today's English from the ancient texts by 90 leading Bible scholars. The NLT's scholarship and clarity breathe life into even the most difficult-to-understand Bible passages-but even more powerful are stories of how people's lives are changing as the words speak directly to their hearts. That's why we call it "The Truth Made Clear."
-Publisher
Josh McDowell is an internationally known speaker, author, and champion of the 'Beyond Belief' Campaign. He is a travelling representative of Campus Crusade for Christ speaking to more than ten million people in at least 84 countries, including 700 university and college campuses.
Josh has authored or co-authored more than 90 books, including the classic A Ready Defense, Evidence that Demands a Verdict and Answers to Tough Questions


Bestsellers in New Living Translation