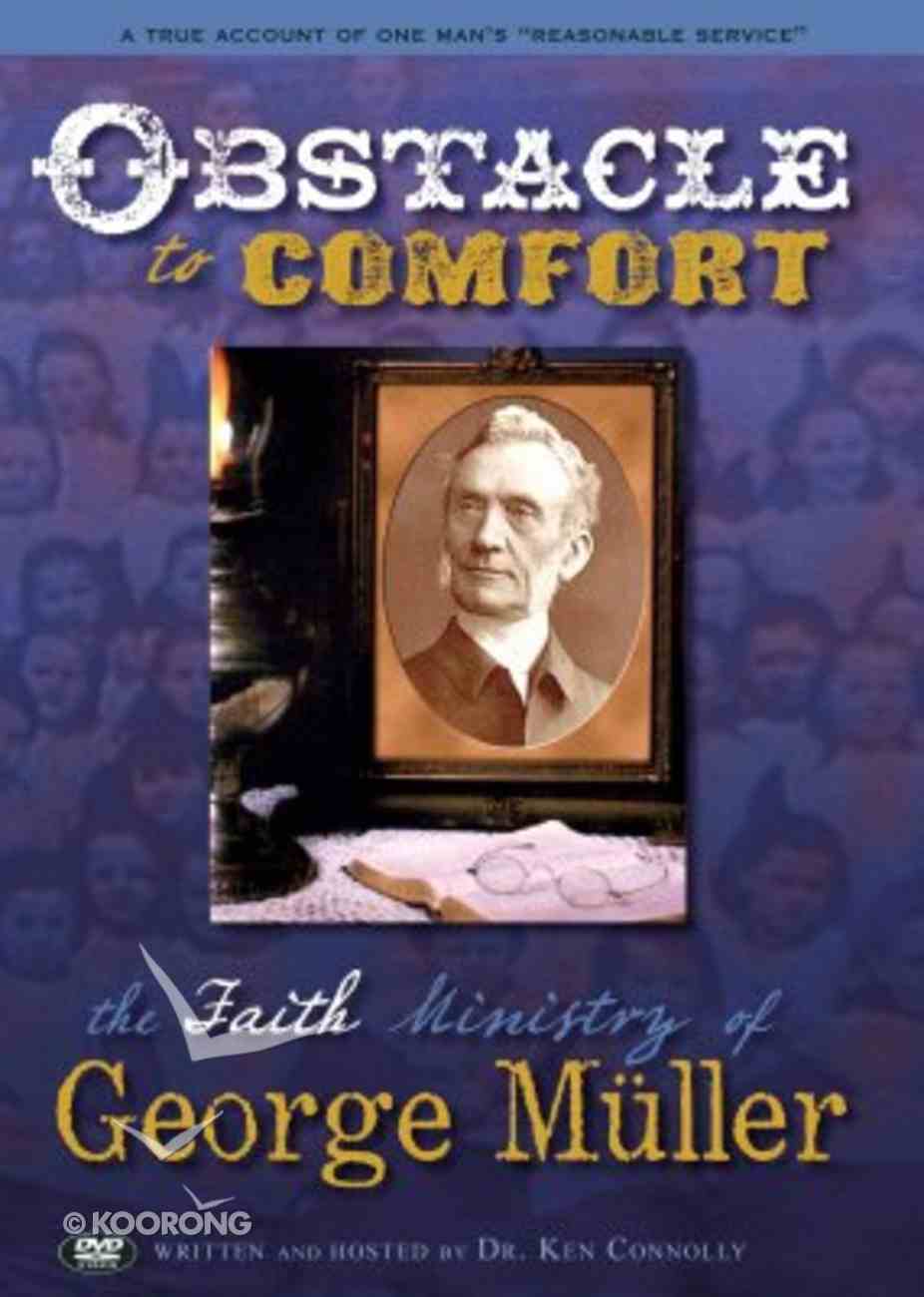 OBSTACLE TO COMFORT is a 55-minute video on the life of George Mller of Bristol. The man became a legend in his own generation. He was the builder of schools, a supporter of missions and a father of some 10,000...
Available Now.
1 Available
---
Expected to ship within 8 hours from Australia.
---
Free Shipping
for orders over $99.
OBSTACLE TO COMFORT is a 55-minute video on the life of George Mller of Bristol. The man became a legend in his own generation. He was the builder of schools, a supporter of missions and a father of some 10,000 orphans. The amazing issue of his life does not lie with what he did, but in how he accomplished it. He operated by faith. He relied solely on God to meet all his needs. He refused to accept donations from unbelievers, and when he started his scriptural knowledge institution to accomplish these tasks, between him and his partner they possessed no more than one shilling, or twelve pence. He refused to inform anybody regarding his needs, mentioning them only to God, in private, on his knees. But look at what he accomplished. In reviewing the 63 years he spent in a faith ministry, the results are staggering. The schools collectively had 121,683 students. The orphanage had five mammoth buildings. He accommodated the needs of 10,000 orphans. It is believed that 2,813 orphans left the institution as believers, and they in turn led thousands more to Christ. It is believed that of the 2,000 students in the orphanage, when Mr. Mller closed his diary, 609 of them were believers. The institution also distributed over 281,000 Bibles, nearly 1.5 million New Testaments, and over 111 million tracts. Several hundred missionaries received financial assistance, totaling nearly 1,500,000 was contributed to the Institution as a direct result of his prayers. His principles survived his death and, by 1939, the total funds prayed into the Institution was approximately 2,370,000. Chapters: 1. Introduction 2. Mller's Early Days 3. A New Believer 4. A New Influence 5. The Orphan's Needs 6. Starting an Orphanage 7. Building an Orphanage 8. Caring for the Children 9. A Man of Faith 10. A Transition 11. His Death 12. His Legacy
-Publisher
:Obstacle to Comfort is a 55-minute video on the life of George Müller of Bristol. Müller's early life was characterized by what would today be called juvenile delinquency. Upon meeting the true Jesus Christ, his life was forever changed. He was a builder of schools, a supporter of missions, and a father to some 10,000 orphans. The amazing issue of his life does not lie in what he did but in the way he accomplished it.

George Müller operated by faith. He relied solely on God to meet all his needs. He refused to accept donations from unbelievers, and when he began his Scriptural Knowledge Institution to accomplish what God had put on his heart to do, he and his partner possessed no more than one shilling, or twelve pence, between them. Müller refused to reveal his needs to anyone but told them only to God, privately, on his knees. But, oh, what the Lord accomplished through that prayer!

Reviewing the 63 years he spent in a faith ministry, one finds the results staggering. The schools collectively taught 121,683 students. The orphanage had five massive buildings that accommodated the needs of 10,000 orphans. It is believed that 2,813 orphans left the institution as believers, and they in turn led thousands more to Christ. It is also believed that of the 2,000 students in the orphanage at the time that George Müller closed his diary, 609 of them were believers.

In addition, the Institution distributed more than 281,000 Bibles, nearly 1.5 million New Testaments, and over 111 million tracts. Several hundred missionaries received financial assistance, totaling nearly £260,000. Nearly £1,500,000 was contributed to the Institution as a direct result of his prayers. His principles survived his death, and, by 1939, the total funds prayed into the Institution amounted to approximately £2,370,000. George Müller's testimony is a wonderful example of God's grace through "the effectual fervent prayer of a righteous man."
-Publisher
Bestsellers in Documentary Dvds