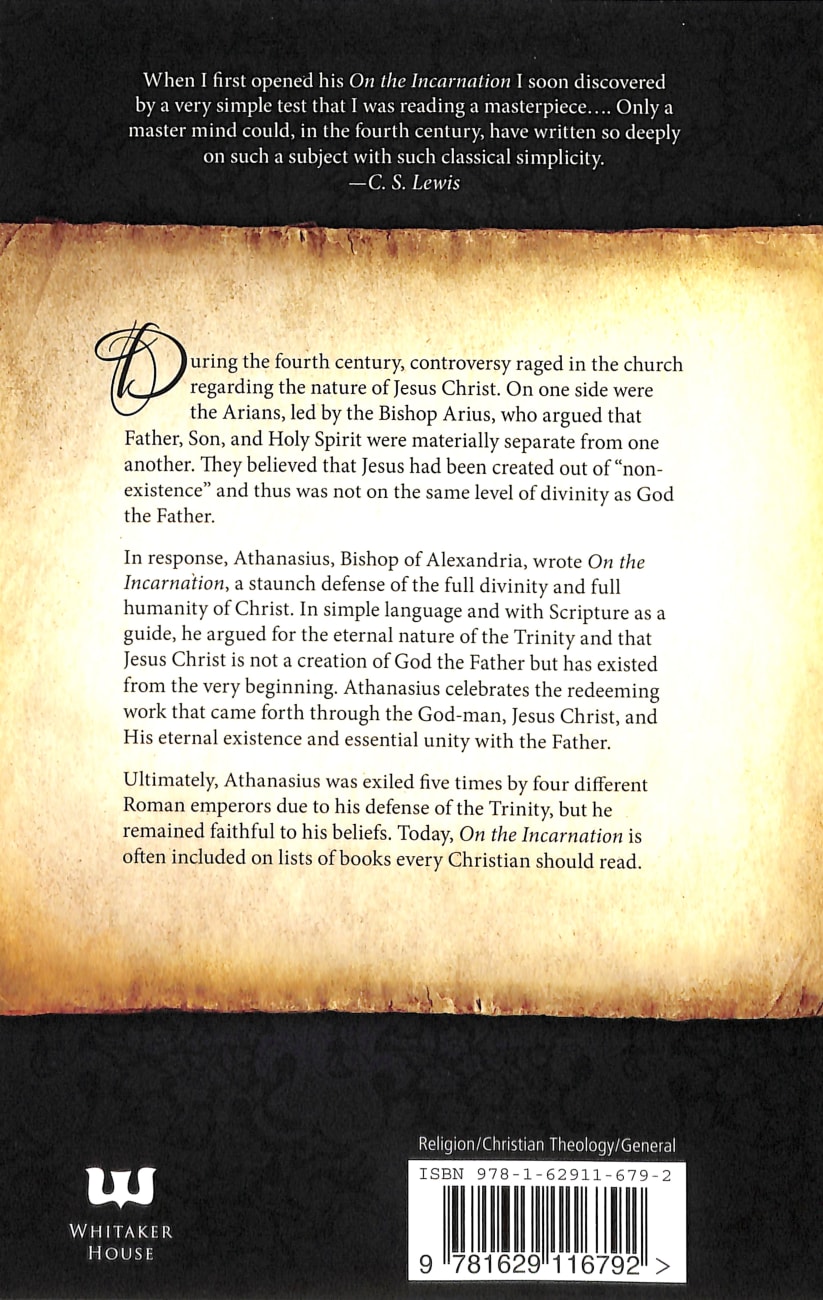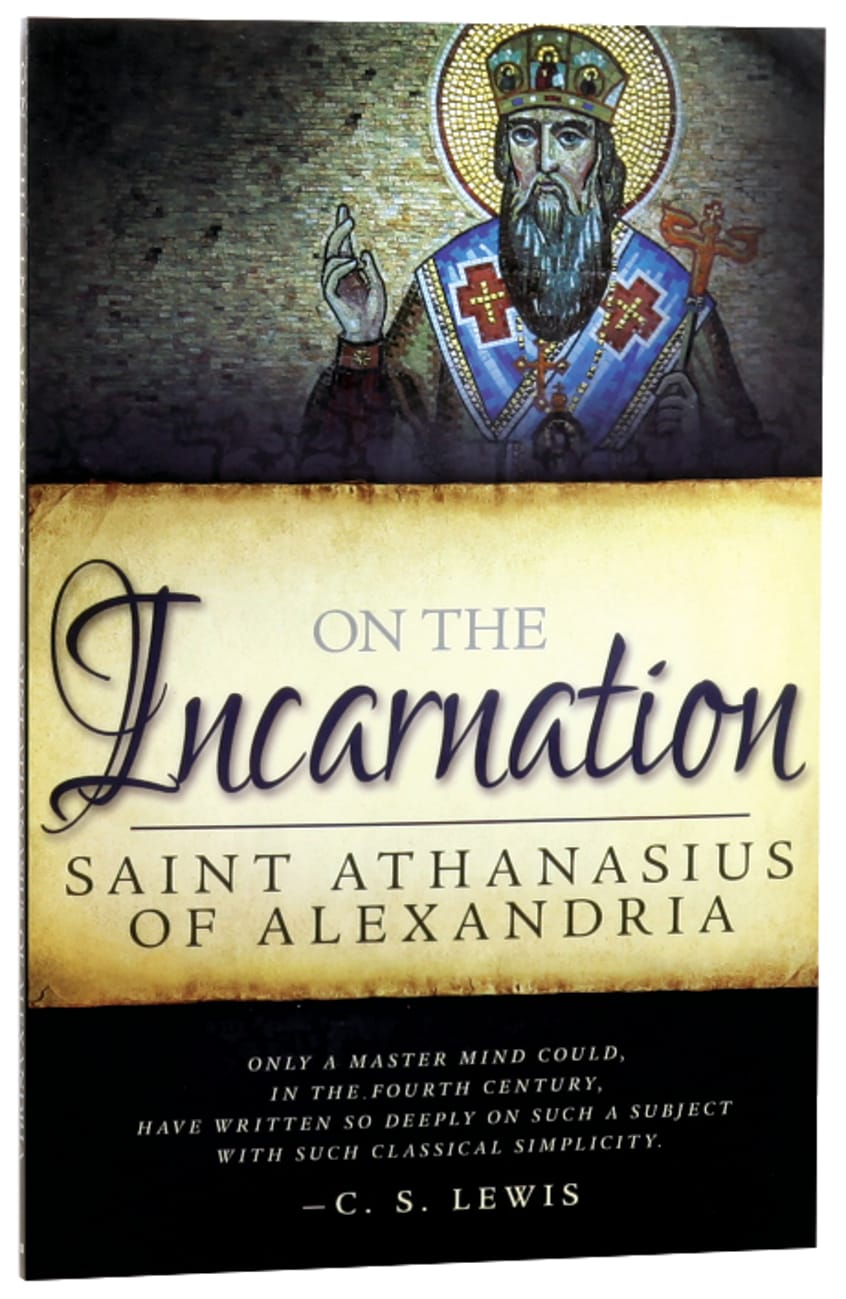 "When I first opened his On the Incarnation I soon discovered by a very simple test that I was reading a masterpiece... Only a master mind could, in the fourth century, have written so deeply on such a subject with...
---
Expected to ship within 2 hours from Australia.
---
Free Shipping
for orders over $99.
"When I first opened his On the Incarnation I soon discovered by a very simple test that I was reading a masterpiece... Only a master mind could, in the fourth century, have written so deeply on such a subject with such classical simplicity." - C. S. Lewis

During the fourth century, controversy raged in the church regarding the nature of Jesus Christ. On one side were the Arians, led by the Bishop Arius, who argued that Father, Son, and Holy Spirit were materially separate from one another. They believed that Jesus had been created out of "non-existence" and thus was not on the same level of divinity as God the Father. In response, Athanasius, Bishop of Alexandria, wrote On the Incarnation, a staunch defense of the full divinity and full humanity of Christ. In simple language and with Scripture as a guide, he argued for the eternal nature of the Trinity and that Jesus Christ is not a creation of God the Father but has existed from the very beginning. Athanasius celebrates the redeeming work that came forth through the God-man, Jesus Christ, and His eternal existence and essential unity with the Father.

Ultimately, Athanasius was exiled five times by four different Roman emperors due to his defense of the Trinity, but he remained faithful to his beliefs. Today, On the Incarnation is often included on lists of books every Christian should read.

"The greatest man of his age and one of the greatest religious leaders of any age, Athanasius of Alexandria rendered services to the Church the value of which can scarcely be exaggerated, for he defended the faith against almost overwhelming odds and emerged triumphant." - Alban Butler
Author, Butler's Lives of the Saints

Publisher Description

Two names stand above all others in the history of the early Christian church: Augustine and Athanasius. The former was from the West and contended for the doctrine of grace against Roman moralism, while the latter came from the East and became a champion of orthodoxy against Arian attacks on the doctrine of the Trinity. On the Incarnation was Athanasius' second apologetic work, and in it he defends the Christian faith and tries to convince Jews and Greeks that Jesus was not a prophet or teacher but the Christ, the divine incarnation of God's Word.
You may find yourself reading Athanasius and thinking that the divine incarnation of Jesus is an obvious point, only to realize that, at some point, it wasn't so obvious. Three hundred years after Jesus ascended to heaven, the Council of Nicaea was still trying to figure out exactly who Jesus was. Through his presence at the Council of Nicaea as an assistant to Alexander and his work in this writing, Athanasius helped early Christianity--indeed all Christianity--to understand something more of the mystery of our faith: God was manifested in the flesh. All Christians, directly or indirectly, have been influenced by Athanasius because of his foundational insistence of who Jesus is.
There is perhaps no other Christian writing in which the coming of our Savior is proclaimed so clearly as the way of victory over death. Thanks to Athanasius, and so many other early Christian thinkers, we have a firmer footing in our own exploration and understanding of who God is and how He works.
PRODUCT DETAIL
Catalogue Code 

446207

Product Code 

9781629116792

ISBN 

1629116793

Pages 

96

Department Academic
Category Classic
Sub-Category General
Publisher Whitaker House
Publication Date 

Feb 2016

Sales Rank 

5530

Dimensions 

6 x 215 x 140

mm

Weight 

0.118

kg
Athanasius (c.297-373), was born at Alexandria, Egypt, around AD 297, and would serve for forty-five years as that city's bishop, having begun as a bishop's assistant at the Council of Nicaea in AD 325. Athanasius spent seventeen years of his tenure in exile, having provoked several Roman emperors with his unflinching defense of the doctrine of the Trinity. Athanasius was one of the most brilliant and influential theologians in Christian history, and is venerated across all the major streams of the faith - Roman Catholic, Orthodox, Coptic, and mainline Protestant. He is remembered for his writings, still read today, his great pastoral concern, his courageous faithfulness despite immense opposition, and his profound interest in monasticism.