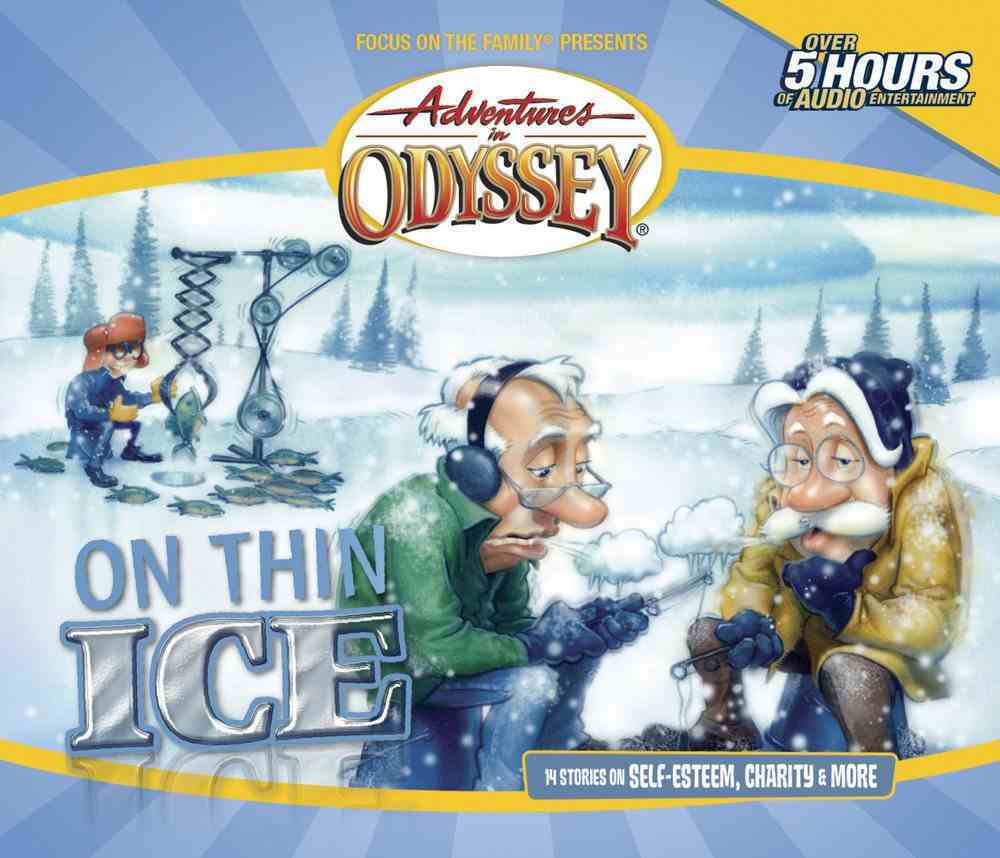 On Thin Ice (#07 in Adventures In Odyssey Gold Audio Series)
As the snow falls in Odyssey, it's the season for some unpredictable visits. Whit's grandchildren stop in for an anything-but-pleasant holiday. Meanwhile, the Barclays are visited by some unforgettable Christmas guests and everyone in Odyssey learns some tough lessons about...
---
Expected to ship within 12 hours from Australia.
---
Free Shipping
for orders over $99.
As the snow falls in Odyssey, it's the season for some unpredictable visits. Whit's grandchildren stop in for an anything-but-pleasant holiday. Meanwhile, the Barclays are visited by some unforgettable Christmas guests and everyone in Odyssey learns some tough lessons about friends, bravery and a whole lot more.

Bonus Material
* Never-before-available episodes "Thanksgiving at Home" and "One Bad Apple."
* The story of writer Campbell Freed
* Bloopers from the studio


Episodes
Thanksgiving at Home - Being thankful
One Bad Apple - Taking care of the environment
The Very Best of Friends - Anger, dealing with death
The Reluctant Rival - Treating others better than yourself
Monty's Christmas - The importance of strong families
The Visitors - Charity
The Barclay Family Ski Vacation - Family relations and togetherness
Ice Fishing - Self-esteem
Scattered Seeds - The parable of the sower
Lincoln 1-2 - History of the Civil War
Isaac the Insecure - Overcoming insecurity
Front Page News - Responsibility
Isaac the Courageous - Courage
-Publisher
These digitally remastered collections--available for the first time on CD--include bonus tracks, fun facts, and behind-the-scenes details A fun-filled, full-color insert includes the following: original notes of the writers, never-before-heard stories from the recording studio, and a coupon for other Adventures in Odyssey products. ^What are friends for? In this collection of super stories, the Odyssey gang learns some hard-won lessons about friends, foes, and a whole lot more. ^Volume 7 contains the following episodes (and themes): Isaac, the Insecure (self-image) The Very Best of Friends (anger) The Reluctant Rival (competition and sacrifice) Monty's Christmas (the impact of divorce) The Visitors (compassion) The Barclay Ski Vacation (adolescent crushes) Ice-Fishing (sibling rivalry) Scattered Seeds (parable of the sower) Front Page News (responsibility) Isaac, the Courageous (bravery) Lincoln 1 & 2 (the Civil War)
-Publisher
4 CDs
-Publisher
MARSHAL YOUNGER is producer for the Focus on the Family radio drama
Bestsellers in Childrens Audio