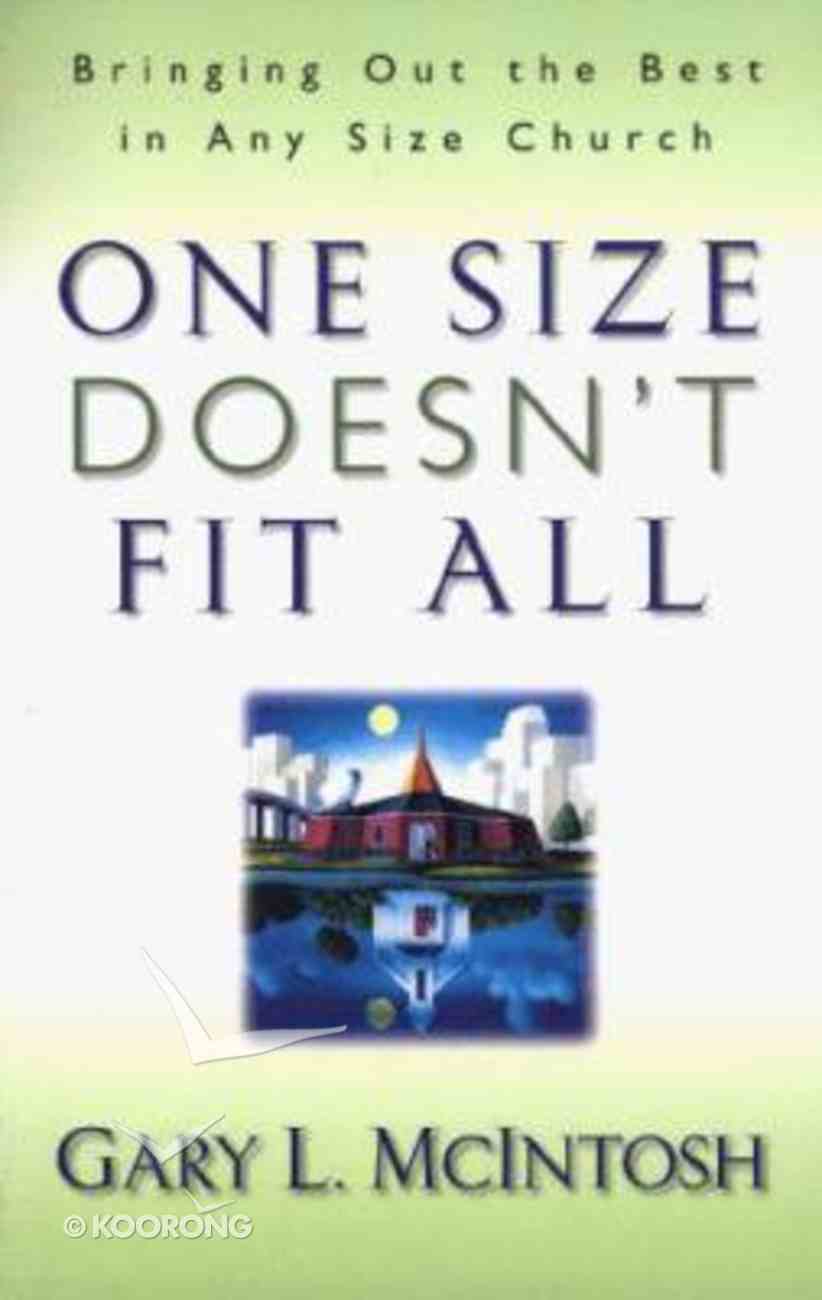 A systematic exploration of small, medium, and large churches, their distinct personalities, and their place in God\u2019s kingdom.
Out of Stock
Available to Order
---
Expected to ship in 5 to 6 weeks from Australia.
---
Free Shipping
for orders over $99.
A systematic exploration of small, medium, and large churches, their distinct personalities, and their place in God\u2019s kingdom.
-Publisher
"Nobody knows the organizational structure and social dynamics of the church better than my friend Dr. Gary McIntosh. I highly recommend this insightful book, which will enlighten your understanding of the critical differences that exist between various sized churches and how they function."--Dr. Neil T. Anderson, president and founder, Freedom in Christ Ministries"Gary McIntosh's book, One Size Doesn't Fit All, is the easiest and most informative book on church leadership I have ever read. Why didn't a few seminary professors teach me this stuff twenty five years ago? It would have saved me and some parishioners a lot of grief along the way. Gary's description of the small, medium, and large church with its needs and expectations is a gold mine of practical insights for all pastors, no matter what size church they lead. This book will be a classic in the area of church leadership and growth."--Dr. Michael Bradaric, Senior Pastor, Magnolia Baptist Church, Anaheim, CA"This book is a 'process of wisdom' for church leaders in understanding the changes that impact churches at each stage of their development. This material was researched well, practical in nature and insightful for all church leaders. After serving in small, medium, and larger churches I wish that this material was available twenty five years ago. I wish every church leader would read and apply these principles."--Dr. J. Michael Broyles, Executive Pastor, Grace Baptist Church, Santa Clarita, CA"In this book Dr. Gary McIntosh uses his warm conversational style and vast years of experience in church analysis and consulting to provide a book of wisdom for pastors. We don't need more church growth information, but we do need more wisdom to apply the principles of growth and leadership in the unique context of the churches in which we minister. I believe Gary provides this wisdom in One Size Doesn't Fit All."--Dr. David H. McKinley, Senior Pastor, Boca Raton Community Church, Boca Raton, FL"One Size Doesn't Fit All is 'must reading' for all church planters or leaders in any size church, especially small ones. As a church planter, my core group will definitely be required to read this book, as will future leaders. This is a book that every pastor can benefit from regardless of the size of one's church. The book is reader friendly and presented in a unique, conversational manner. The reader comes away with the feeling of being intimately involved in the dialogue."--Dr. Hovell C. Francis, Church Planter, Southern California"One Size Doesn't Fit All is by far the best book I have read concerning what it takes to grow a church from small to medium to large. Even if a church never becomes large, just knowing some of the obstacles and strategies is well worth the time to read this book. The book is enjoyable to read and the conversation between two pastors fascinating. This book was extremely enlightening as it answered questions I could not even articulate. I feel that it is a pinnacle of work that has long been needed, particular for the small church."--Dr. Lorenzo V. Gonzalez, Church Growth & Leadership Consultant, Southern California"Time crunched beyond their ability to cope, today's pastors need 'the straight goods' about how churches grow from stage to stage. One Size Doesn't Fit All is the road map to get them to the right destination especially when the way looks uncertain, the personal cost is high and the obstacles look insurmountable. I found the analysis of each size church to be right on target. Congratulations on a great piece of work!"--Dr. Jerry Rueb, Senior Pastor, South Delta Baptist Church, Delta BC Canada"I wish I had this book twenty years ago and three churches ago!"--Dr. John Shumate, Pastor, Southern California"Gary's heart and vast experience in working with and studying churches shines forth brilliantly in this book. Having ministered in small to mega-churches, I found myself relating to and agreeing with virtually everything tha
-Publisher
Gary L. McIntosh (Ph.D., Fuller Theological Seminary; D.Min., Fuller Theological Seminary) is professor of Christian ministry and leadership at Talbot School of Theology, he leads 20-25 national seminars a year, serves as a church consultant, was president of the American Society of Church Growth in 1995-1996, and has written numerous books, including Finding Them; The Issachar Factor: Three Generations: One Size Doesn't Fit All; Overcoming the Dark Side,; Staffing Your Church for Growth and most recently Taking your Church to the Next Level
Koorong -Editorial Review.
Introduction<br>1&#9;what Size Are You?<br>2&#9;what Is The Church's Orientation?<br>3&#9;how Is The Church Structured?<br>4&#9;who Sets The Direction?<br>5&#9;what Is The Pastor's Role?<br>6&#9;how Are Decisions Made?<br>7&#9;what Is The Impact Of Staff?<br>8&#9;how Does Change Take Place?<br>9&#9;how Do Churches Grow?<br>10&#9;what Are The Obstacles To Growth?<br>11&#9;what Are The Strategies For Growth?<br>12&#9;where To From Here?<br>notes