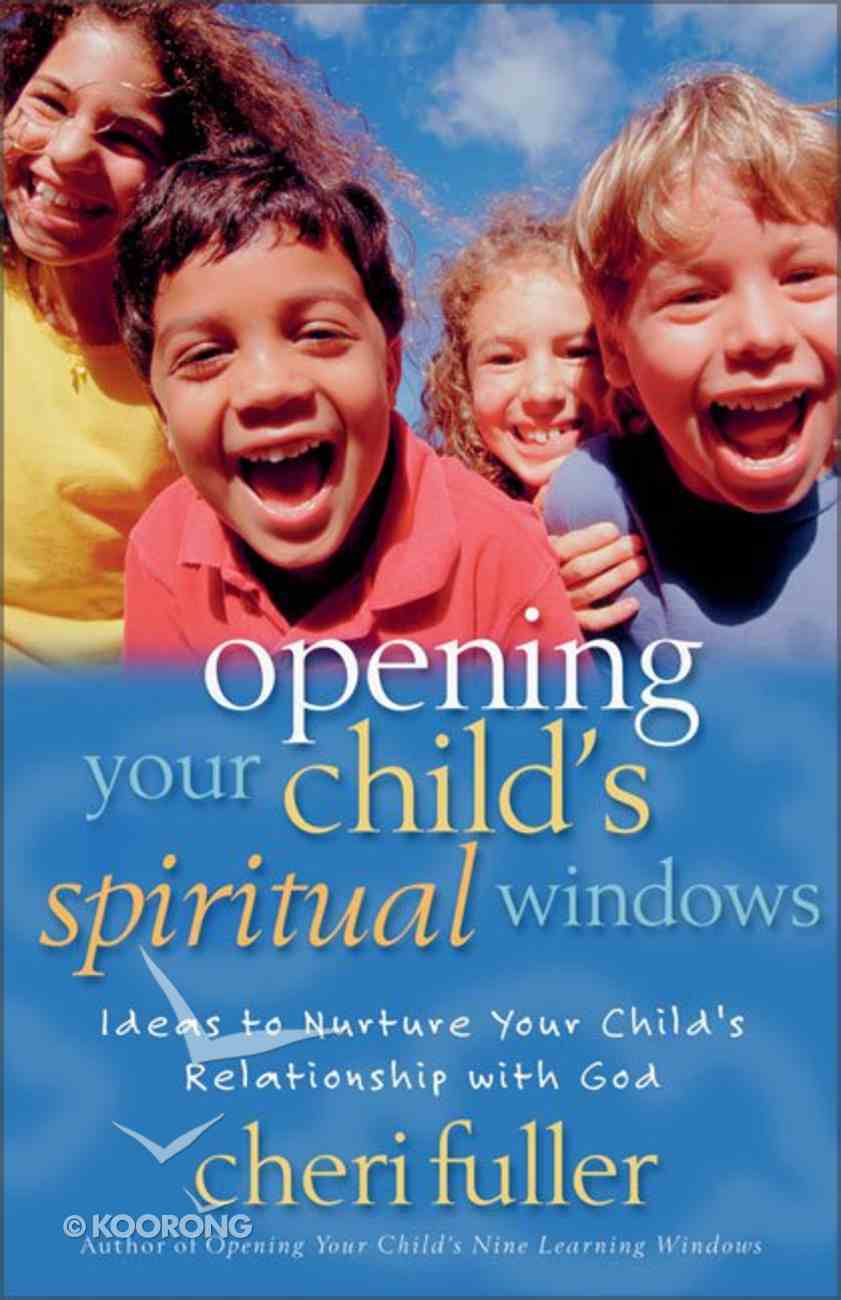 Opening Your Child's Spiritual Windows
The greatest gift you can give your son or daughter is a deep, authentic relationship with God. God created your child to be naturally curious about spiritual matters. Twelve spiritual windows open at different times and in different ways. Each...
Order now to secure your copy when our stock arrives.
0 Available. Expected to ship in 6 to 7 weeks from Australia.
---
Expected to ship in 6 to 7 weeks from Australia.
---
Free Shipping
for orders over $99.
The greatest gift you can give your son or daughter is a deep, authentic relationship with God. God created your child to be naturally curious about spiritual matters. Twelve spiritual windows open at different times and in different ways. Each is a vital part of your child's spiritual journey through four important areas of growth: enjoying God, loving God, following God, and serving God. You can strengthen these areas in your child by learning how to respond to the: Enjoying God Window Wonder Window Worship Window Loving God Window Bible Window Prayer Window Ownership Window Obedience Window Church Window Joy of Helping Window Spiritual Gifts Window Heritage Window Worship Window
-Publisher
Just as children have critical windows of opportunity when circuits in their brains are being wired for language, music, and emotions, as Through the Learning Glass discusses, they also have spiritual windows of opportunity-periods of time in their development when their hearts and minds are most open to experiencing the wonder of God's creation, learning his ways through the Bible, and talking and listening to God through prayer, through service, and through being a part of the family and the church. These are the windows of the heart. Parents invest hundreds of hours in sports, education, and other opportunities. Yet, unfortunately for many families in the hyper-hectic lifestyles of our culture, the windows that are full of opportunity for their kids' spiritual growth may be bypassed, misunderstood, or closed. Opening Your Child's Spiritual Windows opens the reader's eyes to these incredible windows of opportunities in a positive, inspiring way and shows how to make the most of them. One of the greatest desires and felt needs of Christian parents is for their children to come to know God and grow in grace, to have better knowledge of the Bible, and to walk daily in his ways because of a loving relationship with him. Through stories, Scriptures, applications, practical suggestions, and resources for spiritual development, Opening Your Child's Spiritual Windows helps to meet these needs.
-Publisher
Cheri Fuller is the best-selling, award-winning author of more than 30 books with combined sales of over 1 million, including Integrity's "A Busy Woman's Guide to Prayer." Named the 2004 Oklahoma Mother of the Year, Cheri is an inspirational speaker and frequent guest on national radio and TV programs. She also contributes to "Today's Christian Woman" and other magazines. Her ministry, Families Pray USA, inspires and equips women, children, teens, families and churches to impact their world through prayer. Cheri and her husband have three grown children and five lively grandchildren.
When our first child was delivered into our arms, it was obvious that he was very vocal and expressive with his emotions, both positive and negative. Extremely active, Justin tuned up his lungs nightly to protest being confined in his high chair at dinnertime. At only eighteen months old, he exuberantly climbed up onto the roof at the first sight of a ladder. If he saw something he wanted from a top cabinet, even the off-limits medicine shelf, he persistently climbed up again and again. Now in his twenties and still adventurous, he recently completed a rugged fifty-mile trail run. When his little brother, Chris, came on the scene almost three years later, we couldn't believe how different the two boys were. Chris was calm and happy. He was entertained by quietly observing the mobile in his crib or by watching the dog swish her tail in the family room. Resourceful and creative, Chris could be content whether he was playing with other kids or making his own fun. Alison, our daughter, lit up our lives two and a half years later. The pediatrician's first words right after Alison's delivery proved prophetic: 'She's one of the feistiest babies I've checked in years! Alison won't be a doormat; she has plenty of spunk---which I think she'll need with two big brothers.' Sure enough, our precious daughter held her own with her older brothers and stood up to the kindergarten class bully. Yet if anyone was hurting, she was the first to comfort that person. At only five years old, she said, 'I'll do my hair myself, Mom,' and she did. Our three children are also wired with different ways of learning about the world around them, and naturally, each is endowed with unique gifts. Justin has tremendous communication and 'people' skills, and he gravitated to history, English, and later, business and marketing. He now serves as an account manager for a surgical equipment company. His brother, Chris, took every science course offered, majored in humanities, and went on to medical school after college. Alison, a hands-on learner, had foreign language talent and mastered information best when she got involved in doing, making, or experimenting. Enormously creative, she designed her own greeting cards, and when she found an ad for an art school in fourth grade, she inquired, 'Could I just drop out of regular school and go to this art school in St. Louis instead?' She's now working part-time as a hair stylist while attending college and expecting her first child. Our children's spiritual journeys have been just as individual. While all three of our kids grew up in the same churches and heard the same Little Visits with God devotions and Bible stories at home, their growth in knowing and walking with God has been quite different. Spiritual growth happened on their own timetables. Alison, our youngest, had a very real encounter with Jesus in seventh grade. But while she helped lead worship for youth group from junior high on and taught a girls' Bible study, she struggled to believe and wrestled with doubts. Alison always loved God but didn't like religion, rules, and things that alienated people outside the church. The only thing that motivated her in her faith was the example Jesus set---not a doctrine from a denomination or church but how he touched people no matter their brokenness or outward appearance. Her faith became real in her early twenties after she challenged everything she'd been taught when she was young. Older brother Justin attended church throughout childhood, but in adolescence he found the party scene at his high school much more interesting than youth group. He wanted his faith to be his own and, until then, wasn't interested in borrowing ours. But at the end of his sophomore year of college, he got tired of the emptiness and stress of living life without God and realized God hadn't moved---Justin had. He had a definite spiritual turnaround and has followed the Lord ever since. Now he is the father of two young children, praying with and for them, wanting to teach them in such a way that they'll know Christ and be able to touch others' lives with his love, and endeavoring to reflect Jesus in the corporate world where he works, whether that means praying for someone or listening to them. Chris was the first to profess his faith in Christ, as a nine-year-old, and continued attending church with us and mandatory chapel services at the private high school he attended. His analytical nature, however, caused him to doubt the Bible when it didn't line up with scientific knowledge he was learning. College provided the opportunity to explore conflicts and contradictions of religion apparent to Chris as he struggled to make sense of the shared yet remarkably varied human experience. As he sifted through the theories, stories, and worldviews accumulated throughout cultures and ages, a personal conviction emerged which was not memorized from a lecture on 'isms' or learned from a Sunday school workbook. Chris discovered the actions of Jesus and made Christ the cornerstone for a life of affecting the world in a powerful, compassionate, and humble way. He found that faith and empowerment through Jesus, realized in a deeply personal and individual sense, enables his quest to touch people's hearts, improve their condition, and perhaps leave the fingerprint, rather than the academics, of God in their lives. For decades, psychologists have debated whether children are born with a clean personality slate or whether much of their basic makeup has already been determined. My husband and I have debated the issue as well. Just when we would get one of our kids figured out and on the right path, one of the others would completely baffle us. The reason? God made each of them unique. Someone said raising kids is like nailing Jell-O to a tree; we have plans for our kids and are ready to nail them down when suddenly---oops! Slosh! There goes the child with a will of his own, sliding down a path different from what we'd envisioned. Maybe it's God's way of keeping us parents on our toes---and on our knees in prayer. As psychologists debate such issues, so theologians debate the spiritual development of children. Why do some 'catch it' early in life and others not 'get it' until their twenties or thirties? Why do some run toward God and others run as far away from him as they can? Is it a function of 'strong willed' versus 'compliant'? Will children be stronger spiritually if the husband is the spiritual leader, or if the wife is? Or does the influence of a praying, involved grandparent really make the difference? Is it the pastor? The youth minister? The style of worship? Christian schooling?