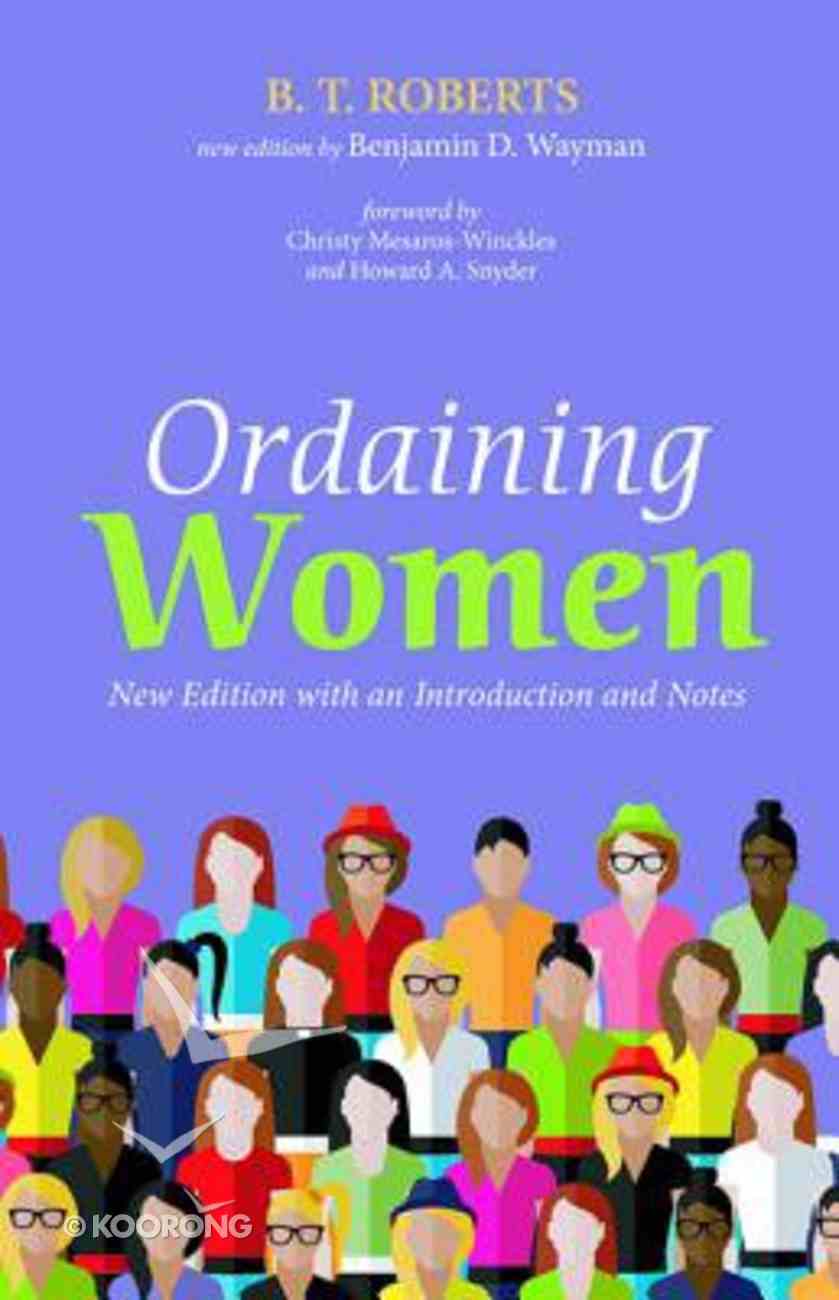 B. T. Roberts saw the exclusion of women from ordination as analogous to racism. His ability to see the new community made possible by Christ offers Christians today a prophetic vision of the difference Christ makes. Roberts's 1891 Ordaining Women...
Locally Sourced
Available to Order
---
Expected to ship within 10 days from Australia.
---
Free Shipping
for orders over $99.
B. T. Roberts saw the exclusion of women from ordination as analogous to racism. His ability to see the new community made possible by Christ offers Christians today a prophetic vision of the difference Christ makes. Roberts's 1891 Ordaining Women takes seriously the scriptural promise that Christ has unmasked the false distinctions and repaired the damaged social arrangements of this world. Like the abolition of slavery, the ordination of women becomes yet another obvious sign of the world made new in Christ. With careful attention to biblical interpretation, church tradition, and empirical evidence, Roberts exposes the biases that have long held captive the Christian imagination. In this new edition, Benjamin Wayman offers an updated and fully annotated version of Roberts's original work and demonstrates the breadth and depth of his analysis. Roberts's vision of the gospel challenges the traditional and still-dominant view of the global church, and invites Christians to reimagine the inclusion of women in ordained ministry. If Christians had for so long been wrong about race, might we today be wrong about gender? ""More than a century ago, B.T. Roberts published some courageous, faithful biblical interpretation that made clear the biblical and theological warrants for the ordination of women. His book is not only a turning point in American church history, but also a call to us preachers today to make Roberts our guide in faithful, courageous, biblical interpretation."" --Will Willimon, Professor of the Practice of Christian Ministry, Duke Divinity School, and United Methodist Bishop, retired ""Benjamin Wayman has brought out of the treasure of Free Methodist heritage something new and something old. His rendering of Benjamin Roberts's prophetic text is a study in how the church changes for the better: recognizing the wideness of the Father's mercy, the extent of the Son's redemption, and the inclusivity of the Spirit's fruits. It is a humbling read, showing us how easily we make God's love too narrow by false strictures of our own, and demonstrating how the impoverishment of the church is largely due to its willfully refusing the abundant gifts God relentlessly bestows."" --Samuel Wells, Vicar of St. Martin-in-the-Fields, London, UK, and Visiting Professor of Christian Ethics at King's College, London Benjamin D. Wayman is assistant professor of theology at Greenville College and a pastor at St. Paul's Free Methodist Church in Greenville, Illinois. He is the author of Make the Words Your Own: An Early Christian Guide to the Psalms (2014) and Diodore the Theologian (2014), and his articles have appeared in journals such as Horizons in Biblical Theology, Political Theology, and Women's Studies.
-Publisher