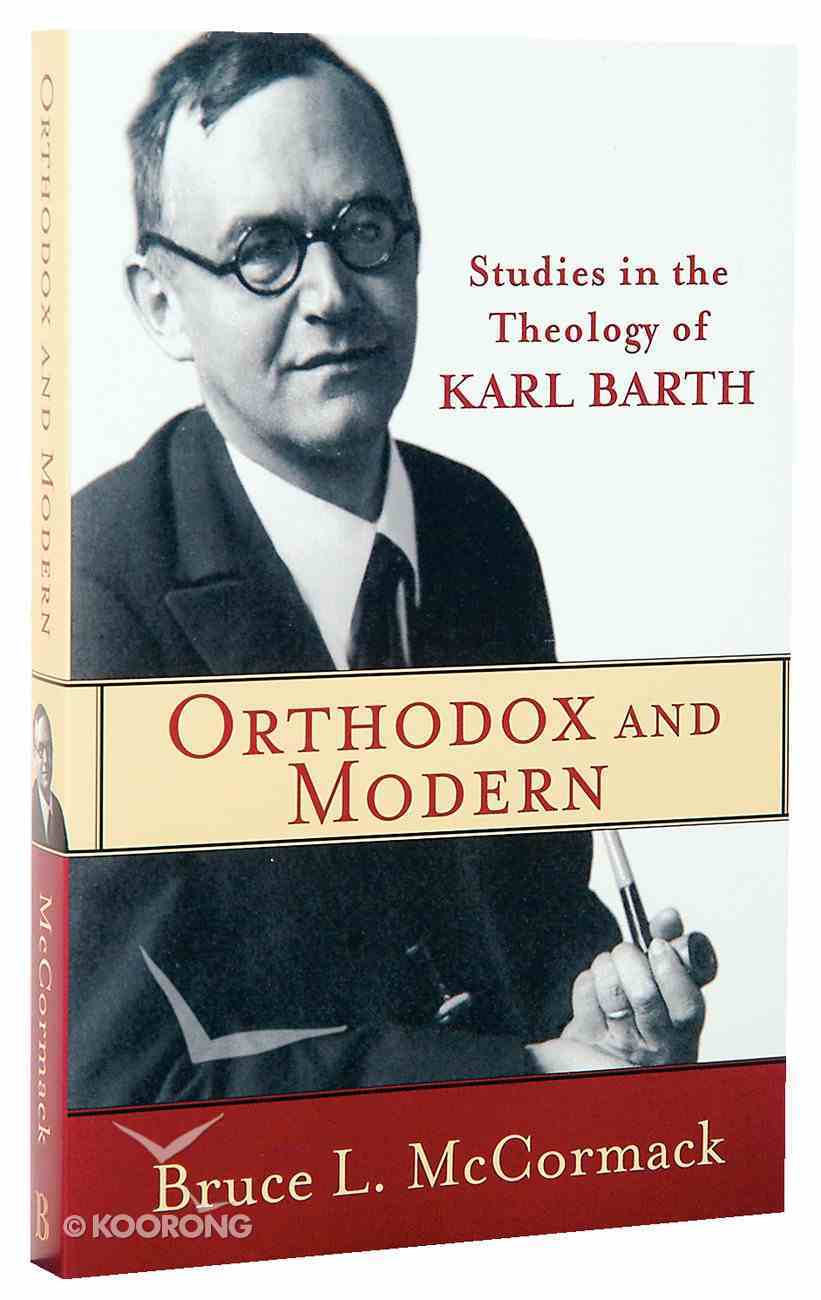 Almost fifty years after his death, Karl Barth remains one of the most influential theologians of the last century. Of late, much has been written attempting to reassess his philosophical assumptions and theology from the perspectives of Anglo-American postmodernism and...
Out of Stock
Available to Order
---
Expected to ship in 5 to 6 weeks from Australia.
---
Free Shipping
for orders over $99.
Almost fifty years after his death, Karl Barth remains one of the most influential theologians of the last century. Of late, much has been written attempting to reassess his philosophical assumptions and theology from the perspectives of Anglo-American postmodernism and postliberalism. In this intriguing volume, Bruce McCormack presents critical chapters that challenge the prevailing revisionist trends and focus on Barth as a modern yet orthodox figure.
As he notes in his introduction, McCormack self-consciously reads Barth from a Continental perspective, and his essays will likely be controversial in their challenge to contemporary American perspectives. The first two sections of his study provide context for reading Barth in relation to nineteenth-century German theology and engage recent postmodern and postliberal views. The third section focuses more particularly on an aspect that McCormack believes is critically important in the contemporary setting--Barth's theological ontology. The final section gathers together occasional writings that survey several issues of continuing concern.


This collection will be of great interest to those who already have some knowledge of Karl Barth's theology, but it will also provide serious readers with an approachable and thoughtful account of several areas of critical concern for contemporary theology
-Publisher.




In this enlightening study, Bruce McCormack reconsiders the importance of Karl Barth's theology. McCormack begins with Barth's relation to nineteenth-century theologians and then turns to critique the works of contemporary authors within postmodern circles who have attempted to reinterpret Barth to fit their categories. The later sections of McCormack's study probe more deeply into Barth's theology and consider European perspectives. As the title affirms, McCormack suggests that Barth was, in fact, both orthodox and modern in his theology. McCormack has established a reputation as a thoughtful scholar, and his study of Barth will certainly find a broad audience in academic circles. But serious readers and clergy will also find it a helpful guide to Barth's theology and his continuing importance.
-Publisher
"This distinguished collection of studies presents Barth's theology as an attempt to discern what it means to be orthodox under the conditions of modernity, most of all, after the dissolution of the long-standing pact between Christian theology and classical metaphysics and epistemology. Each essay is a model of lucidity as well as wide learning and discriminating intelligence. McCormack moves with consummate ease and authority through the development of modern theology and the substance of Christian dogmatics. This is a book of rare historical and theological penetration from a commanding figure in Barth scholarship."--John Webster, chair of systematic theology, King's College, University of Aberdeen"This collection of essays represents another major contribution from Bruce McCormack to our understanding of Barth. Typically rigorous, imaginative, and forceful, it provides frequent insight into Barth's massive theological output. McCormack shows how Barth's work continues to assail those in the church and the academy who search for a strong theology that remains alert to the ongoing problems and challenges of modernity. This volume will quickly become a standard point of reference for subsequent work in the field."--David Fergusson, professor of divinity, University of Edinburgh"Bruce McCormack has spent the last decade and a half quietly developing what may be the most theologically provocative and historically self-conscious research program on offer today, the fruits of which have been gathered together in this welcome volume. I imagine that we will be discussing these essays for years to come, especially now that this volume brings them to a deservedly wider audience."--Kevin W. Hector, assistant professor of theology and the philosophy of religion, University of Chicago Divinity School"With this powerful collection of essays, Bruce McCormack secures his reputation as one of the most exciting theologians in North America today. Uncompromising yet balanced in its interpretative judgments, fascinated by Barth's dogmatic ingenuity, and forward-looking in its constructive gestures, this excellent book will gain a diverse and thankful readership."--Paul Dafydd Jones, assistant professor of Western religious thought, University of Virginia
-Publisher
PRODUCT DETAIL
Catalogue Code 

271757

Product Code 

9780801035821

ISBN 

0801035821

EAN 

9780801035821

Pages 

320

Department Academic
Category Theology
Sub-Category General
Publisher Baker Book House
Publication Date 

Oct 2008

Dimensions 

228 x 152 x 111

mm

Weight 

0.446

kg
Bruce L. McCormack (Ph.D., Princeton Theological Seminary; Dr theol hc, Friedrich Schiller University) is the Frederick and Margaret L. Weyerhaeuser Professor of Systematic Theology at Princeton Theological Seminary. A world-renowned Barth scholar, he is a frequent writer and lecturer on topics of Reformed theology and is the author of Karl Barth's Critically Realistic Dialectical Theology and editor of Justification in Perspective and Engaging the Doctrine of God: contemporary Protestant Perspectives.
Introduction<br>part 1: Karl Barth's Relationship To Nineteenth-century Theology<br>1. Revelation And History In Transfoundationalist Perspective: Karl Barth's Theological Epistemology In Conversation With A Schleiermacherian Tradition<br>2. The Sum Of The Gospel: The Doctrine Of Election In The Theologies Of Alexander Schweizer And Karl Barth<br>3. What Has Basel To Do With Berlin? Continuities In The Theologies Of Barth And Schleiermacher<br>4. The Significance Of Karl Barth's Theological Exegesis Of Philippians<br>part 2: Karl Barth's Relationship To Postliberalism And Postmodernism<br>5. Beyond Nonfoundational And Postmodern Readings Of Barth: Critically Realistic Dialectical Theology<br>6. &quot;the Limits Of The Knowledge Of God&quot;: Theses On The Theological Epistemology Of Karl Barth<br>part 3: Karl Barth's Theological Ontology<br>7. Grace And Being: The Role Of God's Gracious Election In Karl Barth's Theological Ontology<br>8. Barth's Historicized Christology: Just How &quot;chalcedonian&quot; Is It?<br>9. Participation In God, Yes, Deification, No: Two Modern Responses To An Ancient Question<br>10. Seek God Where He May Be Found: A Response To Edwin Chr. Van Driel<br>part 4: Occasional Writings<br>11. The Barth Renaissance In America: An Opinion<br>12. Theology And Science: Karl Barth's Contribution To An Ongoing Debate<br>13. Foreword To The German Edition Of Karl Barth's <i>critically Realistic Dialectical Theology</i><br>14. Review Of Johann Friedrich Lohmann's <i>karl Barth Und Der Neukantianismus</i><br>15. Review Of Karl Barth's <i>the Holy Ghost And The Christian Life</i><br>index