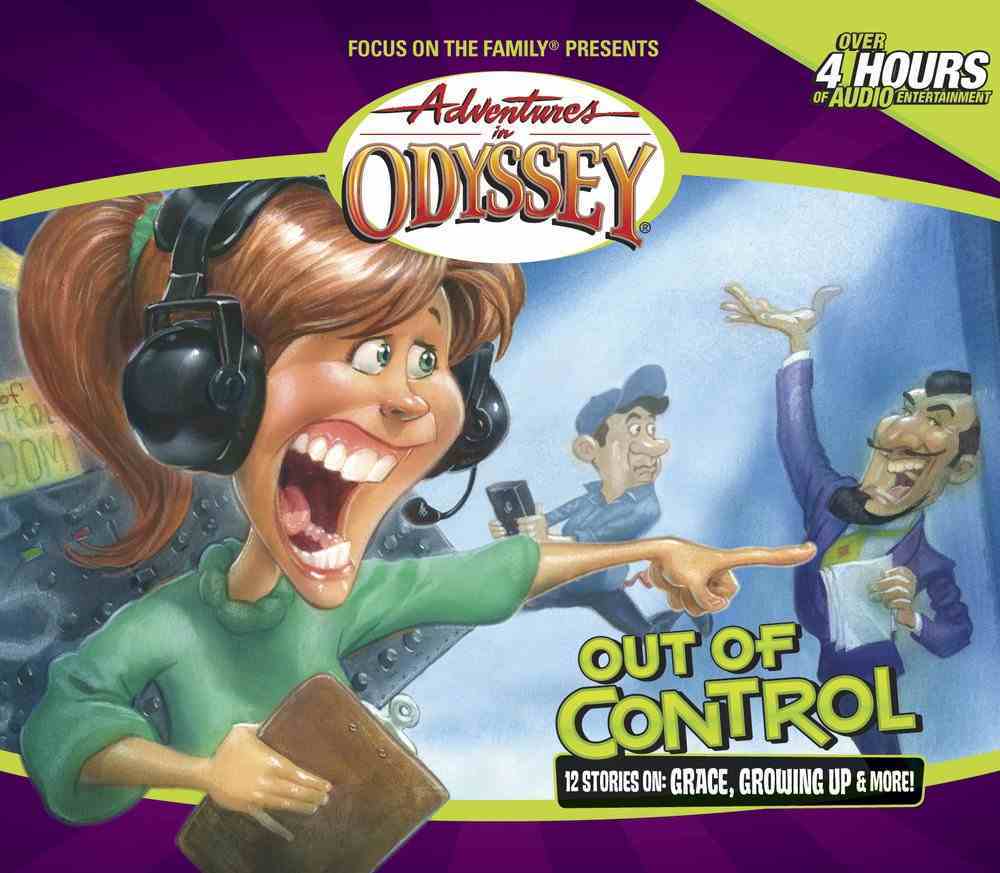 Out of Control (#40 in Adventures In Odyssey Audio Series)
Stand by for chaos! Connie and the gang think they're doing another safe, scripted BTV program. But that's before the fire, the okra incident and the renegade nose. Meanwhile, Liz's brother Mark just got engaged. How's she supposed to fit...
---
Expected to ship tomorrow from Australia.
---
Free Shipping
for orders over $99.
Stand by for chaos! Connie and the gang think they're doing another safe, scripted BTV program. But that's before the
fire, the okra incident and the renegade nose. Meanwhile, Liz's brother Mark just got engaged. How's she supposed to fit
in now that she's second fiddle? Missing families, missing identities and missing the point all figure prominently in the 40th
installment of "Adventures in Odyssey."
"For the Fun of It" having fun
"Room Enough for Two" selfishness
"BTV: Behind the Scenes" unity; working together
"Bassett Hounds" grace
"It's All About Me" credit
"The Case of the Disappearing Hortons" accepting help from others
"The Defining Moment" heroism
"The Mystery at Tin Flat" fitting in
"All Things to All People" evangelism
"Here Today, Gone Tomorrow, I" figuring out God's will
"Here Today, Gone Tomorrow, II" figuring out God's will
"Here Today, Gone Tomorrow, III" figuring out God's will
Great for kids ages eight and up, episode #40 Out of Control is certain to be a new favorite of fans of this popular radio series. In "For the Fun of It," a lesson about not trying to grow up too fast, Wooton's niece comes to spend the week with him and begins trying to act like an adult, but eventually learns how to have fun. "Room Enough for Two" addresses the feeling of being replaced as Liz's brother and best friend, Mark, decides to get engaged. Other topics covered through these entertaining stories are unity, grace, not needing credit, helping others, being part of a team, fitting in, proper evangelism, and a three-part story on figuring out God's will. Never before released for sale, these brand new episodes from Adventures in Odyssey follow the series' familiar characters through new and thrilling situations, and as always, listeners are left with an inspirational and truth-based lesson. Each CD or cassette volume contains twelve exciting stories, up to six total hours of listening fun.
-Publisher
Stand by for chaos Connie and the gang think they're doing another safe, scripted BTV program. But that's before the fire, the okra incident, and the renegade nose. Meanwhile, Liz's brother Mark just got engaged. How's she supposed to fit in now that she's second fiddle? Missing families, missing identities, and missing the point all figure prominently in the 40th installment of Adventures in Odyssey. Through the usual sticky situations, your whole family will learn the importance of teamwork, grace, unselfishness, and discovering God's will. ^Volume 40 contains the following stories (and themes): For the Fun of It (growing up too fast) Room Enough for Two (feeling replaced) BTV: Behind the Scenes (unity) Bassett Hounds (grace) It's All about Me (credit) The Case of the Disappearing Hortons (accepting help from others) The Defining Moment (being part of a team) Mystery at Tin Flat (fitting in) All Things to All People (evangelism) Here Today, Gone Tomorrow? 1, 2, & 3 (determining Go
-Publisher
200 Minutes On 3 CDs
-Publisher
Bestsellers in Childrens Audio