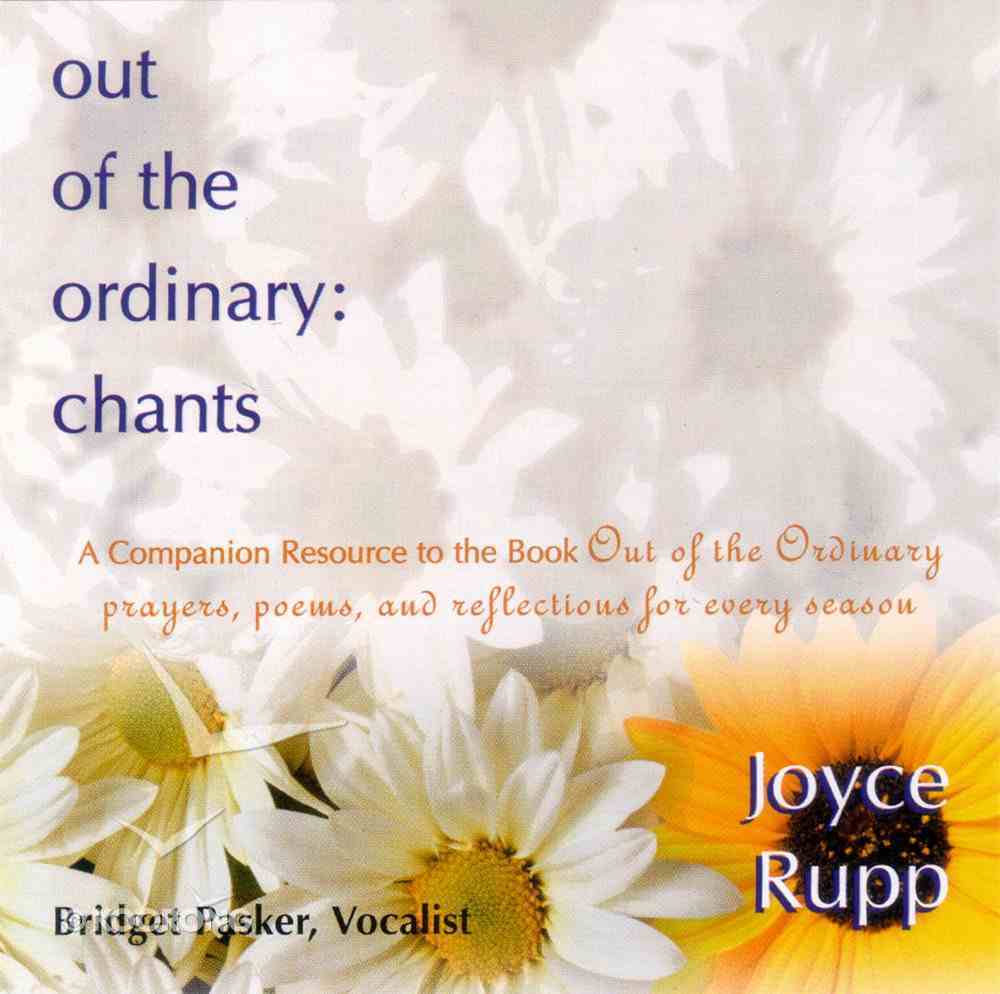 Out of the Ordinary: Chants
Prayerful Taize-like chants composed by Joyce Rupp and performed by Bridget Pasker, enhances the many prayers and services in the book. Provides a vocal rendering for all 16 chants found in the appendix of Out of the Ordinary.
---
Free Shipping
for orders over $99.
Prayerful Taize-like chants composed by Joyce Rupp and performed by Bridget Pasker, enhances the many prayers and services in the book. Provides a vocal rendering for all 16 chants found in the appendix of Out of the Ordinary.
-Publisher
How often have you searched in vain for just the right prayer or ritual for a small group or parish gathering or a brief reflection for your faith sharing group or pastoral team? Search no further. Whether it's Advent or Pentecost, a birthday or Valentine's Day, Joyce Rupp has just what you are looking for.^Out of the Ordinary: Chants, a companion recording, contains prayerful Taize-like chants composed by Joyce Rupp and performed by Bridget Pasker to enhance the many prayers and services in the book. The CD and Cassette provide a vocal rendering for all 16 chants found in the book's appendix. (54 minutes)
-Publisher
How often have you searched in vain for just the right prayer or ritual for a small group or parish gathering or a brief reflection for your faith sharing group or pastoral team? Search no further. Whether it's Advent or Pentecost, a birthday or Valentine's Day, Joyce Rupp has just what you are looking for.
Out of the Ordinary: Chants, a companion recording, contains prayerful Taize-like chants composed by Joyce Rupp and performed by Bridget Pasker to enhance the many prayers and services in the book. The CD and Cassette provide a vocal rendering for all 16 chants found in the book's appendix. (54 minutes)


-Publisher
Joyce Rupp is nationally known for her work as author, spiritual midwife, retreat and conference speaker. A member of the Servite community, she has led retreats throughout North America, as well as in Europe, Asia, and Africa. Joyce is the author of more than ten bestselling books. After Henri Nouwen, she is the best selling Catholic author in the United States. ý
Bestsellers in Hymns/traditional