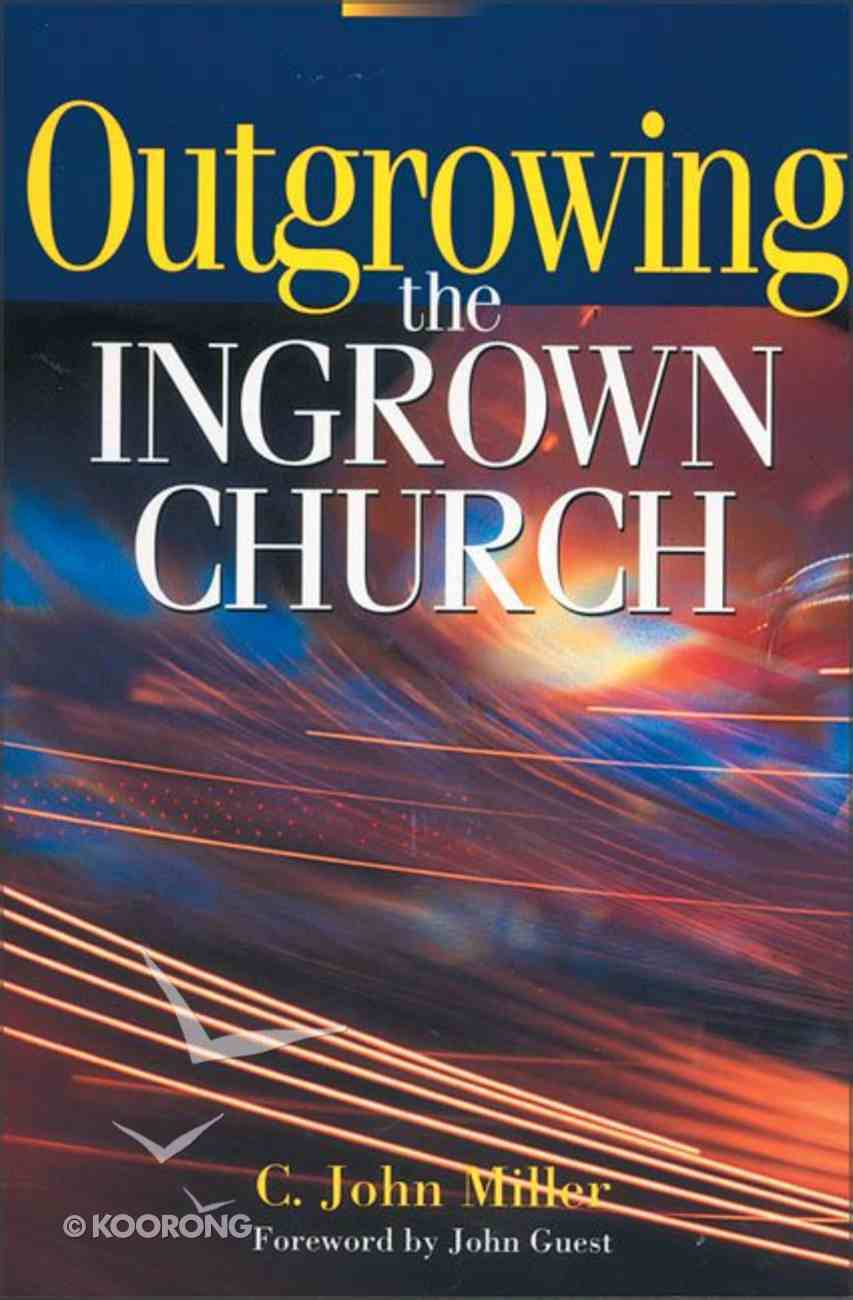 Outgrowing the Ingrown Church
This is a book for pacesetters -- church leaders who desire to help their churches break free of the things that turn them in on themselves. It is a masterly mix of biblical principle, objective analysis, and personal experience.
Out of Stock
Available to Order
---
Expected to ship in 5 to 6 weeks from Australia.
---
Free Shipping
for orders over $99.
This is a book for pacesetters -- church leaders who desire to help their churches break free of the things that turn them in on themselves. It is a masterly mix of biblical principle, objective analysis, and personal experience.
-Publisher
PRODUCT DETAIL
Catalogue Code 

23688

Product Code 

0310284112

EAN 

9780310284116

UPC 

025986284114

Pages 

176

Department Academic
Category Church
Sub-Category Church Life/issues
Publisher Zondervan
Publication Date 

Oct 1986

Sales Rank 

28826

Dimensions 

203 x 133 x 12

mm

Weight 

0.163

kg
Miller taught practical theology at Westminster Theological Seminary, was Director of World Harvest Mission, and led mission trips to several countries. He was founding pastor of New Life Presbyterian Church, Philadelphia.
Contents
Foreword By Frank R. Tillapaugh
Acknowledgments
I --- Where Missionary Life Begins
1. The Ingrown Church Leader: God's Call To Faith And Repentance
2. The Ingrown Church: God's Call To Faith And Repentance
Ii --- Getting Our Missionary Identity Straight
3. The Local Church: Its Missionary Character
4. The Local Church: Its Missionary Authority
Iii --- Uncovering The Sources Of Missionary Power
5. The Local Church: God's Glory Its Missionary Motive
6. The Welcoming Local Church
7. The Praying Local Church
Iv --- Serving As God's Missionary Leaders
8. The Pastor As Pacesetter
9. Preaching By Faith: God's Missionary Fire
V --- Discovering God's Missionary Strategies
10. Equipping For The Harvest Field
Vi --- Developing God's Missionary Programs
11. Opening A Window Of Opportunity: Diaconal Witness
12. Small Groups For Outreach
Epilogue: Risk Or Rust
WHERE MISSIONARY LIFE BEGINS CHAPTER 1 THE INGROWN CHURCH LEADER: God's Call to Faith and Repentance This book is concerned with renewing the ingrown local church. It focuses on the way to take a church that is turned in on itself and give it an outward orientation toward the world. Much of this book is addressed to pastors, for they are crucial to any work of revival in the local church. But this study is also an urgent call for every leader in the local church to become God's change agent within his or her congregation. The key word to describe such a leader is pacesetter. The word derives from the runner in a race who moves ahead of the pack and sets the example that gets others moving. Pacesetters are people who motivate an ingrown church to outreach by setting the example of a renewed leadership, people of faith who know God's will and are willing to make every sacrifice in order to fulfill it. They are the ones God uses to overcome and dismantle the barriers every congregation erects around itself to guarantee its own comfort and security. This call to action is not based on personal interest, whim, or the possession of unique gifts for ministry, but on the definite, revealed will of the risen Lord. In declaring the Great Commission, the Savior has stood before the Church and said, 'Therefore go and make disciples of all nations.'1 He is not proposing an elective course of action, an option for the evangelistically gifted. He is telling each of us what is our first duty. It is to disciple all nations. 1Matthew 28:16--20. See also Luke 24:45--49; Acts 1:8; John 20:19--23. Since the King has spoken, it should be clear that He expects all of us to obey His will without reservations or delay. But it should also be clear that the majority of local American congregations are, in practice, saying no to His will. They do so by ignoring it. Still, you may ask, 'Why should we have one more book on the subject of the local church and its problems with introversion and indifference?' There are many fine books today dealing with this topic. Think, for instance, of an insightful book like What's Gone Wrong with the Harvest? by James F. Engel and H. Wilbert Norton, or the helpful study, The Dynamics of Church Growth, by Ron Jensen and Jim Stevens. And who can hope to top The Master's Plan for Making Disciples by Win Arn and Charles Arn, with its wealth of practical suggestions on implementing the Great Commission in the local church? And for sheer practicality, we need to go a long way to surpass the program of evangelism set forth in D. James Kennedy's Evangelism Explosion. If that is not enough, remember that other highly instructive studies have been contributed by such distinguished people as Donald McGavran, C. Peter Wagner, Virgil Gerber, Lyle Schaller, Edward R. Dayton, and Ted W. Engstrom. Why, then, undertake one more venture into such a well-plowed field? Starting the Engines Having acknowledged the value of these works, I yet insist that there are crucial failures in the faith of the local church and its leadership that cry out for correction. I am convinced that many congregations and their leaders are so immobilized by unbelief that concepts for ministry that would be helpful in other circumstances are relatively valueless to them. Imagine that our situation ecclesiastically is like that of a jetliner diving to earth, with three of its four engines shut down. Collision with the ground is only ten minutes away. In this state of ultimate crisis, the pilot needs to know only one thing: how to start the engines immediately. If he is successful and power is restored, the pilot, his crew, and the airline as a whole can profitably consider ways to improve service to their passengers. They might examine such matters as greater efficiency and friendliness in the flight attendants, faster baggage delivery, or even an improved aircraft design. But in a situation of end-time peril, the only thing worth concentrating on is the cause of the engine failure and how to correct it. Other improvements are useless if that problem is not solved first. Ingrown churches face the same crisis of power failure and possible destruction on a spiritual level. Some of them have crashed spiritually and never noticed their own fatal ending. The evidence is easily found in lack of zeal for outreach. In some cases, congregations and their leaders have even come to suspect zeal for witness as evidence of fanaticism---or at least a sign of immaturity. Other congregations still give lip service to missions and evangelism, but inwardly they have given up---quit---having lost confidence in their being used by the Lord of the harvest to bring people to Him. Of these doubting congregations, Kennedy Smartt, a director of Mission to North America of the Presbyterian Church in America, says, 'Nothing could be sadder. Many congregations and their pastors have simply lost the hope that they could be used in their communities. They have tried an evangelistic program and it failed, and now they do not believe anything will work in their community.' Similarly, with Baptistic directness, Vance Havner has frequently noted that to be a member in good standing in today's typical evangelical church, you would need to be a backslider! In his view, faith has been withering away in our churches for a generation, and only revival can bring back the fullness of Christ and a love for the lost.