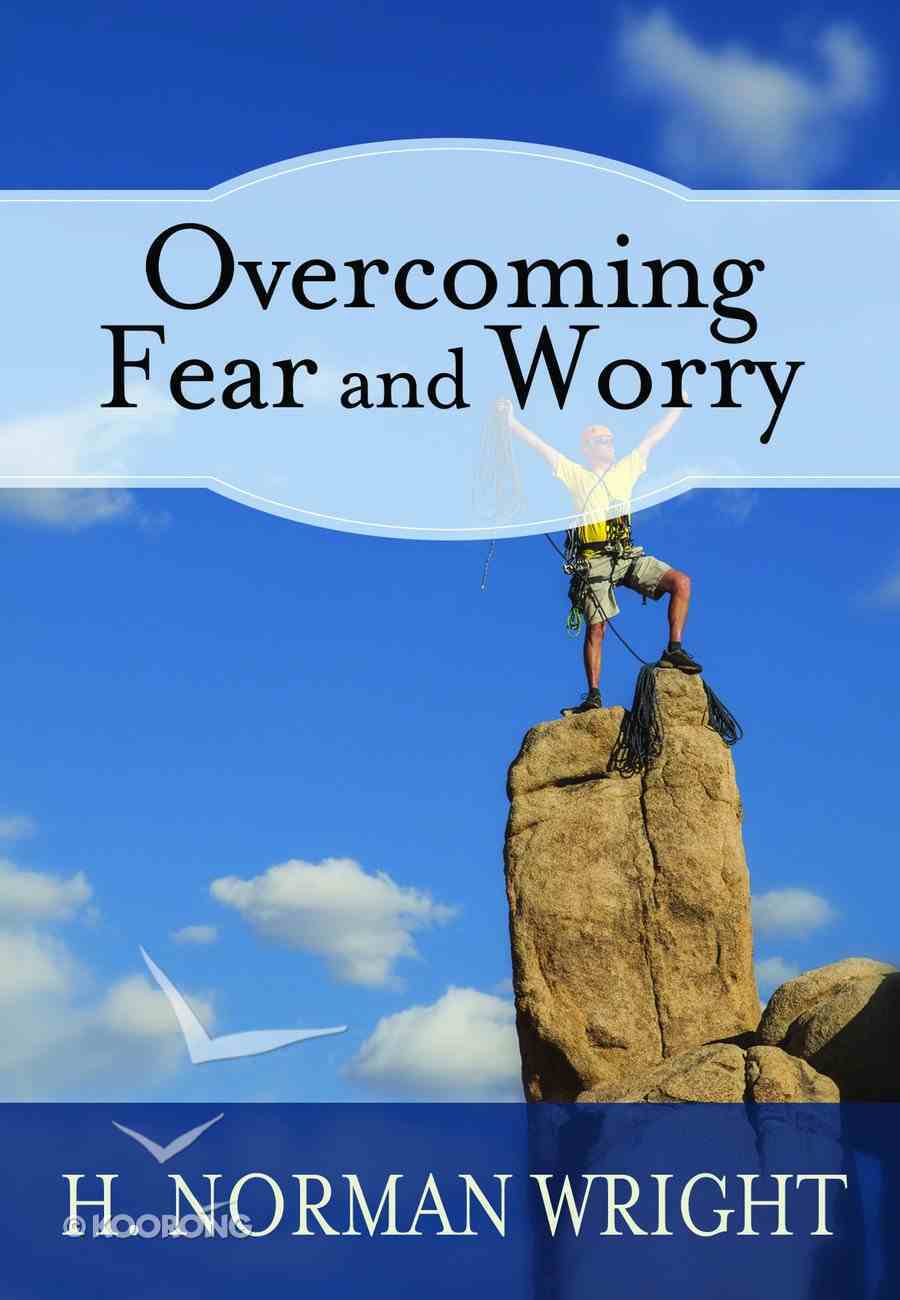 Overcoming Fear and Worry
Do you want to stop worrying, but don't know how? Expert counselor Dr. Norm Wright provides practical advice on how to spot, face, and conquer fear in this easy-to-understand book . His down-to-earth, practical advice backed by over four...
Instant download
---
Expected to ship on Monday from Australia.
---
Read using our free app on your tablet or mobile!
---
Free Shipping
for orders over $99.

Do you want to stop worrying, but don't know how?


Expert counselor Dr. Norm Wright provides practical advice on how to spot, face, and conquer fear in this easy-to-understand book. His down-to-earth, practical advice backed by over four decades of Christian counseling experience will help you successfully combat negative thought patterns with the Word of God and effectively maintain a positive outlook on life through prayer and positive self-talk. Includes clear explanations and practical advice on how to stop worrying.


When anxiety robs you of sleep, when worry saps your energy, and when fear captivates your thoughts, it is easy to feel helpless. But you do not have to remain a prisoner of fear, anxiety, or stress any longer.

Find out the difference between helpful and unhelpful fear Recognize the true causes of fear and how to overcome them Learn practical ways to break patterns and habits of anxiety and worry Discover your source of peace, security, and freedom
See how the fear of rejection, fear of failure, and even our genetics can impact whether or not we worry about a situation. Then, discover how the Word of God, prayer, and a positive outlook can help you break that pattern of fear.

4 Key Features of Dr. Norm Wright's Overcoming Fear and Worry Expert Advice Explained in an Easy-to-Understand Way
When you feel on-edge and drained by worry, the last thing you need is a book that's un-relatable and hard to read. Enjoy having this easy-to-understand, 112-page book that covers what you need to know in a conversational way! Using stories, life illustrations, and clear explanations, Dr. Norm Wright writes in a way that makes you feel as if he is speaking straight to you. Weaving his experience as a counselor with the Word of God, he gives expert and trustworthy advice.


Get answers to key questions, such as: What is fear? What causes my fear? How can I overcome fear? How does worrying affect my health? What is the difference between fear and worry? What is OCD (obsessive-compulsive disorder)? Is it a sin to worry? And more!

Provides a Solid Overview of the Characteristics and Impact of Fear Includes Personal Reflection Questions and Exercises that Will Help You Identify the Causes of Your Fear and Anxiety
To truly break free from the prison of fear, you must first identify the underlying causes of your fear and the habits that fuel your anxiety. Throughout this helpful book, Dr. Norm Wright takes you step-by-step through the process of overcoming your fear. He includes practical questions, exercises, activities, and even provides areas for you to write down your responses.


Enjoy getting practical advice on how to overcome fear along with illustrative examples that will help you apply each suggestion to your own life.

Find out how to tackle the "what ifs" that can paralyze us with fear.
Learn how to apply the "principle of replacement," shifting negative thoughts into positive ones.
Discover 6 key ways to confront your worry and the 2 key ways to break a pattern of fear.
See what the Bible says about worrying (includes key Bible verses and explains how to effectively wield the Word of God and prayer against fear) Features Practical Advice Rooted in the Word of God
Perfect for-

Personal use/growth To give to someone who is struggling with fear and anxiety Ministry training tool Christian counseling resource Supplemental information for a Bible study on fear, worry, or anxiety. About the Author: Dr. Norm Wright
Dr. Norm Wright is a grief and trauma therapist and a licensed marriage, family and child therapist. He has been on the faculty of Biola University and Talbot School of Theology, where he has taught graduate students in counseling and psychology for four decades. He has authored more than 80 books including Experiencing Grief and Recovering from the Losses in Life. Norm and his wife, Tess, live in Bakersfield, California where they enjoy several grandchildren.


-Publisher
Dr. H. Norman Wright is one of America's most prominent Christian counselors. He is a licensed Marriage, Family and Child Therapist. Dr. Wright is a graduate of Westmont College, Fuller Theological Seminary (M.R.E.), Pepperdine University (M.A.). He has written numerous best-selling books on Communication, Family and Parenting. His titles include Communication: Key to Your Marriage; Always Daddy's Girl; Quiet Times for Couples; The Power of a Parent's Words and the Premarital Counseling Handbook. Dr. Wright is currently on the faculty of the Talbot School of Theology and was the former director of their Graduate Department of Marriage, Family and Child Counseling.
Bestsellers in Christian Living