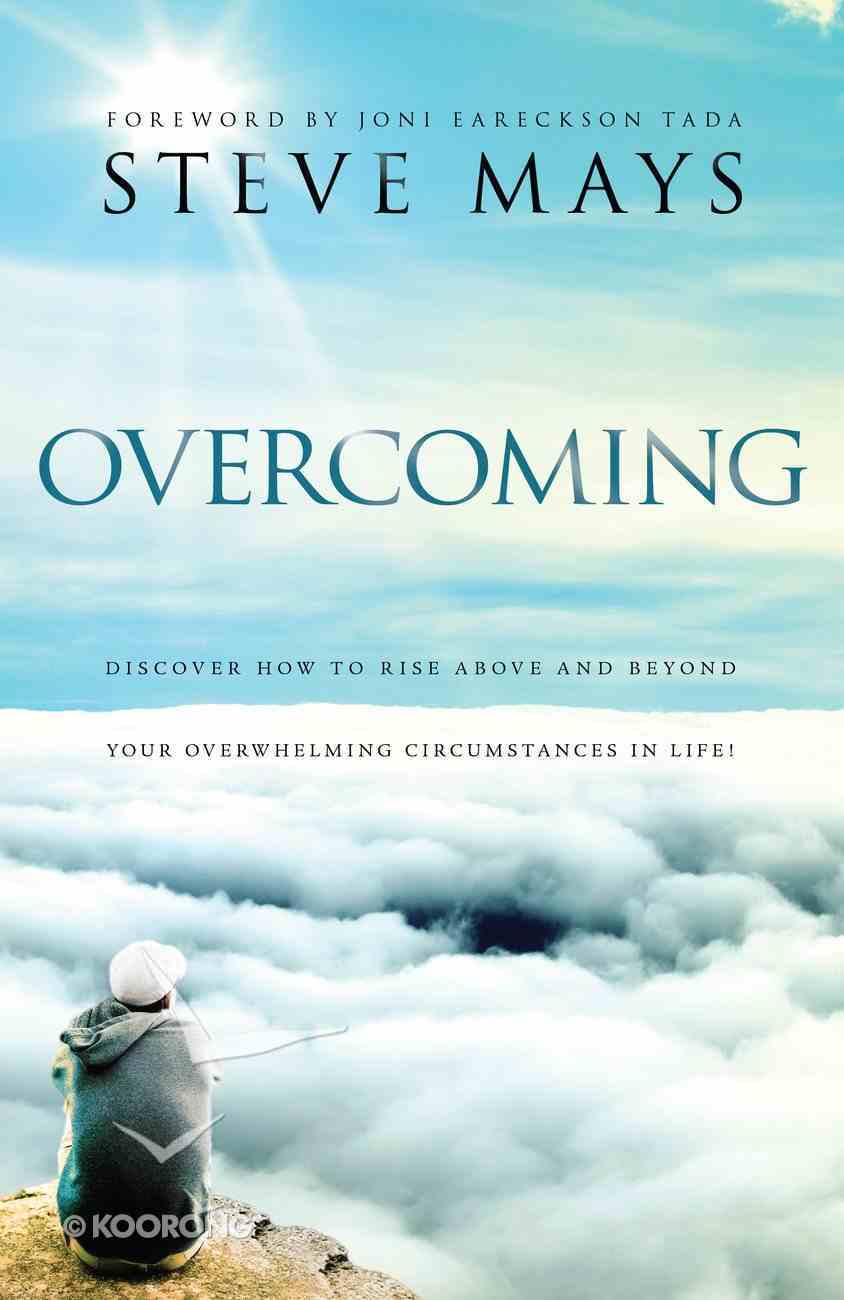 Bad things can (and do) happen to good people. Sometimes difficult circumstances are the natural result of our own choices, but other times they stem from someone else's bad behavior. Either way, God is calling Christians to move beyond adversity...
Available for immediate download.
---
Read using our free app on your tablet or mobile!
---
Free Shipping
for orders over $99.
Bad things can (and do) happen to good people. Sometimes difficult circumstances are the natural result of our own choices, but other times they stem from someone else's bad behavior. Either way, God is calling Christians to move beyond adversity and live a victorious life that brings glory to His name.

Can we overcome our debilitating emotions? Can we rise above our overwhelming circumstances? Steve Mays insists that we can and must, with the power of the Holy Spirit. Mays helps readers deal with discouragement, fear, depression, hostility, and worry and invites them to build character by overcoming distraction, selfishness, and weakness. Finally, he shows readers how to grow by teaching them how to deal with criticism, jealousy, irresponsibility, and suffering.
-Publisher
Steve Mays is the Senior Pastor of Calvary Chapel South Bay in Gardena, California. He has been serving the greater Los Angeles area in ministry ever since he accepted the Lord as his personal savior in 1970. Since then, he has touched millions with his fervor for Christ, and his ability to integrate biblical truths with everyday life and current events. Taken quite literally from the gutter (read about his personal life story in the book, A Heartbeat from Hell ) by the miraculous workings of the Lord, and discipled by Pastor Chuck Smith (founder of the Calvary Chapel movement), Dr. Mays developed a passion for the lost, and an unwavering devotion to sharing the Word of God. nbsp; Within a few years after his conversion, Mays worked in the House Ministries of Calvary Chapel, helping young people to get off the street, out of drugs, and into Godrsquo;s Word. In 1975, he started and became the Senior Pastor of a new Calvary Chapel in the City of Cypress until 1980 when he accepted the opportunity to become the Senior Pastor of Calvary Chapel South Bay. What began as a small 75-member church in a 6,000 square foot building soon grew to a 26,000 square foot facility, and in 1998 eventually moved to its current four building, 8-acre, and 140,000 square foot location. Calvary Chapel South Bay is now home to over 9,000 regular attendees on a weekly basis, with four Sunday morning services, one Sunday evening service, and one midweek Bible study on Thursday nights. Mays served as the Regional Overseer and Pastoral leader over Calvary Chapel Outreach Fellowship from 1997 ndash; 2005, which included over 900 Calvary Chapel ministries domestically and internationally. nbsp; Mays has become a well-known conference speaker, commencement speaker, author, and radio personality through his Light of the Word broadcast heard on radio stations throughout the country. He was invited to 2002 to speak in Nigeria at the Gideons International Convention, where he openly shared with businessmen the truth of Godrsquo;s Word and the fundamentals of studying Godrsquo;s Word. Mays also participated at Oxford Universityrsquo;s Round Table in London, England, discussing the relevance of religion and Godrsquo;s truth concerning contemporary issues. The Oxford Round Table is a symposium for learned discussions of contemporary issues of significant consequence. He has also been a guest speaker at the Pro-Family Legislators Conference in Dallas, Texas, hosted by Wallbuilders in 2006. He conducted a Bible study at Prison Fellowship Ministries, at the Pentagon, and a few times in the White House, where he eventually met former President George W. Bush. He has taught at the Christian Embassy headquarters to the United Nations in New York and was invited to have dinner with the Supreme Court Justices and taught at the Ambassador Study and Diplomat Study in Washington, DC. nbsp; nbsp; nbsp; nbsp; nbsp; nbsp; nbsp; nbsp; Currently, Mays is president/director of Calvary Chapel Bible College, Extension Campus located in South Bay. He is a graduate of Azusa Pacific University and holds a masterrsquo;s degree in theology and in 2007 was awarded an honorary Doctor of Divinity Degree in recognition of his ministry at CCSB and for his leadership qualities in advancing the cause of Christ. In 2008, he received the Cornelius P. Haggard Outstanding Alumnus Award at APUrsquo;s School of Theologyrsquo;s 25th Anniversary Celebration. I n addition to his responsibilities as Senior Pastor of South Bay, Mays has been blessed with a wonderful family. Married to his wife, Gail, for over 35 years, they have two grown children ndash; a son Nathan and a daughter Heather ndash; and four grandchildren. nbsp;
Bestsellers in Spiritual Growth