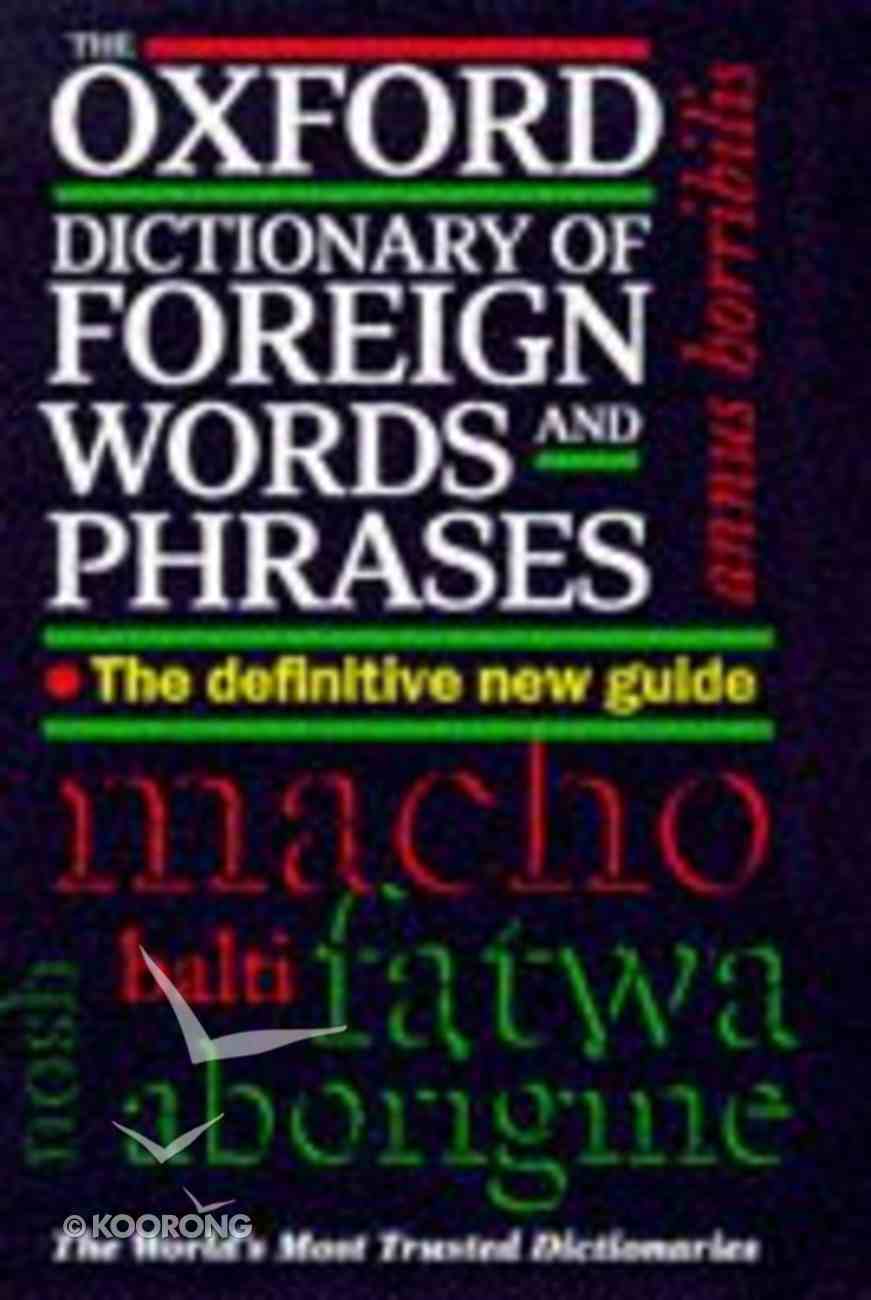 Oxford Dictionary of Foreign Words and Phrases
This dictionary examines over 8,000 foreign words and phrases which have come into regular use in today's English, including bar mitzvah, faux pas, futon and pot pourri. Each entry gives its meaning, language of origin, usage notes and pronunciation.
---
Free Shipping
for orders over $99.
This dictionary examines over 8,000 foreign words and phrases which have come into regular use in today's English, including bar mitzvah, faux pas, futon and pot pourri. Each entry gives its meaning, language of origin, usage notes and pronunciation.
-Publisher
If foreign words and phrases are your "bete noire", here is a superb reference that offers coverage of over 8,000 foreign words and phrases that are in regular use in English today.
Readers will find clear definitions of words such as "fandango," "futon," "falsetto," "basmati," "bistro," "nouvelle cousine"--and many other words found in everyday speech as well as in musical direction, the arts, food, medicine, science (such as the very different meanings of "gamma" in astronomy, chemistry, physics, and photography), literature and belles-lettres. As one would expect in a language as global as English, theDictionarydraws words from a wide array of languages, including Afrikaans, Chinese, Dutch, French, German, Greek, Hebrew, Hindustani, Italian, Japanese, Latin, Russian, and Turkish. The entries are browsable, but also authoritative, with detailed information on each word or phrase, including any alternative spellings, the date of the word's introduction into English, its language or origin and original spelling, its definition, and notes on usage and other points of interest. The etymologies are often curious: "ukelele," for instance, is Hawaiian for "jumping flea" and "yakuza," the Japanese word for "gangster," literally means "8-9-3" (the worst possible hand in a popular gambling game). Quotations have been liberally sprinkled throughout to illustrate how the words are used in context.
Here then is a book that is "sine qua non" (absolutely indispensable) for all reference shelves.
-Publisher