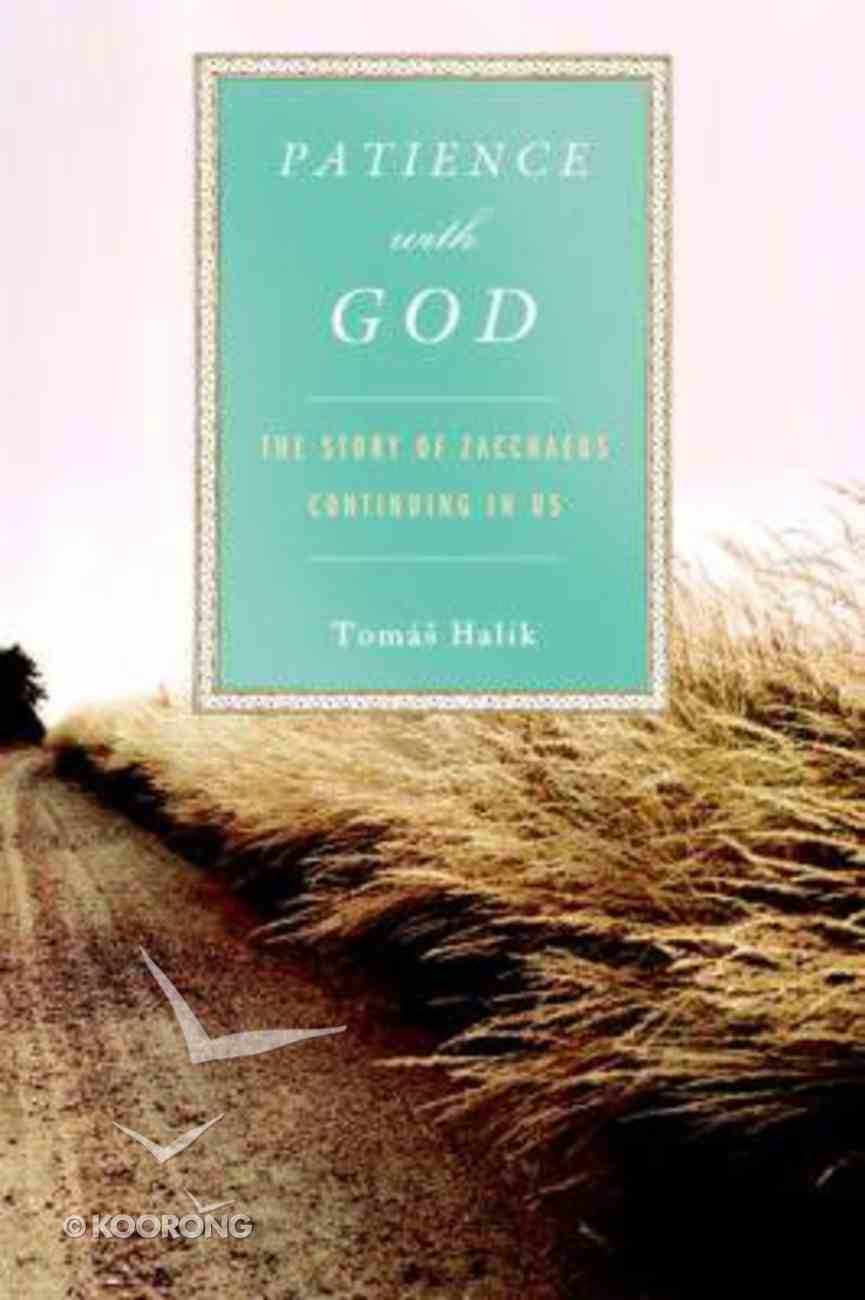 For all the debate about belief and nonbelief in today's world—and how everyone becomes pigeonholed by one or the other— Tomáš Halík teaches that God requires us to persevere with our doubts, carry them in our hearts, and allow them...
Order now to secure your copy when our stock arrives.
0 Available. Expected to ship in 4 to 5 weeks from Australia.
---
Expected to ship in 4 to 5 weeks from Australia.
---
Free Shipping
for orders over $99.

For all the debate about belief and nonbelief in today's world—and how everyone becomes pigeonholed by one or the other— Tomáš Halík teaches that God requires us to persevere with our doubts, carry them in our hearts, and allow them to lead us to maturity. For Halík, patience is the main difference between faith and atheism. Faith, hope, and love are three aspects of patience in the face of God's silence, which is interpreted as "the death of God" by atheists and is not taken seriously enough by fundamentalists.

Using the gospel story of Jesus's encounter with Zacchaeus, Halík issues an invitation to all people who stand (like Zacchaeus did) on the sideline—curious but noncommittal. The fact that Jesus gravitated to the poor and the marginalized means that he also has a special place in his heart for diligent seekers on the margins of the community of believers.


-Publisher
PRODUCT DETAIL
Catalogue Code 

292422

Product Code 

9780385524490

ISBN 

0385524498

EAN 

9780385524490

Pages 

240

Department General Books
Category Christian Living
Sub-Category General
Publisher Doubleday
Publication Date 

Apr 2009

Dimensions 

216 x 146 x 23

mm

Weight 

0.381

kg
TOMÁŠ HALÍK worked as a psychotherapist during the Communist regime in Czechoslovakia and at the same time was secretly ordained as a Catholic priest and active in the underground church. Since the fall of the regime, he has served as General Secretary to the Czech Conference of Bishops and was an adviser to Václav Havel. He has lectured at many universities throughout the world and is currently a professor of philosophy and sociology at Charles University. His books, which are bestsellers in his own country, have been translated into many languages and have received several literary prizes.
CHAPTER 1
Addressing Zacchaeus


It was early morning and fresh snow lay in the streets of Prague. Everything was fairly fresh in those days--the mid-1990s. A few years earlier, the Communist regime had fallen in the course of the "Velvet Revolution," along with its monopoly of political and police power, and for the first time in decades genuine parliamentary democracy was restored. The church and the university once more enjoyed freedom. That turn of events wrought enormous changes in my life: during the 1970s, I had been secretly ordained abroad at a time of religious repression at home that had already lasted decades. Not even my mother, with whom I lived, was allowed to know I was a priest. For eleven years, I performed my priestly duties clandestinely in an "underground church." Now I was able to function openly, freely, as a priest, without any risk of repression, in the newly created university parish in the heart of Old Prague. After years during which I had to give lectures on philosophy solely as part of clandestine courses in private homes organized by the "flying university," could only publish in samizdat, I was able to return to the university, write for the newspapers, and publish books.
But on that particular winter morning I was headed, not for the church or the university, but for the parliament building. Among the novelties of those days was the custom, established a few years earlier, of inviting a member of the clergy to the parliament once a year, just before Christmas, to deliver a brief meditation to the assembled members of parliament and senators prior to the last sitting before the Christmas vacation.
Yes, everything was still fairly fresh and retained a whiff of newly won freedom. Yet a few years had passed since the "Velvet Revolution," and the first waves of euphoria and its heady confrontation with open spaces were things of the past. The initial illusions had evaporated, and many previously unsuspected problems and complications were appearing in public life. Gradually, something that psychiatrists call "agoraphobia" was creeping into society: a dread of open spaces, literally a fear of the marketplace. Almost everything imaginable was suddenly available on the market in goods and ideas--but many people were confused and puzzled by the enormous diversity of what was on offer and the necessity of making choices. Some of them got a headache from the sudden, blinding profusion of color, and now and then they even began to miss the black-and-white world of yesteryear--although in fact it had been tediously and boringly gray.
I concluded my words to the members of parliament and senators--most of whom had probably never held a Bible in their hands--with a reference to the scene from Luke's Gospel in which Jesus moves through the crowds in Jericho and unexpectedly addresses a chief tax collector who is secretly observing him from the branches of a fig tree.
I compared the story with the behavior of Christians in our country. When, after the fall of Communism, Christ's followers came out freely into the open after so many years, they noticed many people who applauded them and maybe a few who had previously shaken their fists at them. What they didn't notice, however, was that the trees all around them were full of Zacchaeuses--those who were unwilling or unable to join the throng of old or brand-new believers, but were neither indifferent nor hostile to them. Those Zacchaeuses were curious seekers, but at the same time they wanted to maintain a certain distance. That odd combination of inquisitiveness and expectation, interest and shyness, and sometimes, maybe, even a feeling of guilt and "inadequacy," kept them hidden in their fig trees.
By addressing Zacchaeus by name, Jesus emboldened him to come down from his hiding place. He surprised him by wanting to stay in his house even though He risked immediate slander and criticism: "He's accepted the hospitality of a sinner!"
There is no written account of Zacchaeus's ever having joined Jesus's disciples, nor of his having followed Jesus on His travels like the chosen twelve or the throng of other men and women. What we do know, however, is that he decided to change his life, and salvation came to his house. In our times, the church has been incapable of addressing its Zacchaeuses in like manner.
I warned the politicians against something similar happening at the civic and political levels. While it was true that many people were still observing the new beginning of democracy in our country--maybe after a certain period of initial general euphoria--with curiosity and some eagerness, for various reasons they also had misgivings and a certain diffidence. But maybe many of them were subconsciously waiting for the moment when they would be addressed or invited directly by someone or something. How many politicians, who spent their time organizing their supporters and contending with opponents, were prepared to understand those Zacchaeuses, to take a sincere and respectful interest in them and "address them by name," talk to them, make their acquaintance? Maybe on account of that failure, many "tax collectors" didn't change their lives, many wrongs were not righted, and many hopes were dashed.
Zacchaeus may appear to some to be an incorrigible individualist, an "outsider"; where people are only too ready to line up in enthusiastic or angry ranks, he instinctively seeks a hiding place in the branches of a fig tree. He doesn't do so out of pride, as it might appear; after all, he is well aware of his "small stature" and his great failings, of his shortcomings vis-Æ-vis absolute postulates and challenges. Yet he is able and willing to abandon his privacy and his detachment if "addressed by name"--then, all of a sudden, he just might accept those absolute challenges and change his life. The only person capable of addressing Zacchaeus, however, is someone for whom those people hidden in the branches of a fig tree are not strangers or aliens--someone who doesn't disdain them, who has concern for them, someone who can respond to what happens in their hearts and minds.
There are plenty of Zacchaeuses in our midst. The fate of our world, our church, and society depends more than we are willing to admit on the extent to which these Zacchaeuses will be won over or not.


I finished my meditation, but the story of Zacchaeus was still on my mind. I walked here and there through pre-Christmas Prague and strove to identify why it was that this particular passage had caught my imagination so strongly. And then I realized that this very story could help to achieve a clearer and deeper understanding of what I had long regarded subconsciously as my own particular mission and vocation.
In my pastoral work as a priest, but also in all my other fields of activity--my books and articles, university teaching, and the media--my aim has always been neither "converting the converted," nor caring for the orderly sheep of the flock, nor even engaging in never-ending polemics and disputes with opponents. I don't think my chief vocation ought to be "mission" in the classical sense, if by that one means winning over as many people as possible to one's own church flock or political persuasion. I feel that my chief purpose is to be an understanding neighbor for those who find it impossible to join the exultant crowds beneath the unfurled flags of whatever color, for those who keep their distance.
I like Zacchaeuses. I think I have been given the gift of understanding them. People often construe the distance that Zacchaeuses maintain as an expression of their "superiority," but I don't think they are right--things aren't that simple. In my experience, it is more the result of shyness. In some cases, the reason for their aversion to crowds, particularly ones with slogans and banners, is that they suspect that the truth is too fragile to be chanted on the street.
Most of those people did not choose their place "on the margins" voluntarily. It could well be that some of them are also reticent because--like Zacchaeus--they are all too aware that their own house is not in order, and they realize, or at least suspect, that changes need to be made in their own lives. Maybe, unlike the unfortunate person in one of Jesus's parables, they realize they are not properly attired for the wedding and therefore cannot take a seat among the guests of honor at the wedding feast.2 They are still on the journey, dusty and far from the goal. They are not yet "ready" to display themselves to others in the full light of day, maybe because they find themselves in a blind alley on their life's journey.
And yet they sense the urgent moment when something of importance passes by them. It has a force of attraction, as it had for Zacchaeus, who longed to set eyes on Jesus. But sometimes, as in Zacchaeus's case, they hide their spiritual yearning with fig leaves--from others and sometimes from themselves too.


The only person capable of addressing Zacchaeus is someone who "knows his name" and knows his secret. Someone for whom this human type is not alien, who is capable of empathizing with the complex reasons for his reticence. It would seem that the only person truly capable of empathizing with the Zacchaeuses of our days is someone who once was, and to a certain extent still is, a Zacchaeus. People who feel most at home within the exultant crowds will probably find it hard to understand such a type.
I once saw on the wall of a Prague subway station the inscription "Jesus is the answer," probably written by someone on the way back from some high-spirited evangelistic gathering. Yet someone else had aptly added the words: "But what was the question?" It reminded me of the comment made by the philosopher Eric Voegelin that the biggest problem for today's Christians wasn't that they didn't have the right answers, but that they'd forgotten the question to which they were the answers.
Answers without questions--without the questions that originally provoked them, but also without the subsequent questions that are provoked by every answer--are like trees without roots. But how often are "Christian truths" presented to us like felled, lifeless trees in which birds can no longer find a nest? (As a young professor, Joseph Ratzinger apparently commented, apropos of Jesus's parable about the kingdom of heaven being like a tree in which birds make their nests, that the church is beginning dangerously to resemble a tree with many dead branches on which there frequently sit some rather odd birds--although I'm not sure how willing he would be these days to sign that statement with the pontifical pen or append the "the fisherman's seal.")
It takes the confrontation of questions and answers to return a real meaning and dynamic to our statements. Truth happens in the course of dialogue. There is always a temptation to allow our answers to bring to an end the process of searching, as if the topic of the conversation was a problem that has now been solved. But when a fresh question arrives, the unexhausted depths of mystery show through once more. Let it be said over and over again: faith is not a question of problems but of mystery, so we must never abandon the path of seeking and asking. Yes, in seeking Zacchaeus we must often shift from problems to mystery, from apparently final answers back to infinite questions.


Paul, the "thirteenth apostle," who did the most to spread the Gospel, wrote: I have become all things to all. Maybe at this time we will discover Christ's closeness most effectively if we, his disciples, make ourselves seekers with those who seek and questioners with those who question. There are more than enough of those who declare they have already reached their goal and offer ready-made but often facile answers, and unfortunately they are also to be found among those who invoke the name of Jesus. Maybe we will make our belief more accessible to the Zacchaeuses of our day if we make them our neighbors, in Jesus's sense, as they "look out through the leaves."
I once came across a book by a bishop with the subtitle "a book for seekers and doubters." Out of curiosity I picked it up, particularly as I was personally acquainted with the author and liked him. However, after a few pages, I realized that the subtitle--whether it was the work of the author or of an enterprising publisher--was simply an advertising gimmick. It was evident from the entire tone of the book that the author's attitude to seekers was one of someone who had already found what he wanted, while he regarded doubters as people whose doubts he could easily turn into certainties.
At that moment I decided I would write books of a different kind--as a doubter among doubters and a seeker among seekers. And I soon had the feeling that the Lord had really accepted that intention and taken it even more seriously than I had when the idea first struck me. But in order to ensure that this work would not be a sham, God managed to undermine many of the religious certainties I had previously embraced. In doing so, He prepared at the same time a surprising and very valuable gift for me: at the very moment of "rift," at that moment of shaken and collapsing certainties, at the very moment of more and more questions and doubts, he showed me his face more clearly than ever before.
I realized that the "encounter with God"--conversion, assenting in faith with how God reveals Himself and the church presents that revelation--was not the end of the journey. To have faith means to "follow in the footsteps"; in this world it takes the form of a never-ending journey. True religious faith on earth can never end like a successful search for some object or other--i.e., by finding and possessing--because it is not directed toward some material end, but to the heart of mystery, which is inexhaustible and bottomless.
The path to the Zacchaeuses of today--people often on the fringe or beyond the visible frontiers of the churches, in the zone of questions and doubts, in that singular region between the two fortified camps of those "whose minds are made up" (i.e., self-assured believers and self-assured atheists)--helped me get a fresh understanding of faith and of the One to whom faith relates.


Insofar as we are disciples of Christ, we want Him to be the one whom the Zacchaeuses of today encounter. I too, even while working on this book--I am a priest, after all--asked myself what it really means these days to bring someone closer to Christ, and, through Christ, closer to God. I don't think it is quite as easy as certain enthusiastic Christians believe. A priest must not become an agitator, a propagandist, someone with pat slogans who is skilled at manipulating others. His role should be to accompany others, to "put them in the picture," to bring them to the gates of mystery, rather than to "win them over" in the way that politicians or traders draw attention to their latest wares.
This must be also apparent in the way we address others. It must be audible and discernible from the very way we speak and the language we use. After all, our language is the fruit of our heart's persuasion. If our language is not empty prattle or mindless production of cliches, it is itself a deed that can do much good. In that sense, "by their fruits shall ye know them" applies to the very way we speak.
Bestsellers in Christian Living