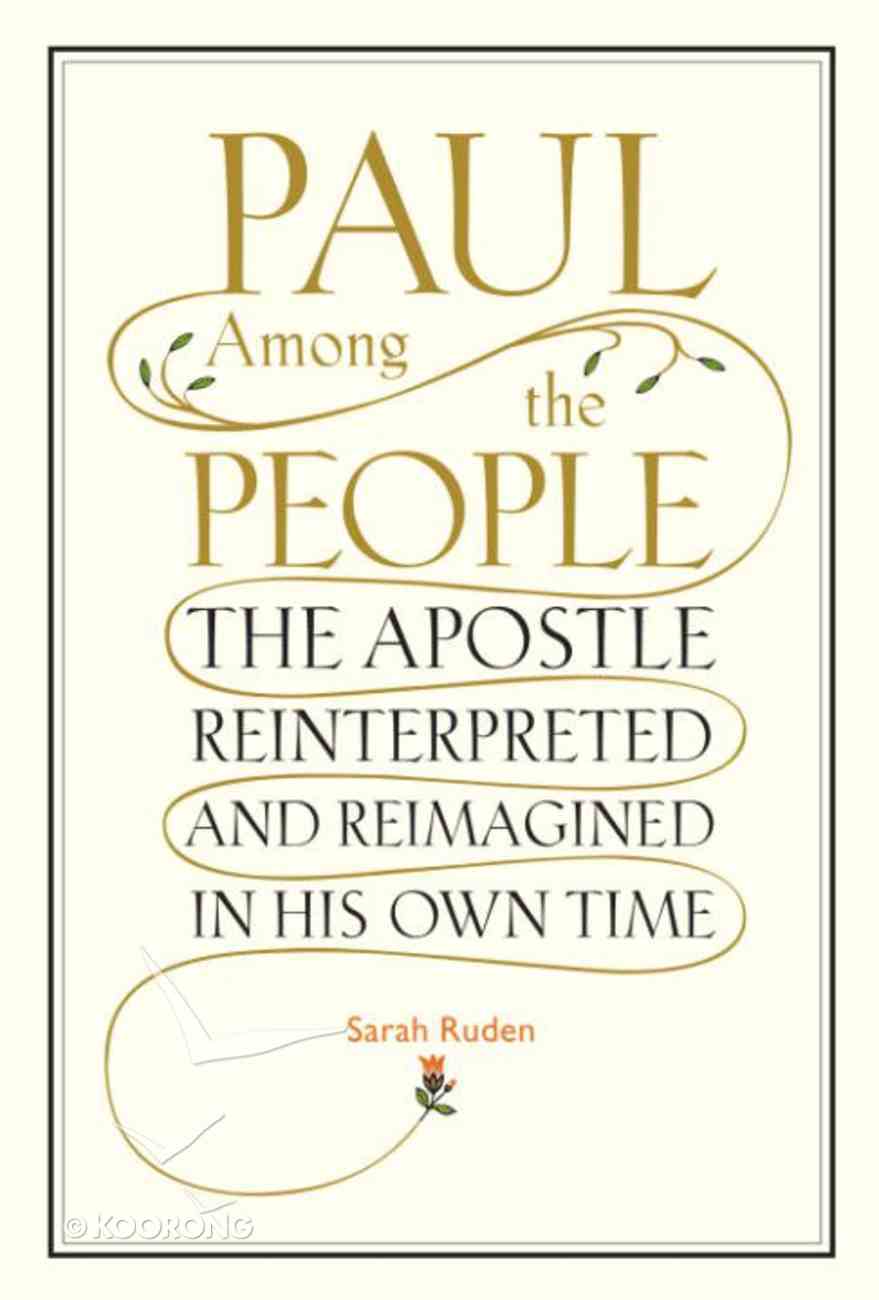 : In Paul Among the People , Sarah Ruden explores the writings of the evangelist Paul in the context of his time and culture, to recover his original message of freedom and love while overturning the common-and fundamental-misconception that Paul...
Out of Stock
Available to Order
---
Expected to ship in 4 to 5 weeks from Australia.
---
Free Shipping
for orders over $99.
:
In Paul Among the People, Sarah Ruden explores the writings of the evangelist Paul in the context of his time and culture, to recover his original message of freedom and love while overturning the common-and fundamental-misconception that Paul represented a puritanical, hysterically homophobic, misogynist, or reactionary vision.

By setting famous and controversial words of Paul against ancient Greek and Roman literature, Ruden reveals a radical message of human freedom and dignity at the heart of Paul's preaching. Her training in the Classics allows her to capture the stark contrast between Paul's Christianity and the violence, exploitation, and dehumanization permeating the Roman Empire in his era. In contrast to later distortions, the vision of Christian life Ruden finds in Paul is centered on equality before God and the need for people to love one another.

A remarkable work of scholarship, synthesis, and understanding, Paul Among the People recaptures the moral urgency and revolutionary spirit that made Christianity such a shock to the ancient world and laid the foundation of the culture in which we live today.


-Publisher
PRODUCT DETAIL
Catalogue Code 

395331

Product Code 

9780385522571

ISBN 

0385522576

EAN 

9780385522571

Pages 

240

Department Academic
Category Scripture
Sub-Category General
Publisher Penguin Random House
Publication Date 

Aug 2011

Sales Rank 

51418

Dimensions 

203 x 132 x 13

mm

Weight 

0.226

kg
Sarah Ruden's previous translations include Aristophanes' "Lysistrata" and Petronius's "Satyricon," She is a visiting scholar at Yale Divinity School. <BR>
:Chapter 1: Paul and Aristophanes— No, Really
 
The last thing I expected my Greek and Latin to be of any use for was a better understanding of Paul. The very idea, had anyone proposed it, would have annoyed me. I am a Christian, but like many, I kept Paul in a pen out back with the louder and more sexist Old Testament prophets. Jesus was my teacher; Paul was an embarrassment.
 
But one day, in a Bible study class I was taking, a young woman objected to the stricture against sorcery in the "fruit of the Spirit" passage in Paul's letter to the Galatians. She said that to her sorcery meant "just the ability to project my power and essence." Most of the class gave the familiar sigh: Paul was kind of a brute, wasn't he? I would have sighed too, had there not flashed into my mind an example of what sor­cery could mean in a Greco-Roman context: the Roman poet Horace's image of a small boy buried up to his neck and left to starve to death while staring at food, so that his liver and bone marrow, which must now be imbued with his frenzied longing, could serve as a love charm. Paul, I reflected, may never have read this poem (which depicts a crime that may never have happened), but it shows the kind of reputation sorcery had in the Roman Empire—certainly among people with a polytheistic background, who made up the main read­ership for his letters both during his lifetime and after it. I could not get away from the thought that what his writings would have meant for them is probably as close as we can come to their basic original importance, as key documents (prior even to the gospels) inspiring the world-changing new movement, Christianity.
 
As I began to read Paul in connection to Greco-Roman writing, I seemed to be actually reading him: understanding his devotion and his constraints, and not simply listening to 1 Corinthians 13 with boredom and irritation, and with smug agreement to excoriations of his "betrayal of Jesus' message." I came to see how a man whom a divinity student friend of mine called "grumpy-pants Paul" had spread an uncompromising message of love, and how he had estab­lished a community that proved to have, if not a steady power for good, then at least a steady power for renewing its ideals. More and more, I wanted to take his part.
 
This feeling grew even stronger when I researched the ori­gins of our bad impressions of Paul. It seemed that many reactions to him across the centuries had been distorted or incomplete in ways that would not have survived a look at his main contemporary and near-contemporary audiences through their own books. For every implausible reading of Paul, there were Greco-Roman works through the lens of which he showed more plausibly. The contrast between dis­tant views of Paul in a variety of modern authors and the very near view that we can re-create came to seem like a way to organize a book.
 
Others have written defenses of Paul, but he needs—and deserves—all the help he can get. His faults are obvious enough: his bad temper, his self-righteousness, his anxiety. But we tend not to feel inspired that such a painfully human personality was able to achieve so much in the name of God. And we do not ask the obvious question, which is, what was he doing right in substance that is hidden from us under his manner? He must have been doing a great deal right or he could not have succeeded as he did.
 
And understanding his success is vital for letting him help us now. Paul dealt with several social issues that remain painful today. Read in a way that shows the challenges, ideals, and strategies behind his words, he usually offers diverse people something they can agree on. In the case of homosexuality, it is the passion he had for ending exploita­tive sex, the only physical expression of homoeroticism he likely knew about. Getting closer to Paul as he really was can allow Christians and non-Christians either to find common ground to build on or to part ways more peacefully, because they see that they merely disagree on how to reach the same goals and can no longer call each other's intentions evil.
 
Paul is, of course, not easy to understand. Probably many Greeks and Romans themselves misunderstood him or skimmed the surface of his arguments when he used terms such as "law" (referring to the Jewish religious law in which he himself was trained). But their literature is still a good basis for interpretation: they shared a language with him, Greek, and a cosmopolitan urban culture, that of the Roman Empire, and he considered evangelizing them his special mission.
 
What Greco-Roman works can teach about Paul's writ­ings is incredibly rich and virtually unexplored so far—and often rather mortifying to a previous knee-jerk anti-Paulist like me. For example, there is the matter of the komos and the right to have a really good party. The "fruit of the Spirit" pas­sage in Galatians does not forbid "carousing," the outrageous New Revised Standard Version translation of the word, or "revellings," as in the King James. A kōmos was a late-night, very drunken, sometimes violent postparty parade—which could even end in kidnapping and rape. We have vivid scenes of it in Greek comedy and other genres. It was nearly the worst of Greek nightlife, and if any Christian young men counted on still being allowed to behave like rampaging frat boys or overgrown trick-or-treaters in a foul mood, their eld­ers would have been relieved to have it in writing from Paul that this was banned. Other translations, probably in an effort to be less dour, have "orgies," but that is unsatisfactory: some features of Greek parties were orgylike, but not the kōmos. And since orgies are quite rare today (I think), a reader might wonder why Paul included something so unusual in his list, as if a modern pastor were to speak against flashing. We would never guess from the English that the abuse Paul is speaking of is both serious and customary.
 
I was at first puzzled that nobody had lined up Paul's let­ters and Greco-Roman literature in any systematic way before, but I soon realized that scholarly disciplines are not set up for it. In seven years at Harvard as a classics graduate student, I got to know exactly two divinity students, and only as friends, not as scholars. I never met any of the divinity professors, wherever they were, somewhere up in the cloudy regions of the North Yard. Their language courses were separate, and in my curriculum there was not a single piece of Christian literature out of all that belonged to the era I was studying. We behaved as if the New Testament had not been written in Greek, as if Paul had not been a Hellenized Jew and by some accounts a Roman citizen, and as if the Roman Empire at its greatest period of power had not been in the early Christians' background.
 
I was now stunned at how much perspective this took away from Christianity. "Oh, yeah, we're not supposed to have orgies, no kidding." Maybe shallowness of perspective is one reason so many people consider the religion passé—not interesting, not inspiring, not useful. To me, even the first efforts at setting Paul's words against the words of polytheis­tic authors helped explain why early Christianity was so com­pelling, growing as no popular movement ever had before. And as I went on, I found that—almost creepily—the pas­sages to which the modern world has the most resistance were all telling me the same thing: contemporary readers would likely not have seen Paul's "authoritarian" policies as anything but ways to connect with one another in conscien­tious tenderness.
 
In this way, I was dragged away from a quite dear preju­dice: that the socially concerned church was an invention of the modern era. (We Quakers have always thought our own sect invented it, but I won't go into that.) In fact, the compassionate community was there at the beginning, and its founder was Paul of Tarsus. To those asking, "But how do we live, right here, right now?" his answer was always in essence the same: "In a way worthy of God's infinite love for each of you."
 
This is his story as told not only by himself, but by Aristophanes, Herodas, Petronius, Juvenal, Apuleius, and many others he never met. It is the story of his challenges and his triumphs in their world. And here's a little of what it tells us for today.

Chapter 2: The End of Fun? Paul and Pleasure
 
What was Paul's real message about the body and social life? Don't ask the Puritans. When these gained power and sought to wipe out the enjoyments (games, drama, feasting, dancing, fancy hats) that the medieval church had spared, the main New Testament authority they alleged was Paul. Richard Baxter (1615–91) of Kidderminster, in England, cites him over and over in part VII of his Directions to Weak Christians, "Directions Against the Master Sin; Sensuality, Flesh-Pleasing, or Voluptuousness." By this time, "flesh" meant roughly anything that is often done for its own sake, like eat­ing or conversation, and Baxter condemned what we would today call the most ordinary and natural pleasures:
 
Do you think that man is made for no higher matters than a beast? and that you have not a more noble object for your delight than your swine or dog hath, who have the pleasure of meat, and lust, and play, and ease, and fancy, as well as you? Certainly where sensual pleasures are preferred before the higher pleasures of the soul, that man becomes a beast, or worse, subjecting his rea­son to his brutish part.
 
The looming trouble with pleasure of all kinds was that it could come between you and your religion. ("Flesh-pleasing is the grand idolatry of the world, and the flesh the greatest idol that ever was set up against God.") That is, if you found you liked doing anything more than you liked praying, exhorting, and reading pious books, you were in for it. So pretty much everyone was in for it, or had hope only in sus­pecting and resisting any natural draw.

[Flesh-pleasing] is the very rebellion of corrupted nature; the turning of all things upside-down; the taking down God, and heaven, and reason, and destroy­ing the use of all the creatures, and setting up flesh-pleasing instead of all, and making a brute of your god and governor. And do you ask what harm there is in this? So will your child do, when he desireth any play, or pleasure; and the sick, when they desire to please their appetite.
 
Many people think Paul is the original authority for this (and for all puritanism; the Puritans only epitomized the ide­ology), because of what he wrote about the flesh. One of the passages Baxter and other Puritans relied on most is the "fruit of the Spirit" part of Galatians 5. (I count five citations of that passage within "Directions Against the Master Sin," more than of any other part of the Bible.) At the heart of Paul's exhortation is a pair of lists: what not to do to indulge the flesh, and what the fruit of the Spirit will be.
 
Paul's letters contain other lists of bad things and good things, but here the strictures have a special force. Galatians is mainly about false teachings and alienating practices, and the criteria for spiritual fruit answer the vital question of how a group of believers can tell whether they are going in the right way—that is, whether the Spirit is really working in them. So it is hardly an academic matter to get a better sense of the spe­cific acts and attitudes Paul condemns and commends. Here, in the original King James translation of Galatians 5, some close derivative of which Baxter would have used, are the bad things:
 
19 Nowe the workes of the flesh are manifest, which are these, adulterie, fornication, vncleanness, lasciuiousnesse, 20 Idolatrie, witchcraft, hatred, variance, emula­tions, wrath, strife, seditions, heresies, 21 Enuyings, murthers, drunkennesse, reuellings, and such like: of the which I tell you before, as I haue also tolde you in time past, that they which do such things shall not inherite the kingdome of God.
 
I will go straight back over Baxter's head with my ques­tions. Would people of Paul's time have read him as preach­ing against natural desires and ordinary fun? What exactly did these words mean about the way people were expected to live according to this new religion?
 
Picture the Galatians hearing this list read for the first time, perhaps in the house of the most well-to-do member of their church, where they usually meet to pray and eat together. They know Paul as a poor speaker and a scrawny, sickly man of the unpopular Jewish race. He may have been kind to them in person, but now they have his bad temper emerging from the papyrus of his long letter to them. He thinks his rivals should go castrate themselves (5:12), and he snarls that he is writing in big letters for the Galatian Christians (6:11)—not that he needs to rub in his scorn: he has already called them "foolish" (a soft-pedaling translation: more precise would be "brainless"). What use might words like those in the list above have been to this church? The cor­rect answer is not "They were another reason to throw the letter away and go back to the shrine of Isis." If we judge Paul's prose that harshly, we would have to wonder why any of his letters, not to say his churches, survived.
 
Okay, I'll answer my own question. All of Galatians 5 shows a great concern with the link between religion and getting along with other people, caring for them, allowing communities to thrive. Among those who had grown up as polytheists, there was nothing trite about this program. On the contrary, it set out a new way of thinking that must have been quite exciting, a hope for something beyond exploita­tion, materialism, and violence—a plan not for competing in purity and the denial of life, but for the sharing of life in full. The words in the list above, even the words we might at first associate with puritanical values, back this up.
 
"ADULTERY" IS THE only way to translate the word moicheia, but here translation just doesn't communicate; it merely leaves us crouching over two thousand years of mostly inapplicable experience, including puritanism and our reac­tions against it. For us, the thought of religion banning adultery might bring up images of Hester Prynne standing on the scaffold in public, displaying her scarlet letter A and being harangued by her lover, the minister.
 
For Greeks, "adultery" was far different. A moichos (the root word) was a man (married or not) having sex with another man's wife, and rage and punishment were aimed at him, not her. We don't know precisely how all of the various Greek and Greek-influenced city-states treated this kind of adultery (though we are certain that it was the only kind that was illegal), but we do know well the system set up in fifth-century b.c. Athens. In Athens, adultery with a married woman, once known, automatically broke up her household, and the main victims were the children, who would now be classed as illegitimate. They could not inherit (a vital privilege, as I will show below) and were no longer citizens. Neither boys nor girls would be allowed to marry citizens, and when the boys grew up they could not take part in the all-important political life of the city along with their peers.
 
Since men were supposed to be far more rational and to have far more self-restraint than women, a male adulterer could presumably think through all the possible conse­quences, yet he chose to risk destroying the future of blame­less children in order to have sex with someone in the only category—other men's wives—that was absolutely out of bounds. An adulterer was in the moral position of a pedophile today.
 
The crime was an especially wanton one because no man had to go to another's wife to have sex. Prostitutes were always at the ready (even for slaves to spend their allowances on), and no stigma went with hiring them, except for stig­mas of taste and class that applied to the lower ranks of pros­titutes—morals had nothing to do with it. Unmarried freed­women who were not prostitutes, along with ordinary slave women by the tens of thousands, also offered chances for sanctioned sex. Prostitutes could be very cheap, while these other women—even when not coerced—were often free, or expected only small gifts or favors.
 
There was no romantic sympathy for adulterers, no notion of "tragic lovers," no excuse that "people do fall in love." (The story of Paris and Helen is romanticized today, but the ancients repeatedly characterized the two as monsters, who with their selfish lust destroyed great kingdoms of two con­tinents. The tale of Lancelot and Guinevere, as we tell it, would have baffled the Greeks and Romans.) Falling in love was commonly thought to be a shameful misfortune, a kind of insanity, and decent people were not supposed to let such emotions have any influence on the course of their lives.
 
So it was more or less open season on adulterers. The ora­tor Lysias, of late-fourth- and early-fifth-century Athens, wrote a speech through which a man defended himself in court against a murder charge. The sole argument was that the victim had been the lover of the accused's wife, caught in the act, so that his killing was legal:
 
"We shoved open the bedroom door, and those of us who came in first saw him lying next to my wife, while those behind us saw him only when he was standing naked on the bed. Now I, gentlemen of the jury, hit him and knocked him down, pulled his hands behind his back and tied them together, and asked him how he had the gall to come into my house. He admitted that what he was doing was a crime, but he groveled and pleaded with me not to kill him but to make a deal for cash. But I told him, 'It's not me who's going to kill you, but the law of this city, which you have violated. You thought your fun was more important, and you chose to commit this outrage against my wife and chil­dren rather than obey the laws and behave decently.'" In this way, jurymen, the man got what the laws decree for those who do this sort of thing.
 
The Roman world was less harsh about adultery. A child born within a marriage was legitimate unless its mother's husband claimed that it was not—and he was unlikely to advertise himself as a cuckold in this way. But catching a wife in the act still normally meant the end of the marriage, and the treatment of adulterers was hardly less brutal. Here is what the poet Horace had to say about adultery in the late first century b.c.:
 
For those who want adulterers to stumble, It's worthwhile hearing all the ways they suffer; Their pleasure's rare, and agony infects it, And all around them savage dangers lurk. This guy dove straight down from a roof. Another Was whipped to death. A third one met a fierce gang Of bandits while he fled. One bought survival. Stable boys squirted into one. It happened That one offender's balls and randy tail Were reaped off. "That's the law," said everyone.
 
This was adultery for Paul's Greco-Roman audience, and also for the ethnically diverse audience that had adopted Roman or Hellenic culture. Altogether, nearly everybody in the Roman Empire would be prone to feel that Paul, rather than making a harsh new rule, was only seconding a humane and sensible one they had always had.
 
BUT IS THE BAN on fornication, in contrast, such a general one that we could call Paul puritanical—as interested in controlling sexuality as his Puritan interpreters were?
 
If with adultery we need to get the right picture, with for­nication we don't even have the right word, and there may not be one in English. "Fornication" in our passage from Galatians is a rendering of porneia, whose steady meaning in polytheistic literature is "prostitution" or "whoring." To get a sense of what Paul means by porneia, which he applies even in cases where there is no payment for sex, we have to con­sider the ethical poverty of the Greek and Roman languages.
 
The Greeks and Romans had many terms to show disgust for a woman who had more than one sexual partner; on the other hand, a man who was erotically rapacious would not be called names, as long as he followed just a few rules, the one against adultery being the most important. Paul signaled a vast change in morals by indicating that both an unfaithful man and an unfaithful woman, with no distinction, behaved "like whores."
 
It is unlikely that porneia meant, at least to Paul's Greco-Roman readers, all consensual extramarital sex, which is our basic modern definition of "fornication." The Greeks and Romans did not make the same distinctions about sex that we do. We think of two basic kinds: sex within and sex outside of legal marriage. But for the polytheistic ancients, mar­riage was not as straightforward a matter. Slaves could not be legally married as free people were, but many had long-term unions that got some recognition, and raised their children together. Freedmen on average must have had less formal set­ups than the freeborn, since many of these setups started in slavery. In Latin the same slang, "tent-mate" and "shacking up" (literally, "tenting together"), could apply.
 
For aristocratic Romans, the nobility's separate legal history, along with large dowries and ceremonies no one else went through, set their marriages apart. Even the Latin words for marriage, husband, and wife are not completely the same across different levels of privilege: uxor, for example, for "wife," applies mainly to the upper classes; conjunx, on the other hand, can mean a wife, fiancée, concubine, or even ani­mal's mate, so of course it applies all over the place. 
 
What is more, the ordinary type of Roman marriage was legally defined by consent to be married, which made get­ting a divorce easy for either party: a husband or wife had only to make known the wish not to be married anymore; and divorce, it appears, was common during the empire. A stricter type of marriage was available, but it was unpopular.
 
This, then, was the array of committed sexual unions allowed among the Greeks and Romans. In 1 Corinthians 7 (see my discussion of Christian marriage in chapter 4) Paul lays down the law for Christians and gives his rationales— partly because, I think, existing laws and customs were too loose, yet nobody in this world had thought much about them.
 
But across a great gulf from all of these arrangements was porneia (from the word meaning "buy"), which meant sex bought by the act and with no further obligation. A porn¯e, or prostitute, was normally a slave. Some had to parade naked in public places. Greek vase paintings show men beating them, evidently for fun. This was the institution behind Paul's word, and even when he isn't writing about sex for hire, he is probably emphasizing brutality. To make the word's tone clearer, here is the comic pimp Lisper (in Herodas, a Greek writer of the third century b.c.) suing someone for damages to a piece of his property:
 
Now for you, Myrtale. Come, let these men all see—don't be embarrassed. Think of them as your fathers and your brothers That's here to judge the case. Look, gentlemen, At how he shredded her clear up and down. The sonofabitch has torn her nearly bare. He dragged her, beat her silly. . . . Maybe you want Myrtale. That's no problem. I want my food: we'll swap the two of them. By Zeus, you've got an urge there in your innards? Just stuff her price in the old Lisper's hand And bruise your goods up any way you want.
 
The most outrageous joke here is that the pimp in his stupidity insults the jury by comparing Myrtale to their freeborn, citizen female relatives, a species as high above her as horses above gnats.
 
Here is Horace recommending a cautious shopping trip for sex:
 
And the thigh's often softer, the leg straighter On a prostitute in the official drapery. What's more, she struts the wares with no disguise,
 
And openly displays the things she's selling. She doesn't flaunt the handsome parts alone, And look for ways to cover what's disgusting. When the Who's Who buy horses, it's their habit To cover, then inspect them: a fine body Might rest on weak hooves. Lovely flanks, a short head And arching neck might lure a gaping buyer. These guys know what they're doing.
 
For the polytheists, the essence of porneia was treating another human being as a thing. If I had been one of Paul's typical early readers, whatever else I understood from his use of the word, I would have picked up that treating another human being as a thing was no longer okay.
 
"UNCLEANLINESS" AND "LASCIVIOUSNESS" really cannot carry a puritanical concern with purity and self-control as spiritual stunts. For one thing, the Greek words were more outward-looking than the Puritan meanings require.
 
For the Greeks and Romans as well as the Hebrews, "uncleanliness" was more a public and ritual state than an inward and moral one. You might be unclean, for example, if you entered a holy place without washing, but the chief thing wrong with this was that you angered divinity and marred the place for the whole community. Crime could pol­lute you, but this would be in a similar way. Your unclean­ness was not in any important sense an inward burden—it was a visible, contagious sickness. Paul, of course, rejected ritual technicality in both Hebrew and Greco-Roman prac­tices, and in this passage he must have meant moral unclean­liness, but the sense of practical and shared bad effects was likely still there.
 
"Licentiousness" is a widespread, better translation than "lasciviousness." Here the Greek word may have its usual previous meaning, irresponsibility, sexual or otherwise. "Lasciviousness" may also wrongly suggest a mere feeling, instead of certain acts. Augustine and then medieval clerics and then Puritans managed to criminalize sexual desire itself, but that was in a changing or changed world. Any Greek or Roman (or inhabitant of a Greek or Roman city) of Paul's time who set himself against his own arousal would have gone insane, because no one could escape the sexual stimula­tion in this social and outdoor culture: it crooned in pictures on walls and on dinnerware, in prostitutes on the street, in jokes and songs and public religious observances. (For exam­ple, the Roman spring Floralia celebration included live sex shows, and the Greeks carried through the streets the phal­luses they worshipped.) There is no evidence that Paul beat his head against this culture by going further than to preach that overwhelming lust could be channeled in marriage (1 Corinthians 7:1–8). He does not suggest that either God or man can defeat the urge itself. Irresponsible follow-through has to be the idea here in Galatians.
 
As well as not jibing with the environment, any stress on sexual repression does not jibe with what we know of Paul himself. He was celibate and recommends it, a choice and a doctrine I will explore in chapter 4. But we simply can't squeeze out of his writings or other biographical data the inference that he had anything against sex or sexual desire per se, as opposed to the distractions and worries that mar­riage brought and the evil manifest in exploitative or promiscuous sex.
 
He had a personal torment, a "thorn in the flesh," that may or may not have been the sexual desire his calling pre­vented him from indulging. If so, his take on the feeling (2 Corinthians 12) was remarkably enlightened: that it kept him humble and that it was against God's will for him to ever get rid of it, but that it was a matter to be worked out between himself and God, which was good news, because God was as strong and loving as Paul was weak and put upon. In fact, every human vulnerability was purposeful and joyful in the end; he classed the thorn with other sufferings in his mission.
 
Let me wind up this section by dramatizing the misread­ing of Paul's attitude toward sex in a more graphic way than any Puritan writings allow. Karen Armstrong narrates that, as a novice nun during the early 1960s, she could not adjust to the convent, in which, for example, she needed permission to ask someone to pass her the sewing scissors during "recre­ation." Her supervisor at one point gave her a whip to beat herself into submission with. She obeyed, and reported back with glum honesty that the experience had merely been arousing. She was sent away with angry instructions to beat herself harder.
 
Would the Paul we know through his writings, and whom we can know even better against the background of Greco-Roman culture, conceivably have treated anyone this way?
 
"IDOLATRY," OF COURSE, means worshipping an object. As in the case of adultery, accurate translation can still leave the modern reader with no idea of Paul's focus, as opposed to what later interpreters have done with him. Baxter rants about the "flesh" as an "idol," passionately worshipped to the exclusion of God; "flesh-pleasing" is "idolatry" in that it consumes devotion.
 
The Hebrews and Paul had the opposite problem with idolatry. It was somewhat like "fornication"/porneia, crude and shallow and transactional, but worse, because one party was self-evidently not sentient (or in the case of an animal, sentient but not intelligent), while the act was supposed to be religious, so that the transaction was fictional while alleged to be transcendent. People can worship only a living, thinking God with all their heart, soul, mind, and strength.
 
The Greeks and Romans may have been ripe for this. The educated among them, to whom the notion of objects' hav­ing divinity was a fairy tale, could at times barely hide their boredom and irritation with rituals (which were required for social and political conformity) to honor these objects. Epicureanism, with more followers than any other philo­sophy but Stoicism, argued that the gods, though they existed, had no presence or interest in objects that stood for them.
 
But the animistic tradition had crammed everyday life with superstitious observances: people had to propitiate doorways, stumps, and mildew, along with a lot of manufac­tured images; every Greek or Roman household had at least one shrine with figurines. Freeborn children wore related items as amulets for protection from evil spirits.
 
Outside of mythological works, polytheistic authors and their characters, faced with all of this trumpery, tend to show either dutiful reverence for tradition or skepticism—and sometimes the two in a firm, bizarre embrace. For example, Servius (late fourth century a.d.), a famous commentator on Vergil's Roman epic, the Aeneid (late first century b.c.), records the story of a consul needing the sacred poultry to grant him an omen before he can go to war; when they hang back from eating the grain strewn for them, he grabs them, throws them into a river, and snorts, "Let them drink, then!" Readers must have enjoyed the punch line and admired the no-nonsense consul, but the tale is in the historical legend genre, which must support the ancestral piety that is part of patriotism, so the official cannot get away with this attitude: his expedition is a disaster.
 
A MODERN READER might connect the word "witchcraft" to female herbalists persecuted by a paranoid church, to the Salem hysteria, or to New Age witchcraft, or Wicca. Actual sadistic cults would probably not jump into the mind.
 
But Paul was writing when the view of witchcraft was unequivocally grim. "Witchcraft" in Greek was pharmakeia, from the root that gives us "pharmacy," though medicinal drugs were not characteristic of witchcraft: pharmakeia can also be translated as "the art of poisoning."
 
Our evidence for the evil force of the word is particularly good. First, it is certain that the polytheistic cults concerned had cursing and bewitching and animal abuse among their practices; archaeologists have even found some of the instru­ments. (That much archaeology I know; I myself have seen a "magic wheel," for bewitching.) Moreover, the ancients knew a lot about poisons. If witches weren't the main practitioners of the science, as they were said to be, who was? It was forbidden to doctors, at least according to the Hippocratic Oath.
 
Someone like myself, who has lived in the new South Africa, can even affirm that violent witchcraft exists today. There, a credible press and court system confirm the reality of "muti murders": sangomas, or witch doctors, kill people, especially children, for their genitalia and other body parts, which are believed to be love and money charms. Horace wrote about two witches in such an enterprise. We have no proof that their particular sort of crime actually happened, but the point is that witchcraft had a very evil reputation, which Paul and his readers would have been aware of, but which Paul's encounters with sorcerers in Acts do not explain to the modern world:
 
Now Veia had no conscience that could stop her. Groaning with the effort, She hollowed out the earth with an iron mattock, So they could bury the boy With just his face exposed, the way a swimmer's Chin floats above the water: There he would die while staring at a meal changed Two or three times each long day. And once his eyeballs, fastened on the food He couldn't touch, had rotted, They'd cut out his marrow and his dried-up liver For a love potion.
 
Love spells could have the same tone as curses, and the same motives of hatred and revenge could be behind them, given the very dim view the ancients took of infatuation. Here is the Greek poet Theocritus (third century b.c.), with the dramatic monologue of a young woman who has been carelessly seduced and cruelly abandoned and is now trying to do as much damage as possible in return:
 
Grim goddess [Hecate], welcome! Come to the end with me, And make my drugs more powerful than Circe's, Yellow-haired Perimede's, or Medea's. Drag the man to my house now, magic wheel! First, barley flour melts in flames. Come, Thestylis, Sprinkle it on—you fool, where has your mind gone? So I'm a joke, even to dirt like you? Sprinkle it and repeat: "The bones of Delphis!"
 
Daphnis has wounded me. I burn this laurel Against him. As it catches, as it snaps, And the ash itself is gone a second later, So I want Delphis's body burned to nothing. Drag the man to my house now, magic wheel. . . !
Arcadia has a weed that makes the colts And speedy mares run frantic through the mountains. Let me see Delphis just as frantic, coming From the bright wrestling school into my house. Drag the man to my house now, magic wheel!
 
IN THE NEXT SEGMENT of the list in Galatians 5, we are coming home to Paul, to his most passionate concerns.
 
Both Acts and Galatians contain accounts of Paul's conver­sion, and he makes several other references to it. For the rest of his life, he campaigned for others to let Jesus bring them the same kind of salvation. But what kind was it actually? Salvation from what sort of sin most of all?
 
He traveled to Jerusalem as a young man to study at the Temple. Quickly, he took the part of the established clergy and other officials against a new sect outrageously asserting the divinity of a vagabond, crucified criminal. He was an eager servant of the persecution, perhaps from ambition as well as the rage we read of. It was no trivial task to go as a certified agent of the high priest to purge the followers of Jesus from the Damascus synagogues.
 
For many of us, the center of a new moral or religious life is the image of some evil act we have done and cannot undo. In many cases, it is a cruel act. The realization that we have caused helpless suffering is a special shock, and creates an especially vivid memory.
 
For me, the memory is of the dog of my childhood cring­ing and whimpering as I beat him as hard as I could in the face with his leash. I think that for Saul the memory was of standing over a pile of outer robes, guarding them from petty thieves. The robes belonged to men who were heaving stones at Stephen (a Greek name), who had been preaching in the name of Jesus and claiming that Jews were "uncircumcised in their hearts."
 
There is no detailed scene of stoning in any ancient litera­ture I know of, but sadly the practice continues in the mod­ern world, allowing us to reconstruct the scene. It would have taken Stephen some time to die; a stone small enough to throw from a few yards away usually cannot cause much damage. There is little bleeding, mainly bruising. The vic­tim screams, tries to get away. After a while, he shrinks down and covers his head with his arms. Impatience, pity, or self-disgust may cause someone to come up closer, raise a larger stone with both hands, and slam it straight down onto the victim—but that may mean looking into his face as he hears the approach and lifts his head. The crowd might not stop when he loses consciousness; he could still be alive.
 
Saul, as he was called then, saw something like this. As he went about afterward, inflicting his culture and education, his self-righteousness, his arguing, his politicking, and his networking on more Christians, he had in the back of his mind what such things had done to the body of Stephen, yet how, when the young man went down, it was to kneel and cry out words of forgiveness. It was all in the back of Saul's mind as he set off for Damascus, but if he wanted to make any peace with it, anger and ego still did not let him.
 
The new life he believed Jesus gave him was beyond a mir­acle. A miracle would have enabled him, by some unimagin­able means and at some unearthly cost, to undo what had happened to Stephen. But he conceived that God, unasked, had already undone it, that through the suffering and sacri­fice of God, Stephen was not dead. And this was done not only for Stephen, God's innocent, martyred servant, but also for him, Saul, God's persecutor. In Jesus, Saul met endless good and could contrast it with the evil in himself, which must have seemed quite feeble. He could hope that the good in himself would grow and the evil would wither.
 
He never overcame his touchiness, his fussiness, or his arrogance. It seems likely to me that the thorn in his flesh was anger rather than lust. But he kept his worst faults in bounds, sometimes with charming irony, and the knowledge of how destructive they could be was of great use to him in his work. It does not surprise me that he tended to see so much evil in controversy, rivalry, and violence, and so much good in connection and reconciliation. Nor does it surprise me that he set out to save the world Stephen got his name from, the European Roman Empire.
 
And did he ever have his work cut out for him there. I believe that the everyday uproar of these parts of the world was also a powerful draw: he went where he was needed most.
 
I am struggling to be polite about the way the Puritans, especially, looked past this, or else read the condemnation of strife as a condemnation of anybody who disagreed with them and thereby earned squelching. Increase Mather's aptly named "An Arrow Against Profane and Promiscuous Dancing" is a moving example of their attitude. In general, puritanism is linked with violence, as most recently evinced by extremist Muslim groups. People at war with their own bodies have little respect for others'.
 
But what is Paul saying? As elsewhere in his letters, here he uses together a number of words for bitter feeling and fighting. At the end of the list of fighting words, he places the word "envyings" next to "murders" (both of these are exact translations), almost as if they were on the same moral level. In part, this is wordplay: there is only one Greek letter of difference between the two rhyming words phthonoi and phonoi. But the linking of the two words also summarizes what was most horrible in Greco-Roman life, even in the rel­ative peace and order of the Roman Empire. Things did often go from strong emotion straight to violence.
 
Five centuries before Paul, the tragedian Sophocles, in Oedipus at Colonus, had declared life worthless because of the violence that was inseparable from it.
 
Best of all is not to be born. But if you're born,
By far the best thing is to take a walk
Back to where you came from as soon as you can,
Since when youth with its silliness passes,
What blows, what sufferings, what agony will be missing?
There will be envy, sedition, feuding, battles,
And murders.
 
Sophocles used close together three of the same words Paul does in his list: "envy," "sedition," and "murder."
 
Why was the violence so bad? The Greeks and Romans were, at their best, fighters (see chapter 5). The contrast with the peasant cultures of the Middle East, where menial work shaped the lives of ordinary free people, is pretty striking. Southeastern Europe was about aggression.
 
Hatred and revenge were not marginal or shameful for the ancient Greeks and Romans, but matters of routine and pride. A person who simply forgave an injury was held to be feeble and a coward. How could he protect his family and friends?
 
Not all people were comfortable with this brutal equation. Again and again, the fifth-century Greek tragedians show catastrophe coming out of it. In Euripides, the love goddess Aphrodite, is insulted that the prince Hippolytus (in the play named for him) remains a virgin and does not worship her. She makes Phaedra, the boy's stepmother, fall in love with him to the point of insanity, but since Phaedra is a chaste woman with children she wishes to protect (see the discussion of adultery on pp. 11–14), her panic when her pas­sion becomes known will lead to both her death and his. The goddess shrugs off her use of the unoffending young woman:
 
And here she's groaning, driven from her senses By passion's goads—the poor thing's perishing In silence. Not one servant knows her sickness. But this love I've inspired must not fail. I will reveal it all to Theseus. The father will kill the young man who's at war With me, kill him with curses that Poseidon, The ruler of the sea, has granted him: Three times, whatever he prays for, he will get. Phaedra will keep her honor, but will die. And I won't give more weight to her disaster Than to the chance to punish enemies So that I have things just the way I want them.
 
When the gods themselves appeared self-centered and merciless, human beings had far fewer compunctions. The barbarism this helped create shows best in Greek and Roman historical writings. Democracy advanced quite far in Greece, and in Rome a republican government was followed by the Roman Empire, a welfare state with authoritarianism that varied over time, but with the outward structures of the Republic intact. Even in the provinces, the public took part in government. But the rule of law was always weak, and no notion of peaceful protest, loyal opposition, or constructive criticism tempered participation. When there was political rivalry, someone always ended up getting plundered, exiled, or killed, so that a movement like Epicureanism, which was interested in peace of mind, plain living, and loving friend­ship, advocated staying out of public life altogether.
 
Paul may actually have read the historian Thucydides' famous late-fifth-century b.c. account of what happened when Greek habits of thought and emotion slammed up against public crises, in this case the conflicts between Athens and Sparta and between democracy and aristocratic government in city after city during the Peloponnesian War:
 
Fathers killed their own sons, and men were dragged
out of the temples [where they had taken refuge] and
killed beside them, and some were actually walled up
in the temple of Dionysus and died there. . . .
In this way uprisings began to convulse the cities,
and people heard the accounts of what had happened
before and went to bizarre and imaginative lengths to
surpass it in creative aggression and outrageous
revenge. . . .
The cause of all of these things was the desire for
political power, which came from greed and ambition
and the resulting passion of those who have become
involved in brutal rivalry. . . .
So every form of wickedness won out in Greece
because of these revolutions, and straightforwardness,
which is the main ingredient in a good character, was
laughed out of existence, while mutual hatred and mis­
trust became the rule. No promise was binding
enough, no oath terrifying enough.
 
The Roman historian Sallust, in his Conspiracy of Catiline, gives a lurid account of a young aristocrat's attempt to take over the Roman state in the mid–first century b.c. Catiline began with an electoral campaign, and it may have had only the usual amount of bribery and street gang persuasion in it. But a consul, Cicero, accused him of much more, and some fiery speechifying and a single, possibly forged document led to five senators' being hauled off and executed without trial. Cicero had driven Catiline out of Rome by this time, and the crisis ended in the slaughter of Catiline and his followers by a Roman army. How much of the violence was necessary? Cicero, suspiciously, turned suppressing the conspiracy into the most renowned episode of his career, and wrote an awful, much-mocked epic poem about it. He was later exiled for his unconstitutional acts, by people who were committing far worse ones, and was finally assassinated by the goons of Mark Antony, a far fiercer political thug than himself. My point is that, though there were rules, and recognized rights, and due process, they fell apart all the time because of unchecked, selfish rivalries.
 
What did lowly people, people struggling for food, get up to in their disregarded, unrecorded affairs, when the leaders, the role models, behaved like this in spite of full publicity and constant documentation? The mind boggles.
 
Anyway, it is no wonder that Paul in effect decreed that Christians should build for themselves communities that were completely different, based on the qualities listed as the fruit of the Spirit, such as peace and long-suffering.
 
In the words referring to strife, the King James translation is off its head. For one thing the committee worked from a version of the Greek text that favors plurals. The things they saw listed are plainly acts, not states of mind or emotions. The Galatians must stop clawing at one another, not merely stop feeling disagreeable.
 
The Greek word rendered as "hatred" should be "hostilities" or "feuds." The word behind "variance" meant not assorted types of dissension and dispute (which is what "variance" meant to the post-Elizabethans), but merciless competition, often military or political. The word could not refer to opin­ion alone or to any expression of opinion that was not pretty vicious. "Emulations": not productive contests and imitations but selfish rivalries. "Wrath": explosive shows of fury. "Strife" and "sedition" are roughly correct but not strong enough. Americans might think kindly of civil unrest or even rebel­lion, but in Greek literature, "strife" is likely to get people killed for a less than idealistic cause, and "sedition," a com­pound word, is a cynical "uprising" that "splits" the state— this is certainly no American Revolution.
 
The translation "heresies" here is strange. Hairesis (literally "taking") can mean "choice" or "sect." Paul opposed certain sectarian movements of his time, but at least in the Greco-Roman world, hairesis could not mean departure from the edicts that a monolithic religious authority makes about per­sonal belief, a departure that the authority feels entitled to punish. There was no such concept, and nothing to which such a concept could be applied.
 
It's impossible for me to imagine that Paul had plans, or hopes, or even secret fantasies of forcibly repressing people. In his own words I can read only that he tried to persuade them not to start swinging at one another on any excuse.
 
"DRUNKENNESS" IS A very straightforward word to trans­late. Drunk is drunk. And Paul would probably have agreed with the Puritans in disapproving of drinking to the point of falling over and throwing up. But the placement of the word right next to k¯omoi ("revellings") gives it a much different focus from that of the Puritan panic over self-denial and self-control. Paul's mention of drunkenness is about social behav­ior and the health of the community.
 
First, drinking in Greco-Roman culture needs some ex ­plaining. Wine was the ordinary beverage at meals, not water. Normally, the wine was diluted in fixed proportions, to lessen or put off drunkenness. The Greeks were probably less moderate than the Romans, as a common type of Greek evening party, the symposium ("drinking together"), never had respectable women as guests or hostesses—usually no women at all except the flute girls, who were available for sex, so that a party could easily become an orgy. Plato's dia­logue the Symposium (set in the late fifth century b.c.), in which the drinkers send the flute girl away and drink so lit­tle that they can have a long philosophical discussion, is very probably not typical. (In fact, the company opts for modera­tion because they are hungover from the day before, and moderation means only that everyone will drink "as much as he wants" and not have to drink on command—the normal practice.) A fair amount of drunkenness would have helped with the more-ordinary symposium activities.
 
Among these was the komos, a word that, in the plural, is translated here in Galatians as "revellings." Komos originally meant a village festival, then it could mean carousing in gen­eral, but by Paul's time the main image was of what went on after the carousing. This komos was a group of men marching down the street at night, drunk, wearing garlands, carrying torches, and making loud music. The flute girls might go along as accompanists. In vase paintings, the mythical ver­sion of the scene features satyrs—part-man, part-goat crea­tures wholly outside civilization, with giant penises and a reputation for wild lust—and their accompanists are nymphs, their main sexual partners. Stories of human komoi are consistent with this. Here in Theocritus, a young man is visiting a young woman to convey a come-on blended with a threat:
 
"I would have come—I swear it by sweet Love— At nightfall with a couple of my friends, And Dionysus's apples in my tunic, And on my head white poplar—which is sacred To Hercules—all wound up with purple ribbons. . . . If you had let me in, you would have liked it. (Good-looking, fast—that's me among the boys.) I'd have kissed your pretty mouth and slept in peace. But if you'd shoved me out and barred the door, Torches and axes would have come against you."
 
The following account from Plutarch (late first, early sec­ond century a.d.) is probably only a legend (the events would have taken place in the 730s b.c.), but it does show respectable people's attitude toward the komos:
 
[Archias] could not win over the boy [Actaeon, with whom he was infatuated], so he decided to kidnap him. He gathered together many friends and servants and went on a komos against the home of Melissus [Actaeon's father] and tried to extract the youth. But the father and his people fought back, and the neigh­bors as well ran out and engaged the attackers in a tug­of-war, so that Actaeon was pulled apart and killed. Archias's party then made themselves scarce.
 
Paul was writing not about parties in general, but instead about a specific tradition that was not terribly good for men, women, or the neighborhood.
 
MOST PEOPLE READ "not inheriting the kingdom of God" as purely negative, and the Puritans and others have used it as a combative threat. Put your foot wrong, and out you go. But this is based on the modern idea of inheritance as a far broader yet also far less important privilege than it was in the ancient world. Most of Paul's audience would not have been inheritors, but they would have yearned to be.
 
Among us, most people (though they expect to inherit something from their parents) accept having to make their own way in the world. An inheritance big enough to live on is a rare thing, but this seldom matters, as independent livelihoods are quite plentiful. It was very different for the ancients: inheritance was the defining fact for secure, respectable people. This group lived in leisure off their par­ents' slave-run land and businesses both before and after their parents' death, and even professions (other than that of ora­tor, which paid more in political influence than in money) were only for those able unfortunates who needed them.
 
It is no wonder that "inheriting" and "the kingdom of God" go together in scripture. For slaves, freedmen, laborers, soldiers, wanderers, colonists, hucksters, prostitutes (a very large profession), artists, entrepreneurs on a shoestring, and all of the others struggling through the hard facts of the Roman Empire, "inheriting" was a fantasy of salvation.
 
The fantasy produced a popular comic motif, that of the legacy hunter, or person who flatters and bribes the wealthy in the hope of being written into their wills. Real legacy hunters would have been rare, as substantial people nearly all married and had children who got the bulk of their estates, and the childless tended to keep their money within their families and circles of close, trusted friends anyway. The attentions of outsiders would normally have only annoyed the well-to-do. But the yearning for inheritance was so strong that quite a lot of black comedy resulted. This is the novelist Petronius, writing around 60 a.d.—he was a contemporary of Paul's and was also put to death (actually, he was forced to commit suicide) in Rome under Nero.
 
In our vagabond state, we had no idea where we were, but we learned from a passing farmer that this was Croton, a very ancient city and at one time the most powerful in Italy. We studiously inquired who lived on that noble spot now, and what their main business pursuit was now that many wars had worn through their stores of wealth.
 
O strangers," the farmer said, "if you are merchants, find a different project and seek some other means of livelihood. If, however, you are sophisticated people and can lie your heads off on every occasion, you are headed straight toward profit. In this city the study of liberal arts finds no glory, oratory has no place, and probity and conscience win no praise and bring no gain. All the people you will see belong to one of two classes: they are either legacy hunters or the targets of legacy hunters. No one in this city brings up children, because anyone who has heirs ready in the family never gets an invitation to dinner. He is excluded from public entertainments and barred from society altogether. Like some skulking criminal, he hides at home. But the men who have never married and have no near relatives hold the highest offices. They alone are considered martial, brave, and clean-living.
 
"You are approaching," he concluded, "a town with a plague. There is nothing there but corpses and the crows that feed on them."
 
I can't resist telling what this speech sets in motion. The footloose friends decide to masquerade as a shipwrecked plu­tocrat and the remains of his retinue, so that the townspeo­ple will pamper them in hopes of legacies. It works spectacularly—one woman even hands over her two children as sexual playthings. But the "rich man" dies. Fortunately, he leaves a will that seems certain to prevent the expectant "heirs" from finding out that there is no money and taking out their rage on his surviving companions: no one, the will states, may inherit without helping to eat the corpse in pub­lic. Unfortunately, the heirs are willing to do it. I'd give a lot to know how the author got his protagonists out of that one, but the fragmentary novel breaks off here.
 
For real people, the inheritance fantasy probably wasn't founded only on greed. It was likely also a fantasy of belong­ing fully, which was impossible unless you had a house-hold—the basic thing inherited, and a very arduous thing to put together on your own. The Roman poet Martial (late first, early second century b.c.), in a poem to a friend of the same name, places inheritance first among blessings; more­over, the family stronghold in the last line here is the main thing you would inherit or buy with the inheritance.
 
Martial, my darling friend, the following Are things that make a life more fortunate: Property from a will, not won by labor, A fertile farm, and an established household.
 
Christianity offered anyone, no matter how poor and powerless, an alternative inheritance—another kind of home, a new way to belong. In this light, Paul's message is strongly positive: not "Obey these strictures, against human nature, or we'll kick you out of the community you were born into," but instead, "We offer you an equal share of a community, such as most of you could only dream of before. You forfeit it only if you are disorderly, through these destructive acts that are not even attractive in comparison to the life you could be leading."
 
No wonder Christianity grew like mad.
 
A PAUL FED UP with Greco-Roman culture is not at all hard to posit. Many Greeks and Romans were fed up too. What they lacked was a grasp of how things could be better. But Paul had one, though he almost needed to reinvent Greek to express it. After the un-fruit of the Spirit comes the contrasting list:
 
22 But the fruit of the spirit is loue, joy, peace, long-suffering, gentlenesse, goodnesse, faith, 23 Meeknesse, temperance: against such there is no law.
 
As many Bible readers will already know, this "love" is agap¯e (a word not often used before the New Testament). It is selfless love, as opposed to the common Classical Greek words philia, which meant the exclusive love of one's own circle, and er¯os, which meant erotic love. "Joy," as in the joy of prayer and spiritual fellowship in themselves, was not a polytheistic idea. "Peace," here arguably a peaceful atti­tude, peaceful behavior, or social harmony, had used to mean very little but the absence of war. I can deal with the rest of these words even more briefly: "long-suffering," "gentleness," "goodness," "meekness," and "temperance" are not exactly stars in Greco-Roman literature, when they appear at all.
 
But "faith"—wow. For the Greeks it was a powerful word, pistis; and for the Romans, fides, with the same Indo-European root and the same basic meanings, was one of the five or ten most powerful in their language. Pistis/fides always had to do with trustworthiness or trust, but its applications among polytheists were almost opposite to those in the New Testa ment. Polytheistic pistis/fides was good backup: a guar­antee or other binding commitment, often based on scary oaths (the swearer might invoke, for his own destruction in case he lied, the combined power of the earth, heaven, and the underworld); the past experience of a businessman's good faith or good credit; the long-term reliability of friends, fam­ily, associates, or fellow-citizens; or a proof or very persuasive argument. Pistis/fides could also be the feeling of trust evoked by any of these things. I could quote from any number of speeches of Cicero to show the word used in make-or-break and even life-or-death situations. Moralistic Roman writers of all kinds were infatuated with it: prisca fides, or "old­fashioned reliability," summoned up the fantasy of a time when everyone kept his word or was tied to four horses who were then whipped to run in divergent directions.
 
Trust or Trustworthiness, like everything else important, was a deity; but then, so was Terror. Before Christia nity, neither the Greeks nor the Romans seem ever to have used the concept in what we would call a spiritual sense—that would have broken it and re-formed it forever for them, which is in fact what Christianity did. Pistis/fides for the polytheistic ancients came from watching their backs. Our "faith" comes from the agap¯e version of love, from putting away intent self-protection and relying on God's providence.
 
WHAT ABOUT THE IMPACT of the entire passage in Galatians 5? I think it was ringing, jolting, but welcome. This is particularly because of the text before and after the lists of do's and don't's.
 
13 For brethren, ye haue beene called vnto liberty; onely use not libertie for an occasion to the flesh, but by loue serue one another. 14 For all the Law is fulfilled in one word, even in this; Thou shalt loue thy neighbour as thy selfe. 15 But if yee bite and deuoure one another, take heed ye be not consumed one of another. 16 This I say then, Walke in the spirit, and ye shall not fulfill the lust of the flesh. 17 For the flesh lusteth against the Spirit, and the spirit against the flesh: and these are contrary the one to the other: so that yee cannot doe the things that yee would. 18 But if yee be led of the spirit, yee are not vnder the Law. . . .
 
24 And they that are Christs, haue crucified the flesh with the affections and lustes. 25 If we liue in the Spirit, let vs also walke in the Spirit. 26 Let vs not be desirous of vain glory, prouoking one another, enuying one another.
 
I've taught literature for too long, so I can't help myself. I'm going to make a list of the most obvious contrasts or opposing forces:
True liberty ↔ self-indulgence Love, service ↔ flesh Love, law ↔ tearing one another to pieces Spirit ↔ flesh Spirit ↔ compulsion or burden of the law Christ ↔ flesh, "affections," and "lusts"
(= passions and self-indulgence) Spirit ↔ egotism, resentment
 
In this pattern, parallel to the lists of do's and don't's, peo­ple can either pull one another apart or pull together. What is more, Paul connects the peace of the community with the metaphysical Spirit in a way that the English does not show. Pneuma (from which we have "pneumatic") means both Spirit and physical breath. What is most essential for life is most free, most natural, and most shared. In the Hebrew Bible, the Spirit (rúach) of God comes to the entire nation, bringing his kingdom.
 
Flesh, or sarx, on the other hand, either is just an object or it is animal life with its unthinking drives. Animals tear at one another, eat one another. Since the polytheists tended to distinguish the sarx sharply from the mind, it was also a good word for a dead body. A large coffin was a sarcophagus, or "flesh eater."
 
Paul's point is not that the body or nature is bad and the mind or spirit good. It is about two ways of using the body, the one for a life that is worth living forever, the other for a life that is as good as death in the short time before it vanishes. The passage is not an angry homily but a shout to people standing hesitant on a thirtieth-story ledge. Community is life. The failure of community is death. Paul is writing that he cannot let his followers die.
 
But what best expresses this urgency is the image of cru­cifixion. This is what Christ did to save humankind from death. And the metaphor of "crucifying" antisocial passions makes that sacrifice seem to spill over from the metaphysical realm to the natural one: believers get not only eternal life but a life of the Spirit in community that begins right now. Christ stopped at nothing in showing his love for human kind. On his example, people must stop at nothing in showing love for one another. They must eliminate, at any cost, the selfishness that divides them.
 
Most people have, at least in the back of their minds, the idea that crucifixion was abominable. But sheer wear dulls that impression. Some historical facts may sharpen it.
 
Like all torture, crucifixion in the Greco-Roman world was for those without rights. In the historical era, constitu­tions forbade torturing citizens. But anybody could hurt a slave: his owner, on any whim and usually with no limits; a stranger, who would at most owe the owner compensation for physical damage to the slave, as if for scratching a piece of goods; or professional interrogators, who tortured unoffend­ing slaves routinely for crimes committed in their house­holds, just because slaves were ubiquitous and likely to know something or other about most of what went on. Provincials of the Roman Empire, like Jesus, could also be vulnerable.
 
Crucifixion was the nadir of torture. It was never careless or whimsical, but was always a punishment, and a punish­ment for a crime that threatened the system, such as property crime in the case of the two thieves crucified with Jesus, and such as the slave revolt led by Spartacus, which ended in the crucifixion of thousands. This was the punishment for those who, like Jesus, stepped far out of line.
 
For maximum humiliation, and maximum edification of others, crucifixion was public. Crosses with their victims on them might stand beside roadsides or on hills. The crucified were totally naked, without loincloths. Anyone could point and comment, and Greeks and Romans, with their intense interest in the phallus, no doubt did. Was it too large (a not unknown complaint)? Not dainty and shapely (as they pre­ferred)? Was it—grotesque!—circumcised?
 
The families and friends could do nothing but watch, hour after hour. The victims died when they could no longer pull their shoulders back to keep their esophagus open and breathe. They were never reprieved. At most, they got a numbing drug or something to drink, or the leg breaking (a chop that might go straight through the shinbones) to pre­vent them from bracing themselves upward from the foot stand and surviving longer. This was probably seldom an act of mercy, as opposed to a convenience; in Jesus' case, the offi­cials who approached to break his legs but found him already dead were wary of offending Jews, who could not have buried him on the Sabbath (John 19:31–33). "Forsaken" is the right word for the crucified.
 
An arrangement was made to allow Jesus burial, but this was not universal. A rotting crucified body is a prop in Petronius's black-comic farce about the widow of Ephesus. She goes down with her husband's corpse into his tomb, in showy devotion, and is starving herself to death while bewailing him. Meanwhile, nearby, a guard is assigned to keep a criminal's relatives from taking down his dead body from its cross and burying it—burial was essential for the soul's rest, the Greeks and Romans thought. Drawn to the light and noise in the tomb, the guard seduces the widow and through repeated visits neglects his duty until the rela­tives steal away the crucified body. This means the guard faces execution himself, but his clever new girlfriend, in the ultimate example of female depravity, donates her dead hus­band to hang in the criminal's place and (according to poly­theistic theology) to have his grisly afterlife. "Go to hell!" is an apt rendering of the Roman curse "Get crucified!" It is about unspeakable suffering, and it is about suffering that can reach into eternity.
 
Paul evokes all this in the single fearsome word "crucifixion": this is how much God loves humankind. This is the sort of suffering he gave himself to for their sake. When they give themselves to him, what effort and what sacrifice is not worth expressing love toward others?
 
My image of Paul is never going to be the same now that I have read the passage in Greek and followed some of its words home. How did I ever accept the fairy tale of the apostle walking into communities of happy pagans, at peace with nature and their bodies, and shutting down the Maypole dances—to the dancers' mysterious glee? Instead, he sacri­ficed his home, his health, his peace of mind, and eventually his life for the sake of the Greeks and Romans—whom, since they are long dead, it should not be politically incorrect to call kindergartners with knives. He must have helplessly, sufferingly loved them.


From the Hardcover edition.