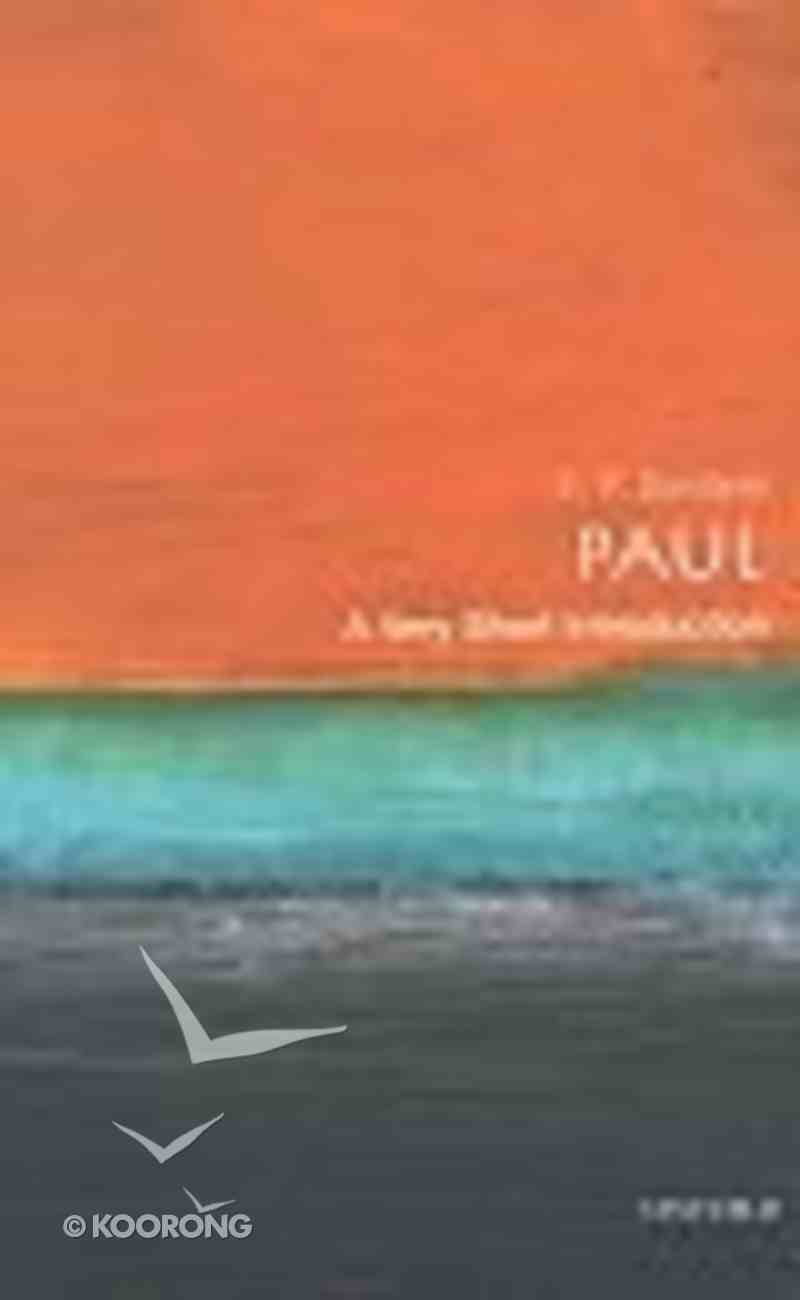 "An incisive summation of the essentials of Paul's career and role in development of early Christianity. Sanders highlights key elements in Pauline thought."--Harry Rosenberg, Colorado State Univ. "This book is lucid and judicious. It's the most concise introduction to Paul...
Out of Stock
Available to Order
---
Expected to ship in 7 to 8 weeks from Australia.
---
Free Shipping
for orders over $99.
"An incisive summation of the essentials of Paul's career and role in development of early Christianity. Sanders highlights key elements in Pauline thought."--Harry Rosenberg, Colorado State Univ. "This book is lucid and judicious. It's the most concise introduction to Paul I've seen, and it is excellent as a quick intro at the beginning of a course, preparing the students for further study of Paul's letters themselves."--Jeffrey A. Trumbower, St. Michael's College "This short readable volume is packed with the wisdom and insights of a scholar whose contribution to the field of Pauline studies is respected around the world."--J. Samuel Escobar, Eastern Baptist Theological Seminary "Written clearly, and the focus is on the most important issues. The 'participation' business is treated well."--David P. Efroymson, La Salle University
-Publisher
Missionary, theologian, and religious genius, Paul is one of the most powerful human personalities in the history of the Church. E.P. Sanders, an influential Pauline scholar, analyzes the fundamental beliefs and vigorous contradictions in Paul's thought, discovering a philosophy that is less^of a monolithic system than the apostle's convictions would seem to suggest. This volume offers an incisive summation of Paul's career, as well as his role in the development of early Christianity. Both lucid and judicious, it is the most compelling short introduction to Paul now available.
-Publisher
Paul is the most powerful human personality in the history of the Church. A missionary, theologian, and religious genius, in his epistles he laid the foundations on which later Christian theology was built. In his highly original introduction to Paul's life and thought, E. P. Sanders, whose research on Paul has substantially influenced recent scholarship, pays equal attention to Paul's fundamental convictions and the sometimes convoluted ways in which they were worked out.
-Publisher
E. P. Sanders (b. 1937) was Arts and Sciences Professor of Religion at Duke University from 1990 until he retired in 2005. His field of special interest is Judaism and Christianity in the Graeco-Roman world. He wrote a ground-breaking book called Paul and Palestinian Judaism (1977) that has changed the face of modern Pauline Scholarship. He is also a main proponent of the 'New Perspective on Paul'. - theopedia.com accessed 22/09/2015


1. Paul's Mission; 2. Paul's Life; 3. Missionary Strategy And Message; 4. The Return Of The Lord And The Resurrection Of The Dead; 5. Theological Presuppositions: Monotheism And Providence; 6. Righteous By Faith And Being In Christ: Galatians; 7. Righteous By Faith And Being In Christ: Romans; 8. Christology; 9. The Law; 10. Behaviour; 11. The Salvation Of Israel And Of The World: Romans 9-11; Notes On Sources; Further Reading; Index
Bestsellers in Biblical Studies