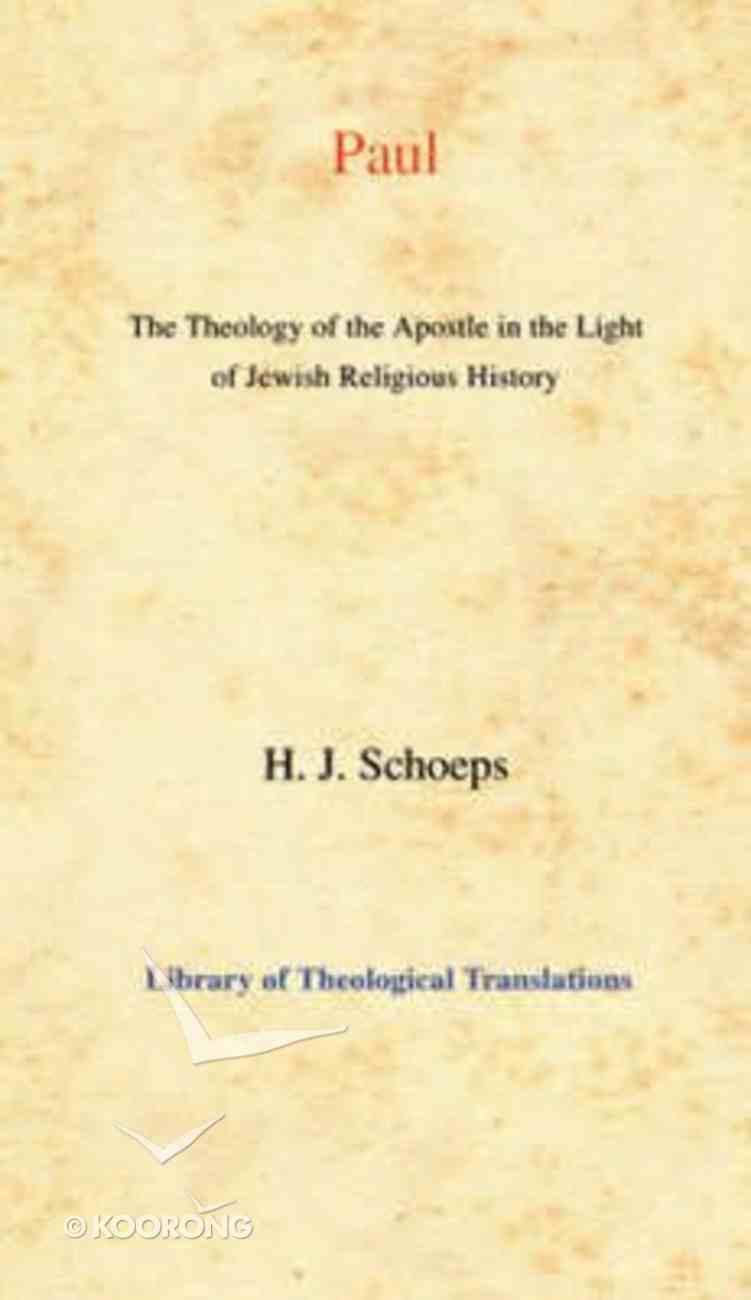 A major study of the apostle to the Gentiles, combining exceptional scholarship with an unusual approach. Schoeps interprets Paul's theology in the light of his Jewish background, which coloured and conditioned his Christological teaching. Paul's conception of Jesus differs from...
Special Order
Payment is by credit card only. Orders for this item cannot be cancelled or returned.
---
Free Shipping
for orders over $99.
A major study of the apostle to the Gentiles, combining exceptional scholarship with an unusual approach. Schoeps interprets Paul's theology in the light of his Jewish background, which coloured and conditioned his Christological teaching. Paul's conception of Jesus differs from that of the Synoptics: what and how extensive the difference is and whence it is derived are among the questions Schoeps examines. After surveying major problems in Pauline research, the Author relates the apostle to primitive Christianity, discussing his eschatology and his teachings on salvation, the law, and saving history. The final chapter shows that Paul's distinctive doctrines result from two converging factors, that Paul never saw Jesus in the flesh, and the influence of Jewish teaching. The consequence was his concern with the resurrected Saviour of the world, the pre-existent and eternal Son of God. Schoeps shows that Paul betrayed a fundamental misconception of the law and the covenantal agreement b
-Publisher
PRODUCT DETAIL
Catalogue Code 

232560

Product Code 

022717013X

EAN 

9780227170137

Pages 

304

Department Academic
Category Theology
Sub-Category General
Publisher James Clarke & Co
Publication Date 

Jan 2003

Dimensions 

229 x 153 x 20

mm

Weight 

0.441

kg
Contents: Preface Chapter I Present Position And Problems Involved In Pauline Research Introduction 1. The Hellenistic Approach To The Interpretation Of Paul (a) Being In The Mystery Religions. (b) City And Public Mystery Cults. (c) The "kyrios" Cult. (d) Gnosis. (e) Assessment 2. The Hellenistic-judaistic Interpretation Of Paul (a) The Problem Of The Pharisaism Of The Diaspora. (b) The Piety Of The Septuagint. (c) The Piety Of Philo. (d) Greek Philosophy. (e) Assessment 3. The Palestinian-judaic Approach (a) Rabbinical Exegesis. (b) Apocalyptic 4. The Eschatological Approach To Paul 5. Net Results For A Just And Objective Approach To Paul Chapter 2 The Position Of The Apostle Paul In Primitive Christianity Introduction: The Question Of Sources 1. Paul And Jesus (a) The Event Of Damascus. (b) The Significance Of The Historical Jesus For The Apostle Paul. (c) The Place Of The Exalted Jesus In The Thought Of Paul 2. Paul's Dependence On The Theology Of The Early Christian Community 3. Paul And The First Church (a) Conflict Of Opinion As Regards The Mission To The Gentiles. (b) Conflicts In Regard To The Idea Of The Apostolate. 4. Paul And The Judaists (a) General Characteristics. (b) The Situation In Galatia. (c) The Situation In Corinth 5. The Reflection Of The Struggle In Later Jewish-christian Writings Chapter 3 The Eschatology Of The Apostle Paul 1. Historical Sketch Of Jewish Eschatology 2. Paul As Interpreter Of The Post-messianic Situation 3. The Eschatological Meaning Of The Sacraments Of Baptism And The Lord's Supper 4. The Jewish Protest And The Problem Of The Delay In The Parousia Chapter 4 The Soteriology Of The Apostle Paul Introduction: The State Of The Problem 1. The Atoning Sufferings Of The Righteous 2. The Suffering Of The Messiah 3. The Expiatory Character Of The Aqedath Isaac 4. The Pauline Faith In The Son Of God 5. The Jewish Protest Against Christology Chapter 5 Paul's Teaching About The Law Introduction: Objective Presuppositions 1. Christ, The End Of The Law 2. The "curse" Of The Law 3. The Law And Sin 4. Further Jewish Counter-positions 5. Faith And Works 6. Paul's Fundamental Misapprehension Chapter 6 Paul's Understanding Of Saving History Introduction: The Missionary 1. The Jewish Universalist Hope And The Problem Of The Mission To The Heathen 2. Paul's View Of History And His Typological Exegesis 3. The Function Of The Jewish People In Romans 9-11 4. The Picture Of Saving History In Jewish Christianity 5. Jewish Ideas Of The Course Of Saving History Chapter 7 Perspectives Of The History Of Religion In Paulinism 1. Results Of Research: Transcendence Of Judaism 2. An Outline Sketch Of The Interpretation Of Paul In Christianity 3. Paul's Criticism Of The Law As A Problem Intrinsic To Judaism Index Of Bible Passages Index Of Modern Authors