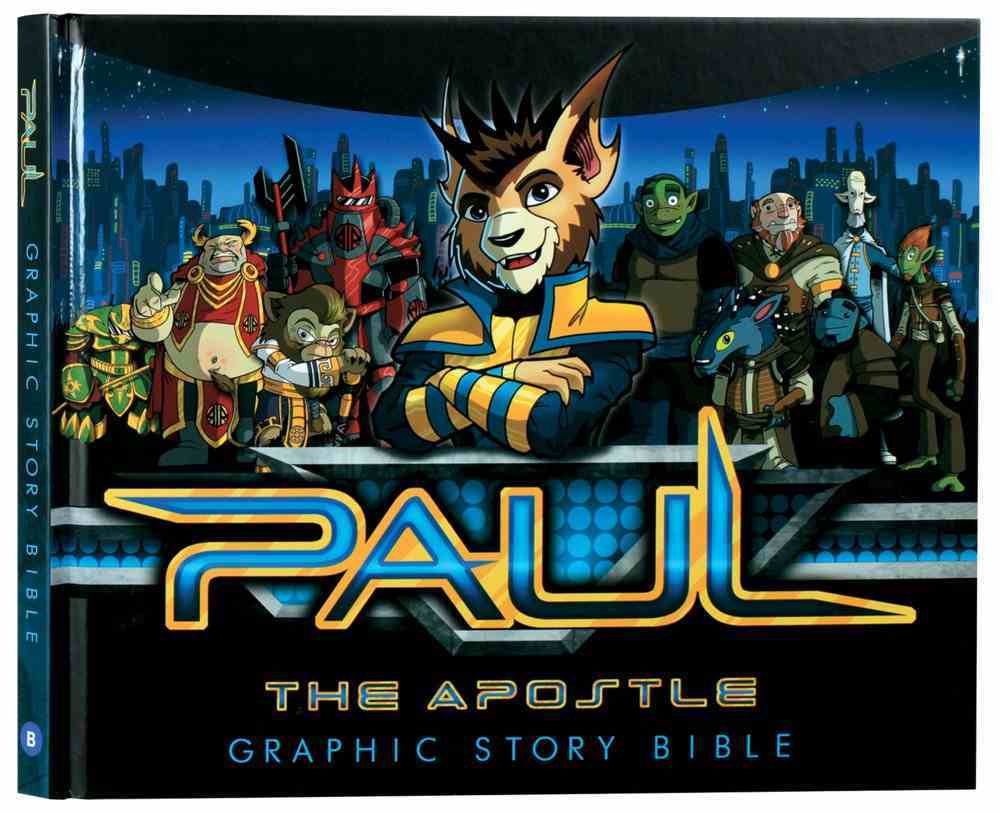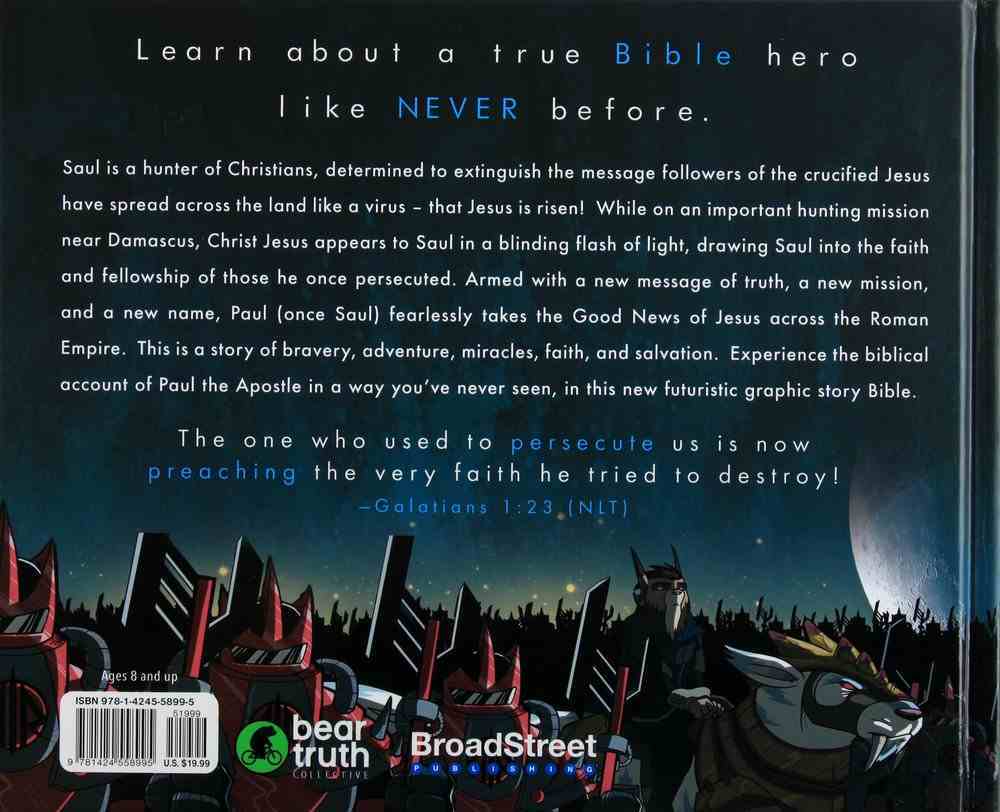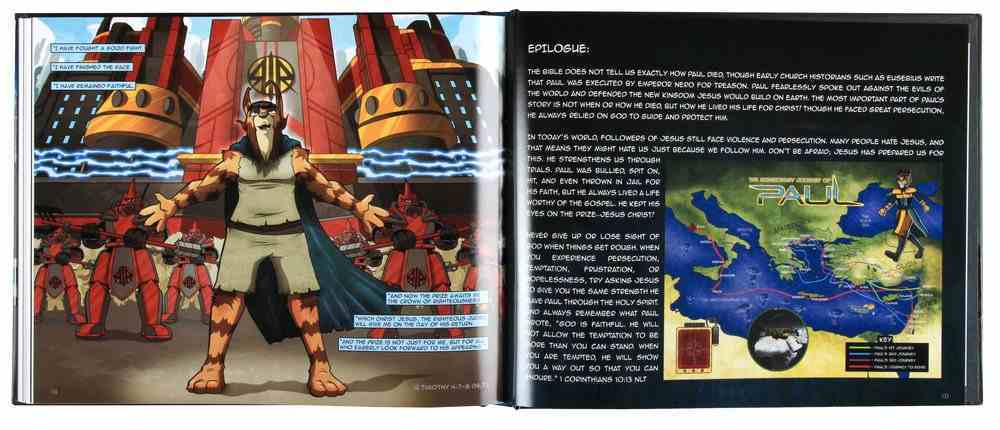 Paul the Apostle: Graphic Story Bible
$27.99
20% OFF
―
save $5.60
This engaging futuristic take on the Apostle Paul of the Bible will thrill kids both young and old, especially those who love comic books. "Paul The Apostle is 144 Action-packed pages in a Graphic Novel. It is a...
---
Expected to ship tomorrow from Australia.
---
Free Shipping
for orders over $99.
This engaging futuristic take on the Apostle Paul of the Bible will thrill kids both young and old, especially those who love comic books.

"Paul The Apostle is 144 Action-packed pages in a Graphic Novel. It is a Hardcover book divided into three chapters. Each page of the book is beautifully illustrated, and colorful! It immediately draws you in from the first page, whether you are an adult or a child. The book pages are also excellent quality, perfect for little fingers that will rapidly be wondering what happens on the next page. There is also an Epilogue in the back of the book with a map of Paul's journeys, a Character Glossary, Author spotlights, and an invitation to the book's website. The book's website has freebies, contests, coloring pages, study guides, and more information. My sons were extremely excited about the coloring pages!

In Paul The Apostle, the writers, illustrator, and design team of this book did a wonderful job of making it Biblically accurate. Their goal in designing such an amazing product was to inspire readers to dig further into the Bible. There are scripture references throughout the book, as the story is referenced from the NLT (New Living Translation), and the Book of Acts. It is recommended for ages eight and up. My youngest is eight years old and in the third grade, and he had no problem reading this by himself when we were not reading it together as a family.

I believe this would make a fun and fantastic Bible study for homeschool, a family study, and even in a Sunday School classroom. My husband and I teach Sunday School to first graders, and we are excited to share Paul The Apostle with them, as time allows after our Sunday School lesson for the day. Both the boys and girls are intrigued by Paul's journeys and the illustrations. It prompts interesting questions from the children, and you can see how much they are enjoying it.

The story in Paul The Apostle is futuristic, although it does give accurate dates, such as the beginning of the story starting in 67 A.D. in Rome. My sons devoured the comic book style writing of the book. I think many of these comic book style products are not given the credit they deserve. I believe the important thing is that a child is engaged in reading; whether it is a chapter book or a comic book. This is such a unique book though because I feel like it offers the best of a chapter book and a comic book. It is one of only a couple of products that I can think of, that offer Biblical truth in a comic book format.

The characters are extremely adorable, and each of my sons had a different favorite character. The book reads in true comic book format, where it is action-packed and each person in my family had fun inventing accents for each character. I am fascinated by the story of Paul, and this book made it a fun and truthful journey for my sons, husband, and I to discuss. This book got an "A plus," according to my family. Our only disappointment? Waiting until the summer of 2020 for the next book, Peter the Apostle!"

- Product review by Kelly LaFollette, The Old Schoolhouse Magazine, LLC, January 2020
:Looking for new ways to inspire your children to read the Bible? The action-packed Bible story of Paul the Apostle is now more accessible for children of all ages, using a visual language they love and understand: Graphic Novels.

Paul's life story, told to us in the Book of Acts, is filled with bravery, adventure, miracles, faith, and salvation, yet many children are not aware of Paul's amazing life. In Paul the Apostle: Graphic Story Bible, children fall in love with the awesome characters and universe, all the while learning the accurate story of a great Bible hero they can look up to. Biblically Based Bible Verse References A Great Ministry Tool & Literacy Tool Full Color Comic Book Format Awesome Characters Action Packed
-Publisher
MARIO DEMATTEO is a storyteller, an urban farmer, a purveyor of awesome, and most importantly, a Jesus-follower. During college, Mario was in a tragic diving accident, confining him to a wheelchair. After years of feeling unsure about his future, God put it on his heart to begin work on a children's ministry tool about Paul the Apostle. The vision: tell the accurate biblical story of his hero, Paul the Apostle, in a futuristic comic book world using crazy amazing cartoon creatures. He assembled the team, co-wrote and edited the script, art directed the illustrations, and founded Beartruth Collective LLC to produce the book. Mario hopes to reach thousands of children across the world with the life transforming message of Jesus.
Bestsellers in Bible Storybooks