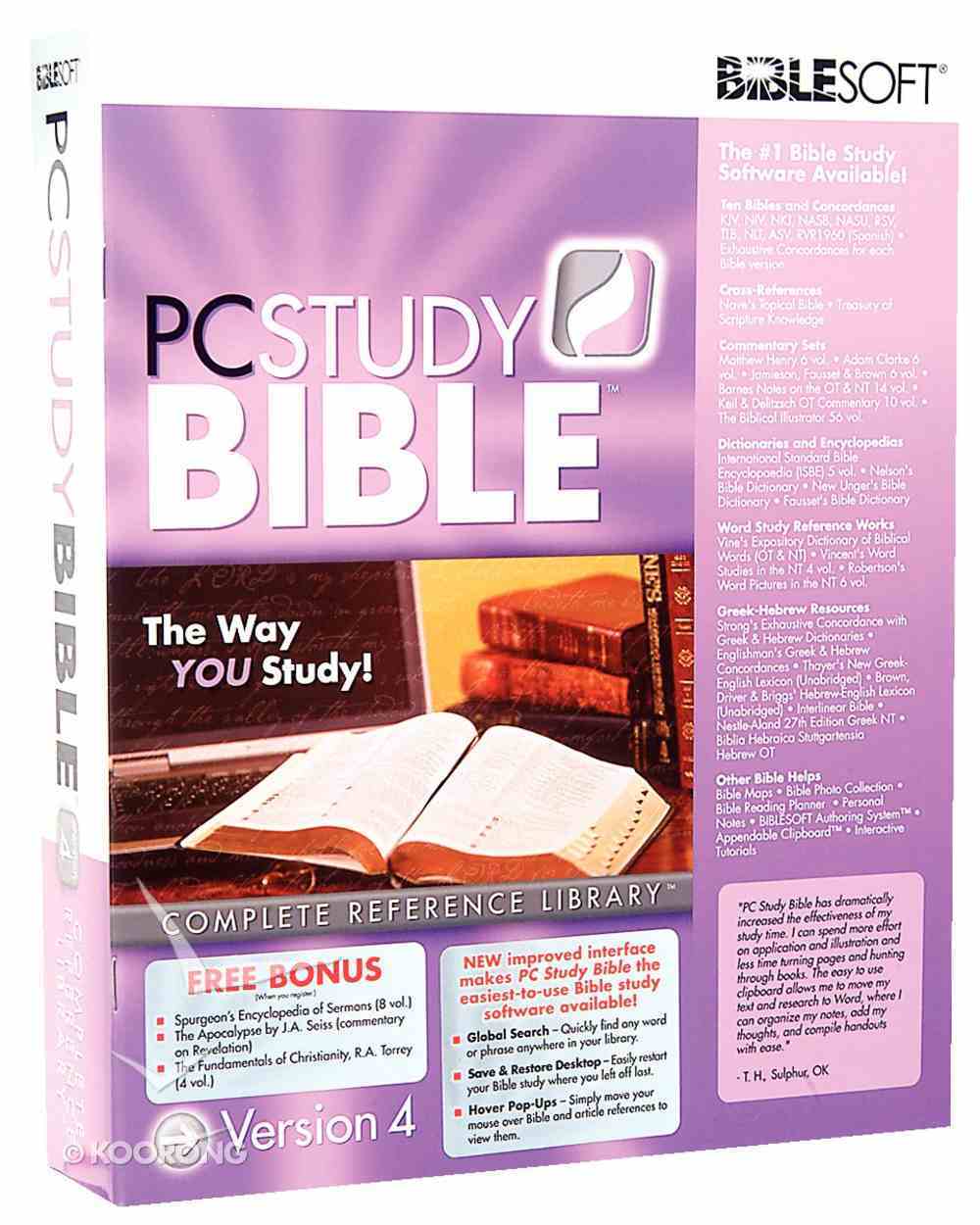 Pc Study Bible 4.2 Complete Reference Library CDROM
Just imagine. . . an entire library of Bibles and timeless reference works at your fingertips. . . all linked together and available instantly at the click of a mouse, without any searching. . . and at a fraction of...
Unavailable. Out of Print. Only available while stock lasts.
Out of Print
---
Free Shipping
for orders over $99.
Just imagine. . . an entire library of Bibles and timeless reference works at your fingertips. . . all linked together and available instantly at the click of a mouse, without any searching. . . and at a fraction of the cost of the works in print!

That's PC Study Bible Version 4, the easiest-to-use, most powerful Bible software available today!

* Find any Bible verse or passage instantly
* Compare multiple Bible translations side-by-side
* Search your entire study library for any word or phrase with the new "global search" feature
* Retrieve expert commentary, analysis and background information from the most trusted Bible reference works ever written
* Unlock the meaning of Bible words and passages with comprehensive original language tools
* Save your studies and pick them back up later with our new "save and restore desktop" feature
* Explore any Bible topic through thousands of articles, cross-references and outlines
* Author your own Bible study materials that instantly "plug into" your PC Study Bible library, just as if they were created by Biblesoft - and so much more!

And of course, all of these invaluable study resources are linked directly to the Bible - the centre of your studies. In fact, as you study any verse or passage in the Bible, the program directs you to all of this information automatically!

Complete Reference Library:

A collection of 41 reference tools, including Bible translations, reference works, and study aides

The PC Study Bible Complete Reference Library, our top-selling library for years, balances great content against great value. It meets and exceeds the needs of customers who may not be as versed in Greek and Hebrew.

Included with the CRL:

Bibles & Concordances
* New International Version
* New King James Version
* King James Version
* American Standard Version
* New Living Translation
* New American Standard & NASB Updated Edition
* Revised Standard Version
* The Living Bible
* Version Reina-Valera RVR 1960 (Spanish translation)
* Exhaustive Concordances for each Bible version

Cross References
* Nave's Topical Bible
* Treasury of Scripture Knowledge

Dictionaries and Encyclopaedias
* Nelson's Bible Dictionary
* Fausset's Bible Dictionary
* New Unger's Bible Dictionary
* International Standard Bible Encyclopedia (5 vol.)

Commentary Sets
* Matthew Henry (6 vol.)
* Jamieson, Fausset, & Brown (6 vol.)
* Adam Clarke (6 vol.)
* Barnes' Notes on the OT & NT (14 vol.)
* Keil & Delitsch OT Commentary (10 vol.)
* The Biblical Illustrator (56 vol.)

Greek and Hebrew Helps
* Strong's Concordance with Greek-Hebrew Dictionary
* Englishman's Greek & Hebrew Concordances
* Thayer's Greek Definitions (adbridged)
* Brown Driver Briggs' Hebrew Definitions (abridged)
* The Interlinear Bible
* Nestle-Aland Greek New Testament
* Biblia Hebraica Stuttgartensia (Hebrew OT)
* Thayer's New Greek-English Lexicon (unabridged)
* Brown Driver Briggs' Hebrew-English Lexicon (unabridged)

Word Study Reference Works
* Vine's Expository Dictionary of Biblical Words
* Vincent's Word Studies in the NT (4 vol.)
* Robertson's Word Pictures in the NT (6 vol.)

Other Bible Helps
* Bible Maps
* Bible Photos
* Biblesoft Hymnal
* Personal Notes
* Biblesoft Authoring System
* Appendable Clipboard'
* Bible Reading Planner

Bonus Content (upon registration)
* Spurgeon's Encyclopaedia of Sermons (8 vol.)
* The Apocalypse (commentary on Revelation) by J.A. Seiss
* The Fundamentals of Christianity by R.A. Torrey (4 vol.)

Includes a 50-Title Bonus CD! Contents:
Books:
Works of Martin Luther:
* The 95 Theses
* Treatise on Good Works
* Treatise Concerning Christian Liberty
* Large Catechism
* Small Catechism
* Open Letter on Translating
* Preface to Romans
* Selected Sermons
* Smalcald Articles

Works of John Wesley:
* Hymns
* Sermons
* Of Christian Perfection
* Journal of John Wesley

Works of John Calvin:
* On the Christian Life
* Of Prayer

Works of Andrew Murray:
* The New Life
* The School of Obedience
* The True Vine
* The Lord's Table
* The Deeper Christian Life
* Absolute Surrender
* In the School of Prayer
* Two Covenants
* Working for God

Works of Josephus:
* Jewish War
* Antiquities of the Jews
* Against Apion

Works of John Bunyan:
* Pilgrim's Progress
* Holy War
* Grace Abounding

Works of John Owen:
* On the Worship of God
* Justification by Faith
* Doctrine of the Trinity
* Of Communion with God
* Discourse Concerning Communion with God
* On the Glory of Christ
* Faith of the Elect
* Christologia
* Of Temptation
* On the Mortification of Sin

General Titles:
* Thomas Aquinas' Summa Theologiae
* John Foxe's Book of Martyrs
* Ancient and Reformation Creeds
* Book of Common Prayer
* The KJV Apocrypha

Commentary:
* Geneva Notes

Bibles:
* Darby Bible
* Young's Literal Translation

Topics:
* Easton's Bible Dictionary
* Hitchcock's Bible Names Dictionary
-Publisher
Retail, boxed, Bible Study software.
-Publisher
Dr. Charles Stanley is a "New York Times" bestselling authorDr. Charles Stanley is a "New York Times" bestselling author who has written more than 35 books, with sales of more than who has written more than 35 books, with sales of more than 6.5 million copies. 6.5 million copies. C