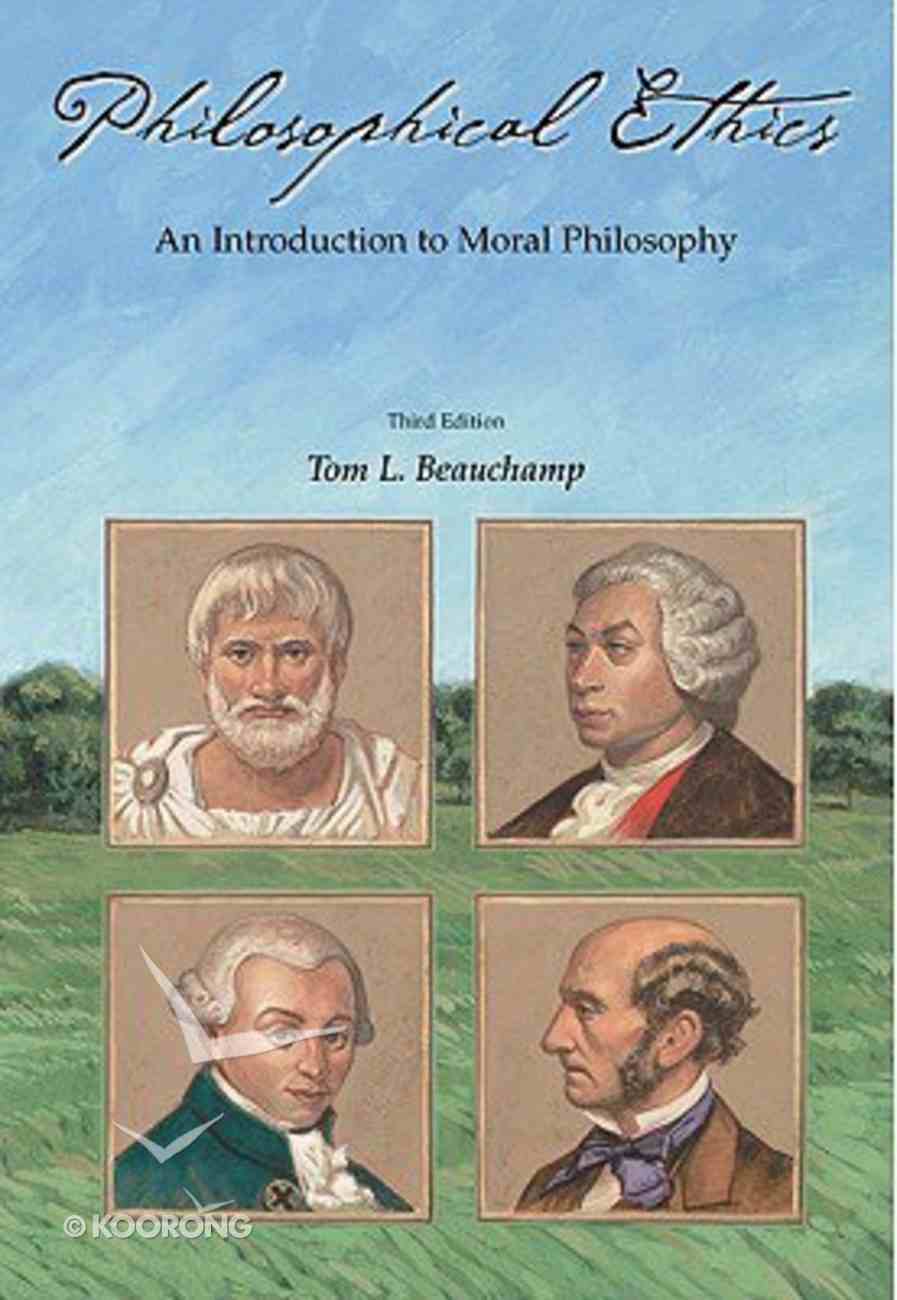 This accessible overview of classical and modern moral theory with short readings provides comprehensive coverage of ethics and unique coverage of rights, justice, liberty and law. Real-life cases introduce each chapter. While the book's content is theoretical rather than applied...
Special Order
Payment is by credit card only. Orders for this item cannot be cancelled or returned.
---
Free Shipping
for orders over $99.
This accessible overview of classical and modern moral theory with short readings provides comprehensive coverage of ethics and unique coverage of rights, justice, liberty and law. Real-life cases introduce each chapter. While the book's content is theoretical rather than applied ethics, Beauchamp consistently applies the theories to practical moral problems. Aristotle, Hume, Kant, and Mill are at the book's core and they are placed in the context of moral philosophical controversies of the last 30 years. In this edition one-third of the reading selections are new and all the selections in chapter 8 on rights are new. Chapter 7 on Hume has been heavily reshaped. Chapter 1 has been reduced to get students past introductory material and into the philosophers.
-Publisher
PART ONE: FUNDAMENTAL QUESTIONS Chapter 1: Morality and Moral Philosophy Case Study: The Watergate Coverup Morality The Nature of a Moral Postition: Ronald Dworkin: "The Concept of a Moral Position" The Object of Morality: G.J. Warnock: "The Object of Morality" Approaches to the Study of Morality The Remainder of This Text Suggested Supplementary Readings Chapter 2: Relativity, Pluralism, and Individuality in Morals Case Study: Mercy Killing in Canada Relativism in Morals: J.L. Mackie: "Relativism and the Claim to Objectivity"; Richard B. Brandt: "Relativism and Ultimate Disagreements about Ethical Principles" Moral Disagreement: Alasdair MacIntyre: "Moral Disagreements" Egoism: David P. Gauthier: "The Incompleat Egoist" Suggested Supplementary Readings Chapter 3: Justification and Truth Case Study: Organ Procurement Policies Moral Arguments and Moral Justification Internal and External Justifications Ultimate Justification and Individual Choice: William K. Frankena: "Why Be Moral?" Cognitivism Noncognitivism Moral Realism and Antirealism: David McNaughton: "Morality--Invention or Discovery?"; J.L. Mackie: "Subjectivsim, Objectism, and the Error Theory" Reflective Equilibrium: John Rawls: "Some Remarks About Moral Theory" Conclusion Suggested Supplementary Readings PART 2: CLASSICAL ETHICAL THEORIES Chapter 4: Mill and Utilitarian Theories Case Study: Health Policy for Hypertension The Objectives of Normative Theories The Utilitarian Conception of Morality: John Stuart Mills: "Utilitarianism" The Concept of Utility Act Utilitariansim: J.J.C. Smart: "An Outline of a System of Utilitarian Ethics" Rule Utilitarianism: Richard B. Brandt: "Some Merits of One Form of Rule-Utilitarianism" Criticisms and Defenses of Utilitarianism: Robert Nozick: "Moral Constraints and Moral Goals" Conclusion Suggested Supplementary Readings Chapter 5: Kant and Deontological Theories Case Study: Plutonium Secrets The Deontological Conception of Morality: John Rawls: "Utilitarianism and Deontology" Kant's Ethics: Immanual Kant: "The Good Will and the Categorical Imperative" Prima Facie Obligations: W.D. Ross: "What Makes Right Acts Right?" Respect for Persons and Respect for Autonomy Deontolgoical Constraints Criticisms and Defenses of Deontolgoical Theories Conclusion Suggested Supplementary Readings Chapter 6: Aristotle and Virtue Theories Case Study: The Virtues of Jane Addams The Concept of Virtue Aristotelian Ethics: Aristotle: "Moral Virtue" The Special Place of the Virtues: Alasdair MacIntyre: "The Nature of the Virtues" Can Virtues and Obligations Coexist? Moral Ideals and Moral Excellence: Joel Feinberg: "Obligation and Supererogation" Criticisms and Defenses of Virtue Ethics: Robert B. Louden: "On Some Vices of Virtue Ethics" Conclusion Suggested Supplementary Readings Chapter 7: Hume and Humean Theories Case Study: Drinking Dessert Wines Hume's Moral Philosophy: David Hume: "The Principles of Morals" Morals by Invention: J.L. Mackie: "The Content of Ethics" Morals by Agreement: David Gauthier: "David Hume, Contractarian" The Voice of Moral Sentiment: Annette Baier: "Hume, The Women's Moral Theorist?" Criticisms of Humean Ethics Conclusion Suggested Supplementary Readings PART 3: TOPICS IN MORAL AND SOCIAL PHILOSOPHY Chapter 8: Rights Case Study: The Taliban in Control Rights and Human Rights Liberalism and Its Communitarian Critics: Joel Feinberg: "Liberalism and Dogmatism" The Communitarian Rejection of Liberalism: Charles Taylor: "Atomism"; Jeremy Waldron: "When Justice Replaces Affection: The Needs for Rights" Rights Against Oppression: Susan Moller Okin: "Feminism, Women's Human Rights, and Cultural Differences" Types of Rights The Contingency of Rights Right-Based Ethical Theories Conclusion Sugg
-Publisher
Bestsellers in Christian Worldview