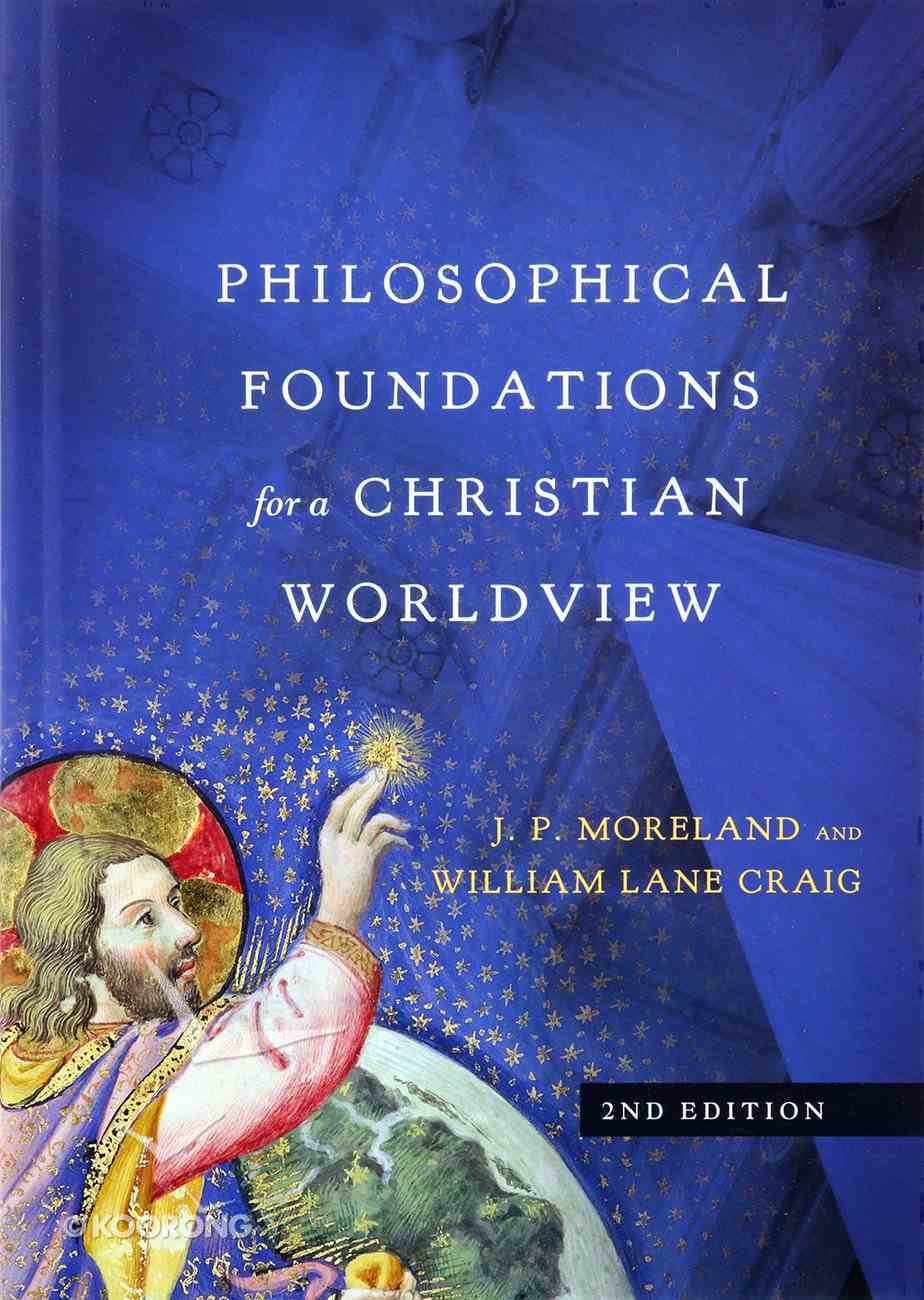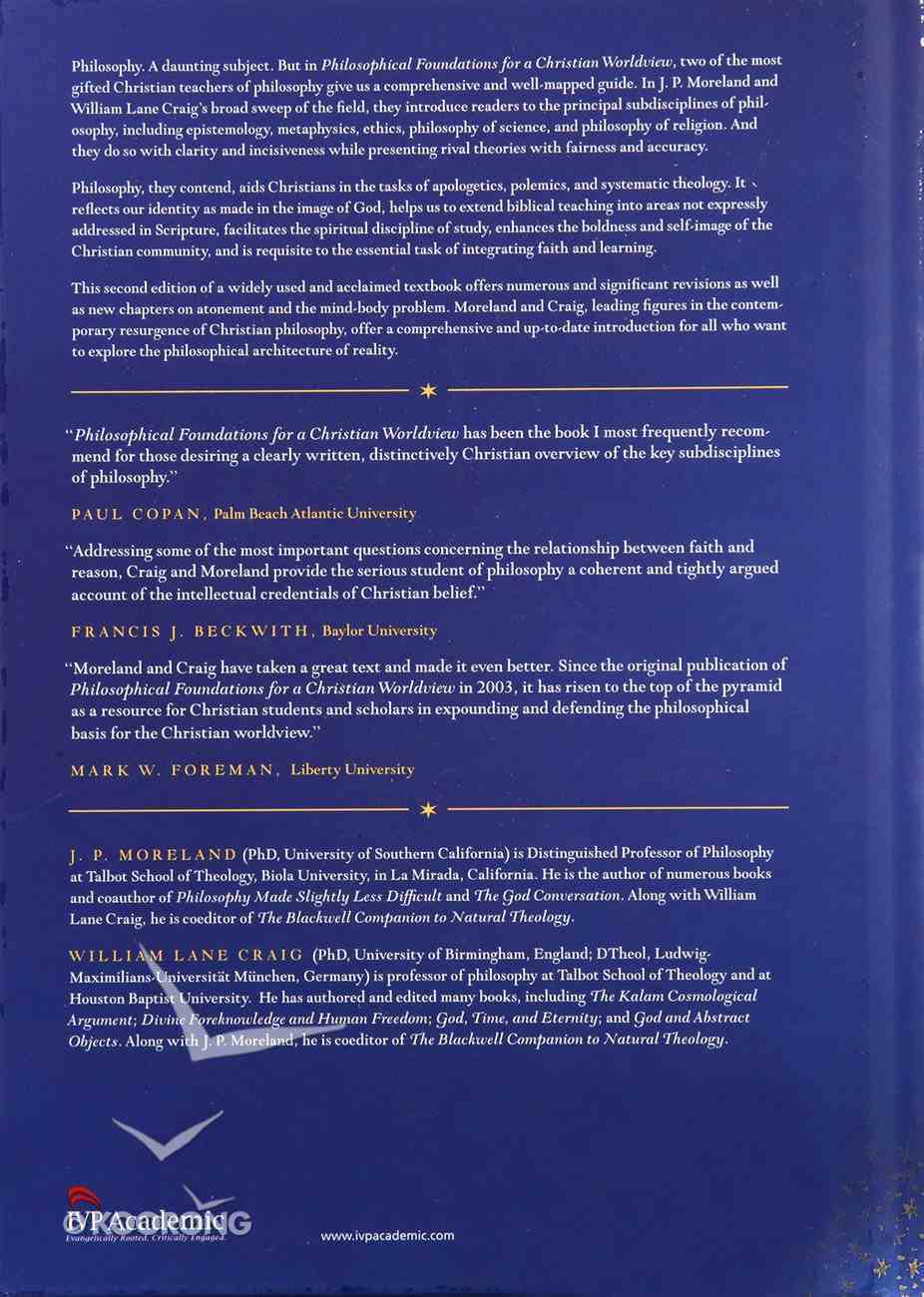 Philosophical Foundations For a Christian Worldview (2nd Edition)
:Winner of a 2004 ECPA Gold Medallion Award!Winner of an Award of Excellence in the 2003 Chicago Book Clinic!Philosophy. A daunting subject. But in Philosophical Foundations for a Christian Worldview , two of the most gifted Christian teachers of philosophy...
Out of Stock
Available to Order
---
Expected to ship in 4 to 5 weeks from Australia.
---
Free Shipping
for orders over $99.
:Winner of a 2004 ECPA Gold Medallion Award!Winner of an Award of Excellence in the 2003 Chicago Book Clinic!Philosophy. A daunting subject. But in Philosophical Foundations for a Christian Worldview, two of the most gifted Christian teachers of philosophy give us a comprehensive and well-mapped guide to the subject. In J. P. Moreland and William Lane Craig's broad sweep of the field, they introduce readers to the principal subdisciplines of philosophy, including epistemology, metaphysics, ethics, philosophy of science, and philosophy of religion. And they do so with clarity and incisiveness, while presenting rival theories with fairness and accuracy.Philosophy, they contend, aids Christians in the tasks of apologetics, polemics, and systematic theology. It reflects our having been made in the image of God, helps us to extend biblical teaching into areas not expressly addressed in Scripture, facilitates the spiritual discipline of study, enhances the boldness and self-image of the Christian community, and is requisite to the essential task of integrating faith and learning.This second edition of a widely used and acclaimed textbook offers numerous and significant revisions as well as new chapters on atonement and the mind-body problem. Moreland and Craig, leading figures in the contemporary resurgence of Christian philosophy, offer a comprehensive and up-to-date introduction for all who want to explore the philosophical architecture of reality.
-Publisher
PRODUCT DETAIL
Catalogue Code 

477437

Product Code 

9780830851874

ISBN 

0830851879

EAN 

9780830851874

Pages 

708

Department Academic
Category Philosophy
Sub-Category General
Publisher Intervarsity Press Usa
Publication Date 

Sep 2017

Sales Rank 

8568

Dimensions 

254 x 177 x 58

mm

Weight 

1.588

kg
William Lane Craig is Research Professor of Philosophy at Talbot School of Theology in La Mirada, California. He and his wife Jan have been married since 1971, and have two adult children.

Dr. Craig was born in 1949, in Peoria, Illinois. From an early age, he proved to be a champion debater at school. At the age of sixteen as a junior in high school, he first heard the message of the Christian gospel and yielded his life to Christ.

Dr. Craig pursued his undergraduate studies at Wheaton College (B.A. 1971) and graduate studies at Trinity Evangelical Divinity School (M.A. 1974; M.A. 1975), the University of Birmingham (England) (Ph.D. 1977), and the University of Munich (Germany) (D.Theol. 1984). From 1980-86 he taught Philosophy of Religion at Trinity, during which time he and Jan started their family. In 1987 they moved to Brussels, Belgium, where Dr. Craig pursued research at the University of Louvain until assuming his position at Talbot in 1994.

Dr Craig has emerged as one of the most redoubtable defenders of Christian truth at the top levels of academic philosophy in our time. He has publicly debated theologians, biblical scholars, philosophers, scientists, and various pundits on matters of Christian truth, including Antony Flew, Lawrence Krauss, Marcus Borg, Gerd Ludemann, Bart Ehrman, Christopher Hitchens, and several prominent Muslim apologists. Richard Dawkins has refused to debate with him.

Dr Craig has authored or edited over thirty books, including The Kalam Cosmological Argument, which has prompted more articles in contemporary philosophical journals than any other current argument for God's existence; also Assessing the New Testament Evidence for the Historicity of the Resurrection of Jesus; Divine Foreknowledge and Human Freedom; Theism, Atheism and Big Bang Cosmology; and God, Time and Eternity, as well as over a hundred articles in professional journals of philosophy and theology, including The Journal of Philosophy, New Testament Studies, Journal for the Study of the New Testament, American Philosophical Quarterly, Philosophical Studies, Philosophy, and British Journal for Philosophy of Science.
J. P. Moreland, Ph.D., (University of Southern California) is Distinguished Professor of Philosophy at Talbot School of Theology, Biola University, in La Mirada, California. He also serves as director of Eidos Christian Center. He has written, edited or contributed to twenty books with publishers ranging from Oxford University Press, Routledge, Wadsworth and Prometheus Books to Zondervan and InterVarsity Press. Among his books are Christianity and the Nature of Science, Does God Exist? (with Kai Nielsen) and Philosophical Naturalism: A Critical Analysis. He has also written helpful apologetic books for thinking people which include Body and Soul, Philosophical Foundations of a Christian Worldview, The Creation Hypothesis, Philosophy Made Slightly Less Difficult, The God Conversation and To Everyone an Answer. Most recently he has authored The Lost Virtue of Happiness and In Search of a Confident Faith with Klaus Issler.
:prefaceoutline Of The Bookan Invitation To Christian Philosophy
<strong>part I: Introduction</strong>
1 What Is Philosophy?2 Argumentation And Logic
<strong>part Ii: Epistemology</strong>
3 Knowledge And Rationality4 The Problem Of Skepticism5 The Structure Of Justification6 Theories Of Truth And Postmodernism7 Religious Epistemology
<strong>part Iii: Metaphysics</strong>
8 What Is Metaphysics?9 General Ontology: Existence, Identity, And Reductionism10 General Ontology: Two Categories&#x97;property And Substance11 The Mind-body Problem Part Ia: Consciousness And Property Dualism Or Mere-property Dualism12 The Mind-body Problem Part Ib: Alternatives To Property Dualism Or Mere-property Dualism13 The Mind-body Problem Part Iia: Arguments Regarding And Versions Of Substance Dualism14 The Mind-body Problem Part Iib: The Main Physicalist Alternatives To Substance Dualism15 Free Will And Determinism16 Personal Identity And Life After Death
<strong>part Iv: Philosophy Of Science</strong>
17 Scientific Methodology18 The Realism-antirealism Debate19 Philosophy And The Integration Of Science And Theology20 Philosophy Of Time And Space
<strong>part V: Ethics</strong>
21 Ethics, Morality, And Metaethics22 Ethical Relativism And Absolutism23 Normative Ethical Theories: Egoism And Utilitarianism24 Normative Ethical Theories: Deontological And Virtue Ethics
<strong>part Vi: Philosophy Of Religion And Philosophical Theology</strong>
25 The Existence Of God I26 The Existence Of God Ii27 The Coherence Of Theism I28 The Coherence Of Theism Ii29 The Problem Of Evil30 Creation, Providence, And Miracle31 Christian Doctrines I: The Trinity32 Christian Doctrines Ii: The Incarnation33 Christian Doctrines Iii: Atonement34 Christian Doctrines Iv: Christian Particularism
Suggestions For Further Readingname Indexsubject Indexscripture Index
Bestsellers in Philosophy