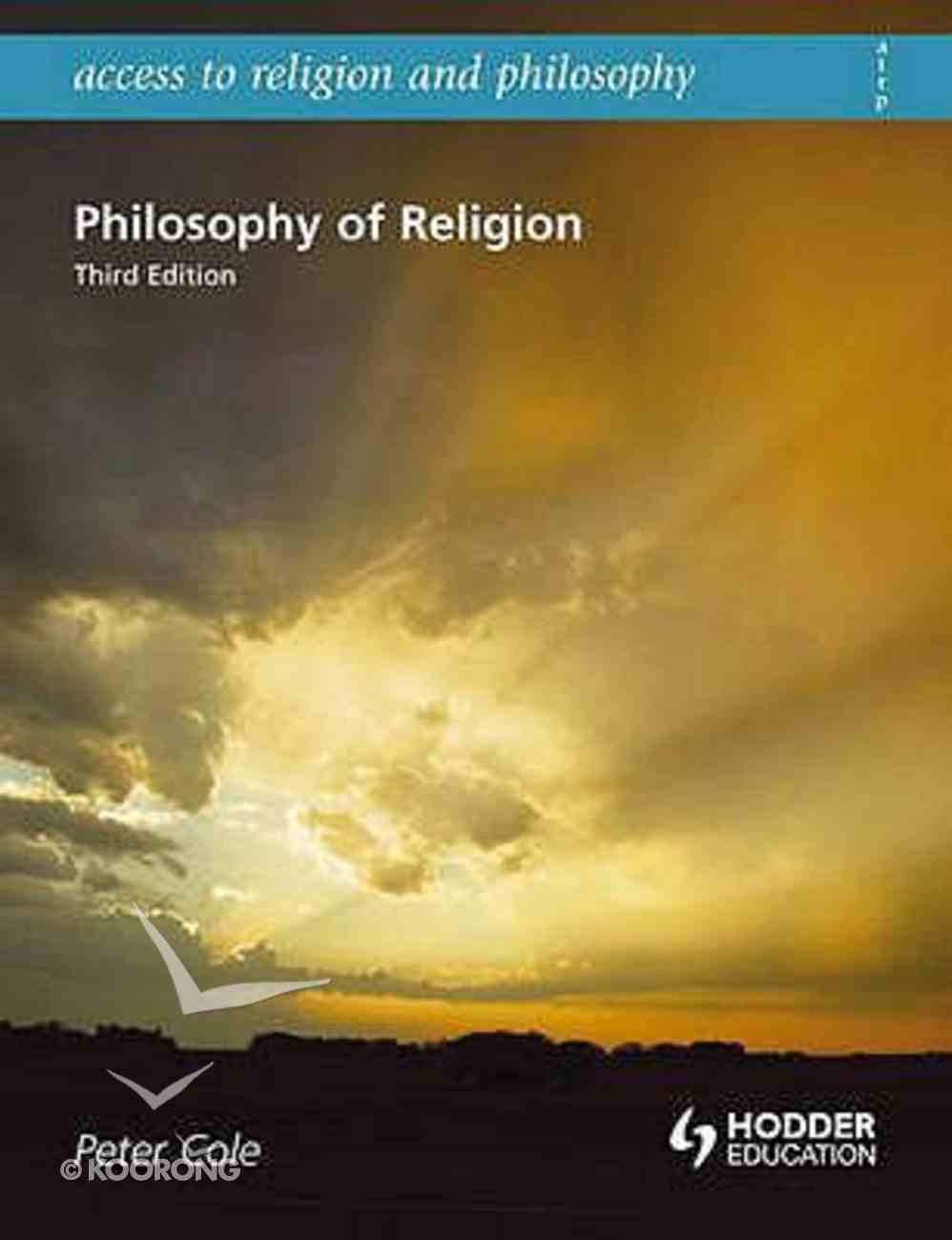 Philosophy of Religion Senior School (Third Edition)
Each book in the Access to Religion and Philosophy series provides a concise and readable introduction to a key area in religious studies and philosophy for A Level students. The third edition of Philosophy of Religion has been updated in...
Unavailable. This item can only be purchased directly from the author or publisher.
0 Available.
---
Free Shipping
for orders over $99.
Each book in the Access to Religion and Philosophy series provides a concise and readable introduction to a key area in religious studies and philosophy for A Level students. The third edition of Philosophy of Religion has been updated in line with the revised 2008 A level specification requirements. It examines key issues including the proofs for the existence of God, the problem of evil and suffering and the relationship between mind, body and religious language. It provides a solid basis for those who are starting A level courses in Religious Studies or Philosophy. The new edition combines all the strengths of the second edition with a new design and features to make the content more accessible to all students in order to develop their understanding of the topic. New features include: - Key questions throughout the chapters to help students focus on the key issues - Key terms defined and explained throughout the chapters - Profiles of key individuals - their contribution and significance - More summary diagrams throughout to aid revision - Revision checklists at the end of chapters - New exam-style questions and tips at the end of each chapter
-Publisher
PRODUCT DETAIL
Catalogue Code 

279521

Product Code 

9780340957783

ISBN 

0340957786

EAN 

9780340957783

Pages 

184

Department Ministry
Category Education
Sub-Category General
Publisher Nelson Thomas Learning
Publication Date 

Jun 2008

Dimensions 

245 x 190 x 8

mm

Weight 

0.416

kg
Peter Cole is a Chartered Financial Consultant and Licensed Clinical Social Worker. He is the co-director with Daisy Reese of Insight Financial Group, an innovative financial planning firm in Northern California. Cole and Reese are also business partners and husband and wife. A
Chapter 1 Tools For The Job 1. Studying Philosophy 2. Philosophy Of Religion 3. Philosophical Arguments Study Guide Chapter 2 The Nature Of God 1. Introduction 2. Terminology 3. The Key Attributes Of God 4. Are The Attributes Self-consistent? 5. Are The Attributes Consistent With One Another? 6. Recent Developments Study Guide Chapter 3 The Existence Of God - 1 1. The Classic Arguments For The Existence Of God 2. The Ontological Argument 3. Supporters Of The Ontological Argument 4. Criticisms Of The Ontological Argument Study Guide Chapter 4 The Existence Of God 2 - The Cosmological Argument 1. The Cosmological Argument 2. Criticisms Of Aquinas' Arguments 3. Other Forms Of The Cosmological Argument 4. Conclusions Study Guide Chapter 5 The Existence Of God - 3: The Teleological Argument 1. Introduction 2. The Argument From Design 3. The Argument To Design 4. Hume's Criticisms 5. Further Criticisms 6. Conclusions Study Guide Chapter 6 The Existence Of God - 4: The Moral Argument 1. The Moral Argument 2. Kant's Arguments Study Guide Chapter 7 The Existence Of God - 5: The Religious Experience Argument 1. The Religious Experience Argument 2. Differences Between 'religious' And 'ordinary' Experiences 3. Types Of Religious Experience 4. Is A Religious Experience Authentic? Study Guide Chapter 8 Miracles 1. What Is A Miracle? 2. Is It Reasonable To Believe In Miracles? 3. Modern Supporters 4. What Might Miracles Prove? Study Guide Chapter 9 The Value Of Theistic Proofs 1. Cumulative Arguments 2. Criticisms Study Guide Chapter 10 Faith And Reason 1. Belief 2. Belief-that And Belief- In 3. Belief And Evidence 4. Faith 5. Faith And Reason 6. Pascal's Wager Study Guide Chapter 11 The Problem Of Evil 1. The Problem Stated 2. Some Possible Approaches 3. The Two Classical Theodicies Study Guide Chapter 12 The Mind And Body Problem 1. Mind And Body? 2. Dualism 3. Materialism 4. Personal Identity Study Guide Chapter 13 Life After Death 1. The Philosophical Problems Of Life After Death 2. The Evidence For Life After Death Study Guide Chapter 14 Religious Language 1. God Talk 2. Empiricism And The Vienna Circle 3. Symbolic Language Study Guide Bibliography Further Reading Timeline Of Philosophers Glossary Index