 John Piper ofrece la perspectiva de un pastor sobre la vida de la mente al retar a la iglesia a pensar detenidamente para la gloria de Dios. El nuevo libro de Piper ayudará a los cristianos a "pensar sobre el...
Available for immediate download.
---
Read using our free app on your tablet or mobile!
---
Free Shipping
for orders over $99.
John Piper ofrece la perspectiva de un pastor sobre la vida de la mente al retar a la iglesia a pensar detenidamente para la gloria de Dios. El nuevo libro de Piper ayudará a los cristianos a "pensar sobre el pensamiento." Enfocarse en la vida de la mente nos ayuda a conocer mejor a Dios, amarlo más y a cuidar del mundo. Junto con el énfasis en las emociones y la experiencia de Dios, también debemos practicar el pensamiento cuidadoso acerca de Dios. Piper sostiene que "pensar es indispensable en el camino a la pasión por Dios." Por tanto, ¿cómo podemos mantener un equilibrio saludable entre la mente y el corazón, el pensamiento y el sentimiento? Piper nos insta a pensar para la gloria de Dios. Él demuestra con la Escritura que glorificar a Dios con nuestras mentes y corazones no es uno-u-otro, sino ambos y. Pensar cuidadosamente sobre Dios alimenta la pasión y el afecto por Dios. De la misma manera, la emoción que exalta a Cristo nos guía al pensamiento disciplinado. A los lectores se les recordará que "la mente sirve para conocer la verdad que alimenta los fuegos del corazón."

John Piper offers a pastor's perspective on the life of the mind in his challenge to the church to think hard for the glory of God. Piper's newest book will help Christians think about thinking. Focusing on the life of the mind helps us to know God better, love him more, and care for the world. Along with an emphasis on emotions and the experience of God, we also need to practice careful thinking about God. Piper contends that "thinking is indispensable on the path to passion for God." So how are we to maintain a healthy balance of the mind and heart, thinking and feeling? Piper urges us to think for the glory of God. He demonstrates from Scripture that glorifying God with our minds and hearts is not either-or, but both-and. Thinking carefully about God fuels passion and affections for God. Likewise, Christ-exalting emotion leads to disciplined thinking. Readers will be reminded that "the mind serves to know the truth that fuels the fires of the heart."
-Publisher
John Stephen Piper was born 11 January 1946 in Chattanooga, Tennessee, to Bill and Ruth Piper. The Pipers soon moved to Greenville, South Carolina, where John spent his growing-up years. His father was an itinerant evangelist who also ministered through international radio and Bible courses. John has written a tribute to his mother, who died in 1974, in the booklet, What's the Difference (Crossway Books, 1990) which is also chapter one of the book, Recovering Biblical Manhood and Womanhood (Crossway Books, 1991).

At Wheaton College (1964-68), John majored in Literature and minored in Philosophy. Studying Romantic Literature with Clyde Kilby stimulated the poetic side of his nature and today he regularly writes poems to celebrate special family occasions and rich, biblical truths. At Wheaton John also met Noel Henry whom he married in 1968.

Following college, John completed a Bachelor of Divinity degree at Fuller Theological Seminary in Pasadena, California (1968-71). While at Fuller, John discovered the writings of Jonathan Edwards.

John did his doctoral work in New Testament Studies at the University of Munich, Munich, West Germany (1971-74). His dissertation, Love Your Enemies, was published by Cambridge University Press and Baker Book House (and is now available through Crossway). Upon completion of his doctorate, he went on to teach Biblical Studies at Bethel College in St. Paul, Minnesota for six years (1974-80).

In 1980, sensing an irresistible call to preach, John became the senior pastor of Bethlehem Baptist Church in Minneapolis, Minnesota, where he ministered for 33 years, until 2013. Together with his people, John was dedicated to spreading a passion for the supremacy of God in all things for the joy of all peoples through Jesus Christ - a mission he continues now for the wider church through the ministry of desiringGod.org. John says of his ministry:
"The ministry of preaching is the central labor of my life. My prayer is that through that ministry and everything else I do the great glory of our God and Savior Jesus Christ would be magnified as more and more people come to live out the obedience of faith more and more deeply."

John is the author of over 50 books and now frequently travels to speak, and writes regularly, through Desiring God.

John and Noel have four sons, a daughter, and twelve grandchildren.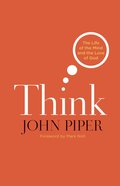 Bestsellers in Global Language