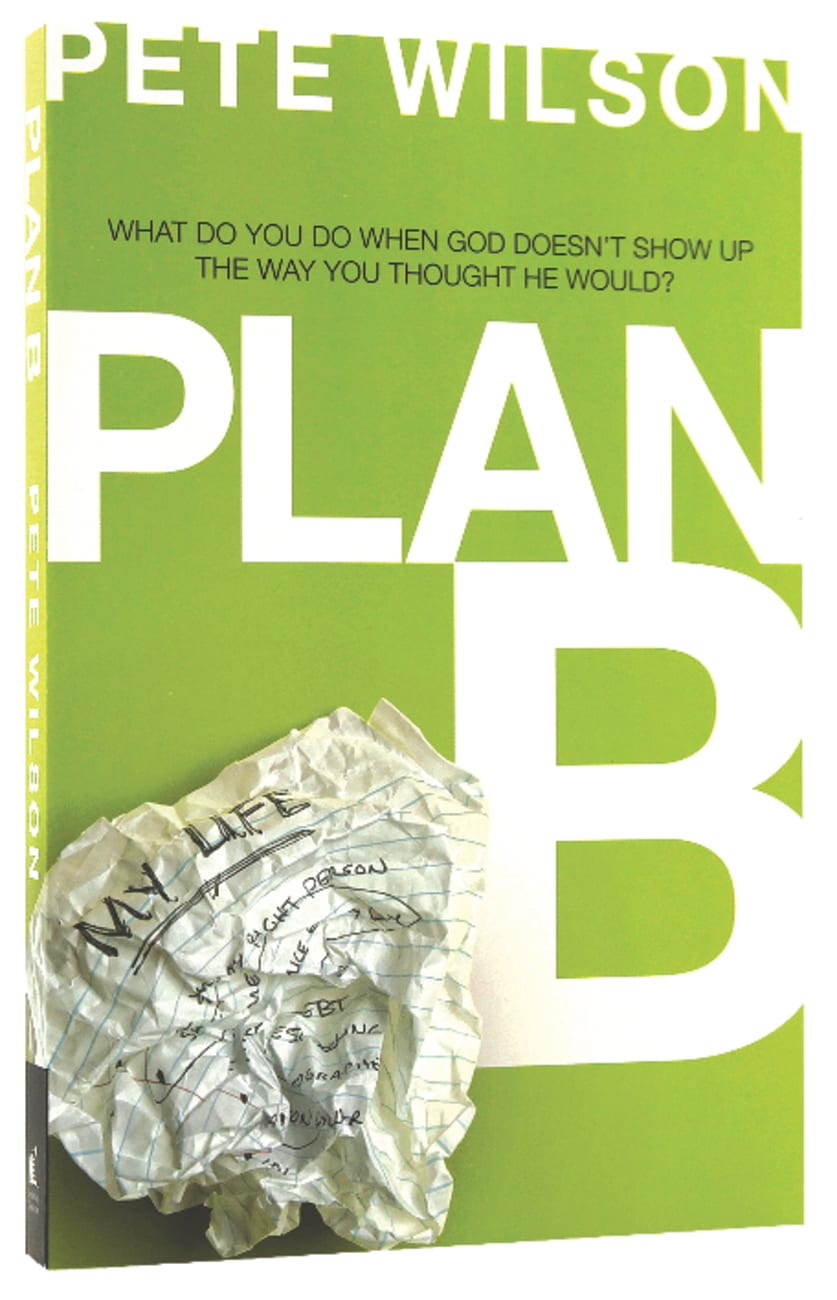 Plan B: What to Do When God Doesn't Show Up the Way You Thought He Would
Learn how God often does His best work in our most hopeless situations. What do you do with a shattered dream? Or an unmet expectation? What do you do when your life isn't turning out the way you thought it...
Out of Stock
Available to Order
---
Expected to ship in 6 to 7 weeks from Australia.
---
Free Shipping
for orders over $99.
Learn how God often does His best work in our most hopeless situations. What do you do with a shattered dream? Or an unmet expectation? What do you do when your life isn't turning out the way you thought it would? What do you do when you have to turn to Plan B?

In Plan B pastor and author Pete Wilson uses real life stories of disappointments and hurts along with the biblical stories of men and women like David, Joseph, and Ruth to help readers accept that they will face situations that they are unable to handle by themselves, and that they must surrender to God. Wilson identifies our common responses to difficulties and offers hope, helping us to
- understand what God might be up to
- see how surrender helps us to receive God's plan
- embrace the community of believers
- reconcile a God of love with a life of tragedy and suffering

Wilson points readers to the cross as not just the starting point but the centerpiece of our story with God, where we turn in our Plan B and find the relationship between crisis, hope and true spiritual transformation.

"God wants to live inside the questions" says Wilson and then reminds us that "the cross is proof that He does not always change the circumstance but that He always has a purpose in every circumstance. He will never let go of us. He will hold us and His cross will be an anchor for us."

- edited publisher's blurb

Publisher Description

What do you do when your dreams are shattered?

What do you do when your life isn?t turning out the way you thought?

What do you do when you have to turn to Plan B?




Pete Wilson reaches beyond the typical Christian response to offer frank understanding, honest encouragement, and real hope for your Plan B reality. Drawing on real-life stories from the Bible (David, Joseph, Mary, and Martha) and the present day, he writes to help you:


- Move past the feelings of crisis: panic, fear, paralysis, and overcontrol
- See God in your circumstances?even when he doesn?t seem to be there at all
- Make peace with doubt, which can actually be an expression of faith
- Find hope through the redemptive power of community
- Ask the right questions in order to fi nd real, satisfying answers
- Explore the relationship between shattered dreams and true spiritual transformation
Praise for Plan B

?What do you do when you wake up with shattered dreams and unmet expectations? Pete Wilson's book, Plan B, offers honest encouragement and spiritual insights when life doesn?t go as planned.?

?Craig Groeschel, senior pastor, LifeChurch.tv, and author of The Christian Atheist

?If your life is going according to plan, if your pain level is low and your ease meter is high, you probably don?t need this book. But for the rest of us, I am glad it's around.?

?John Ortberg, pastor and author, Menlo Park Presbyterian Church

?Pete Wilson is a fresh voice for all today who wonder if they've missed God's best life and are relegated to gathering dust. He provides honest hope, a sound biblical base, and real answers. What also touched me as a reader was his warmth and authenticity. A great read for us all.?

?Dr. John Townsend, author of Boundaries, psychologist, and business coach

?No matter what you're going through, Plan B will help you get through it. Plan B is a down-to-earth book written by a down-to-earth pastor. Authentic hope is only a book away!?

?Mark Batterson, senior pastor, National Community Church, and author of Primal

?Pete Wilson is a young, dynamic leader with a growing church and a heart to see people reach out and find Christ in the midst of any and every circumstance. His sincerity and desire to disarm some of life's difficult twists and turns with godly perspective will help anyone struggling with life's realities and Plan B.?

?Brian Houston, senior pastor, Hillsong Church

?Hope is packaged and sold in many different ways in our society, often wrapped with false promises and an unrealistic view of life. This is why Plan B is such an important book. Pete deals openly and honestly with the disappointments we experience, pointing us to a hope that endures, sustains, and overcomes.

We all know people who have walked away from God because of Plan B experiences, not realizing that these are the moments God uses the most. Pete shows us that we don?t have to deny the reality of what we face. We simply need to embrace the reality of a God who loves us and who is greater than our greatest disappointments. After all, His Plan B for our lives is the best plan of them all.?

?Jeff Henderson, pastor, Buckhead Church

?Pete Wilson is a tremendous communicator whose warmth and care for people are evident on every page of this fantastic book. Plan B is a powerful resource for the detours of our lives. I wish this book would have been available years ago when some of my Plan As crashed, but I?m so thankful for the wisdom of its pages for my Plan Bs today.?

?Jud Wilhite, senior pastor, Central Christian Church, and author of Eyes Wide Open

?While reading Plan B, I cheered, wept, and rediscovered parts of my faith that I?d long given up on finding. Like a conversation with an old friend, Pete Wilson's reflections about God and life are engaging, sensitive, and moving. As far as I?m concerned, if you're working on plan A, Plan B is a good prerequisite.?

?Matthew Paul Turner, author of Churched and Hear No Evil

?In a generation that faces ever increasing disappointment with life, this book masterfully reminds us that God is at work and turns everything around for good. As you read Plan B, you will sense the genuine love and concern from a pastor who cares. Well done, Pete.?

?Chris Hodges, pastor, Church of the Highlands

?If Plan A for your life isn?t working out too well, you're not alone. In this book, Pete Wilson helps you make sense of life's frustrations and disappointments. The stories in Plan B remind you once again that God, who began a good work in you, is faithful to complete it. Pete is a passionate voice for a new generation of Christians. He is a man who lives what he writes.?

?Robert Emmitt, senior pastor, Community Bible Church

?Pete Wilson tells the truth. Following Jesus is hard . . . really hard. Plan B is not another book filled with pat answers to life's most painful questions; it is a bold yet gracious exploration of how the love of God sustains when the broken dreams and shattered expectations of life threaten to overwhelm us.?

?Ian Morgan Cron, speaker and author of Chasing Francis: A Pilgrim's Tale
Pete Wilson is the founding and senior pastor of Cross Point Church in Nashville, TN, the second church he has planted in the last seven years. Pete graduated from Western Kentucky University with a degree in communications then attended seminary at Southern Seminary in Louisville, KY. His desire is to see churches become radically devoted to Christ, irrevocably committed to one another, and relentlessly dedicated to reaching those outside of God's family. He is married to Brandi and together they have three boys. When not spending time with church or family he enjoys playing golf and playing
Bestsellers in Christian Living