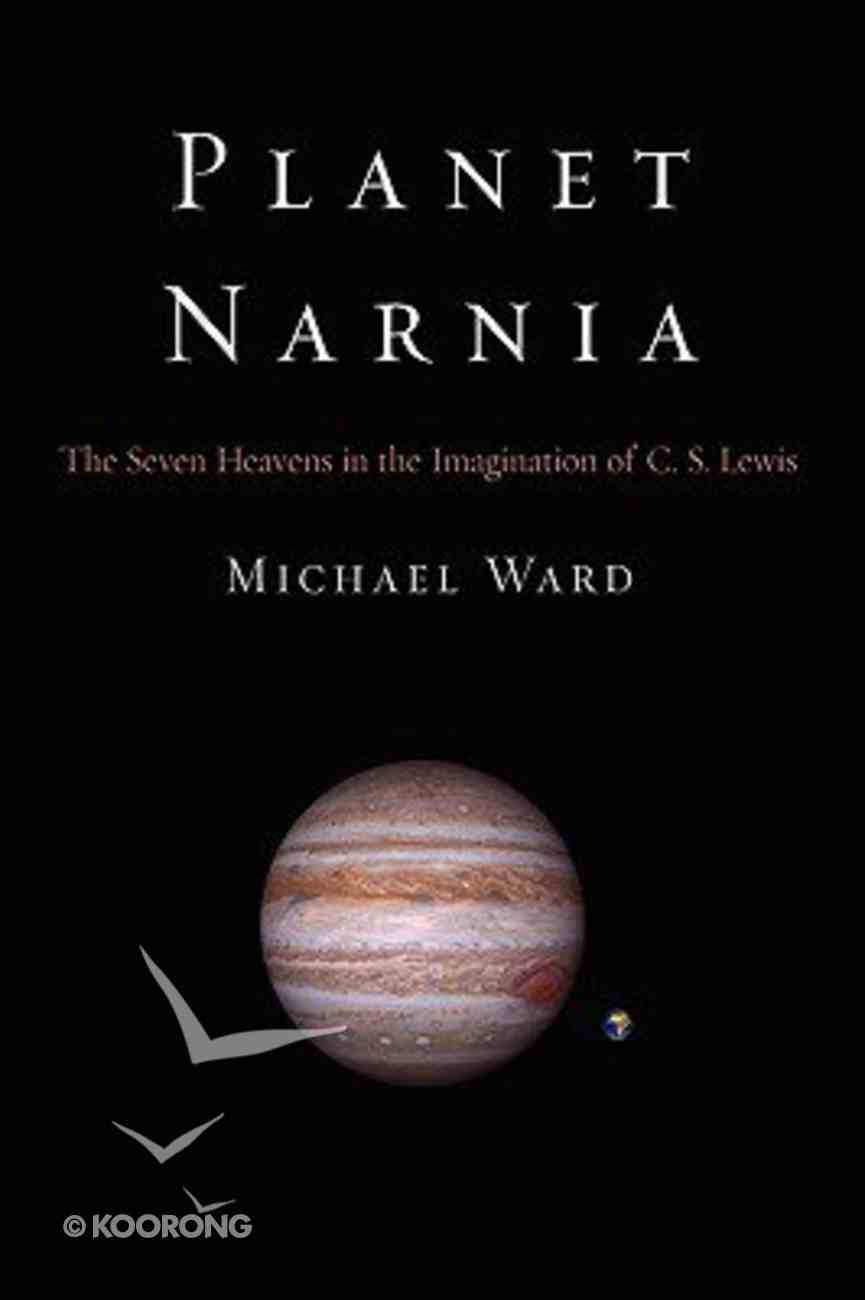 Planet Narnia: The Seven Heavens in the Imagination of C S Lewis
As seen on BBC Knowledge 22/3/10.
Out of Stock
Available to Order
---
Free Shipping
for orders over $99.
As seen on BBC Knowledge 22/3/10.
"I cannot contain my admiration. No other book on Lewis has ever shown such comprehensive knowledge of his works and such depth of insight. This will make Michael Ward's name." --Walter Hooper, Literary Adviser to the Estate of C.S. Lewis "Noting Michael Ward's claim that he has discovered "the secret imaginative key" to the Narnia books, the sensible reader responds by erecting a castle of scepticism. My own castle was gradually but utterly demolished as I read this thoughtful, scholarly, and vividly-written book. If Ward is wrong, his wrongness is cogent: it illuminates and delights. But I don't think he is wrong. And in revealing the role of the planets in the Chronicles, Ward also gives us the fullest understanding yet of just how deeply Lewis in his own fiction drew upon those medieval and renaissance writers he so loved." --Alan Jacobs, Professor of English, Wheaton College and author of The Narnian: The Life and Imagination of C.S. Lewis "Michael Ward presents an absorbing, learned analysis of C.S. Lewis's bestselling and beloved series, The Chronicles of Narnia. Readily accessible to the average reader, Ward's book reads so much like a detective story that it's difficult to put down." --Armand M. Nicholi, Jr. M.D., Professor of Psychiatry, Harvard Medical School and author of The Question of God: C.S. Lewis and Sigmund Freud "All who have enjoyed the The Chronicles of Narnia and indeed are interested in any aspect of Lewis's imaginative work should read Michael Ward's book. He argues convincingly for a hitherto unrecognized inner structure of the Chronicles, and gives excellent reasons for understanding why Lewis should have worked in such a mysterious way, his wonders to perform. Ward has an encyclopedic knowledge of Lewis's writings and uses it to support his theory that each of the seven volumes of the The Chronicles of Narnia is based on the classical, medieval and renaissance mythography of one of the then seven planets. Even those critics who dislike the Narnia books in principle because of their implicit Christianity must consider their planetary structure and its significance. Michael Ward has made an outstanding contribution to Lewis studies." --Derek Brewer, Emeritus Professor of English, University of Cambridge
-Publisher
For over half a century, scholars have laboured to show that C. S. Lewis's famed but apparently disorganisedChronicles of Narniahave an underlying symbolic coherence, pointing to such possible unifying themes as the seven sacraments, the seven deadly sins, and the seven books of Spenser'sFaerie Queene.None of these explanations has won general acceptance and the structure of Narnia's symbolism has remained a mystery.

Michael Ward has finally solved the enigma. InPlanet Narniahe demonstrates that medieval cosmology, a subject which fascinated Lewis throughout his life, provides the imaginative key to the seven novels. Drawing on the whole range of Lewis's writings (including previously unpublished drafts of theChronicles),Ward reveals how the Narnia stories were designed to express the characteristics of the seven medieval planets - - Jupiter, Mars, Sol, Luna, Mercury, Venus, and Saturn - - planets which Lewis described as "spiritual symbols of permanent value" and "especially worthwhile in our own generation". Using these seven symbols, Lewis secretly constructed theChroniclesso that in each book the plot-line, the ornamental details, and, most important, the portrayal of the Christ-figure of Aslan, all serve to communicate the governing planetary personality. The cosmological theme of each Chronicle is what Lewis called 'the kappa element in romance', the atmospheric essence of a story, everywhere present but nowhere explicit. The reader inhabits this atmosphere and thus imaginatively gainsconnaîtreknowledge of the spiritual character which the tale was created to embody.

Planet Narniais a ground-breaking study that will provoke a major revaluation not only of theChronicles,but of Lewis's whole literary and theological outlook. Ward uncovers a much subtler writer and thinker than has previously been recognized, whose central interests were hiddenness, immanence, and knowledge by acquaintance.
-Publisher
PRODUCT DETAIL
Catalogue Code 

280422

Product Code 

9780195313871

ISBN 

0195313879

EAN 

9780195313871

Pages 

347

Department Academic
Category Classic
Sub-Category C S Lewis
Publisher Oxford University Press
Publication Date 

Nov 2007

Sales Rank 

48503

Dimensions 

238 x 164 x 29

mm

Weight 

0.674

kg
Michael Ward was born in Cuckfield, Sussex, England. He is Senior Research Fellow of Blackfriars Hall, University of Oxford, and Professor of Apologetics at Houston Baptist University, Texas. He has loved the Narnia Chronicles since he was a boy.

He first wrote about C.S. Lewis while working for his English degree at the University of Oxford. He lived at Lewis' former home in Oxford, The Kilns, as resident warden for three years (1996-1999), sleeping in the late professor's old bedroom and studying in his study. He appeared in Shadowlands, the film about Lewis' marriage and bereavement. He did his PhD at the University of St. Andrews, and his dissertation was published as Planet Narnia: The Seven Heavens in the Imagination of C.S. Lewis (Oxford University Press, 2008). The British Broadcasting Corporation (BBC) commissioned and broadcast a television documentary about Planet Narnia called The Narnia Code in 2009.

Dr. Ward has written numerous scholarly articles on C.S. Lewis and has lectured around the world on his life and work. He is also the coeditor of The Cambridge Companion to C.S. Lewis (2010) and Heresies and How to Avoid Them: Why It Matters What Christians Believe (2007).

On the fiftieth anniversary of Lewis' death, Dr Ward unveiled a permanent national memorial to him in Poets' Corner, Westminster Abbey, London.