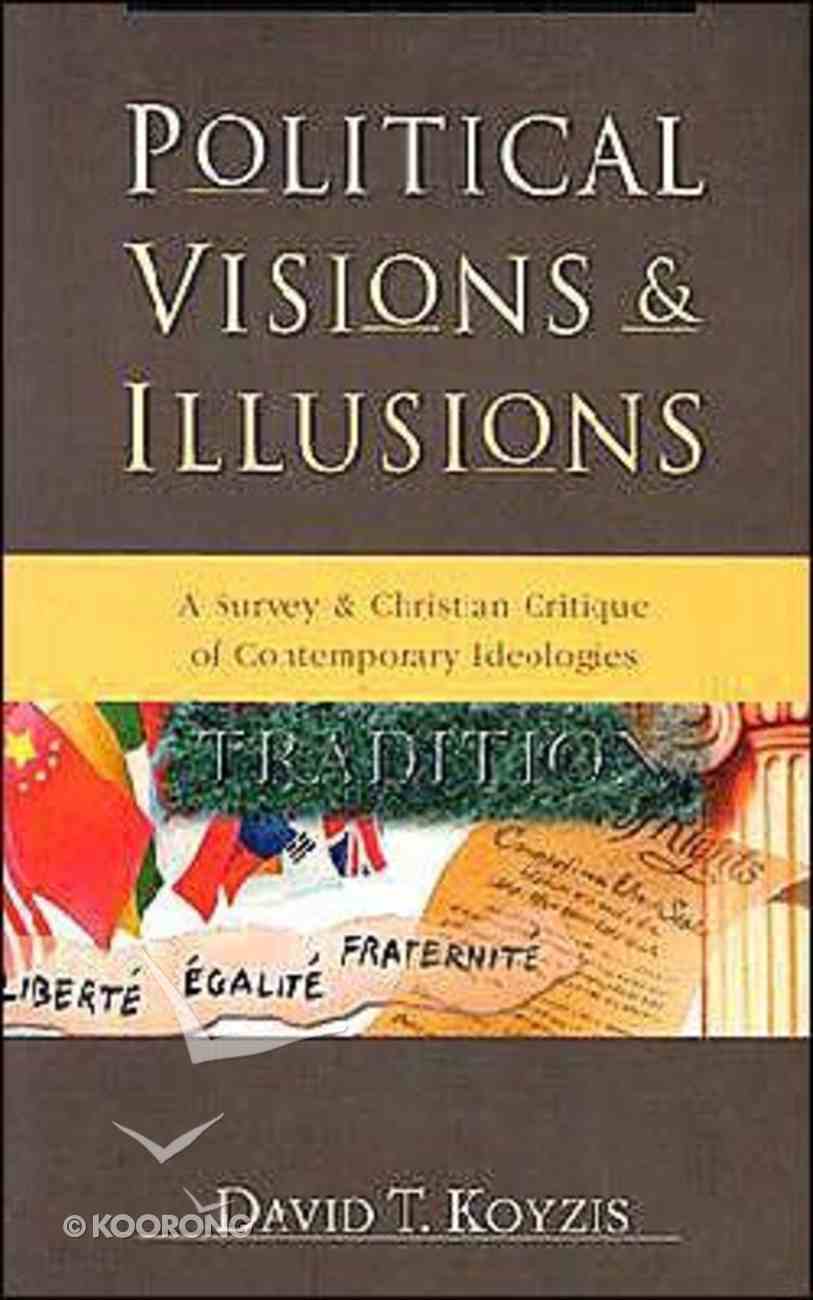 Political Visions and Illusions
Preface1. Introduction: Ideology, Religion and IdolatryPolitics and IdeasHistory and DefinitionsIdeology in Christian PerspectivePreconditions for the Rise of IdeologiesIdeology as Religious: Toward a DefinitionThe Classification of Ideologies: Left and RightDiscerning the Spirits in the Ideologies2. Liberalism: The Sovereignty of the IndividualThe...
Out of Stock
Available to Order
---
Expected to ship in 4 to 5 weeks from Australia.
---
Free Shipping
for orders over $99.
Preface1. Introduction: Ideology, Religion and IdolatryPolitics and IdeasHistory and DefinitionsIdeology in Christian PerspectivePreconditions for the Rise of IdeologiesIdeology as Religious: Toward a DefinitionThe Classification of Ideologies: Left and RightDiscerning the Spirits in the Ideologies2. Liberalism: The Sovereignty of the IndividualThe Meanings of LiberalismThe Liberal CreedLate Liberalism and the Expansion of the StateThe Right and the Good: Subsidizing ChoicesThe Spiritually Vacant State: The Privatization of Ultimate BeliefSin and Salvation in Liberalism3. Conservatism: History as Source of NormsBabies and Bathwater: The Conservative CreedThe Grass Is Greener on Our SideWhich Traditions and When?Conservatism and ChristianityConservatism and the State4. Nationalism: The Nation DeifiedA Creed for a CenturyCivic and Ethnic Nationalisms: State Versus TribeThe Nationalist View of the StatePatriotic Loyalty: A Modest DevotionChristians and Nationalism5. Democracy: Vox Populi Vox DeiStructure and CreedFrom Liberalism to DemocracyThe Majoritarian and Totalitarian TemptationsDemocratization Without LimitsCreed and Structure Revisited: Direct Versus Representative DemocracyRepresentation: Followership or Leadership?Democracy and Justice: A Final Assessment6. Socialism: Common Ownership as SalvificA World of SocialismsA Transformative VisionFrom Democracy to SocialismCommon Ownership and Socialist IdeologyMeans and Ends: Equality and How to Get ThereThe Marxian Vision and MarxismFair Distribution of Economic Resources7. Transcending the Ideologies: Affirming Societal PluriformityA Biblical Christian ResponseA Christian Worldview: Creation, Fall and RedemptionCreation Order: Misconceptions DispelledDiscerning the Spirits: Pluralisms and Pluriformity8. Toward a Nonideological Alternative: Two Historic Christian ApproachesThe Role of Catholic Social TeachingsThe Principle of Subsidiarity: Affirming Civil SocietyThe Reformation: Calvin and AlthusiusDevelopments in the Netherlands: Groen and KuyperSovereignty in Its Own Sphere: A Nonhierarchical Affirmation of Civil SocietyDooyeweerd's Contribution9. The State and Its Task: Doing Justice in God's WorldJustice and Differentiated ResponsibilityJustice and the StateEpilogue: Toward the FutureSelected BibliographyIndex
-Publisher
NamedBest Book (Culture)in the 2004 Word Guild Canadian Writing Awards!The end of the Cold War has brought about more than the triumph of some political ideologies and the disappearance of others. In fact, the collapse of communism has created a vacuum quickly being filled by various alternative visions, ranging from ethnic nationalism to individualistic liberalism.But political ideologies are not merely a matter of governmental efficacy. Rather, political ideologies are intrinsically and inescapablyreligious--each carries certain assumptions about the nature of reality, individuals and society, as well as a particular vision for the common good. These fundamental beliefs transcend the political sphere, and the astute Christian observer should thus discern the subtle ways in which ideologies are rooted in idolatrous worldviews.In this comprehensive study, political scientist David Koyzis surveys the key political ideologies of our era, including liberalism, conservatism, nationalism, democracy and socialism. Each philosophy is given careful analysis and fair critique, unpacking the worldview issues inherent to each and pointing out essential strengths and weaknesses. Koyzis concludes by proposing alternative models that flow out of Christianity's historic engagement with the public square, retrieving approaches that hold promise for the complex political realities of the twenty-first century.Writing with broad, international perspective and keen analytical insight, Koyzis offers a sound guide for Christians working in the public square, culture watchers, political pundits and all students of modern political thought.
-Publisher
Preface
<strong>1. Introduction: Ideology, Religion And Idolatry</strong>
Politics And Ideas
History And Definitions
Ideology In Christian Perspective
Preconditions For The Rise Of Ideologies
Ideology As Religious: Toward A Definition
The Classification Of Ideologies: Left And Right
Discerning The Spirits In The Ideologies
<strong>2. Liberalism: The Sovereignty Of The Individual</strong>
The Meanings Of Liberalism
The Liberal Creed
Late Liberalism And The Expansion Of The State
The Right And The Good: Subsidizing Choices
The Spiritually Vacant State: The Privatization Of Ultimate Belief
Sin And Salvation In Liberalism
<strong>3. Conservatism: History As Source Of Norms</strong>
Babies And Bathwater: The Conservative Creed
The Grass Is Greener On Our Side
Which Traditions And When?
Conservatism And Christianity
Conservatism And The State
<strong>4. Nationalism: The Nation Deified</strong>
A Creed For A Century
Civic And Ethnic Nationalisms: State Versus Tribe
The Nationalist View Of The State
Patriotic Loyalty: A Modest Devotion
Christians And Nationalism
<strong>5. Democracy: Vox Populi Vox Dei</strong>
Structure And Creed
From Liberalism To Democracy
The Majoritarian And Totalitarian Temptations
Democratization Without Limits
Creed And Structure Revisited: Direct Versus Representative Democracy
Representation: Followership Or Leadership?
Democracy And Justice: A Final Assessment
<strong>6. Socialism: Common Ownership As Salvific</strong>
A World Of Socialisms
A Transformative Vision
From Democracy To Socialism
Common Ownership And Socialist Ideology
Means And Ends: Equality And How To Get There
The Marxian Vision And Marxism
Fair Distribution Of Economic Resources
<strong>7. Transcending The Ideologies: Affirming Societal Pluriformity</strong>
A Biblical Christian Response
A Christian Worldview: Creation, Fall And Redemption
Creation Order: Misconceptions Dispelled
Discerning The Spirits: Pluralisms And Pluriformity
<strong>8. Toward A Nonideological Alternative: Two Historic Christian Approaches</strong>
The Role Of Catholic Social Teachings
The Principle Of Subsidiarity: Affirming Civil Society
The Reformation: Calvin And Althusius
Developments In The Netherlands: Groen And Kuyper
Sovereignty In Its Own Sphere: A Nonhierarchical Affirmation Of Civil Society
Dooyeweerd's Contribution
<strong>9. The State And Its Task: Doing Justice In God's World</strong>
Justice And Differentiated Responsibility
Justice And The State
Epilogue: Toward The Future
Selected Bibliography
Index
Bestsellers in Christian Worldview